How To Get Your Dog Comfortable On A SUP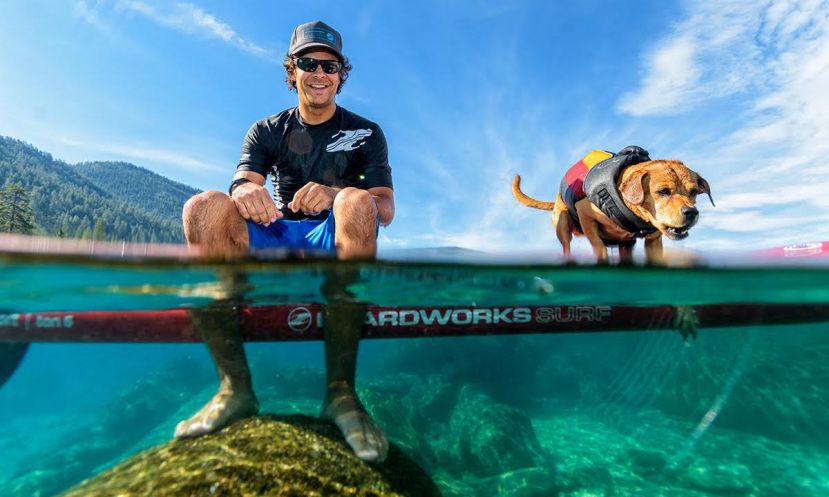 Mike Tavares at Lake Tahoe with his sidekick Shredder. | Photo: Flux Photography
SALT LAKE CITY, Utah - While I am no dog expert, I have spent enough time with Shredder and other dogs on the water to know that paddling with your dog can be a real adventure full of joy and excitement, but getting your furry friend to that point can be a different story. Shredder didn't quite know what he was in for when he joined the traveling SUP roadshow about four years ago. It's hard to say how his life was before our cosmic joining, but one thing was for sure, he didn't like water. Here are a few tips that helped me break Shredder out of his shell and allow him to be the inner water freak that we have all see when he even sniffs water nearby!
1. Take a class from a professional
If you're a little weary about taking on this task all alone, don't worry there are plenty of SUP dog enthusiast that offer classes out there to ease you into the process. If you see me on the road, I will always offer my personal expertise anytime, but there's also some folks who specialize in the furry supping! Maria Shultz, author of How To SUP With Your Pup, is a trained professional in the canine world of SUP and she offers both on water classes and several books on the matter. Check her out HERE for more info.
Photos via: Mike Tavares
2. Its all about the comfort of your Pup
Lets face it, if fido isn't happy, you're not getting on the water! Shredder was full blown terrified of the water when I got him and the thought of getting wet, much less getting on a board was just out of the question. Here are a few keys to comfort:
Find a comfortable place close to the water to ease them into being around the water. For me, it was simply always taking Shredder to the river while I surfed and paddled and letting him do his own thing on the shore without forcing him into the water.
Letting your dog discover the water on his or her own terms was a key factor for me. Some dogs are naturally attracted to water, while others think it's an evil place (like Shredder).
3. Teach your dog to swim and frolic in the water
Mike and Shredder getting in some play time. | Photo: Mike Tavares
Some dogs will blast full speed ahead into oncoming waves while others don't even like the sign of water. Shredder was more the latter, but time and baby steps were the key to turning him into a water shredder! A few more tips:
Start Mellow – Sure, we all want our dogs to be surfers like those youtube videos we see that get two million hits, but let's get real, that's hard to do. Find some mellow water (lake or flat ocean/bay) and work from there.
PFD's are helpful - Some dogs float, some dogs sink…fast. A good doggie PFD will go along with trust and comfort and allow your dog to float on the surface with ease. It also allows for a nice handle on top to rescue your dog when in need, or in my case, throw him off the board when he barks too much!
Swim with your dog - I swam across the Carlsbad Lagoon about 100 times getting Shredder used to being in the water. It shows another level of comfort and trust with your dog. I started with the leash on to pull him in the right direction and in no time, he was swimming all by himself!
4. Picking the right board
There are about a million choices these days for SUPs, but not all SUPs are created equal when thinking of dogs. Pick a board that is overly stable (at least 32" wide) and has enough space for both of you without putting the rails below the waterline. The deck pad on the board is key for stability of your dog. Shredder won't sit still and has to be on the tip of the nose, so a full deck pad is crucial in order for him not to slip and slide off at every turn. A favorite board of mine has been the Boardworks Joyride over the years and soon to be the new Ruckus (full deck pads and ample volume). Inflatables are great choices as well, but make sure the surface isn't too slick. I use an old yoga mat and stick in on the front for extra traction.
5. Take your time
It's easy to rush into paddling with your dog, but one thing's for sure, time and patience is key. If your dog is a natural water freak, then go nuts on the first paddle, but for most, time will pay off in the end. Take baby steps in different styles of water and make sure they are 100% solid and stoked before taking them into waves and heavy water.
Shredder getting to see Shoshone Falls from the water. | Photo: Mike Tavares
SUPing with your furry friend can be an amazing experience that you can share year after year and adds a little excitement and adventure to otherwise ordinary paddles. Hope these steps will help enhance your doggy shred time and see you on the water…
To see more SUP Tips, click HERE.
Related Articles:
Last modified onMonday, 12 April 2021 16:29

USA - Mike Tavares is the ultimate river expert. As a modern-day nomad, Mike travels throughout the North American Continent with his side-kick Shred-dog and they explore rivers and lakes at every chance they get. Mike has the knowledge and expertise of a river master that can only be obtained by years and years of experience.
Website: https://www.facebook.com/rivershred?fref=ts
Email

This email address is being protected from spambots. You need JavaScript enabled to view it.