4 Tips For Choosing The Right SUP Gear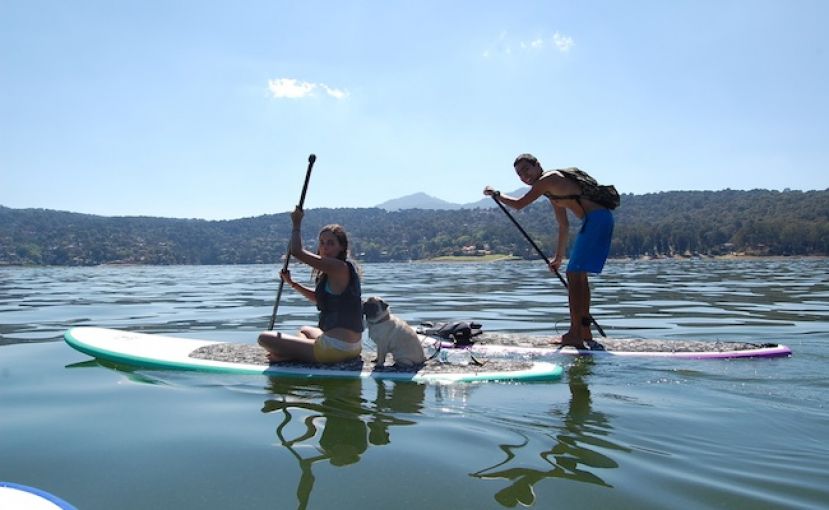 Image: Arturo Aponte
SAN DIEGO, California - As a newbie to the sport of SUP, your first big choice is getting set up with gear. The right board and paddle will speed up your learning curve, make it safer for you (and those around you) and increase the amount of all-round fun you'll have, while the wrong equipment will do the exact opposite. Today we'll go through the checks and balances you'll need to explore and how to get the most out of your time in the water.
4. Boards
All boards might look alike when you're browsing the racks at your local surf store, but the one's meant for beginners have a few common qualities that cater to people in your situation. To get some expert insight into beginner boards, we spoke with Andre Niemeyer, father of Supconnect.com and one of the most accomplished SUP riders in the world. Andre's first point is that you should look for something buoyant - you'll want a stable board underfoot to compensate for your developing sense of balance.
"Beginner paddlers need a board that supports their weight and height," Andre says. To figure out what works for you, Andre advises people to rent a board before buying anything. "Test out demos and paddle a few rentals in flat water to make sure that you know 100% that whatever you buy works for you." As a point of reference, bulky boards in the 10'6" - 11'6" range offer are the most common you'll find in stores, but don't let that be your standard set in stone - ultimately, the board you choose needs to suit your weight, height and build.
3. Carrying Your Board
A 10-12 Foot of board is a lot of fibreglass to move on your own, so don't be scared to ask for help when getting your SUP from the shop to the beach and back again. Most rental agencies have a strict 'You Break It You Buy It' policy when it comes to their equipment, so rather be safe than sorry. For more helpful tips, take a look at our article on Handling A Sup Board. You want a large deck pad that covers your entire board, for maximum grip coverage.
2. Paddles
If your board is the car you're driving, your paddle is its steering wheel. It may not be the biggest part of your vehicle, but it plays an important role. Ideally, you want your paddle to be around 8" to 12" taller than you when standing up with no shoes on. This is long enough for the blade of your paddle (ie. the part that does the paddling) to be fully submersed in the water without you having to bend awkwardly and hurt your posture.
1. Dress For Success - Wetsuit, Boardshorts, Rash Guards
Paddling is very physical. You'll sweat and burn through energy without realizing it. While SUP'ing is a watersport, you still end up spending the majority of time staying dry above the surface. Before you paddle out, consider the water temperature, the wind-chill factor and the air temperature, so that you'll regulate your body temperature according to the outside conditions and your rate of exercise. A thick surfing wetsuit is good if you're going to spend a lot of time in the water, but if you're just cruising along flat water, you may want to consider something a bit less constrictive.
Last modified onWednesday, 28 January 2015 10:07

Truscott is a widely published author in the surfing and travel world, has a master's degree in creative writing, and comes from a diverse backgroun in water sports.
Email

This email address is being protected from spambots. You need JavaScript enabled to view it.