3 Tips for Choosing and Handling a SUP Board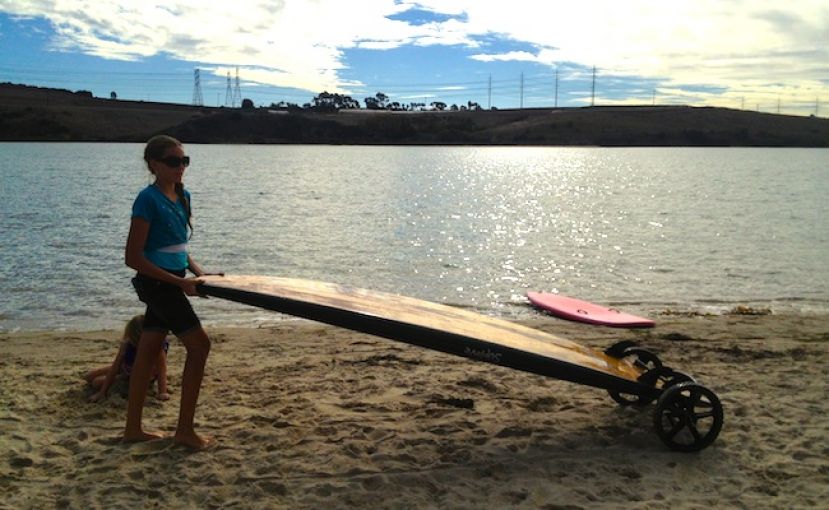 Tip: Using a board carrier can be a great help to SUPers of all ages !
SAN DIEGO, California - For all those people who have been introduced to Stand Up Paddle but have been intimidated by choosing and moving the large boards, have no fear... here are a few tips that should help you out!
Choosing the board:
*  Take your time choosing the right board and test out different sizes by trying boards that belong to others or by attending a SUP board demo.  Many of the local retailers or SUP speciality shops will have information on when demo days are taking place.
 *  While testing the boards consider your weight, height, and how stable you want the board to feel.
 *  Also think about your ambitions to do flat water versus surfing, touring, and river SUP.  There are different types of boards for each kind of water condition.  Talk to other experienced paddlers and really spend enough time doing personal research on what will best suit your needs.
Transporting the Board To and From the Water:
*  Once you feel that you have found your preferred board (or at least the right fit for the moment), take the time to see if you have the strength to carry the board for a short distance by practicing over the soft sand or grass where little to no damage will be done if the board drops to the ground.
*  If you find that the weight is to much to handle, look into using a SUP board carrier such as SUP Wheels, the Jax Trailer or other board carriers like those seen on the Better Surf Than Sorry webiste such as the Big Board Schlepper SUP Carrier.
Loading the Board On and Off the Car:
*  First you will need to have racks on your car, or at least soft racks (which are removable board carrying systems that allow boards to be transported on cars over short distances at a relatively slow speed in the car) so you can travel with the board(s).
*  Make sure that you also have quality tie down straps such as those offered by FCS SUP.  This will help ensure that your board doesn't go flying while you are driving.
*  It's a good idea to have an experienced paddler show you their technique for lifting the board onto the car and also for ensuring that the board is safely secured to the top of the car.  Little details such as having the fins at the front or back of the car, and wether to place the board right side up or upside down can make a difference and vary from board to board.
*  This is definitely one area to seek out an experts help before heading off and potentially causing harm to yourself or another person.
*  Finally, don't forget that the board is on top of your car and pull into the garage or another place only to peel off your board in a very ugly way!
The name of the game, if you're new to SUP, is to ask for some help.  Nothing will top the knowledge and comfort gained by working with an expert in these areas until it becomes natural.  Then, pay it forward and help the next new SUPer get their start.
Did someone help mentor you in your SUP infancy?
.
Last modified onMonday, 26 January 2015 11:41
Email

This email address is being protected from spambots. You need JavaScript enabled to view it.