The History of Stand Up Paddle Boarding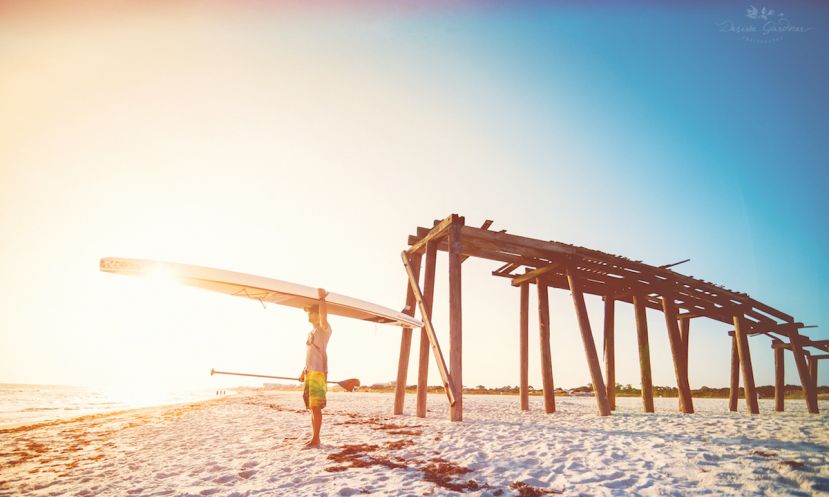 Photo: Desireé Gardner
Stand up paddle boarding (SUP), the act of propelling oneself on a floating platform with the help of a paddle or pole, traces back to thousands of years ago and across many continents, but its current form and popularity originated in Hawaii in the 1900's. Records of earlier forms of SUP have been found as early as 1,000 B.C. (i.e. 3,000 years ago) and its iterations span over various regions such as Peru, Israel, Italy, China, and beyond. By contrast, the modern form of stand up paddle boarding, where a surfboard-like vessel is used, has a much clearer heritage, dating back to the 1900's and emerging from a collection of loosely related activities by a few very specific characters, such as Duke Kahanamoku and Dave Kalama. Once it reached California in the early 2000's, stand up paddling formed four epicenters, each with its own fountainhead: Rick Thomas (San Diego), Ron House (Dana Point/San Clemente), Laird Hamilton (Malibu) and Bob Pearson (Santa Cruz). From there, the sport gained exponential popularity and California served as the catalyst for worldwide adoption. By 2005, SUP, which had till then been almost entirely a surfing discipline, began to diversify into racing, touring, rivers, yoga, and fishing. Its surfing heritage coupled with its various disciplines made the sport attractive and accessible to everyone all over the world, paving the way for its global growth and enthusiastic adoption.
Table of Contents
Earlier Forms
Earlier forms of stand up paddling appear to have little to no relation to one another and its versions span as wide as the regions where each is found. To be clear, the act of stand up paddling goes back to the first paddler who decided to take a stroke while standing. However, for the purposes of this article, "stand up paddling" is defined more narrowly, as an activity using an equipment specifically designed to stand up and paddle. That helps us pinpoint distinct standup paddle iterations without confounding them with occasional paddle strokes while standing up. With that said, here is a summary list of earlier forms of stand up paddling, their timestamps, and regional centers.
caballitos de totora, Peru, 1,000 BC (3,000 years ago) [1]
Hasake, Israel/Arab, 700's AD [2]
gondola, Italy, 1,400 AD [3]
boat hull, UK, 1886 AD [4]
Single-bamboo drifting, China, 1900's [5]
surfboards, Hawaii, 1900's and early 2000's AD [6]
Caballitos de Totora, a watercraft made out of reeds and propelled by a bamboo paddle, is native to Peru, dating back 3,000 years, and used by locals primarily for fishing, then later also surfing. Hasake "is a board-boat hybrid, with alleged Israeli and Arabic roots, possibly dating back to the 8th century A.D.," used for fishing, lifeguarding, and surfing. The Gondola is a flat-bottomed rowing boat from Venice, Italy, used for transportation, sometimes fitted for racing, dating back to the 1,400's A.D. and propelled by a single-sweep oar, not a pole, for the waters of Venice are too deep. A boat hull specifically built for stand up paddling has also been photographed in the region of East Anglia, UK in 1886 by photographer Peter Henry Emmerson. Single-bamboo drifting started as transportation in the northern Guizhou Province in China's southwest in the 1900's, but later developed into an athletic and competitive pastime, eventually being designated as a national sport. Reports of surfboards used for stand up paddling go back to Duke Kahanamoku, the legendary Hawaiian and Olympic Swimmer, who popularized the image of surfing around the world. Kahanamoku and the Hawaiian islands set the stage for the modern development of stand up paddling that eventually spread across the globe.
Modern Movement
The modern movement of stand up paddle boarding is rooted in the use of surfboards and modified outrigger paddles, evolving throughout the 1900's, and primarily on two Hawaiian Islands, Oahu and Maui. Its surfboard roots explains why surfing remained standup paddling's main activity throughout the 1900's, even into the early 2000's, as the sport was already receiving worldwide acclaim. Here is a summary timeline of the history of modern stand up paddle boarding.
early 1900's: duke kahanamoku, Leroy and Bobby AhChoy [7]
Mid 1900's: John "Zap" Zapotocky [8], Joseph 'Scooter-Boy' Kaopuiki [9]
Late 1900's: Dave Kalama [10], Laird Hamilton, Brian Keaulana, Archie Kalepa, C4 Waterman
Early 2000's: Rick Thomas, Ron House, Laird Hamilton, Bob Pearson
The early to mid 1900's have accounts of Duke Kahanamoku standing on a surfboard with some paddle of sorts, most likely an outrigger canoe paddle. Duke and other Waikiki Beach Boys, like the brothers Leroy and Bobby AhChoy, would stand up paddle during their surfing instructions to better spot waves for their pupils and others in the lineup. During these sessions, catching waves while stand up paddling was naturally inevitable for this bunch, as the story has it. On more detailed accounts, Bobby AhChoy had two extra motivations to stand up paddle. After a car accident, unable to swim or kneel, stand up paddling was his way of rejoining the lineup, plus it gave him the added benefit of keeping his cigarette from getting wet. A slightly later generation, largely inspired by these beach boys, become personified in John "Zap" Zapotocky and Joseph 'Scooter-Boy' Kaopuiki. "Zap" was born in 1918 in Brownsville, Pennsylvania, moved in 1940 to Oahu, where he became one of the noticeable stand up paddle figures in the lineup, having picked up the sport from Duke and the AhChoy brothers. According to Gerry Lopez, Joseph 'Scooter-Boy' Kaopuiki was yet another early adopter from around that time, who could be often spotted stand up paddling with his dog, Sandy. In the late 1900's, then came the generation that spurred stand up paddle boarding into the sport that it is today. While goofing around during a subpar surf session on Maui, Dave Kalama and Laird Hamilton, the pioneers of tow-surfing, decided to use their outrigger canoe paddle while surfing. Such was the fun they had that soon after the paddle was modified for stand up paddle surfing. On a different island, Oahu, but around the same time, Brian Keaulana, Archie Kalepa, and the C4 Waterman crew, Todd Bradley and Dave Parmenter, were building and helping further develop performance-oriented stand up paddle equipment. Highly talented surfers like Leleo Kinimaka and others began showcasing remarkable surfing performances and maneuvers, increasing even further the appeal and adoption of SUP as a legitimate sport. Then, in the early/mid 2000's, stand up paddling crossed the Pacific, landed in California and was forever changed, thanks largely to four key figures, Rick Thomas, Ron House, Laird Hamilton, and Bob Pearson.
California Catalyst
If Hawaii in the 1900's served as the brewing grounds of modern stand up paddling, California in the early 2000's became the distribution and diversification center for the sport. And of all the instrumental figures, few have done as much as Rick Thomas in introducing people to the sport and setting the tone for the community. Based in San Diego, California, a Vietnam veteran and one of the happiest and most private people you'll ever meet, Thomas introduced people to SUP with a big smile and a refreshingly cheerful attitude. This author got to witness this firsthand. His inclusiveness and support of the community set the stage for growth. While Laird served as an inspiration from an almost godlike perspective, Thomas was the personal touch that became so characteristic of the stand up paddle community.
Rick Thomas, San Diego
Ron House, Dana Point
Laird Hamilton, Malibu
Bob Pearson, Santa Cruz
Clockwise: San Diego, Dana Point, Laird Hamilton at Malibu (Photo: Henry Hungerland), Santa Cruz
Rick Thomas created a faithful tribe out of La Jolla Shores, his local break in San Diego, CA. From there emerged people like Bob Long, owner of West Coast Paddle Sports, who quickly converted his store to become a SUP-first shop, arguably becoming the world's pioneer SUP-shop. Others began to follow suit, resulting in even more paddlers and more shops selling stand up paddle equipment. Meanwhile, up the cost in San Clemente/Dana Point, Ron House was promptly converting his windsurf-based operation into a stand up paddle factory, releasing some of the most cutting-edge gear in the market, 10'6" boards to be used with Leleo Kinimaka wooden paddles (carbon was still a few years out). Ron House, together with the Hobie Dream Team (Collin McPhillips, Chuck Patterson, and Byron Kurt), started turning Dana Point into a hotbed of SUP. Later, Sparky Langley, from Rainbow Sandals, would roll out the Battle of the Paddle and turn Dana Point into the world's capital of SUP Racing. Moving up even further, in Malibu, Laird Hamilton began to make waves when he started riding the iconic point break on a stand up paddle board. And then all the way up in Santa Cruz, Bob Pearson started embracing the sport wholeheartedly and collaborating with Laird on surf-specific SUP models. From that, California had then become a prime catalyst to disperse stand up paddling into the world. But that didn't happen till discipline diversification kicked in.
Discipline Diversification
Modern stand up paddling had a clear surfing heritage and it had become known as an almost exclusive surfing activity, at least till about 2005. By then, the surf appeal made popular by the likes of Dave Kalama, Laird Hamilton, Brian Keaulana, and Leleo Kinimaka started making room for a new chapter in SUP's history, discipline diversification. Standup paddlers began paddling in prone paddleboard races, eventually to form SUP-only divisions. Fitness buffs started doing pilates and yoga on boards. Waterman living inland envisioned stand up paddling away from the oceans. And from there, stand up paddling evolved into something far greater than the lineups of either Hawaii or California.
Surfing: Dave Kalama, Brian Keaulana, Laird Hamilton, Leleo Kinimaka
Racing: Archie Kalepa & the Hobie Dream Team (Chuck Paterson, Colin McPhillips, Byron Kurt)
Touring/Flatwater: Ernie Brassard and Tahoe SUP
River: Dan Gavere, Corran Addison, Charlie MacArthur
Yoga/Fitness: Nikki Greg, Gillian Gibree, Sarah Tiefenthaler
Fishing: West Coast Paddlers and BOTE
By the early 2000's, Archie Kalepa and the Hobie Dream Team gave the world a hint that stand up paddling had a potential far grander than waves. Kalepa began unofficially participating in cross-channel races between the islands of Hawaii, making him one of the forefathers of downwind stand up paddle racing. Meanwhile in California, three exceptional athletes (Chuck Patterson, Colin McPhillips, and Byron Kurt) joined forces to represent the newly formed Hobie SUP Race Team. These three would show up at local prone paddle board races, which were just beginning to have SUP divisions, and put on a show of not only performance but also product R&D. Each would carefully pull his board in and out of board bags, trying to keep their edge in product development on the nascent race scene. Sensing and expanding on that flatwater movement, Ernie Brassard (together with Rick Thomas, Bob Pearson, Blane Chambers and a few others) organized the world's first inland SUP event and race, hosted at King's Beach on the north shore of Lake Tahoe, California. It was dubbed "Ta-hoe Nalu" and still runs to this day. That event back in 2007 was arguably the world's first stand up paddle specific event. Around the same time, Nate Brouwer founded the inland-oriented stand up paddle company "Tahoe SUP," making a bold departure from the sport's surfing heritage and diving wholeheartedly into the flatwater, inland market. With that SUP wave sweeping inland, river running came next. A bevy of core white water kayakers decided to start running rivers while stand up paddling. Dan Gavere (Oregon), Corran Addison (San Clemente), and Charlie MacArthur (Colorado) became the pioneers of SUP River Running and introduced the sport to a whole new demographic and exposed standup paddlers to entirely new possibilities, from slow running streams to class 4 and 5 rapids. From a less turbulent perspective, Nikki Gregg (Oregon), who was Dan Gavere's girlfriend at the time, began doing fitness workouts and pilates on stand up boards. Sarah Tiefenthaler (Orange County, California) and Gillian Gibree (San Diego, California) added yet a slightly different spin by bringing their yoga classes to the water on SUP boards. And then came the ultimate emancipation of SUP from its roots: fishing. Among the first was the Lane family down in San Diego, later a few people off Cabo San Lucas, but it wasn't till it reached Florida that SUP fishing became a certifiable chapter of SUP history. Corey and Magdalena Cooper, from Destin, Florida, launched a stand up paddle company primarily dedicated to fishing, BOTE SUP. And with that, standup paddling became a highly diversified discipline and its core foundations were then in place.
Worldwide Wave
Between 2005 and 2010, stand up paddling spread wide and rapidly, first gaining enormous popularity in California, later spreading across the U.S., much as a contagion of fun, community, and health. But since Hawaii and California are world-renowned tourist destinations, it wasn't too long till it spread across the globe. Naturally, the sport had a quick adoption in other surf cultures, such as Australia, Brazil, and France. But it's flatwater appeal broadened its spread across UK, Portugal, Germany, and other nations.
Hawaii
California
Florida
AUS, UK, France, … the world
Clockwise: Molokai 2 Oahu Paddleboard Championships. | Photo Courtesy: M2O / Lake Tahoe, California | Photo: Flux Photography / Gulf of Mexico in Destin, Florida. | Photo Courtesy: BOTE / Gold Coast, Australia
As the stand up paddle wave swept the world, there were specific regions making milestone contributions to the evolution and growth of the sport. Hawaii, the starting grounds of modern stand up paddling, kicked off with SUP as a surfing activity. California naturally adopted stand up paddle surfing, but spun off flatwater racing in Southern California and touring in Lake Tahoe. Then came Colorado, where SUP river running thrived as snowmelt during springtime filled the rocky streams. Meanwhile, back in California, yoga began to gain traction, followed by Nikki Gregg's fitness push in Oregon. Now traveling across the US, all the way to Florida, stand up paddle fishing was helping fishermen wade through shallow waters and reach ever deeper into the Everglades. From there, the international scene had some noticeable epicenters and characters. UK had an early SUP surfing and racing scene, partly due to Matt Argyle's enthusiasm, which he poured into one of the world's earliest stand up paddle publications, supglobal.com. France quickly followed up with a thriving SUP race community, which helped produce the first European standup paddle elite racer, Eric Terrien. Slightly to the South, Jason Pereira from Supxscape.com helped popularize the concept of tours on stand up paddle boards, visiting castles and other historic sites on the Tejo River. Down in South Africa, Greg and Chris Bertish were embarking on daring journeys and death-defying big-wave riding. Moving eastward, Australia quickly started to form some of the world's greatest stand up paddle athletes in the likes of Jamie Mitchell. Brazil, another country immersed in surf culture, joined the ranks of the world's top surfers with riders like Leco Salazar, son of Brazil's national surfing legend, Picuruta Salazar. With the continued growth of the sport, unlikely places also started to show-up on the SUP map, such as Croatia, Greece, Slovenia, Abu Dhabi and more. Each one of these areas have their own stories and chapters, many of which are yet to be written. In all of that, the pioneer shop owner in California, Bob Long, tells us that everyone in the world is connected in one way or another by six degrees of separation to arguably the world's most important SUP ambassador, Rick Thomas. And following his life lessons of humility, fun, and community, stand up paddling continues its journey across the globe.

Sources:

QUESTION: Who introduced stand up paddling to your area? Tell us your stories below.
© Supconnect.com Exclusive Copyrighted Content
Last modified onSunday, 02 July 2017 21:55
Andre Niemeyer is Supconnect's Publisher, founding president of the Standup Paddle Industry Association, and an expert SUP surfer. He has a strong background in competitive longboarding and has competed and won some of the early sup surfing events in mainland US.
Website: supconnect.com
Email

This email address is being protected from spambots. You need JavaScript enabled to view it.