SIC Maui Talks Product Development Behind Award Winning Designs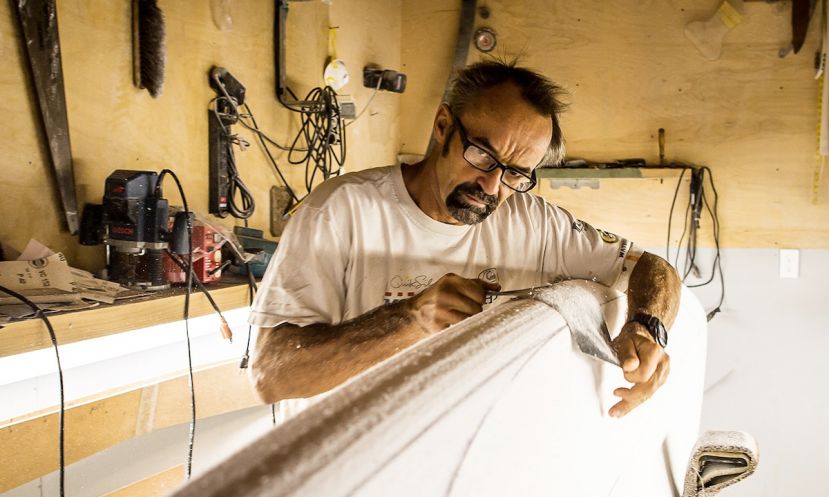 Mark Raaphorst in the midst of making a SIC Maui board. | Photo Courtesy: SIC Maui
SAN CLEMENTE, California - SIC Maui is one of the premiere stand up paddle brands producing some of the best stand up paddle products on the market. Their boards are high-class and perform beautifully on the water. SIC Maui walked away with two Supconnect Gear of the Year Awards for 2015: Best Race board with their X Pro series and Best Overall Gear of the Year for the SIC Bullet. So, how does SIC Maui create and design their award winning boards? We checked in with the crew and asked them about their magic making process. Here is our conversation:
Who is involved in product development at SIC and what are their pedigrees?
Our shaper Mark Raaphorst is the genius and inspiration behind each new shape produced by SIC. Decades ago, Mark set up Maui's finest ding repair shop, Ding King, and later founded SIC in the mid 2000s. Mark's skills and creativity are the special ingredients that makes each and every one of our boards a uniquely SIC product. As each shape is developed it is tested and refined by our team of global athletes, each of whom has excelled at stand up paddling's highest levels in their respective disciplines from open ocean and downwind paddling, SUP surfing and technical course racing.
What's the product development process like at SIC?
The process can have one or all of several instigators; Naturally we are first inspired by the board we would want to ride. We make it, ride it and share it. Then there are the team riders looking for that personal edge. They are competing in events around the world and providing feedback based on their experiences. When they win, the boards they used receive a lot of visibility and the inquiries start to flood in.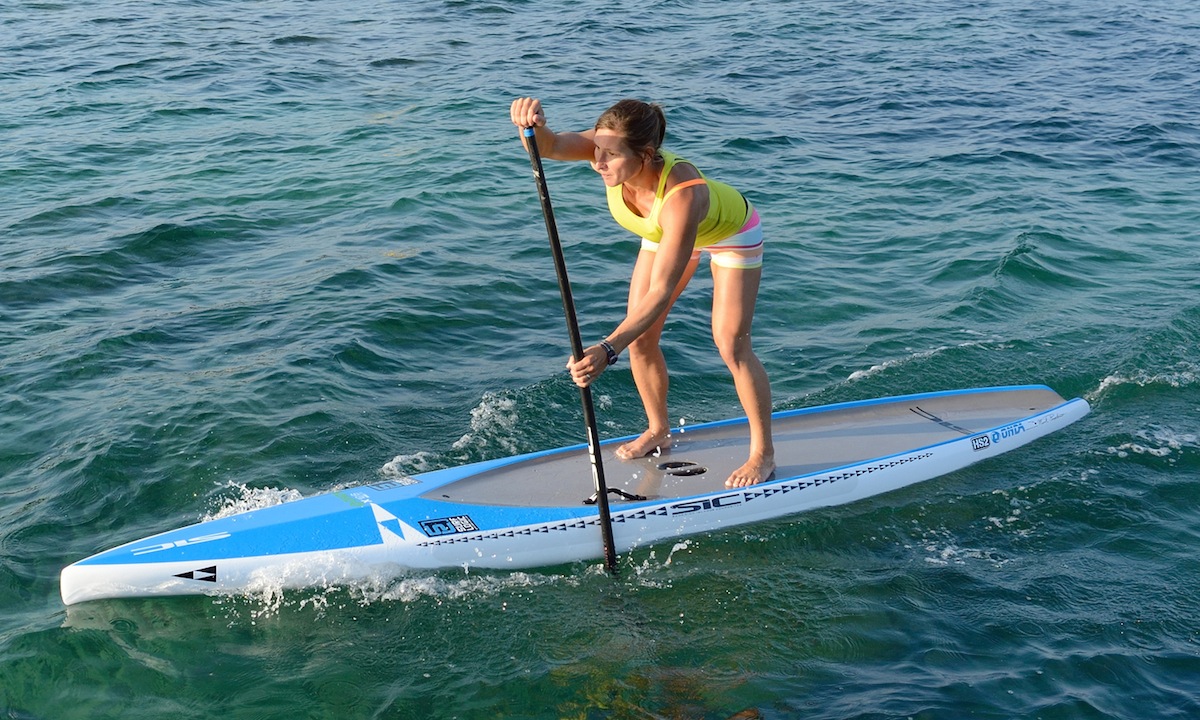 SIC athlete Lina Augaitis on the X Pro. | Photo Courtesy: SIC Maui
How long does it take to get a board 'just right' and how many prototypes are built?
We hardly ever nail it with one or two prototypes and on average build three to five different versions. When we think a model is production-ready we think forward two to three years and ask ourselves: Does the shape have enduring value or will it be the one hit wonder? It takes anywhere from 6 to 18 months to completely roll out a new product line.
How many tests are done before you get a product you're happy with?
We build, on average, three to five board prototypes and test them until we feel we have refined a product which will stand the test of time.
Where do you test it?
We take it out on the body of water the board for which it is intended and paddle it in the full range of conditions from serene to extreme.
When do you know a board is ready for market?
This comes from extensive testing with the team before market. Whether in competition or training, the weak points are exposed and we receive countless hours of feedback and critique which ultimately drives the end product. This process coalesces during tradeshow season when you see paddlers returning demo boards with big smiles across their faces. That's when you really know that an idea has manifested itself into the fastest or most enjoyable products we can deliver. It's where the rubber meets the road. It's really satisfying to see after all of the hard work we put in.
What are some of the leading trends you see in this category of product development, for instance, in terms of design, construction, graphics, etc?
In regards to the Bullet Series (pictured above), SIC Maui is one of the first brands to make a comprehensive line dedicated to open water paddling. The Bullet series is a go anywhere, do anything design. What started as a love of downwind paddling on the famed Maliko run has now turned into a collection built for paddlers of all ability levels. As the sport has grown and the demand for this best selling line has extended far beyond the epic swells of Maui, we have created designs that make all types of water accessible and adventure ready. The evolution of the Bullet series and open water paddling lies in the advent of our all new F.A.S.T steering system. This efficient new take on SUP steering is a quantum leap forward from any system that precedes it. It is simple to use, safety minded and will unlock a new dimension in paddling all types of open water.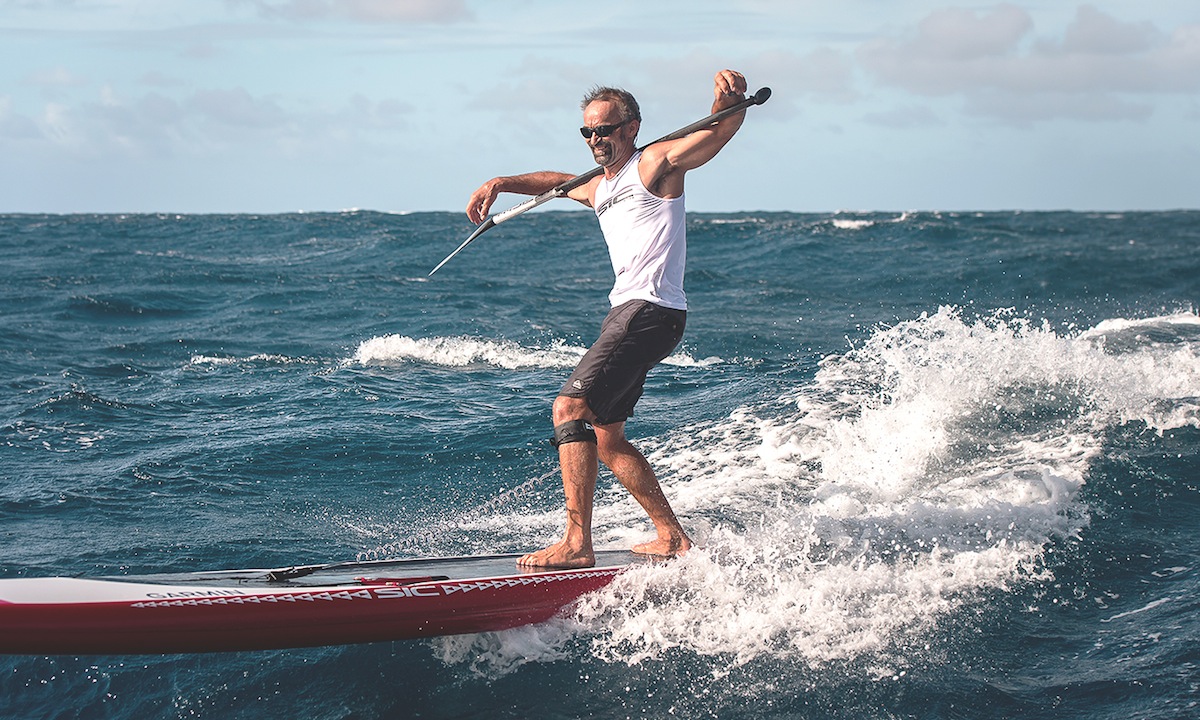 Mark Raaphorst having a blast on an SIC Bullet. | Photo Courtesy: SIC Maui
In regards to the X Series, Race is a rapidly changing discipline within SUP. Here you see shapers experimenting with the slightest tweaks to board design, widths and weights to shave seconds off of the clock. Mark Raaphorst and his staff set out to dominate the race circuit with the fastest waterlines on the market. As the feedback came in, the line has evolved into three shapes for every level of flat water paddling: the X, X Pro, and the famed X Pro Lite. We are constantly at work refining and defining our shapes, which often results in bringing new models to market.
How does the Bullet and X Series differentiate itself from the competition?
For the Bullet Series, SIC is the standard when it comes to open ocean paddling. The high volume, planing hull and pin tail all work exceedingly well in open ocean racing. The lessons learned from paddling in the most extreme conditions on earth have translated into a board series that is stable and versatile for recreational paddlers of any ability level, paddling in any conditions. These boards are truly the mountain bikes of the water.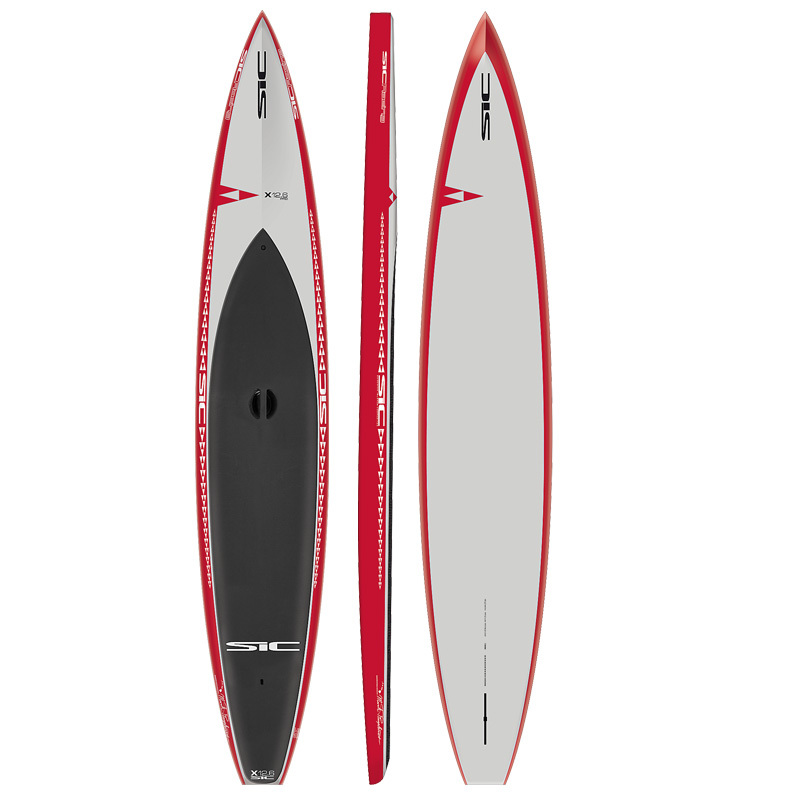 For the X Series (pictured right), the thick rails and recessed deck on our X Series boards gives them an unrivaled level of stability. By building the board in three width variations: X, X Pro and X Prolite, we are able to offer a board with speed and stability to any paddler from elite racers to beginners out for their first glide.
Who is the Bullet and X Series best suited for?
We like to call the Bullet Series the mountain bike of the water for good reason. These boards can really do it all. Stable enough to handle the most challenging conditions, the Bullets are fantastic open water fitness and touring boards. Anyone who regularly paddles in the ocean, large lake or a river will find themselves perfectly at home on a Bullet.
The differentiation in widths across our X Series boards make them accessible for racers of all ability levels. The wider widths on the X Pro and X lends itself well for flat water recreational touring and fitness paddlers seeking comfort and speed, while the X Prolites are pure elite racing craft.
To see more and what's new from SIC Maui, check them out on the SIC Maui brand hub HERE.
Last modified onFriday, 20 November 2015 09:58

Submit your news, events, and all SUP info, so we can keep promoting and driving the great lifestyle of stand up paddling, building its community, and introducing people to healthier living.
Website: supconnect.com
Email

This email address is being protected from spambots. You need JavaScript enabled to view it.