Obra & Gomez Shine At 2016 Wrightsville Beach SUP Surf Pro Am In Rough Conditions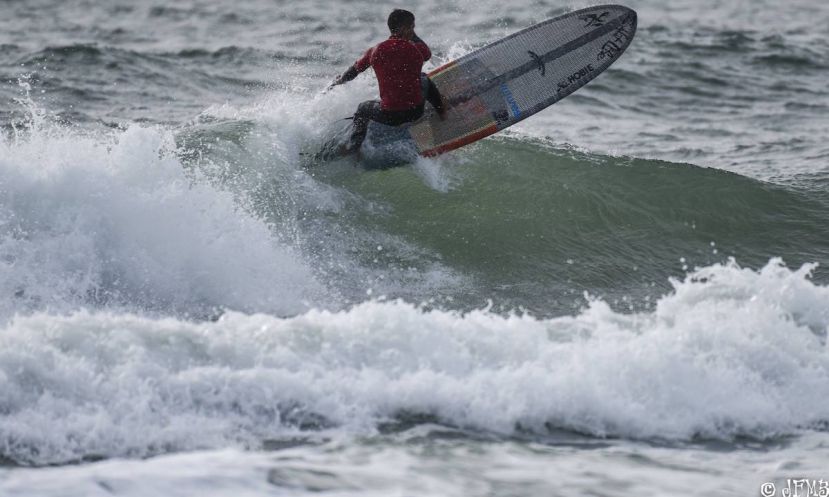 Bullet Obra took top honors at the 2016 WB SUP Surf Pro Am. | Photo: Jim Mowatt
WRIGHTSVILLE BEACH, North Carolina - Wrightsville Beach, North Carolina has been on everyone's radar for some time now because of the world renowned Carolina Cup. After this year's Hobie Salt Life Pro Am, the world's paddle boarding community now has a legitimate reason to come a week early and watch the world's best in the surf.
This annual contest is the primary fundraiser for the Waterman Hall of Fame at the Wrightsville Beach Museum of History. This year with the backing of industry partners Hobie, Salt Life, The Carolina Paddleboard Company and Spoon Goons, as well as a number of local partners, this event paid out a $9500 prize purse. A number of participants commented that this year's prize purse, which was broken down by Men's Pro ($4000), Women's Pro ($4000), Longboard ($1000) and the Newkirk Waterman Award (Best Combined Overall Performance $500), may be the largest paid prize purse in recent memory.
Pictured: Left: Bullet Obra; Right: Bernd Roediger | Photos: Jim Mowatt
The Men's Division totaled 16 participants and came down to a final that included Bullet Obra (Hobie), Connor Bonham, Bernd Roediger (Naish) and Fisher Grant. Florida versus Hawaii in shoulder high surf with 20 knot northeast winds is actually a pretty fair fight. How these world class athletes can maintain their concentration and balance in "sporty conditions" like these, on 55-75 liter boards is amazing. But, in the end, Hobie Team Rider Bullet Obra took top honors with his precision turns and surgical approach. Bullet's $2,000 payout would not be the last check Mr. Obra would be receiving from the Wrightsville Beach Museum's coffers this day.
I knew that we had an amazing Women's lineup, but when Candice Appleby says "this is as good a final heat as I've ever surfed in" a good ole boy like me is going to take notice. The Women's Division started with eight participants and narrowed to a final that included Starboard's Izzi Gomez, Emmy Merrill, Candice Appleby and Werner Paddles' Fiona Wilde. As I watched these women perform, it struck me that if these four had been in the men's bracket, there might have been a few bruised male egos left in the sands of Wrightsville Beach yesterday. Fiona, Candice and Emmy all finished in a very tight pack behind current world champ Izzi Gomez. Izzi's smooth style and wave placement looked right at home in conditions very similar to those of her home breaks in Florida. This is the second year in a row that Izzi has walked off with the $2000 payout and the first place trophy in this event.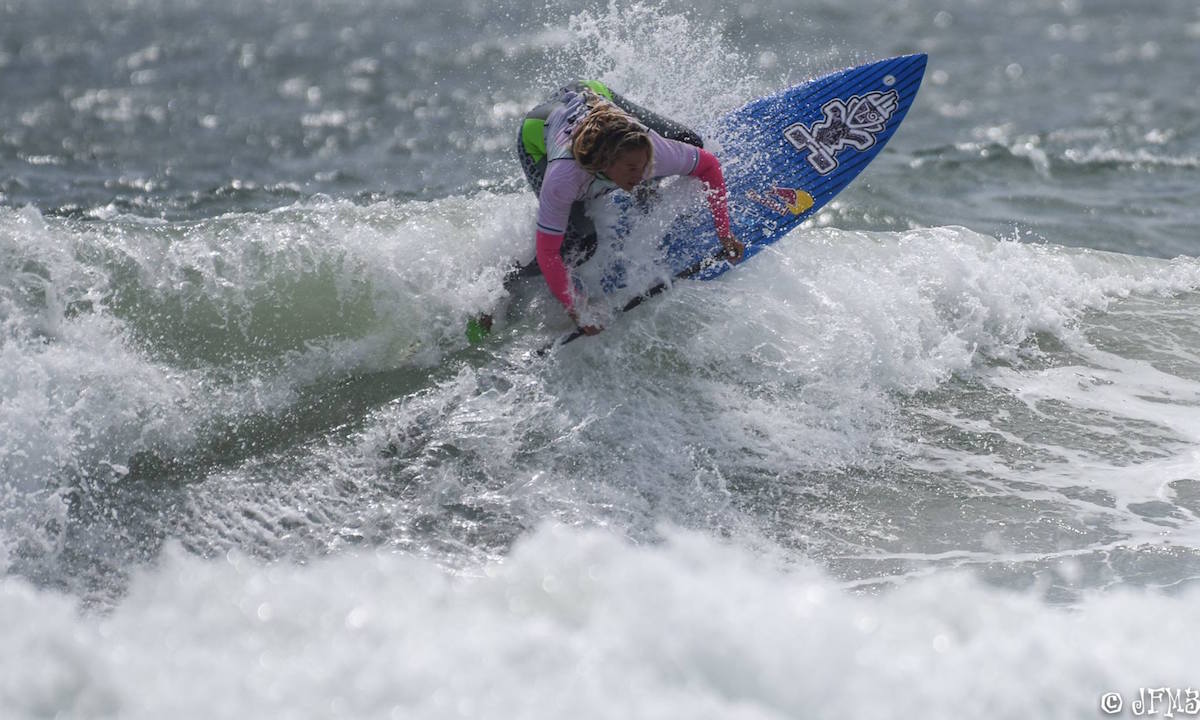 Pictured: Top: Izzi Gomez, Bottom Left: Candice Appleby, Bottom Right: Emmy Merrill. | Photos: Jim Mowatt
In last year's event a conscious effort was made to bring a division to the table that would broaden the appeal of the sport while reflecting the local surf scene. That idea must have worked because this year's longboard division had 16 entrants, including three female competitors, Candice Appleby, Emmy Merrill, Lexi Alston. The final ended up pitting Hobie's Colin McPhillips and Bullet Obra against Florida's dynamic duo, Fisher and Kieran Grant. Bullet and the Grant Boyz excelled in these conditions and really put on a display of versatility and athleticism. But, beating a three-time world champ is a tall order. Colin's effortless style always brings a smile to this old longboarder's face and Colin left Wrightsville Beach with another $500 in his pocket.
The final award of the day was the Haywood Newkirk Senior Waterman Award, which is given to the entrant which has the best combined overall finish in the Open Division and the Longboard Division. Prior to the Men's Open Final, last year's Newkirk Award Winner Fisher Grant and Bullet Obra were in a dead heat for the trophy. Bullet's victory in the Men's Open, however, sealed the deal and Mr. Obra's name is permanently etched on a trophy that is now prominently on display at the Wrightsville Beach Museum of History.
I am so fortunate to be a part of the team that puts this event on every year and though the pro's deservedly get most of the headlines there are a few things that will forever standout about the 2016 contest. Watching four 12-13 year old girls fearlessly paddle out in 20kt+ winds and take off on waves well over their heads, while others choose to sit this one out. Team Hobie dominating the event with 1st place finishes in the Men's Open, Longboard and the Women's Amateur (Lexi Alston); and placing at least one, if not several team riders in every pro division.
Pictured: Left: Kieren Grant, Right: Mo Freitas. | Photos: Jim Mowatt
The international representation at this event was unparalleled for the East Coast. My longboard heat consisted of a Hawaiian, a Californian, a Frenchman and one overmatched Carolina Boy. Mo Freitas illustrating what a class act he is by showing up on the second day of competition and providing play by play for the men's final. But what I will most remember about this year's tilt is the reaction of one of the Regional News Reporters. After watching most of the pro heats and interviewing a number of competitors she remarked, "I have covered a number of athletic events and I do not know what I am more amazed by, the performance of these athletes or their humble demeanor."
See Y'all next year!
To see more photos from the Wrightsville Beach SUP Surf Pro Am, click HERE.
Last modified onMonday, 02 May 2016 12:18

Wrightsville Beach, North Carolina - Haywood is the 5th Generation of a family that began exploring the waters of Wrightsville Beach in the 1820's and by the age of 7, Haywood had his first skiff. Fishing, crabbing, clamming, seine netting, surfing, hunting and water skiing are just some of what Haywood can do. When not surfing, you can find Haywood looking to catch some fish.
Website: https://www.facebook.com/haywood.newkirk
Email

This email address is being protected from spambots. You need JavaScript enabled to view it.