International Kalama Camp Set To Launch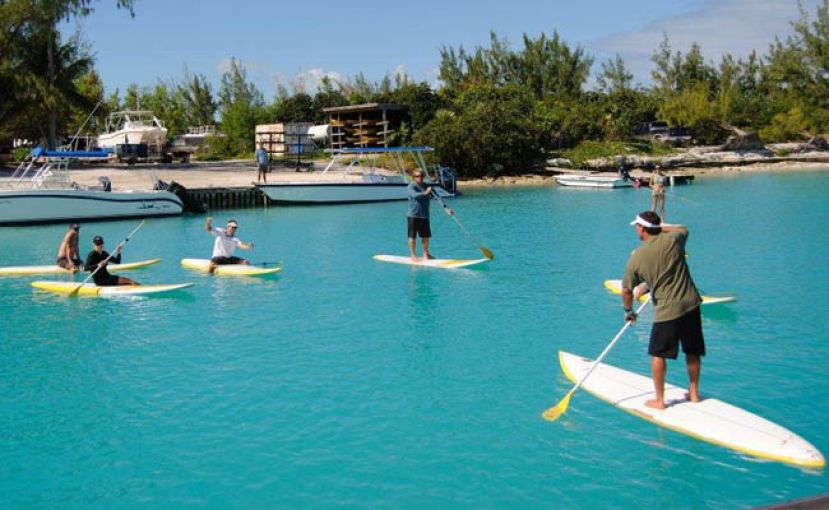 ST PETERSBURG, Florida – Stand Up Fitness announces details of the 2nd International Kalama Kamp at Vista Guapa Surf Camp (www.vistaguapa.com) from Saturday, April 9th through Saturday, April 16th 2011. Partnering with renowned waterman and Stand Up Paddleboard (SUP) pioneer Dave Kalama and Vista Guapa founder and seven-time Costa Rican national surf champion Alvaro Solano, Kalama Kamp Costa Rica is a weeklong SUP adventure retreat featuring private instruction, daily SUP activities and nightly social gatherings. The all-inclusive (excluding airfare) Kalama Kamp offers the unique opportunity for SUP enthusiasts to explore one of the world's most coveted surfing destinations while receiving personalized instruction from top SUP industry experts. "We are thrilled to host Kalama Kamp at Vista Guapa," explained Alvaro Solaro, Founder and Co-owner of Vista Guapa. "We guarantee that it will be the SUP/Surf experience of a lifetime in beautiful Jaco Beach with instruction from some of the industry's best watermen and top surfers in the world."

Kalama Kamp Costa Rica will include one-on-one instruction from Kalama, the Hawaiian Big Wave Surfer and Windsurfer who is considered one of the driving forces behind the reemergence of stand up paddling into the watersports arena. Additional instructors include Solano, Stand Up Fitness Founder Brody Welte and John Denney of Jupiter Paddleboarding. Kalama Kamp is limited to 12 spaces assuring the most intimate, personalized SUP experience possible. YOLO Board and Quickblade Paddles are participating as the board and paddle sponsors respectively for the camp. "We are stoked to be bringing Kalama Kamp to Costa Rica, one of the most beloved surfing spots in the world," added Welte, Founder of Stand Up Fitness. "Kalama Kamp Costa Rica is the perfect opportunity for anyone, regardless of skill level, who wants to take their paddleboarding experience to a completely new level and meet like-minded individuals. Kalama Kamp Costa Rica is ready to embrace the Pura Vida lifestyle!"

Nestled on five beautiful acres of hillside overlooking the Pacific Ocean, Vista Guapa is an upscale surf and standup paddleboard camp offering a first class surfing vacation for water lovers of any skill level. Run by Solano, the camp is located in the well-known surfing destination of Jaco Beach and conveniently located with easy access to some of the best surf breaks on the Costa Rican Pacific coast. In addition to surfing and standup paddleboarding, Vista Guapa guests enjoy a range of outdoor activities including yoga, canopy tours, mountain biking, fishing trips and kayaking in partnership with local tour companies. Kalama Kamp Costa Rica is currently accepting registrants for this exclusive opportunity. Rates are $3499 per person and are all-inclusive excluding airfare. To reserve space in Kalama Kamp Costa Rica, please call 727-902-4294 or email [email protected]

About Stand Up Fitness

Founded by fitness professional Brody Welte in 2009, Stand Up Fitness is a locally owned multi-dimensional fitness and recreation business serving the St Petersburg, Clearwater and Tampa Bay areas of Florida. Named 2009 Entrepreneur of the Year by the St. Petersburg Young Professionals, certified personal trainer Welte has introduced the fast growing sport of stand up paddleboarding (SUP) to the Bay area through his specially designed fitness class Paddle Fit. Paddle Fit is the first-ever SUP-based fitness program to be sanctioned by the American Council on Exercise. Stand Up Fitness offers SUP lessons, board rentals, Paddle Fit classes, Eco Tours, Boot Camps and personal training. Stand Up Fitness is a proud partner of YOLO Board and an exclusive retailer of YOLO Board products in the Tampa Bay area. Stand Up Fitness has two retail locations, Kahuna Kai Paddle Shop at 1031 4th Street North in St Petersburg and Kahuna Kai Adventure Center at 1001 Gulf Boulevard in Clearwater. For more information, visit www.standupfitnessinc.com or call 727-902-4294.
Last modified onWednesday, 28 January 2015 12:49
Email

This email address is being protected from spambots. You need JavaScript enabled to view it.