Inside The 2018 Columbia Gorge Paddle Challenge With Fiona Wylde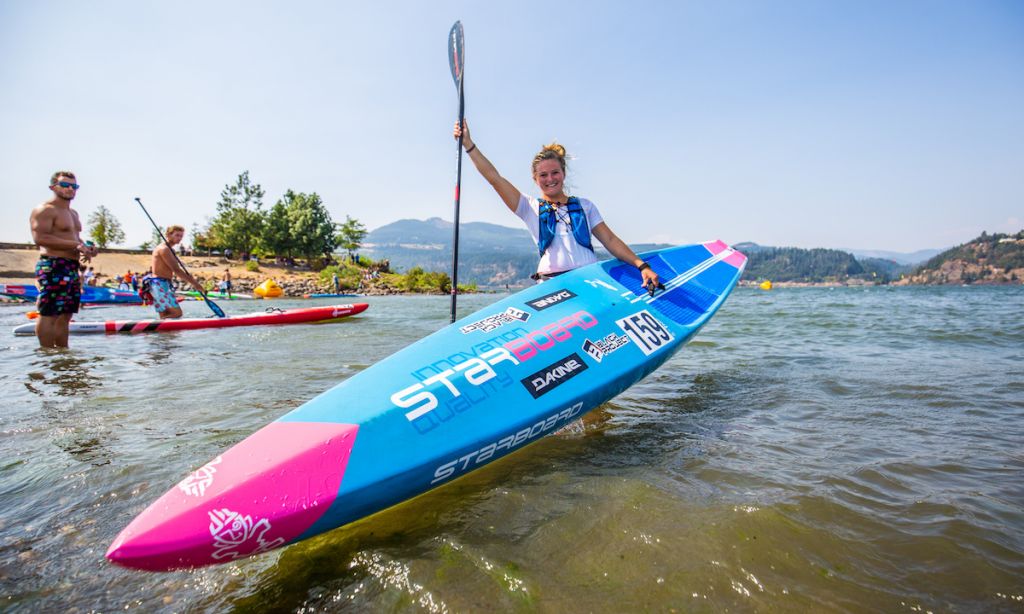 Hometown hero Fiona Wylde all smiles at the 2018 CGPC. | Photo courtesy: Paddle League / Georgia Schofield
HOOD RIVER, Oregon - What an amazing weekend it was! We were fortunate to be greeted with a hefty breeze all weekend for the 8th Annual Columbia Gorge Paddle Challenge, creating epic downwind conditions and a very technical course race! It is crazy to think that this is already the eighth year of the Paddle Challenge. This race was my first stand up paddle event that I ever competed in! Since the very begging downwinding has been something that I've loved, and with very few downwind dedicated events, it's an honor to have one of the most prestigious events held in my home town of Hood River, Oregon!
This year was second to none because the Paddle Challenge joined forces with the Paddle League brining most of the top elite paddlers in the world, including a massive open field. Luckily for us, we had a little bit of everything in the week leading up to the paddle challenge. There was a mix of windy and flat days, allowing visitors to check out the other none water activities surrounding the Gorge like mountain biking, hiking, and of course lots of eating and maybe some wine tasting too ;)
But when the race was right around the corner, the forecast lined up perfectly to provide two windy days for both the Double Downwinder and the course races. I am not going to lie, I was really nervous for this race. I had won it the last two years and I really wanted to win the double down a third year in a row, but all of the women are getting so much stronger and so much faster downwind, that I knew it was going to be difficult to say the least.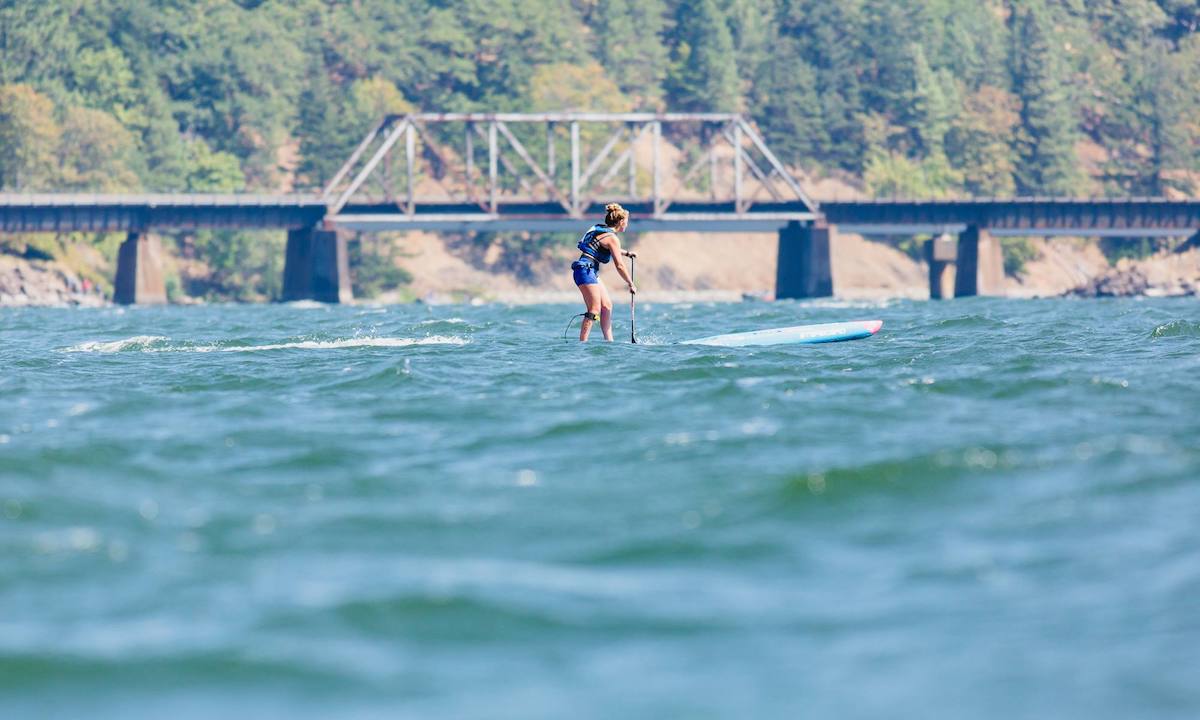 Fiona Wylde racing in the iconic Double Downwinder. | Photo courtesy: Paddle League / Georgia Schofield
I have spent so much time on the river between windsurfing, paddling, sailing and kiting, that I can understand the way that the currents work, but it changes every day. The currents are controlled by the dams and the dams either release more or less water depending on how little or how much power they need to produce. This means that the currents are always chaining and it's tricky to pinpoint exactly what is going on that day. A lot of times the flow will even change throughout the day, which effects the way you paddle down the river.
Without a doubt I knew I was going to take the Starboard Allstar. This board is my magic board and I have never felt as comfortable on any other board. Not having to make a decision of what board to take on race day makes it so much easier to just focus on the race. I also knew my line that I wanted to take, but the current was strong and the wind was still light on the first run, so this made the bumps a little bit flatter. Everybody flew out of the gates in the fastest start I can remember! Terrene Black was right next to me and we were going side by side pushing hard, each trying to make a little gap with every bump. It took me about 2 miles before I started to put on any gap that was more than one bump length ahead of her. By then I was already pretty exhausted. I basically had just sprinted two miles to establish a lead. This kept me nervous and kept me paddling quickly. I was able to keep my head down, transition a bit more from sprinting for bumps to surfing glides and this helped me put a little bit more distance on the rest of the pack.
I won the first run by about two minutes. In any other race, I would be stoked to win by over two minutes! But in this type of racing, especially when you have to to go back up to the start and do there same run over again, anything can happen. All is takes is a few bumps and you can either close or lose 50 meters. I knew that if I wanted to hold onto the lead, I was going to have to dig deep to get another quick start and keep pushing hard all the way through the finish.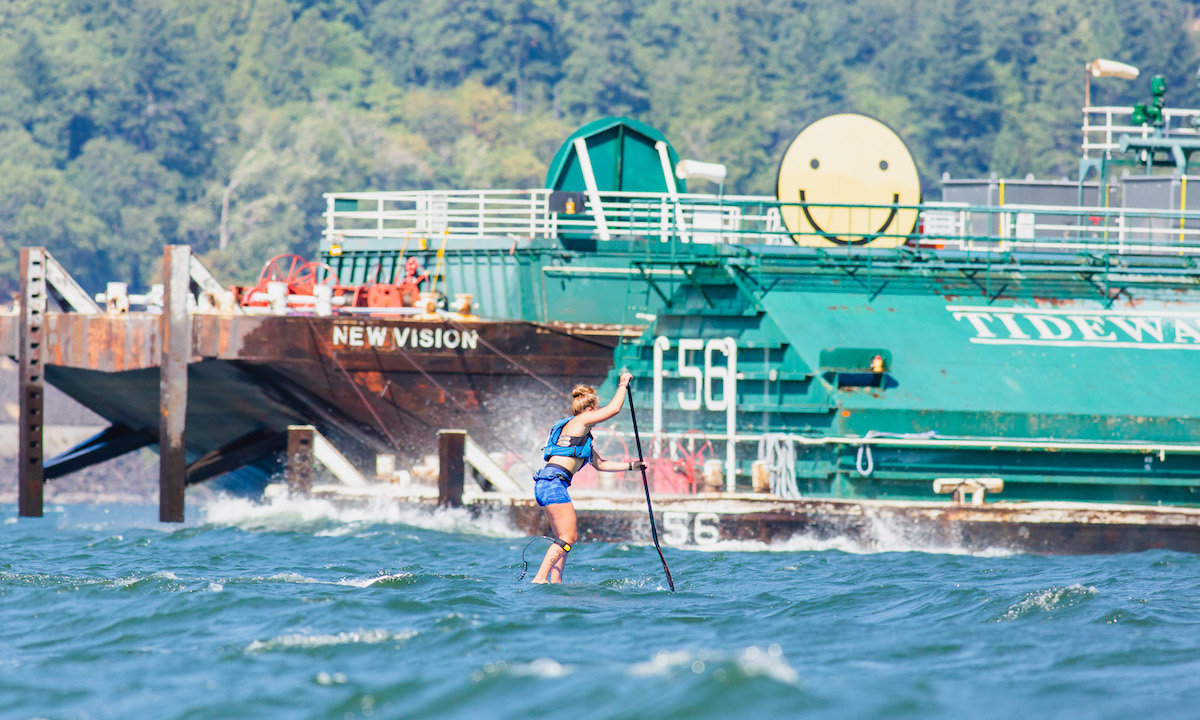 Fiona Wylde racing in the 2018 Columbia Gorge Paddle Challenge. | Photo courtesy: Paddle League / Georgia Schofield
On the second lap, Annie Rieckert, amazing water woman and good friend from Maui, sprinted like I have never seen off of the start! We were neck and neck for the first third of the race, trading glides, sprinting up next to each other and weaving near and far depending on which direction our glide took us. It was really amazing in that sense, we were just surfing together! But at the same time, the race was on, and as much as it is fun to surf with friends, that day we were on a mission.
One of my favorite sections in the Viento Run is called Mitchell Point. The bumps get much steeper and become groomed. Through this section of the river, I can normally keep my board plaining by surfing from bump to bump, but only if I get a good bump ahead of the section and it all lines up. When I saw the trough of the glide that would carry me through Mitchell Point, I knew I was golden! I just had to keep it rolling! I got on the bump, stepped back and boom, I was off. It is the coolest sensation in the world to have your race board planning from downwind glide to downwind glide! I just kept this momentum going! One glide at a time, that's all I was telling myself- you can do it!
When I rounded the island, I saw the flags blowing at the finish, only half a mile to go! Coming into the finish I could see people lined up along the bank of the river, and when I got closer the roar of cheers was belting through the wind! It was the most amazing thing to hear friends, family, people I didn't even know, all cheering for me! I couldn't help by smile on my way into the finish line! I jumped off my board to run up the finish line where kids and adults were all holding out there hands for me to high five them on the way up! All of the JET (Junior Elite Team) kids were standing there at the finish waiting to give me the biggest hug!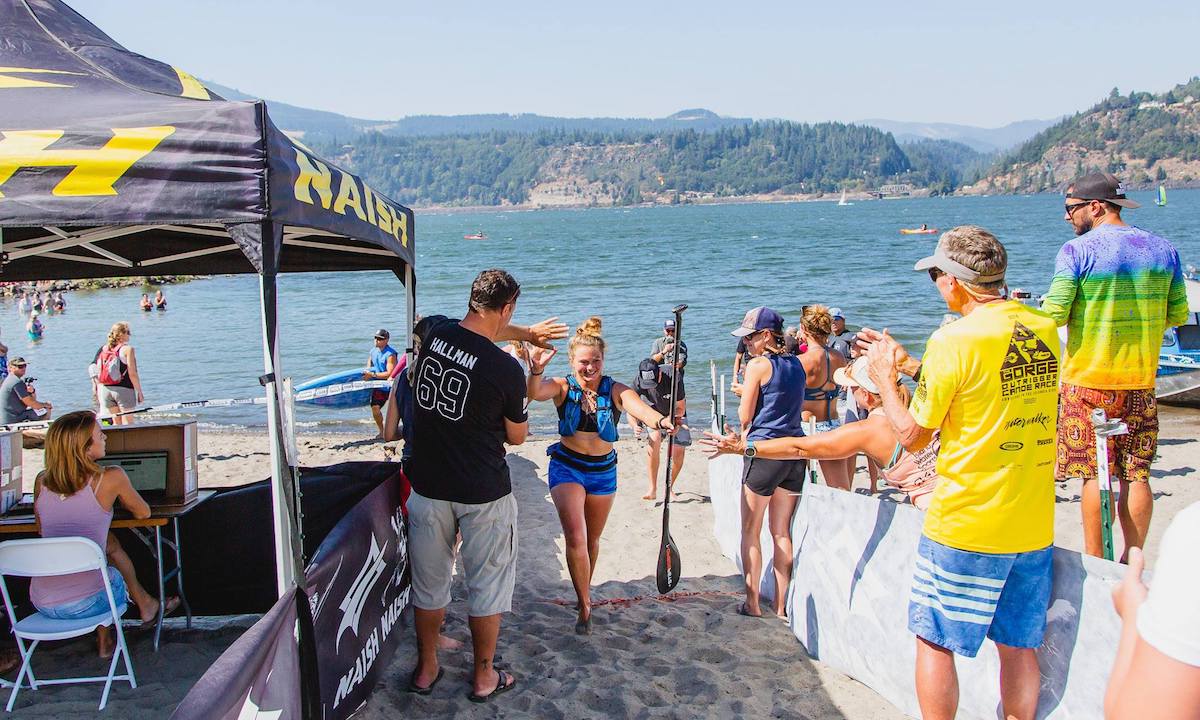 Fiona Wylde crossing the finish line after the Double Downwinder. | Photo courtesy: Paddle League / Georgia Schofield
For me, this really is a community win. So many people have helped and watched me grow up in this community, all contributing to the person that I am today. For me to be able to share this win with all of you, everybody from Hood River, family and friends, it is the most rewarding victory I have ever experienced! So many emotions went into day one, that when day two came around, I felt the biggest relief lifted off of my shoulders! Serene William once said, "Pressure is Privilege", and I never understood it until this weekend.
Last year in the Course Race I ended up passing out and spending the afternoon in the Hospital, so my only goal for the course race was to not do that! To be completely honest, I didn't know how the course race was going to go. I was really tired and definitely sore from the downwinders, so anything could have happened. The course was a four lap course with one lap being a 'Hot Lap', meaning one lap was slightly shorter than the others. This throws a lot of strategy in the mix. I had a really good start and found myself tied for first with Sey Chelle Webster heading into the first upwind leg. When we rounded the upwind mark, I sprinted and got a bit of a gap on the downwind section. She caught back up to me on the second leg and we went into the W part of the course together. No hot lap for us on the first lap. However some people did do their hot lap on the first lap, including Olivia Piana. Now myself, Shae Foudy and Sey Chelle are all neck and neck together.
On the next upwind leg, I got a bit of separation and was just a board length behind. Since some people took their hot lap early, it meant that there were people ahead of me and the downwind section of the course was really choppy. It was tricky to find a glide and connect it. It was the second lap in and Sey Chelle and Shae were about two board lengths ahead of me when they didn't take their hot lap and I did! I went for it, put the hammer down and started sprinting.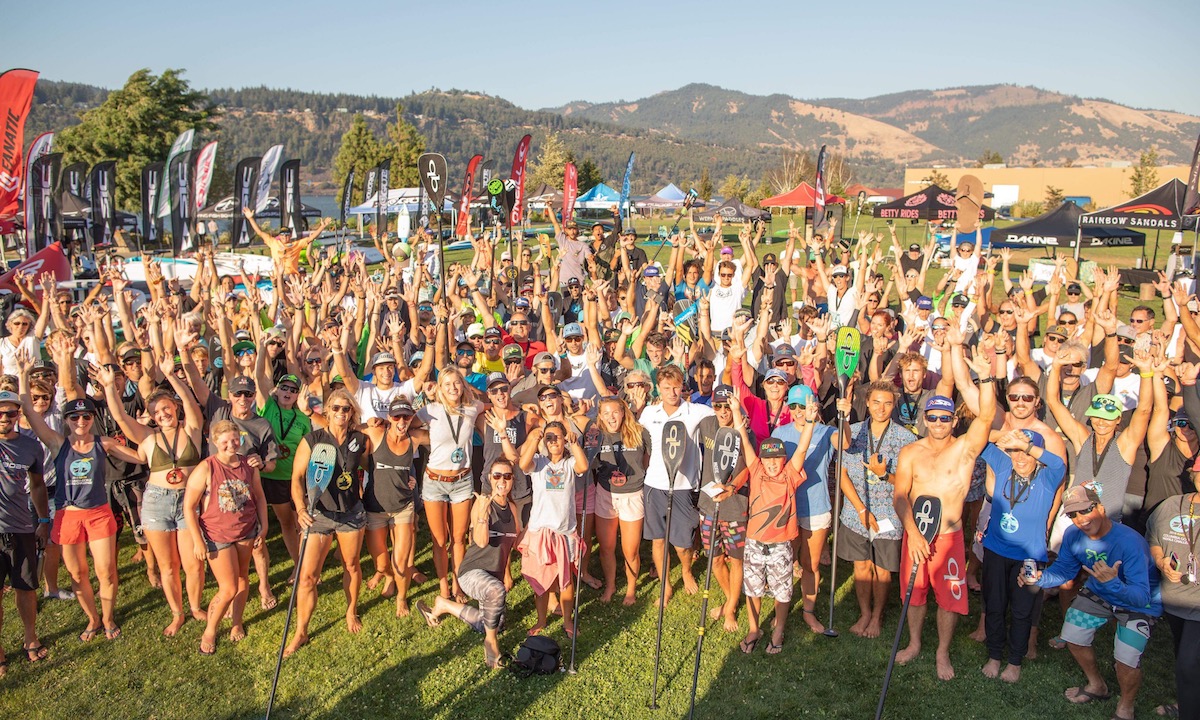 The crowd was in high spirits at the 2018 Columbia Gorge Paddle Challenge. | Photo courtesy: Paddle League / Georgia Schofield
I tried everything to hang onto the lead, but when we came back together, I was about 2 meters behind. Whether that rocked my confidence or I was just exhausted, I'm not sure, maybe both, but I lost a ton of speed. I finished the race in fourth behind Shae, who won, Sey Chelle in second and Olivia in third. I am not bummed with this result at all! I had given it my all, tried to make up some ground by taking a different strategy, and it just didn't work. And beyond that, I was standing on my two feet, not in an ambulance, so that was a major plus.
With my combined time between the downwind runs and the course race, I had the lowest combined time, so I won the Overall Water Woman Award! Creating a three-peat in the double downwinders is something I am so proud of, but to have this be my 4th Overall win is something that makes me even happier. As an athlete I find it important to be able to compete in many different disciplines, and I am honored to take this award home, especially 4 out of the 8 years this event has been running!
I will always remember this event and this summer with a smile on my face. Sharing Hood River with friends from around the world and making new friends along the way, is the greatest pleasure I could have as an athlete! Thank you to everyone who came out to Hood River to be part of this event, but also thanks to my amazing friends for just being such good people and loving life! The biggest thanks of all goes out to Steve Gates, the owner of Big Winds and his family, Erin, Rob, Jody, and Jinny for all of the hard work they put in to keep this event running and for the amazing influence that they have had on my own life. Steve introduced me to the sport of SUP and for that, I can never be grateful enough.
Now that the event is over and things are quieter, I am sitting in my living room finishing up this post just smiling. I couldn't have asked for a better summer or better people to share it with. Thank you all!
For more News on the Colubmia Gorge Paddle Challenge, click HERE.
For more SUP News, click HERE.
Last modified onWednesday, 29 August 2018 10:31

Hood River, Oregon - Fiona Wylde comes from the American capital of wind and kite surfing. So (no surprise!) she is into both of those sports. But more interestingly, she comes from one of the greatest kids SUP programs, hosted by Steve Gates, owner of Big Winds. Wylde's raw talent and discipline found a catalyst in that venue and group, catapulting her into the world stage and the top of the stand up paddle competitive scene. After graduation, she was diagnosed with Type 1 Diabetes. But that has not stopped her. Instead, Wylde is now becoming all the more of an inspiration for the millions of people who face that challenge while aiming to continue to live that outdoors athletic life.
Website: www.fionawylde.com/
Email

This email address is being protected from spambots. You need JavaScript enabled to view it.