Connor Baxter Recaps His Second Win At The Pacific Paddle Games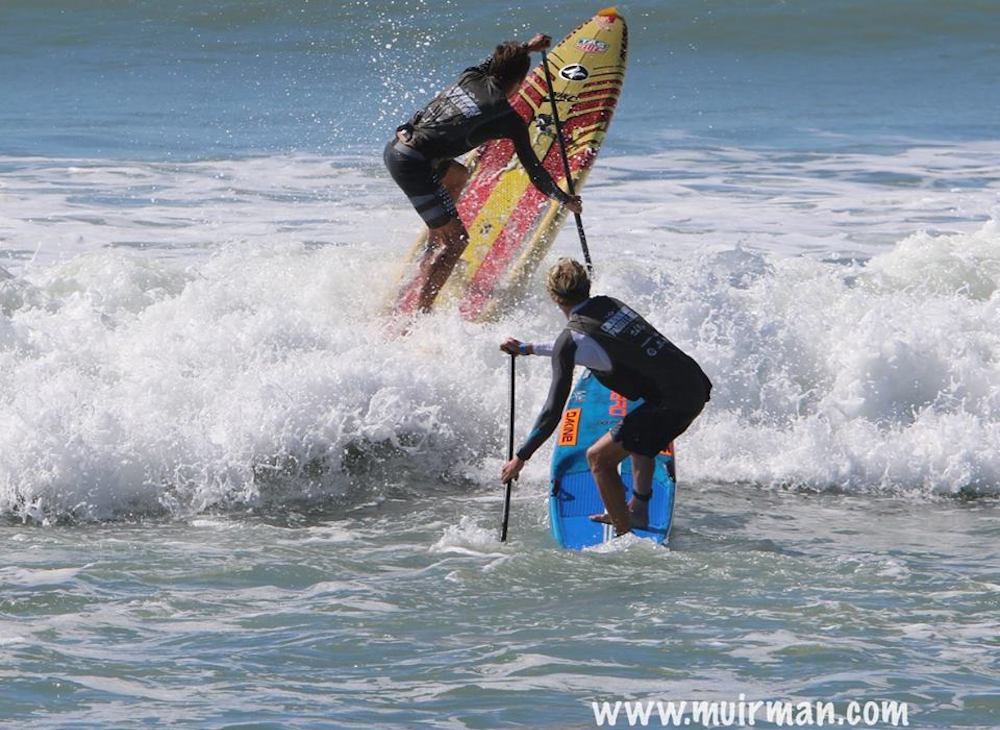 Connor and one of his biggest rivals, Kai Lenny going head-to-head. | Photo: Mike Muir
DANA POINT, California - The 2016 Pacific Paddle Games was one of the most stacked and challenging competitions of this year. According to SUPracer, the men's race has come in at 92.5% on the Race Index - which means almost every Men's Elite Paddler showed up for this event, which puts this event as the all-time record. So, going into this three day weekend of racing there were a lot of nerves building up, plus the added pressure of holding onto my overall title from last years PPG Event.
The event kicked off on Friday with the first round of sprint races. There were 8 heats with 16 men in each and like always 50% advanced to the quarter finals. Friday was only this one race and the first round was hard but very easy to conserve energy for the next two days.
This first heat I made sure to get a good start into clean water. Once I had that under control, I really focused on my paddling technique to conserve energy. After the race I had my doctor work on me, plus a big meal and a good night of sleep. The next day I felt well rested and ready for action for day two. Saturday we had two super stacked heats to make it through. The first heat was in the morning and I definitely had to put 100% into the start and the sprint to the first buoy turn. Once I was locked into that top spot for advancing, I focused on breathing and to not make any mistakes. I was able to paddle at 75% and stay in the front pack, which got me a spot in the semifinals.
After a strong start in the Semis Connor was able to comfortably make finish in the top 8 to make it on to the finals. | Photos: OnitPro
There was a four hour break before the semifinals, so I took full advantage of the rest period. I went back to my hotel, ate some power food, which was simple and easy to digest. Did some good stretching to loosen the body up and then some good Hawaiian yoga, which means a 20min power nap! I woke up feeling ready to go and ready to solidify my spot in the finals. Of course my semifinals was super stacked with most of the best guys in SUP racing.
My heat consisted of Danny Ching, Travis Grant, Kai Lenny, Titouan Puyo, Zane Schweitzer, Matt Nottage, Arthur Arutkin, Bruno Hasulyo, Georges Cronsteadt, James Casey, Joshua Riccio, Dylan Frick, Noa Hopper, Lorenzo Bennett, Martin Letourneur. As we lined up I knew what I had to do and that was make sure I didn't do anything worse then 8th place. All I had to do was make the finals and then of course try to win that.
The horn blew and I had a great start and was able to turn the buoy in third place. I made sure to play it smart and not put all my energy into this heat and save enough for Sunday's racing - which was the 6 mile distance race and the technical race finals. I was able to hang on to that top spot and walk away in First Place with a spot in the finals. Once again I had my doctor do some magic work on my body and got in my positive mindset for the next day.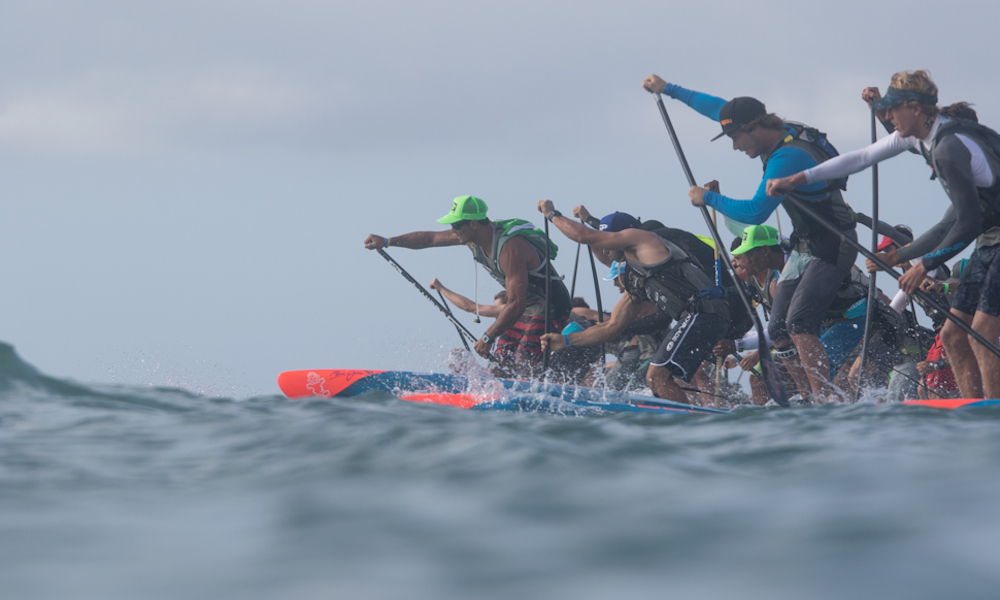 The start of the distance race. | Photo Courtesy: Pacific Paddle Games
I woke up the next day ready for the final day of racing where all of it counted. The distance race kicked off at 9:45am with two 3 mile laps out in the ocean. The wind was up creating some little bumps, so it wasn't completely flat. I was super stoked on that - so it wasn't a complete draft train for the distance race. We all started standing up on our boards out in the water and when that horn blew it was on!!! I hit the gas and tried to get into some clean water so that I could get into my rhythm.
The first lap started off good and I was in the draft train sitting in about 5th place. Michael Booth led the pack and I knew he was going to make his move at any moment. Before I could even do anything about it, he caught one small bump that lead him into another bump and created a 10 second gap that we just couldn't make up. So, the race was now for second place between Georges Cronsteadt and me. We both were catching bumps and not able to pull away from each other. So, we hammered out the second and last lap all the way to the last turn into the beach. I was able to create a little gap, but then he caught a wave and then it came down to the run up the beach. This is where I feel super confident and knew I could beat him running up the beach. When we hit the sand I took off and didn't look back which landed me a second place.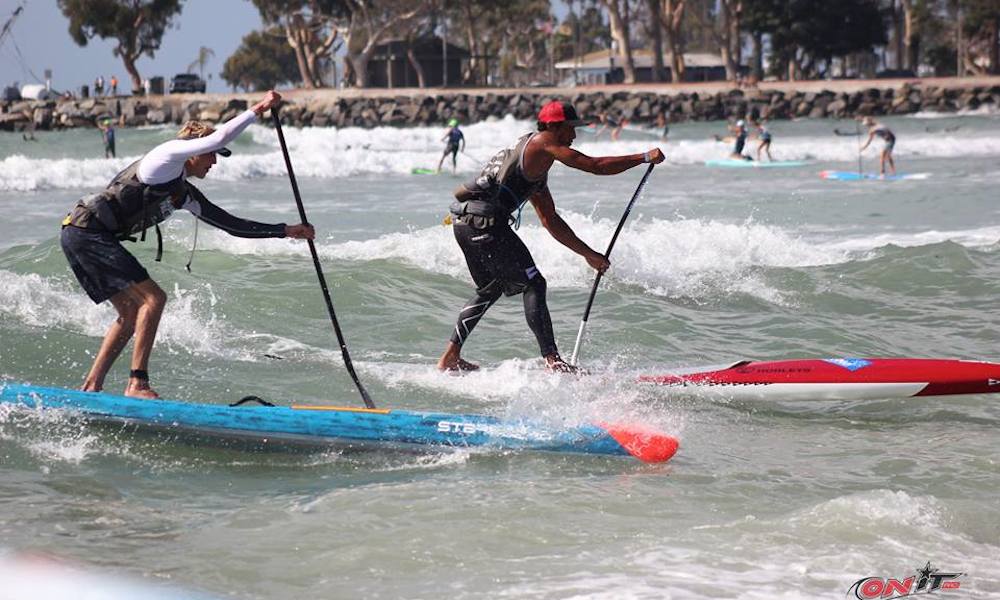 Connor and Georges racing to the beach in the distance race. | Photo: OnitPro
I was now sitting in a comfortable spot for the Overall Title, considering where my main competition for the technical race finished in the distances race. Now I all I had to do was make sure I was in one of the top three spots - and not let Michael come in front of me.
Again we had a few hours before the finals, so I had a good rest and fueled up for the final race of this crazy weekend. The time came and after the women raced all the men lined up and it was a stacked finals with Danny Ching, Kai Lenny, Travis Grant, Mo Freitas, James Casey, Slater Trout, Arthur Arutkin, Michael Booth, Lincoln Dews, George Cronsteadt, Jake Jensen, Giorgio Gomez, Noa Hopper, Guilherme Batista de Souza and Kody Kerbox.
Connor racing with the best in the Technical Final at the Pacific Paddle Games. | Photos: OnitPro
I had my mind on one thought and that was to win and as soon as the horn blew I took off down the beach and jumped into the water straight into a super high intense stroke. I was able to turn the first buoy in fourth place and just made sure I didn't loose Mo or Kai. Of course Mo was able to sneak into a wave that only he caught and gapped the field. There were still two laps and I knew anything could happen. On the second lap heading into the hammer buoy Kai, Slater and I barely got into this small wave that got us caught back up to Mo.
Now, the four of us were heading into the notorious Hammer buoy. I set myself up perfectly and got the inside spot which allowed me to turn first and get a small board length on Mo and Kai. With only one more lap to go I put 120% into each stroke to stay ahead of the group. I turned the last outside buoy into the hammer buoy and got myself one wave ahead of everyone. I still didn't think I won it, so I sprinted out to the last buoy turn and of course there were no waves. I put my head down and caught every little bump until a small wave picked me up. I looked up and then it finally hit me that I won the technical race and claimed the overall win.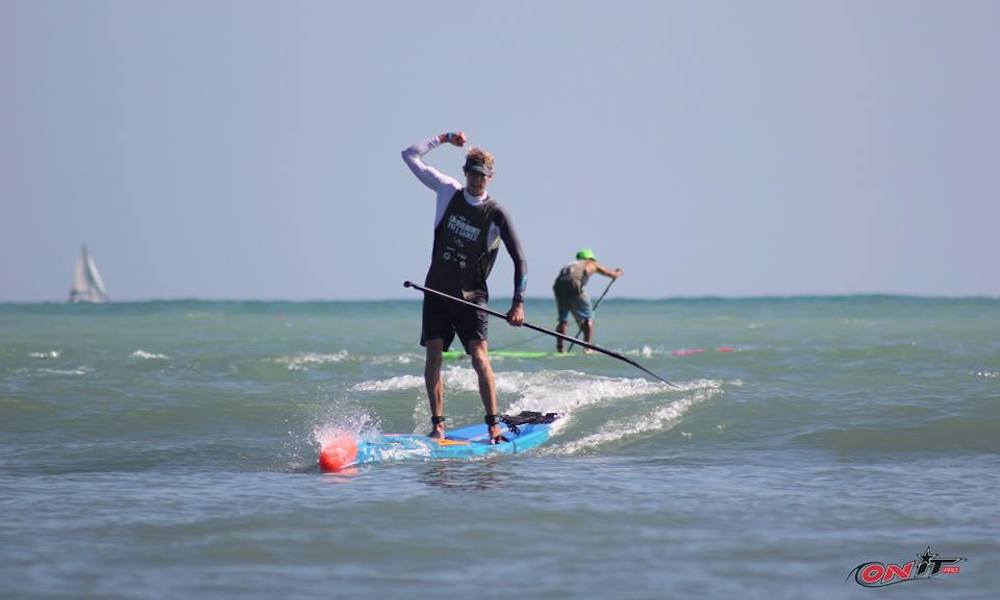 Connor wins the Technical Race and Overall title at 2016 PPG. | Photo: OnitPro
Not only was this a great feeling holding on to my overall win from last year - but to win the technical race was amazing considering the caliber of Elite Competitors. I want to thank my sponsors for all their support – Starboard, Dakine, Maui Jim Sunglasses, Futures Fins, Hammer Nutrition, GoPro, Garmin, Waterman's Sunscreen, OnIt Pro, UB Super and Hi-Tech Sports. Also a big Mahalo to all the event organizers (Anthony Vela) and all the volunteers and the Event Sponsors: Salt Life, SUP The Mag, GoPro, Maui Jim, West Marine. What a fantastic venue and well organized event.
Last modified onTuesday, 04 October 2016 18:46

Maui, Hawaii - Connor Baxter is a highly accomplished stand up paddle racer and is one of the best in the world. His unique paddling technique is now named after him – "The Connor Baxter Choke Stroke" and people worldwide have adapted to his style of paddling. Connor was born on the island of Maui and raised on the water. When competing in a race, chances are you will see Connor finish on the podium. 
Website: connorbaxter.com/
Email

This email address is being protected from spambots. You need JavaScript enabled to view it.