SUP Adventurer Paddles Solo From Maui To Lanai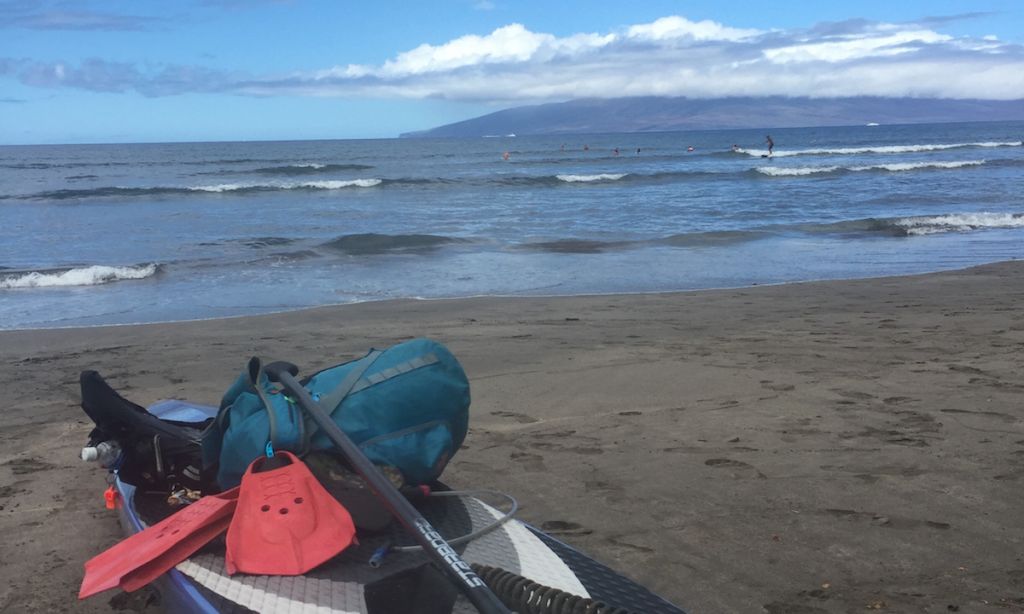 Adventure awaits... | Photo: Cody Ball
MAUI, Hawaii - Cody Kalapana Ball, 5'2" 130-pounds, recently completed a solo paddle from Launiupoko Park on Maui to Manele Harbor on the island of Lanai. The 28-mile, 13.5-hour trip was a two-day journey. He had no escort, no epirb, no marine radios. Here are Cody's thoughts on the trip:
My first paddleboard trip to Lanai was three years ago on a 10' x 34" red Koloa board that was a monster, wide and stable. The weather was perfect, no waves, no winds, no current, no sun, and nothing but leisure. I took my time and enjoyed my trip over, which would make me overly confident in my own abilities. I had never encountered any adversity that would put me at serious risk while paddle boarding long distances. I reached Manele Harbor in six hours, and caught a ride back to Maui on a Trilogy Excursions catamaran.
After that, Zane Schweitzer put the idea of a full-moon paddle board trip to Lanai in my head. It never left my mind and I always considered doing the trip with him despite our timing never being quite right. I had built up the confidence this past year, and started to consider a solo trip. Up until two weeks ago I was going to make the trip a solo full-moon voyage.

But why full-moon, why by yourself? There isn't an easy answer. Two years ago, a friend of mine had taken his own life. He viewed death as graceful and beautiful. I wanted to understand him, so I took on a challenge that I feared, a full- moon downwind paddle from D.T. Fleming Beach to S Turns, a two-hour trip on a wave board. This was two months after his passing. I was terrified, I cried, I wept, I mourned for him, and in the darkness, I saw beauty. There was a thrill, an appreciation for facing your fears, knowing that at any point you could perish, to block everything out and focus on what you can enjoy in those moments.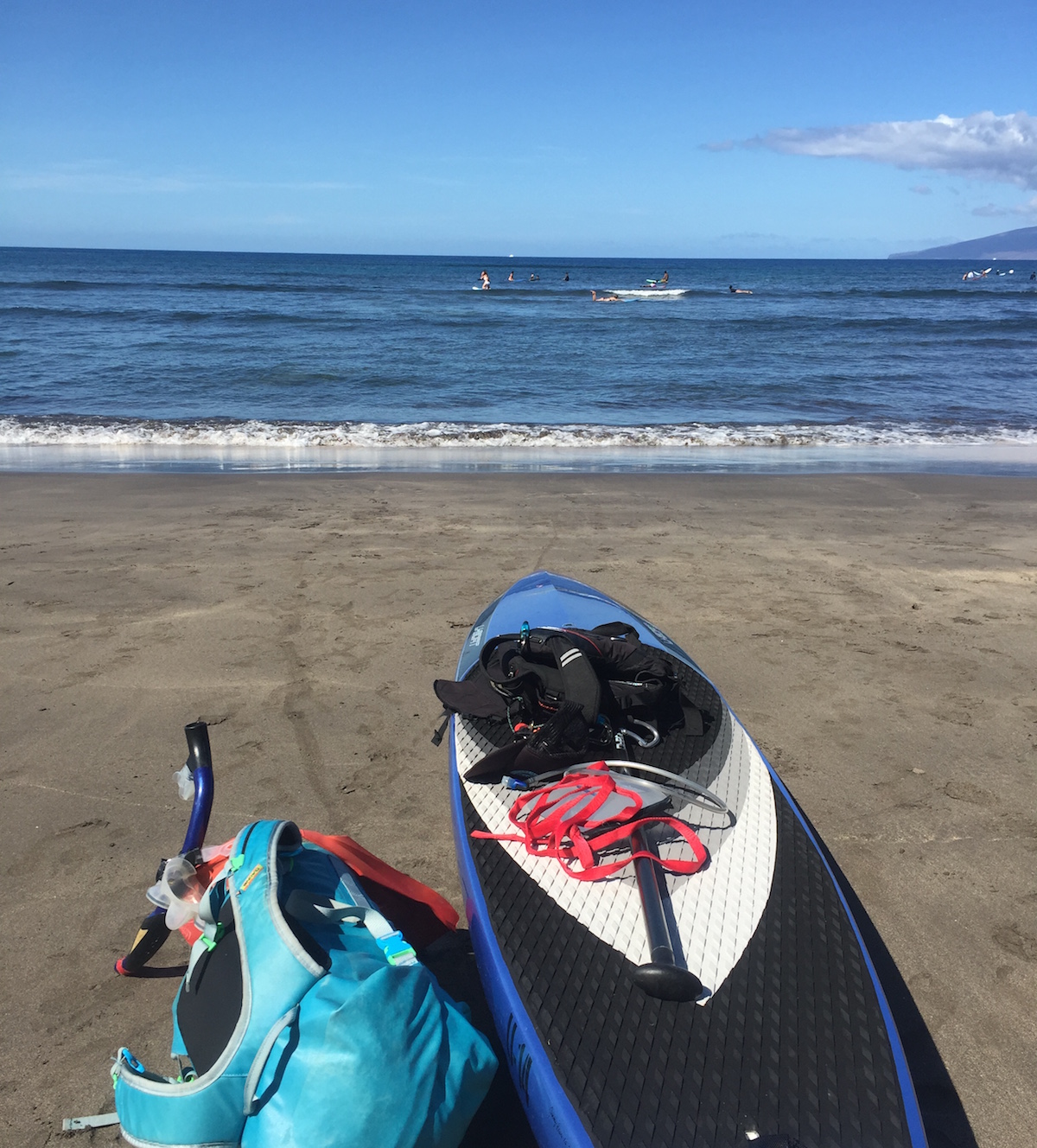 For this second trip, I assembled all the gear I thought necessary; life jacket, 4 expired flares from a friend, "waterproof" backpack, sleeping bag, thermarest sleeping pad, 5 liters of water, 12 Cliff bars, headlamp, dive light, 100 ft of paracord, binoculars, first-aid kit, snorkel, fins, survival knife, external battery with a power cord, down jacket, towel, boardshorts, lycra longsleeve shirt, sunscreen, and my cell phone in a waterproof case with waterproof headphones. My father gave me a Dakine camel pack to take along with a sharkbanz ankle band and a "borrowed" 14-ft Jimmy Lewis U-boat paddle board. I was very fortunate for his support, that board was crucial for my "safe passage." Now, onto the story . . .

The morning I left, I still had some last-minute packing to do but more importantly I had to meet up with my father to obtain the board I would use. I had never paddled a "cruiser" board, only wave-boards. This Jimmy Lewis board would prove to be my faithful steed through this adventure. I paddled for 15 minutes to get a feel for the 'new' board, then drove home to get my gear. Eddie Kondo, a Launiupoko regular, helped me unload my board and 30 pounds of gear, and I was in the water at 9:50 am. My last trip took 6 hours on a floaty, wide board, but with a faster board and being in better shape I thought this would be a breeze. I was wrong . . . oh so wrong.

With my playlist equipped on my iPhone, I left Launiupoko aiming my board for the southern tip of Lanai. The board was different than anything I've ever used;, surprisingly stable despite being narrower but the thickness and flat rocker made paddling a breeze... no pun intended. I was going great but it was so hard to judge my speed. I scanned for a point of reference to gauge speed and my distance and I was frustrated that I wasn't going as fast as I thought I would. I expected to speed off to Lanai, not move slowly but surely. The trip can wear on you mentally when you can't discern your visible progress, as I inched further and further out, the only references were the islands of Kaho'olawe on my left, Molokai on my right, and Lanai in front. I'll admit I did look back towards Maui at times but one should never turn their back on their destination.
| | |
| --- | --- |
| | |
Left: Maui in the distance, Right: Lanai getting closer... | Photos: Cody Ball
For the most part it was a fun trip, gorgeous environment, going over the slow rolling waves, music keeping morale high and worth every percent of battery it drained. There is something fantastic and breathtaking about being out on the water by yourself. You have control of your own craft, you alone have the power to get from point A to point B. The fear of what's below you doesn't even factor in, why should it? You can't control what's below but you can focus on everything else under the bright warm sun. That sense of adventure of nearing your goal, paddle stroke by paddle stroke, really makes one filled with joy. I'm here, setting off on an adventure with no one but God to witness. There is a sense of independence and truly believing you can overcome any obstacle.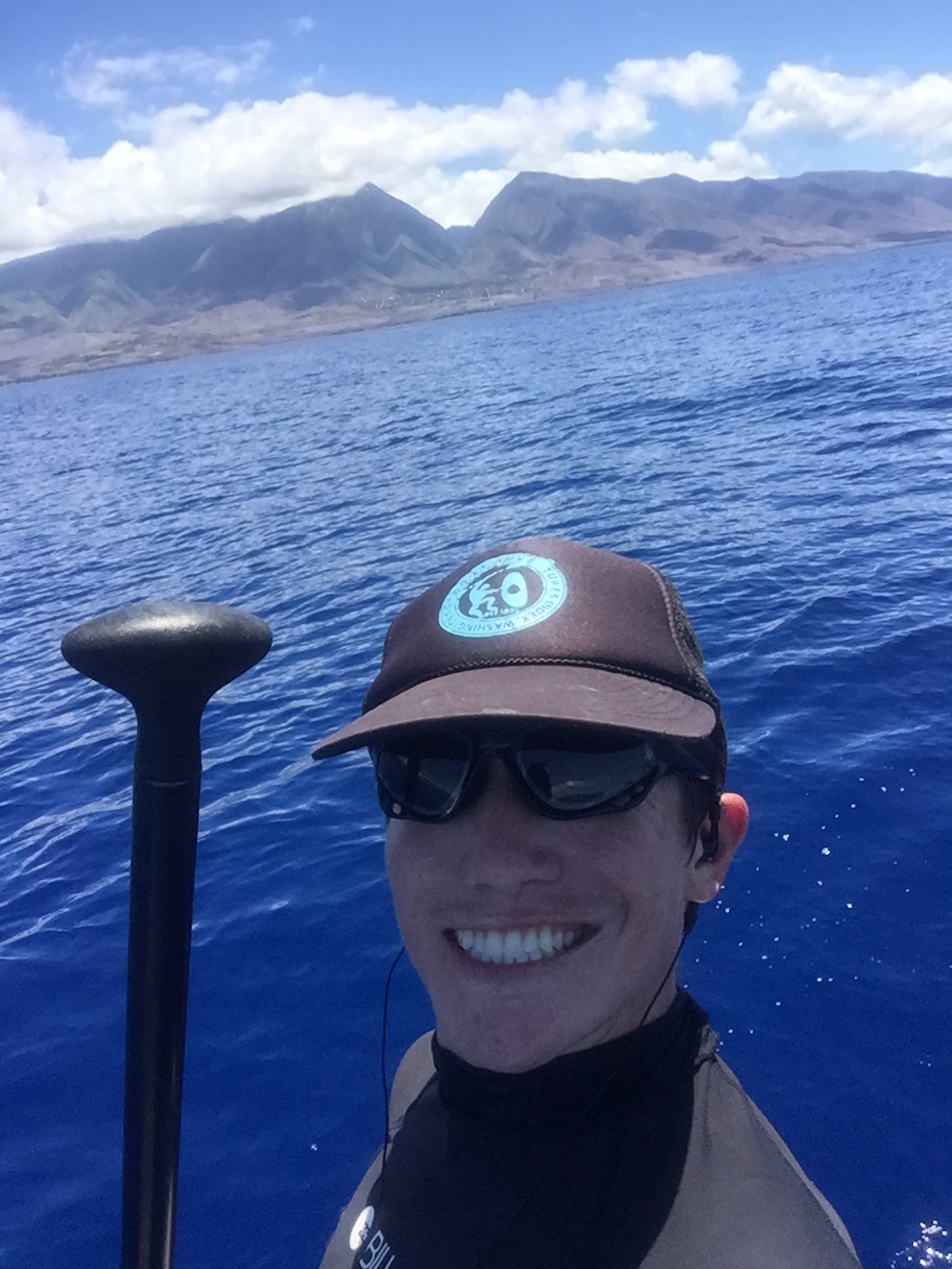 Instagram and Facebook became my Captain's Log. At various points in the trip I'd stop to take a picture, add a caption, hashtags, and simultaneous upload to Facebook. Now it may not seem like much but in the event of tragedy, at least people would know where, roughly when, and what my final moments would be like. At roughly 2:00 pm, I was nearing Lanai, probably a no more than a mile off shore when the Kona (southern) winds hit. The winds started off light but soon became a pestilence as I was still too far north of where I'd like to be. I was paddling mostly on my right side to combat the wind and maintain my proper course just south of Lanai. I prayed that they would ease up as it became more and more of a fight. As you paddle more on one side, you keep using those same muscles and they grow weary.
Now, I had to maintain my course and at times I would back-paddle on my left side to adjust my angle. There was no lessening of strength in my strokes, in the ocean you are always moving, you stop or slow down and you will make negative progress. You can and will be pushed back unless you give it everything you've got. You have to be prepared for that because you don't know how fast you are going or how fast those currents, waves, and winds are pushing you. How could you? You have very little point of reference so you wouldn't notice till a half-hour later. So, I paddled with everything I had and found different muscle groups to use and "swap" out with those that were weary.
Now typically I paddle with back, shoulder, core, and forearm muscles with varying strength depending on which side the stroke is on. I would use biceps in both arms to compensate, adjust my stroke to use more of the muscles on the opposite side of the stroke. I felt like a steam engine locomotive begging my crew to give me everything they've got. Then, the winds stopped and I was granted a brief moment of reprieve. That break was momentary as the winds switched to trades from the north blowing me off course in the other direction. I would fight those tradewinds till I was almost at the harbor.

I did have a passing boat offer me a bottle of water, which I gladly took. My camel pack long since depleted. At 5:00 pm I arrived at Manele Harbor. I walked up the boat ramp with all of my gear, found the nearest grassy area to sit and started to unwind. Instagram, Facebook, friends, and family would all know that I made it, the first half of the trip anyway. After relaxing it was time to make my way to Hulopoe Beach, a quarter-mile walk away.
Hulopoe Beach, a gorgeous bay, is a little paradise with bathrooms, showers, and a place to rest your head. I rested my board on the side of a table that would be my campsite and then unloaded my gear. It wasn't long until I found I made a huge mistake. In my haste to pack, I had grabbed the wrong cord for my external battery, meaning I was down to 17% with no way of recharging my communication to the world. The beach was deserted except for a silver jeep at the south end. It was a mainland couple visiting family on Lanai, and thankfully, the wife happened to always carry a power cord in her purse. They let me charge my phone to 60% of which I was very grateful. I could make that work. I spoke with Zane [Schweitzer] before I turned in. He was curious and concerned. He recommended some long-distance paddle techniques that would be crucial in the day to come. Then, I rinsed off with a hose and proceeded to make preparations for bed.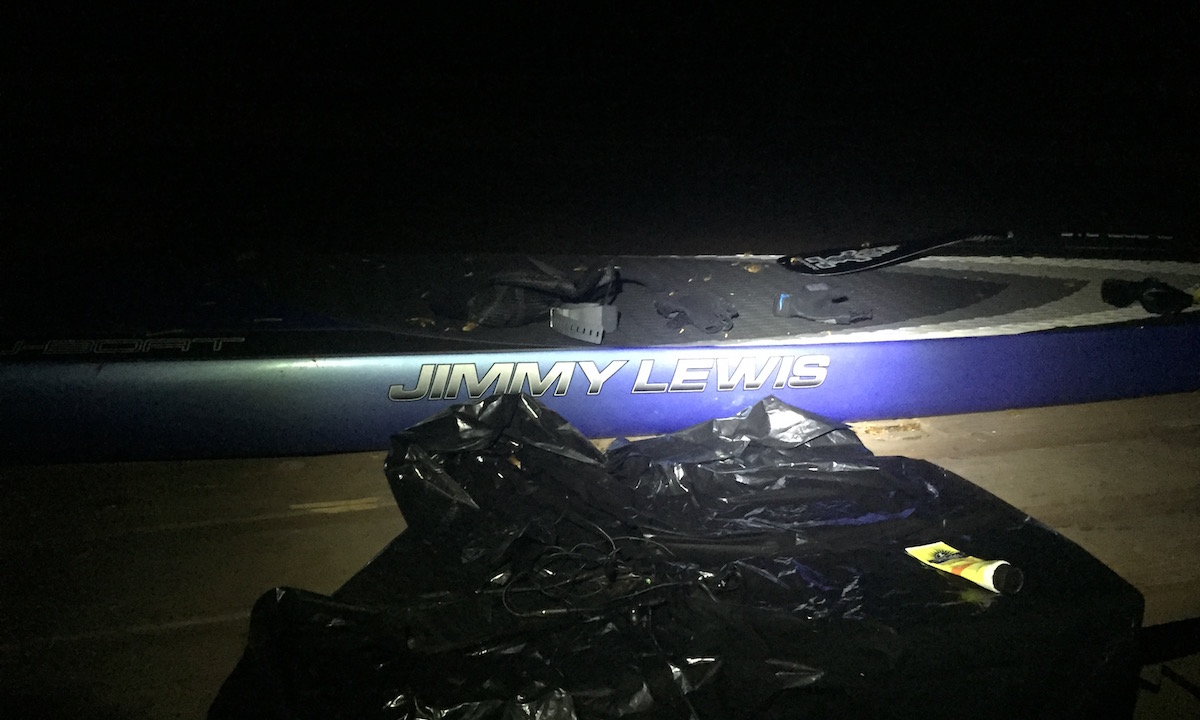 Cody's camp site. | Photo: Cody Ball

I didn't use a sleeping bag, I slept on my sleeping pad on a picnic table. My long-sleeve rashguard doubled as warmth and kept the mosquitos away from me, the towel covered my feet, a down jacket made up my pillow, and my trucker hat made a decent mosquito net for my face. I used the restroom, brushed my teeth, and took out my contacts, then set my alarm for 3 am. I laid down to rest no later than 9 pm but sleep would elude me. The moon was indeed full and my hat failed to block out the light entirely from my view.
Deer, oh deer, they did not make the night easy. Did you know Lanai's Axis Deer bark? I didn't know and they wouldn't stop, it was most certainly not dogs as I never saw anything but deer. Hours went by, I could feel the sunburn on my feet (had sunscreen, forgot to apply it), oh how badly they were scorched. But that was something I couldn't solve, so I just laid on my back and hoped I would pass out. I have no idea whether I fell asleep, but my 3 am alarm got me going under the full moon. Everything was quickly packed away, and I would launch from the Manele Harbor loading dock at 4:23 am. I posted one last photo and caption to Instagram and Facebook then followed that with a text to my parents.

The morning was breathtaking and I was blessed with a full moon and a light breeze. The full moon could not be understated; it was bright and beautiful as it set. The moonlight lit up the earth just like an early morning sunrise. I wasn't even afraid of being out in territory I was not familiar with. It was bright enough to cast away any feeling of fear.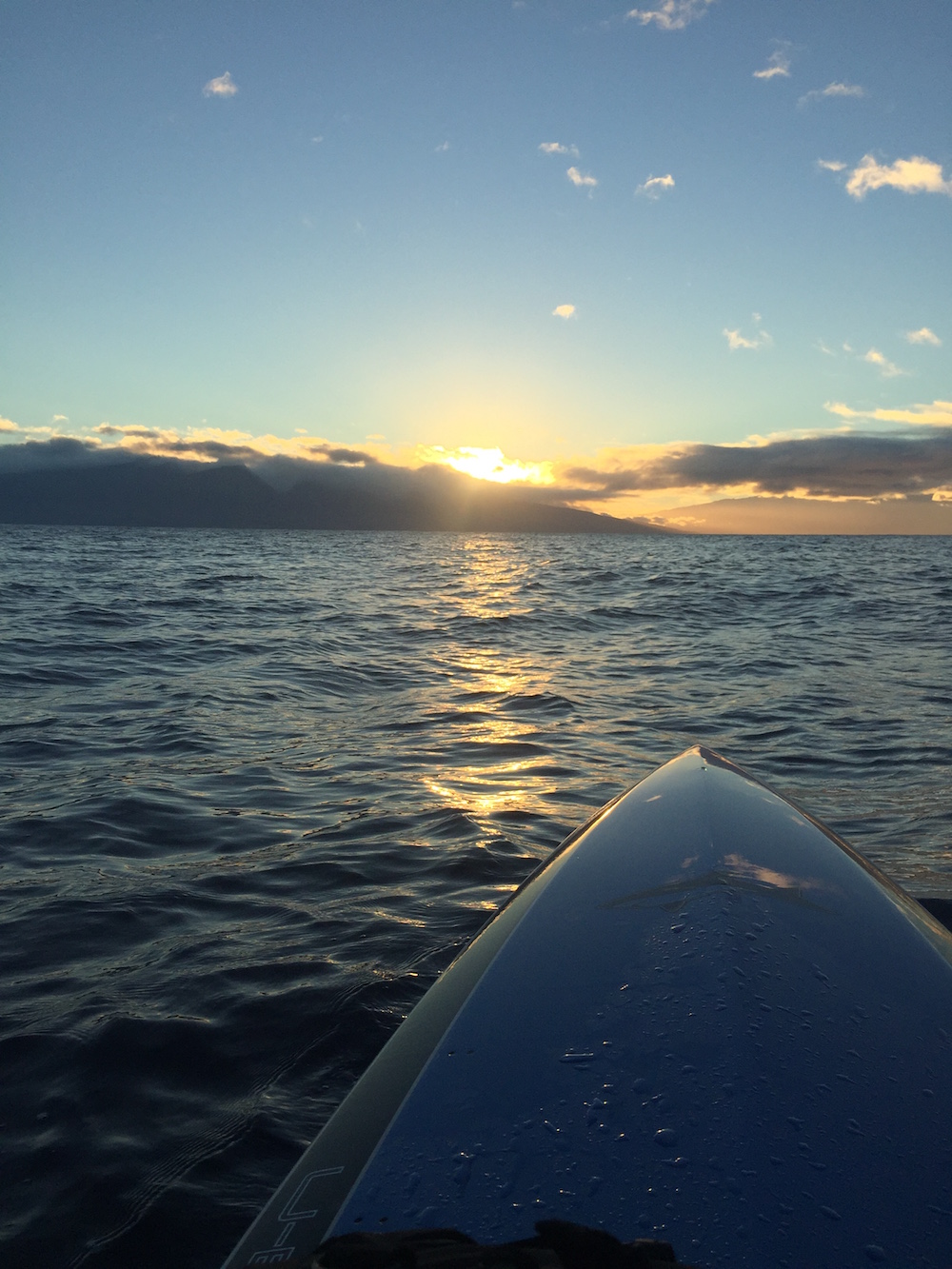 There are times we must accept our circumstances and prevail against it. There are times where we have given everything we have and that is still not enough. There are times when we realize we may not survive and against that looming dread we must overcome. That being said, I have never prayed louder than when I left Lanai. The trade winds picked up just after the sunrise, whipping up headwinds and white caps. My muscles were sore, I begged God for help. I asked quietly at first shouting, pleading for God to aid me "I KNOW YOU CAN CALM THE STORMS AND THE SEAS. I HAVE FAITH THAT YOU CAN DO THIS. SO PLEASE!!! HELP ME!!!"
That prayer lasted for 15 minutes then I silenced myself, resigned myself to my fate, as this may be a test and God has heard my call. I have done all that I could to affect the weather. I can only continue to put every ounce of strength I had left into paddling. My feet burned from merely standing, my muscles wanted to quit, and yet I could not. If I couldn't fight against the wind, then I needed to accept that I may not make it back to Maui.
My body was tired; muscles sore, and still I had to give it my all. Zane's advice came in handy and I was able to switch muscle groups periodically to allow some rest between them. I had perhaps a little over a liter of water left. I knew that I might not make it if the wind continued. But God didn't abandon me. A passenger on Trilogy Excursions, spotted me about the halfway mark. We rendezvoused in the open ocean, and Captain Brian refilled my 2-liter camel pack. They offered me a ride to Lanai, I laughed, said no, and then carried on my merry way. Shortly after meeting Trilogy, the winds would die down and the worst was over.
Maui was never so close and yet so far then when I was a half-mile offshore and encountered a strong current coming from the south. I fought against it with whatever I had left. The current forced me to Puamana, a half-mile north of Launiupoko. Leisurely, I paddled south following the coastline back to Launiupoko, much to the surprise of my father who had binoculars scanning the ocean horizon for my return. I hit the beach just before 11 a.m. My father helped me load the gear and thus ends my trip.
To see more SUP Journeys and adventures, CLICK HERE.
Do you have a story you want to share? Send us an email and tell us about it!
Last modified onThursday, 01 September 2016 15:07

Submit your news, events, and all SUP info, so we can keep promoting and driving the great lifestyle of stand up paddling, building its community, and introducing people to healthier living.
Website: supconnect.com
Email

This email address is being protected from spambots. You need JavaScript enabled to view it.