300-Mile SUP From the Big Island to Kauai
On June 26th, after 5 days and over 200,000 strokes on his SUP, Bart de Zwart reaches dry land on the island of Kauai, HI.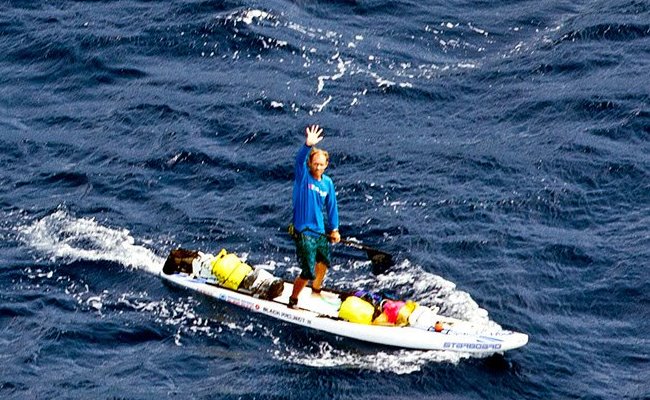 Bart de Zwart on his SUP, loaded with gear and rations to carry him on his epic journey from the Big Island to Kauai. Photo Credit: Jimmie Hepp
Check out another SUP journey down the Mississippi River.
LIHUE, Hawaii -- Last week we brought you the story of the beginning of one man's journey down the Mississippi River. This week we highlight the end of a journey.

Bart de Zwart, a 41-year old man from the island of Maui, endured 5 days at sea alone with only his SUP, an inflatable mattress for sleep and enough rations to last him 7 days.

This wasn't just a last-minute decision to paddle out to sea with no intention of turning around, Bart planned and prepped for 5 months for his solo, unsupported SUP from the Big Island to Kauai, a total distance of about 300 miles.

Already an experienced waterman and SUP racer, Bart's training schedule involved paddling every day. The biggest challenge was figuring out the logistics of a 5-day solo SUP, "I had to figure out all gear I had to take with me on an adventure like this, most of all safety gear but also food, water, sleeping gear, clothing and with which board I could carry all the gear and water I wanted and still have a decent speed."

Why would someone do this? Bart gives a great explanation on his blog, "I think, sometimes it is good to do something difficult and hard in order to appreciate life, people, food and all the things around you we often take for granted," adding, "I love to challenge myself and I love the adventure."

Originally from Holland, Bart has lived in Haiku, Maui for 11 years, where owns the Kahana Kai Maui surf shop. On June 21st at approximately 9 PM, Bart set out from Keokea Bay on the Big Island with his board pointed towards Maui. After 5 days and over 200,000 strokes, Bart reached Kalapaki Beach to rejoin his wife, Dagmar, and daughter, Soleil.

To read more about Bart's journey, check out his trip's blog, which was updated on a daily basis by his wife Dagmar.
What is the furthest distance you have paddled?
.
Last modified onMonday, 26 January 2015 12:23

After spending the first part of her life in Minnesota, Morgan traded in her snow boots for sandals and moved to sunny California. After graduating with a degree in Communication from The University of Southern California, she eventually made her way down south to San Diego and is taking advantage of the living by the best beaches and burritos California has to offer. If it's sunny, you can find her at the beach relaxing, or exploring the calm water in the bay via paddleboards and kayaks.
Email

This email address is being protected from spambots. You need JavaScript enabled to view it.