Top 15 Locations for Paddle Boarding This Summer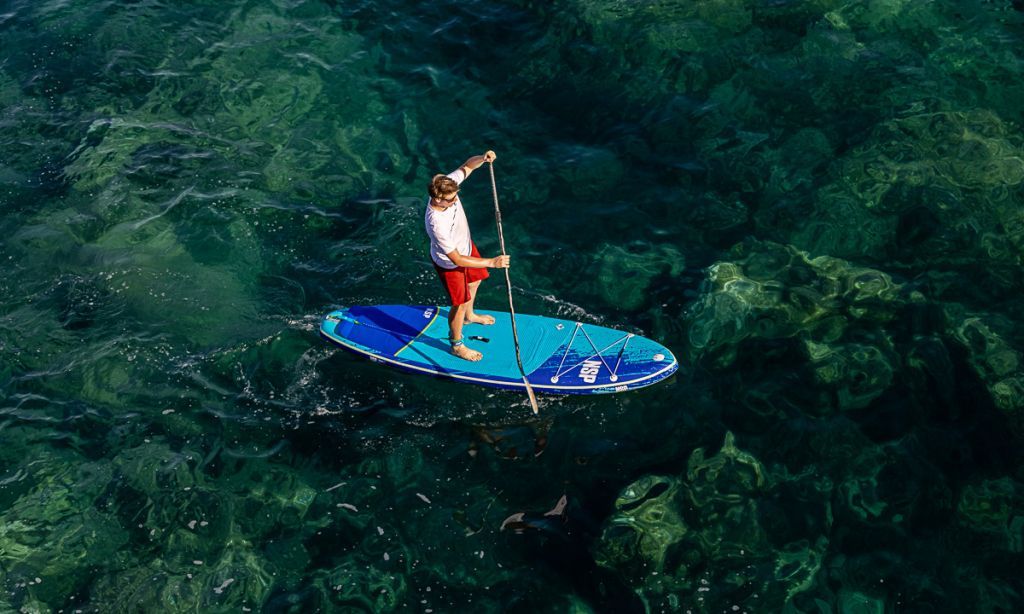 Photo courtesy: NSP / Peter Lintner
Summer is on its way, and with it comes the desire to have some fun in the water and start planning your summer trips. The season is synonymous with water sports. Who can resist the charm of pristine waves glimmering under the sun?
If you want to experience water adventure, then paddle boarding comes across as the ideal sport. What's more, it allows you to revel in the most exquisite places, while balancing on your paddleboard that not only rejuvenates you but also works your whole body from head to toe.
Wondering how balancing on a board can impart you tons of fun? Well, it's a sport in which you stand on a large board similar to a surfboard and paddle away. There is no age restriction here. Anyone who loves the fun of being in water can do it. Here are 15 of the best places where you can derive the pleasure of gliding in water.
Overview
Oahu Hawaii
Santa Cruz, California
The Turks and Caicos Islands
Lake Tahoe, California
Bahamas
Costa Rica
Key West, Florida
Sayulita, Mexico
Seattle Washington
Lisbon Coast, Portugal
Malibu, California
Cape Town, South Africa
Puerto Rico
San Diego, California
Myrtle Beach, South Carolina
1. Oahu, Hawaii
Did you know that standup paddle boarding took birth in Hawaii in the 1900s? Hands down, the place is one of the best choices when it comes to this water sport. There is a sea of options for you to paddleboard and soak up the breath-taking scenery. The good news is that almost all the famous beaches in this place are open. You can not only learn this sport in its calm waters but also explore its marine life as you go along.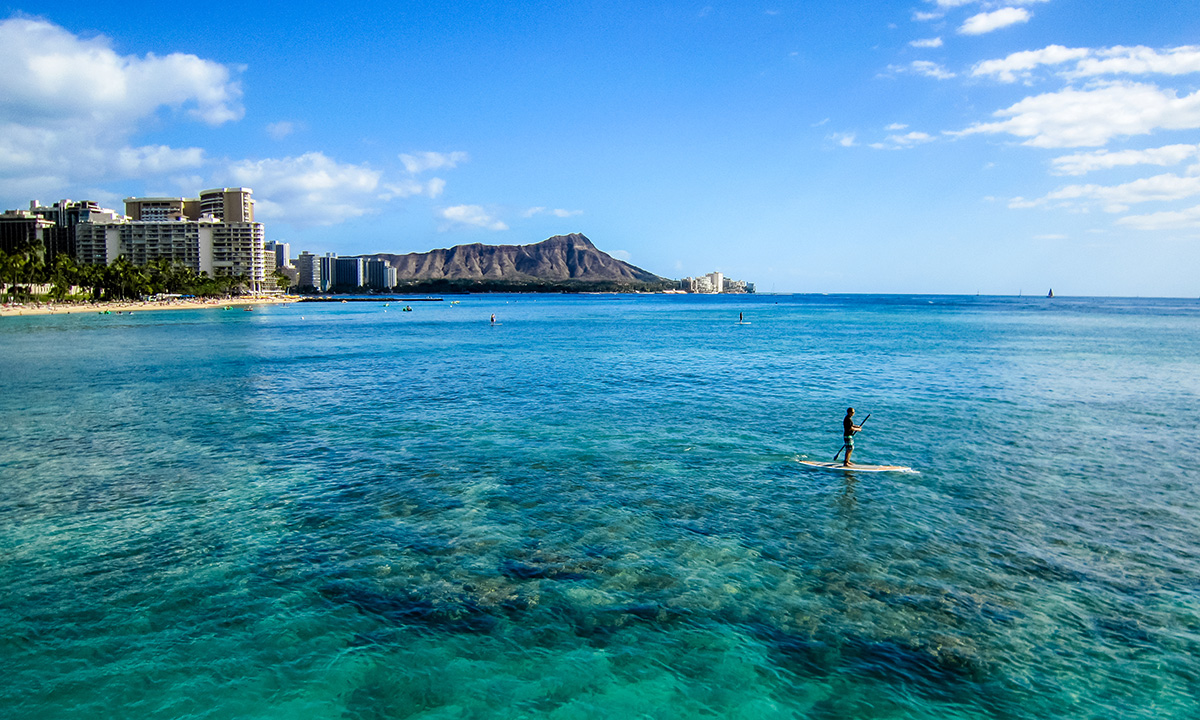 Oahu, with Diamond Head crater in the distance. | Photo: Shutterstock
2. Santa Cruz, California
Perhaps no place has witnessed as much following for paddle-boarding as Santa Cruz. After all, who wouldn't like to enjoy the scenic landscape of Monterey Bay while gliding on the smooth ocean surface?
It doesn't matter if you are a beginner or an experienced boarder, places like Santa Cruz Harbor, the Santa Cruz Wharf, and the Capitola Wharf are all popular and quaint spots for you to discover.
Apart from marine life, you will find yourself among a bustling community of surfers, kayakers, and swimmers. However, you need to follow COVID safety guidelines that entail wearing a mask, and practice physical distancing.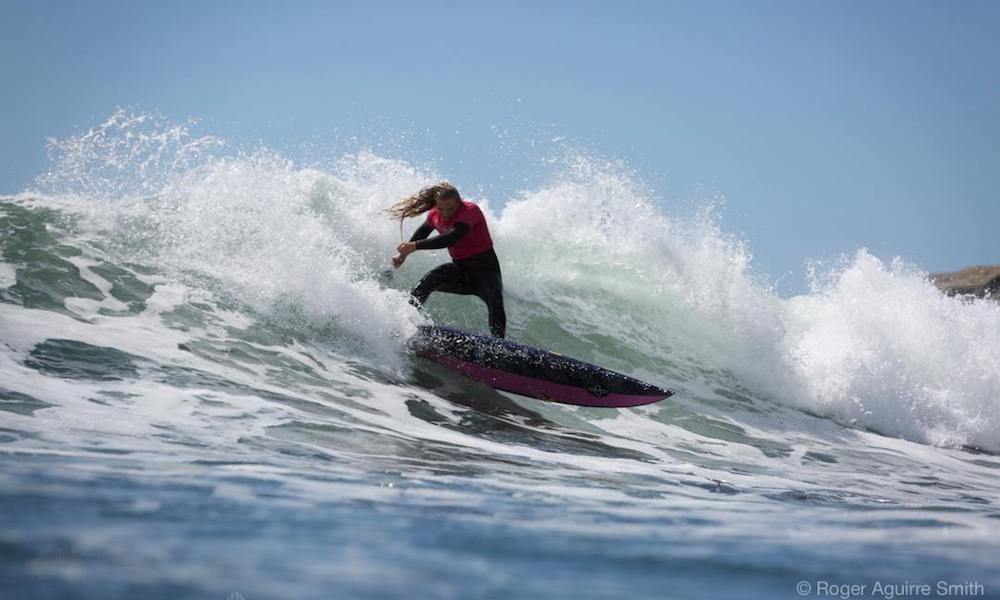 Izzi Gomez surfing in Santa Cruz. | Photo: Roger Smith
3. The Turks and Caicos Islands
This 'new' water sport has completely taken the Turks and Caicos Islands by storm. Do you want to catch a glimpse of a nurse shark under your board? Well, Turks and Caicos is the best place for you!
Tour the mangroves and survey the marine and aquatic life with just a board and a paddle! A bonus? You're sure to get an effective core workout by gliding in these quiet waters.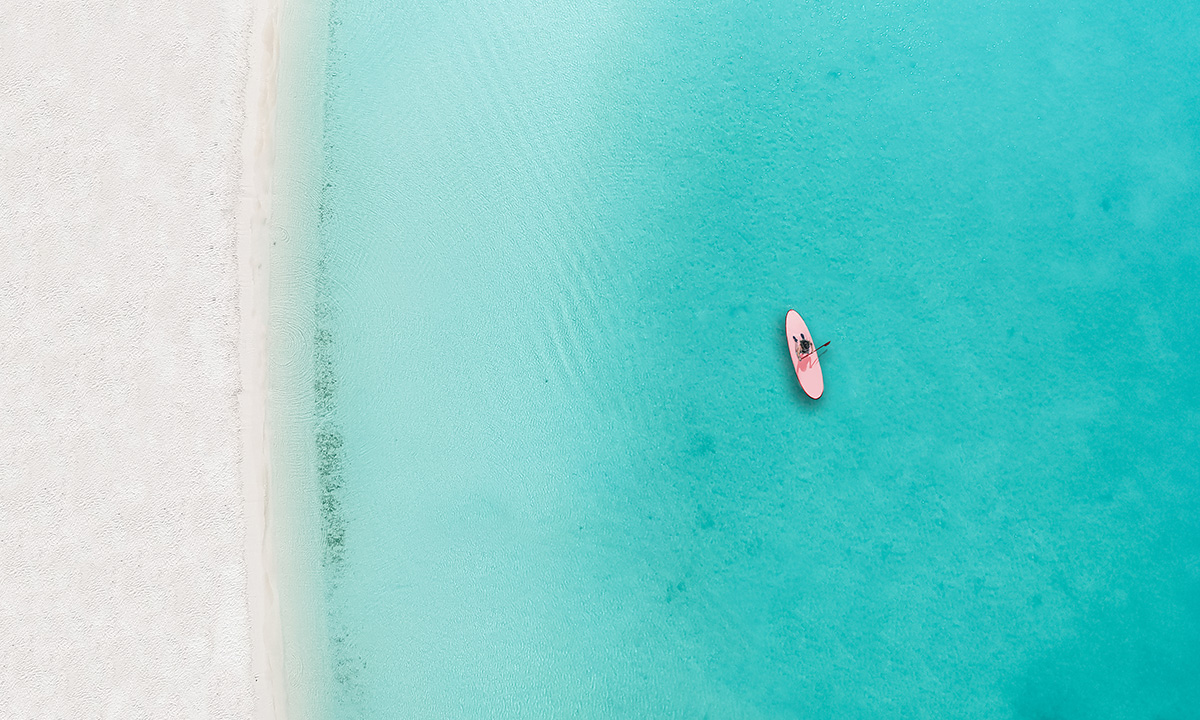 Drone photo of beach in Grace Bay, Providenciales, Turks and Caicos | Photo: Shutterstock
4. Lake Tahoe, California
One of the deepest and largest alpine lakes in the world, Lake Tahoe is famous for its crystal blue color. Paddling on its fresh, glassy waters can surely be an experience of a lifetime. It is a unique destination for paddleboarders all over the world. Head over to places like DL Bliss State Park, Emerald Bay, and Kiva Beach to paddle board in the prettiest water of the lakes. You will certainly make many memories while paddleboarding on these deep blue waters.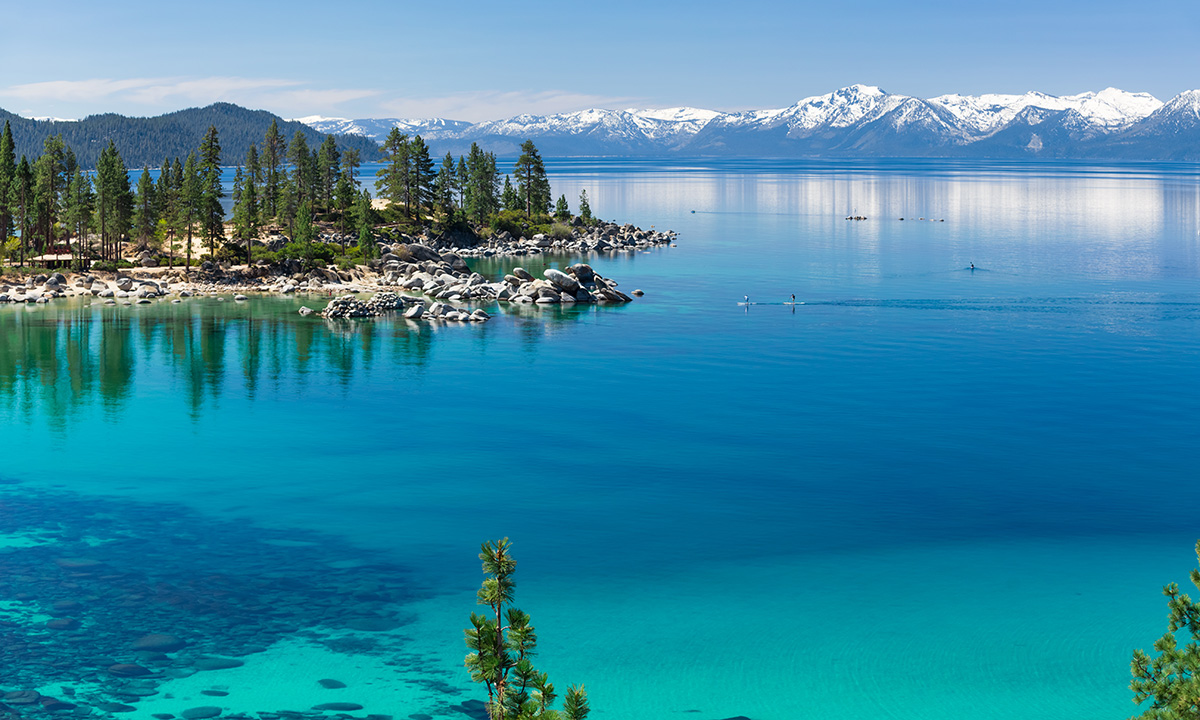 Lake Tahoe, absolutely stunning. | Photo: Shutterstock
5. The Bahamas
What makes a great paddleboarding experience? Well, it is nothing other than the presence of calm, serene waters below you. That is exactly what you get in the Bahamas. Enjoy the motion of the waves that tumble down the exquisite beaches of Harbor Island and Eleuthera. The spot is ideal for people of all ages. It's as if the waters of the Bahamas are inviting you to come and whet your skills!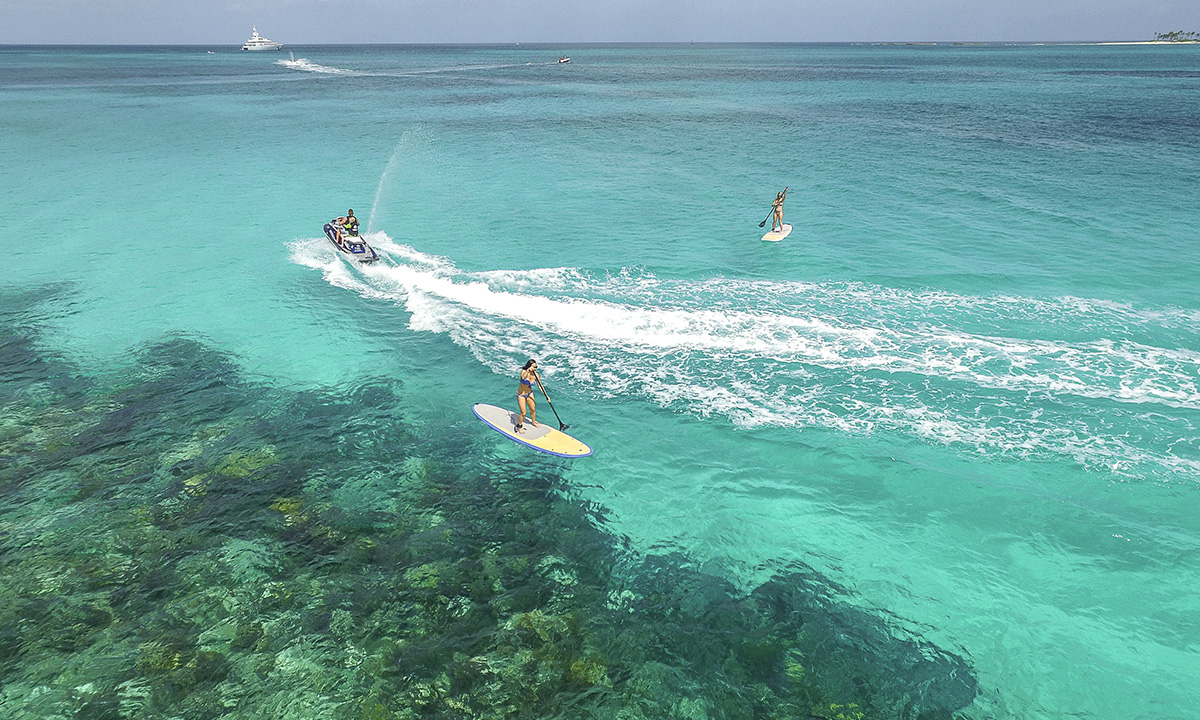 Nassau, Bahamas Beaches | Photo: Shutterstock
6. Costa Rica
Are you someone who struggles to find time to learn how to paddleboard in the waves? Don't worry, the waters of places in Costa Rica are perfect for you to learn this sport. The Gulf of Papagayo is especially conducive to those who are just starting.
Additionally, Tamarindo Beach in Guanacaste and lake Arsenal are also great to visit during the summer season. You will find clear waters and will love to gaze at the exotic marine life there. Make sure to follow the safety protocol of wearing a mask while paddleboarding.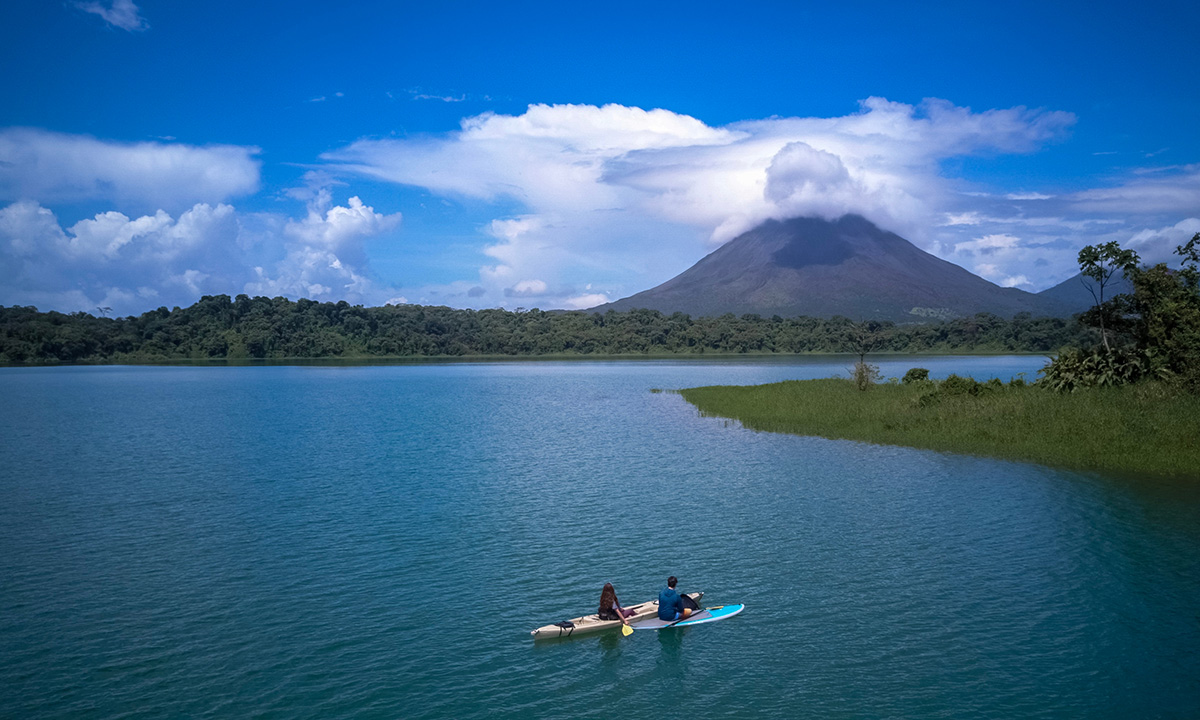 A couple paddling at the Arenal lake | Photo: Shutterstock
7. Key West, Florida
Looking forward to some fun in Florida? Just rent or take your SUP and venture away into the numerous spots in the Key West. It is famous for its unblemished beauty, marine life ecosystems, and tranquil waters. Wind down through the mangrove islands and surprise yourself with the numerous bird species that call this place their home. Other popular spots to consider are Higgs Beach, Smathers Beach, Fort Zachary, Sugar Loaf Key, and Simonton Street Beach.
Although, the beauty of Florida's beaches isn't just limited to Key West. There are many other places in western Florida, which can also be a part of your paddleboarding tour.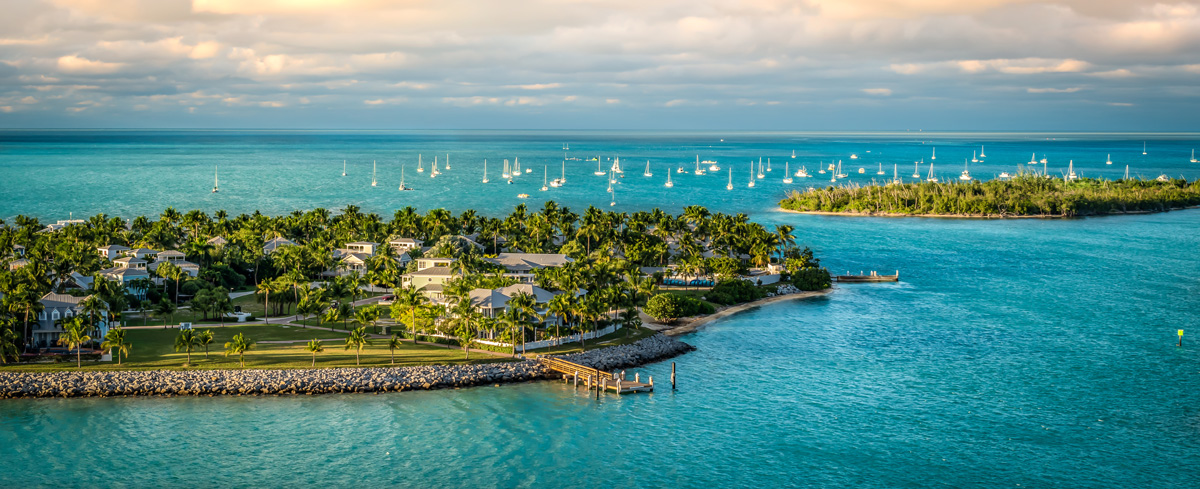 Panoramic sunrise landscape view of the small Islands Sunset Key and Wisteria Island of the Island of Key West, Florida Keys. | Photo: Shutterstock
8. Sayulita, Mexico
Delightful weather, balmy waters, and the opportunity to catch a glimpse of fish and other marine life are what make so many addicted to paddleboarding in Sayulita.
Don your shades and start paddling as you move south from Sayulita Beach and go over to Playa de Los Muertos and toward Punta Sayulita. Keep sunscreen and a hat near to you, get some water, and experience a great walk on the water!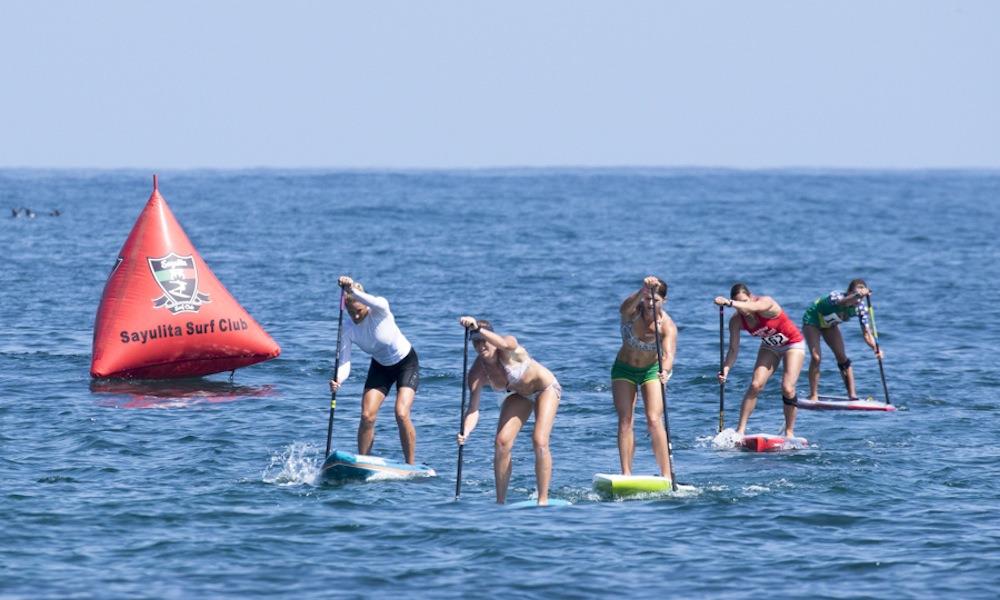 Candice Appleby leading the pack in 2015's Women's Technical Race at ISA World Championships in Sayulita, Mexico. | Photo: ISA/Ben Reed
9. Seattle, Washington
What makes Seattle one of the perfect spots for paddle-boarding? It's the presence of gorgeous beaches, rolling mountains, and aquatic life. There are various spots in Seattle that are perfect for beginner and intermediate paddleboarders.
Places like Lake Sammamish, Seward Park, Blake Island State Park, and Duwamish are great to visit during the summer months and see yourself grow into an expert paddleboarder from a novice.
Paddler At Alki Beach, Seattle | Photo: Shutterstock
10. Lisbon Coast, Portugal
If you have a penchant for beautiful beaches, then the city of Lisbon beckons you. However, it also beckons paddleboarders from all around the world. Paddleboard tours here give you plenty of opportunities to splash on the water. Its coastline is filled with surreal landscapes, some of which can be admired only when you're on the sea. Power through the waters, breathe in the salty air, and enjoy the time of your life!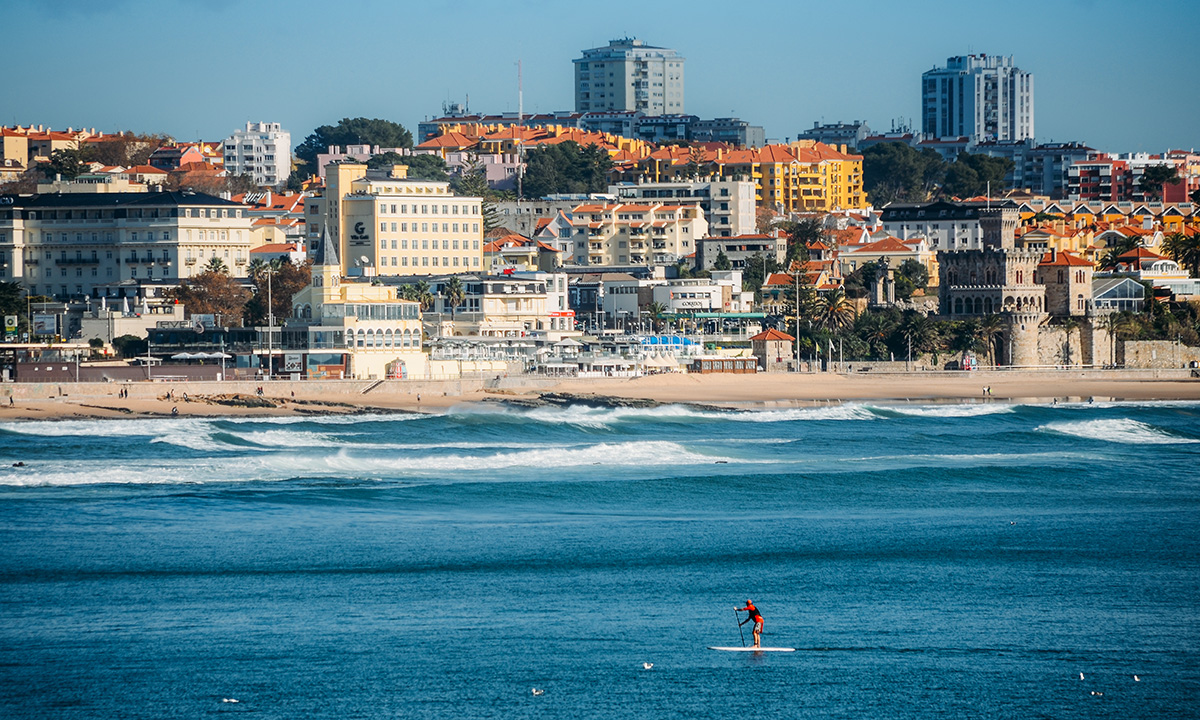 Overlooking the coast of Estoril near Lisbon, Portugal. | Photo: Shutterstock
11. Malibu, California
If your vacation plans involve exploring the coastline and relaxing to your heart's content then paddle boarding in Malibu is your calling. Start at Escondido Beach where the sandy shoreline and breaking waves make launching a breezy task.
For those experienced paddlers, there is a great deal to explore on the beaches here. Stand-up paddleboarders can paddle at Latigo Point and can enjoy the long rides on the gentle waves.

Paddle surfing Malibu | Photo: Shutterstock
12. Cape Town, South Africa
Warm and windy, summers in the city of Cape Town are a season for paddlers to hone their skills. The best months to glide in the waters of Cape Town stretch from November to April.
You'll see some of the biggest waves but also find picturesque flat-water expenses in the city. Paddle boarding is best carried out in the waterways of Knysna Estuary and Thesen Island. They are great for beginners and those seeking a thrilling adventure.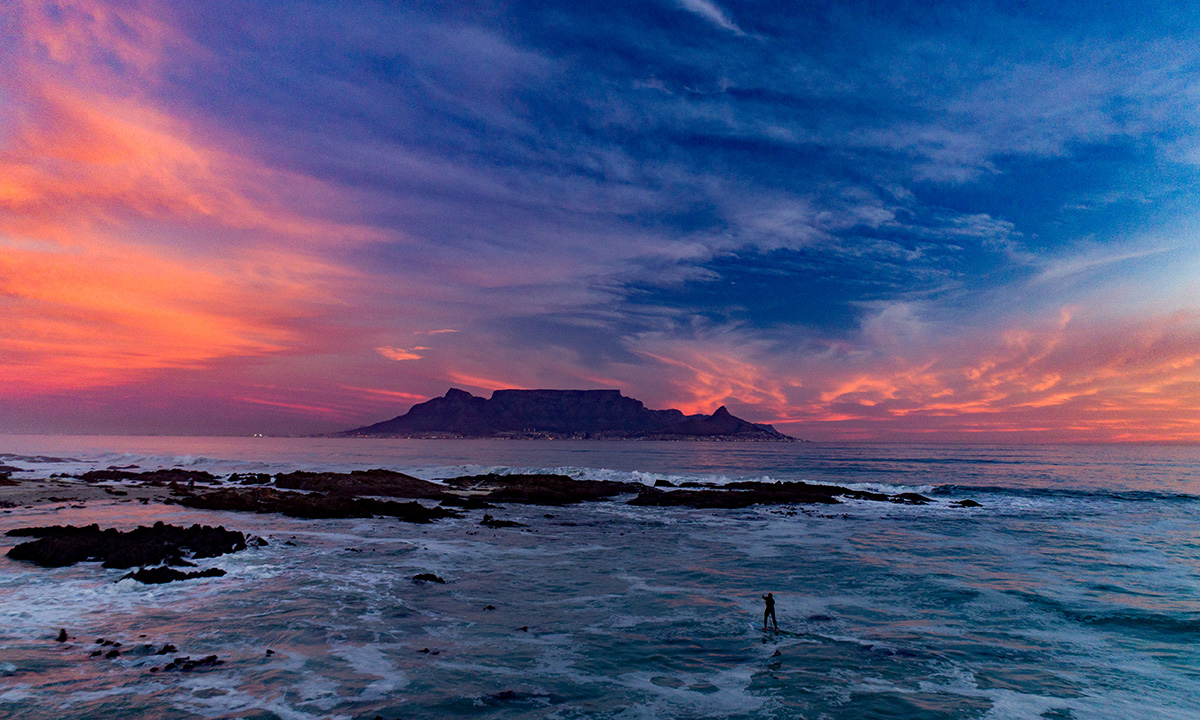 SUP into the sunset at Bloubergstrand, Cape Town, South Africa | Photo: Shutterstock
13. Puerto Rico
Lucid waters, diverse sea life, and a moderate temperature that stretches throughout the year are what make up for a memorable paddleboarding experience in Puerto Rico. While here, you will never run out of beaches to discover and the many guided trips will ensure that you stay safe and relish this sport to the max.
If you or your child is a beginner, then a practice session at the "Class Zero" gradual current zone in the different paddling spots will boost your confidence. The blue-green waters will leave you mesmerized, making you dream about paddle boarding day and night!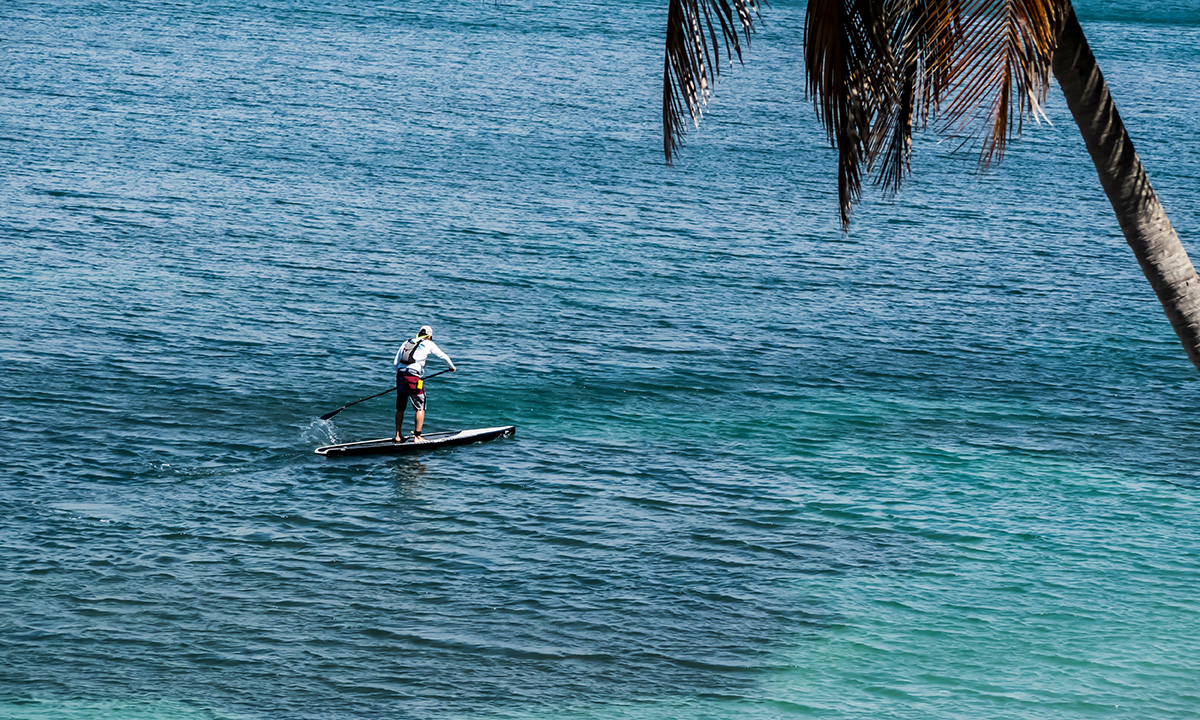 Paddling in Puerto Rico. | Photo: Shutterstock
14. San Diego, California
San Diego has become an epicenter for paddleboarders for all ages. Open blue skies and calm waters will bring any paddler into this place which they will find difficult to abandon. Head over to Mission Bay and launch your paddleboard with ease.
You will find it vibrant with tourists and boarders from all over the world. Del Mar Beach and Agua Hedionda Lagoon in Carlsbad are great for breathing in some fresh air, gazing at slow-moving waters, and feasting on natural beauty as you glide along. And while talking of San Diego, it's hard not to mention La Jolla Cove, which is the ultimate fantasy for the locals there.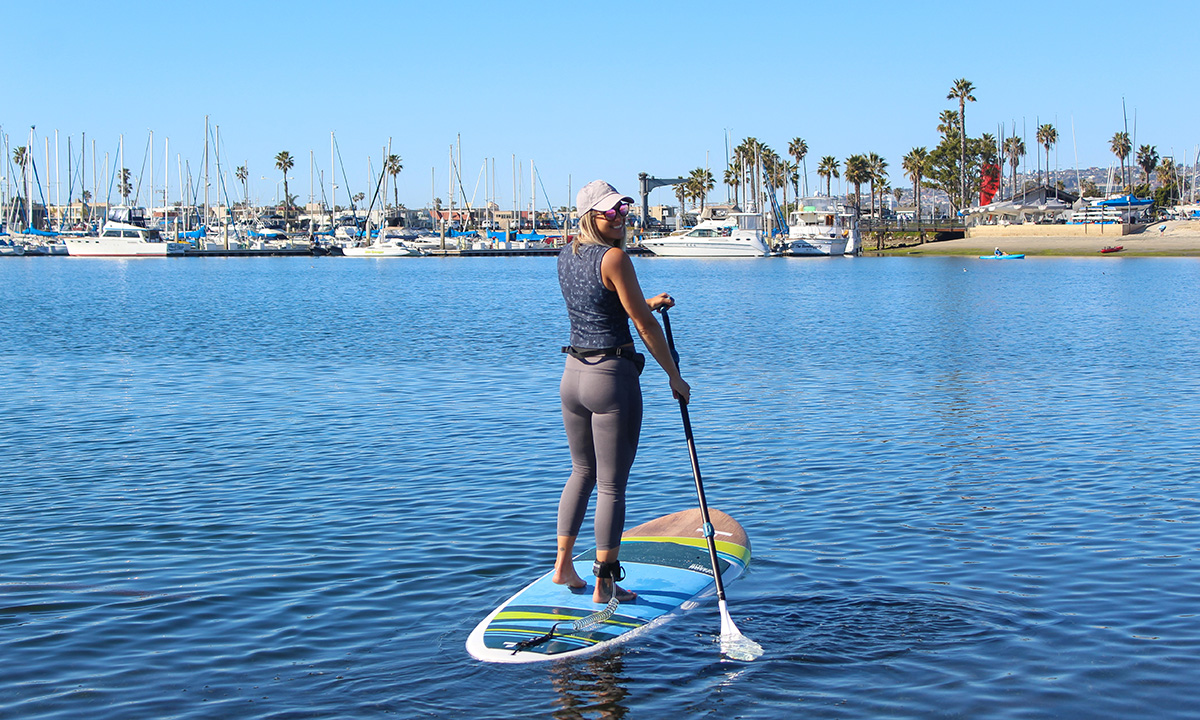 Paddle boarding Mission Bay, San Diego. | Photo: © Supconnect.com
15. Myrtle Beach, South Carolina
Paddleboarding is becoming a water sport craze in Myrtle Beach, South Carolina as those vacationing here cannot resist propelling themselves along the waves on a paddleboard. You can be a part of a group paddle boarding tour on Kokopelli Surf Camp or rent a paddleboard any time of the year.
While standup paddle boarding, keep an eye on the seabirds, bottlenose dolphins, and loggerhead sea turtles that are sure to greet you along the way. The popularity of this water sport is skyrocketing among both younger people and older adults. It's a discrete and quiet activity that does not require you to be a pro. It is also a great way for the entire family to have fun in the water.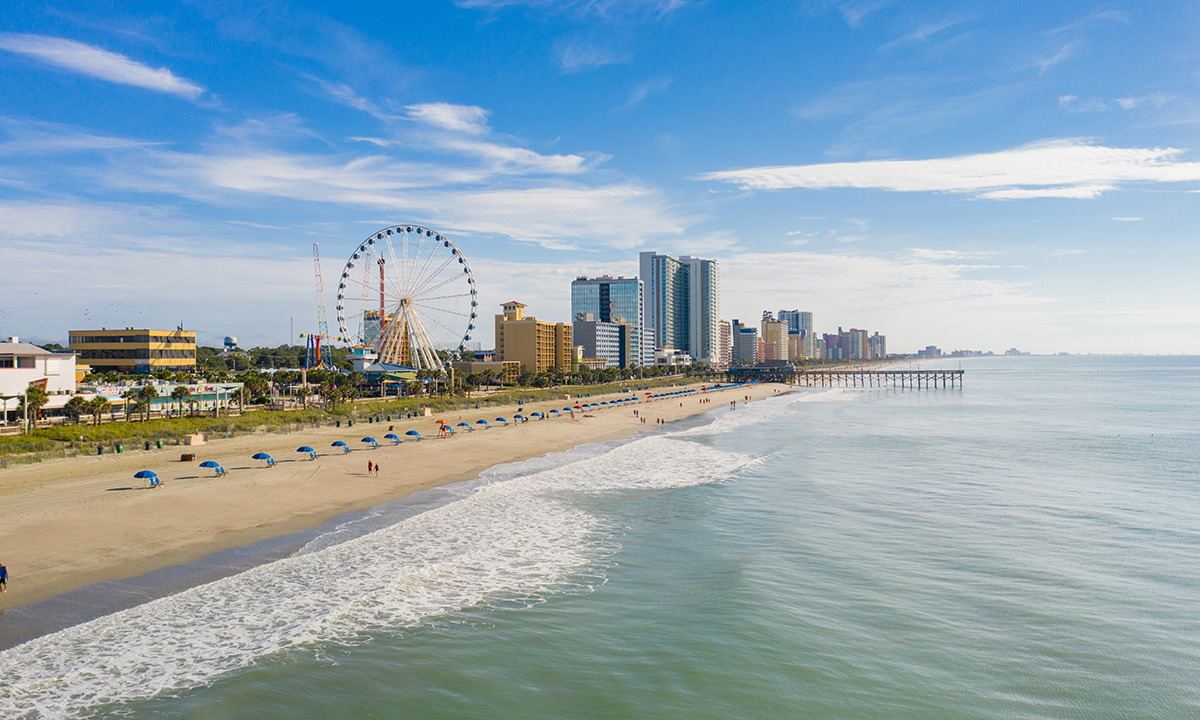 Shoreline Myrtle Beach | Photo: Shutterstock
All the places mentioned above are now open for tourists as long as you carry a negative swab test report for COVID-19. You also do not need to huddle in quarantine before familiarizing yourself with the friendly waters and diving deep into the paddleboarding experience.
For more SUP destinations, click here.
Last modified onThursday, 08 April 2021 18:17
Email

This email address is being protected from spambots. You need JavaScript enabled to view it.