Boardworks Joyride Stand Up Paddleboard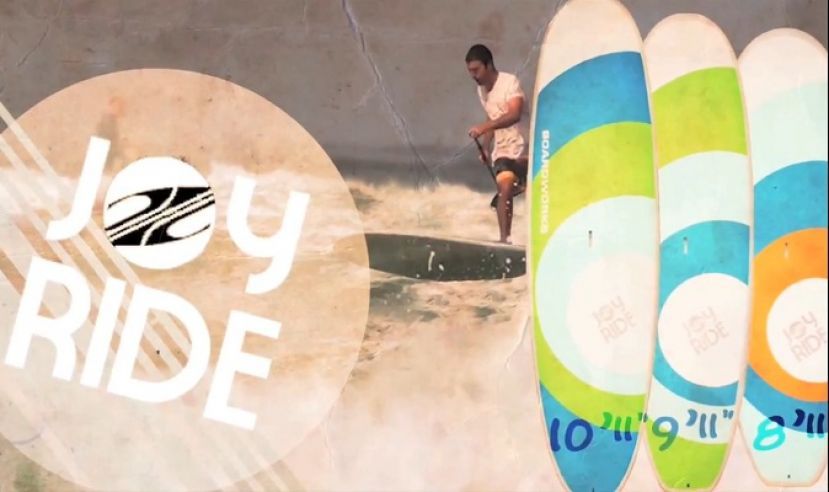 Video

---
Outline

---

Description

---
The Boardworks Joyride stand up paddle board provides the beginner paddler with an excellent all-around board. Designed with stability and fun in mind, the Joyride SUP is fun for all ages and skill levels and can be enjoyed both on flatwater and in the surf.

The Joyride comes in three different sizes to fit almost any rider. The 8'11" Joyride measures 32", the 9'11" measures 33" wide and the 10'11" measures 34" wide. The extra width in each board provides for increased mobility on the deck and unmatched stability in the water.

The key words here are "user friendly" and to expand upon that concept, Boardworks has designed the Joyride to sport a full EVA soft deck. This means no wax on the top of your car, no bumps or scrapes as you load and unload off a roof rack or into your car, and no bruises if you fall on top of the board.

In the surf, the Joyride punches over and through waves, negotiates chop and keeps the rider stable when paddling into a wave. With its full EVA deck, flat rocker and the extra width, it caters to an even bigger audience that other soft-top boards have in the past.
Features

---
Equipment: Stand Up Paddleboard

Equipment Use: All Around

MSRP: $950 - $999. See Boardworks.

Length: 8'11" / 9'11" / 10'11"

Width: 32" / 33" / 34"

Weight: n / a


Thickness: approx. 5"


Fin Setup: 2 + 1

Other.1: Center Handle

Other.2: Full EVA Soft Top

Construction: Single density, stringerless, hand-shaped EPS cores with epoxy resin laminations, painted with superior automotive grade paint and polish coat with a hand sanded finish.

Manufacturer: Click Here to Contact
Pictures
---
Links

---
Buy the Boardworks Joyride at www.standonliquid.com
Visit the Boardworks SUP website at www.boardworkssup.com
Notes: Drop a line on what you think about this product or if you've heard any feedback on it. Customer feedback is highly prized by the sup community and your thoughts, concerns, or questions may be in the mind of many of our readers. So, to continue to help us to serve this great stand up paddle community of ours, let us know what you think about this product and encourage your friends and family to get involved and drop their thoughts on the sup gear posted on Supconnect. Thanks a lot, keep paddling and help us to share the sup stoke!
© Copyrighted & Exclusive SupConnect.com Content
.

Last modified onTuesday, 24 March 2015 14:49

After spending the first part of her life in Minnesota, Morgan traded in her snow boots for sandals and moved to sunny California. After graduating with a degree in Communication from The University of Southern California, she eventually made her way down south to San Diego and is taking advantage of the living by the best beaches and burritos California has to offer. If it's sunny, you can find her at the beach relaxing, or exploring the calm water in the bay via paddleboards and kayaks.