Best Touring Stand Up Paddle Boards 2022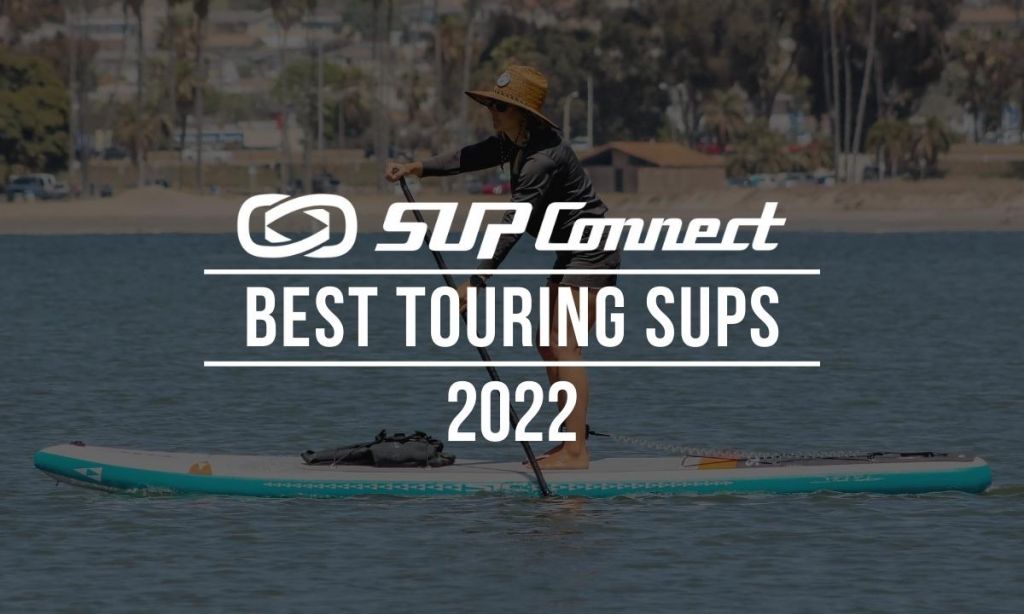 After personally paddling, weighing, and thoroughly testing 200+ boards, our expert staff has selected the best touring stand up paddle board 2022 models. These are designated by the "A" grade and organized by categories (inflatable, all-around, touring, etc). In its 6th year the Supconnect team spent countless hours individually assessing each one of the SUP boards below, counting a total of 23 metrics per board and consistently applying them across all products. The end result: simply the most comprehensive, consumer-friendly, value-added review platform in the stand up paddle world. Click through each one of the reviews and find a consistent, in-depth assessment of each product listed.
Quick Answer:
The Best Touring SUP Boards 2022
SIC Maui Okeanos Air
Starboard Touring
Bay Sports Wood Look Original Series
Tahe Breeze Wing
Starboard Generation
SIC Maui Tao Tour Air
SIPA Boards Drive Tourer
| | |
| --- | --- |
| | |
A Comparison
The Best Touring Paddle Boards 2022
Touring Paddle Boards 101
3 Things to Consider to Find the Best Touring SUP
1. USE
A touring SUP is meant to be used and should perform well in a variety of conditions ranging from long distance paddles to expeditions and more. Touring boards can be used for multiple purposes but are primarily intended for long distance paddling and expeditions. Generally, touring boards are built to sustain added weight that comes with hauling gear and have multiple attachment points on the board to hold down and secure that gear. Touring paddle boards are usually 28 inches and wider with anything less being more geared for racing. As a standard, the narrower the board the faster it will go but the less gear it will be able to hold. The wider the board the more stable it will be. So, if you're primarily using the board for a long, off-the-grid expedition you would want to choose a board with more width, around 30 inches+. If you're going out for the day and want to explore and won't need too much extra gear a narrower board might be the better option.
2. ADD-ON'S
Add-on's are accessories for a paddle board that add to your experience on/off the water. The quality of the bag/backpack and the air pump tend to be directly related to the board's price points. Aside from your paddle, bags and pumps are the most important add-on's to your board and can drastically improve your overall experience with the board, such as helping you more easily carry the board and/or pump it up more quickly. Other popular add on's include bungee cords, a minimalist way to haul things; Connexsup, which allows for all sorts of attachments, even fishing rods; and FCS II/Connect, for easy fin instal. Other add on's could be upgraded handles like the Liftsup & EZgrab and paddle holders for when you aren't using your paddle. Add-on's are really helpful when touring to hold down the added gear and supplies so in theory, the more add ons the better.
3. BUILD
Touring sup boards come in various constructions. First, decide whether you should have an inflatable or non-inflatable board. Inflatable boards are easy to store and very lightweight, making them perfect if you don't want the board to take too much space. Most inflatables come with a backpack to hold them and can be thrown in car trunks and checked in at airports without any oversize fee. Inflatables are the go-to option when you're going on a multi-day expedition where traveling the board and hauling your gear are involved. Inflatables, though, normally have less glide and less overall performance when compared to non-inflatable boards. Moreover, non-inflatables often times score higher on durability. Non-inflatable boards with carbon or bamboo tend to be lightweight and durable while plastic constructions tend to be durable but incredibly heavy. Fiberglass/epoxy builds fall in between these two and are the most common non-inflatable constructions. Non-inflatable SUPs are the better option when you're only going out for the day and won't be hauling the board in and out of the water with all your gear.
Best Touring Paddle Board Reviews
SIC MAUI OKEANOS AIR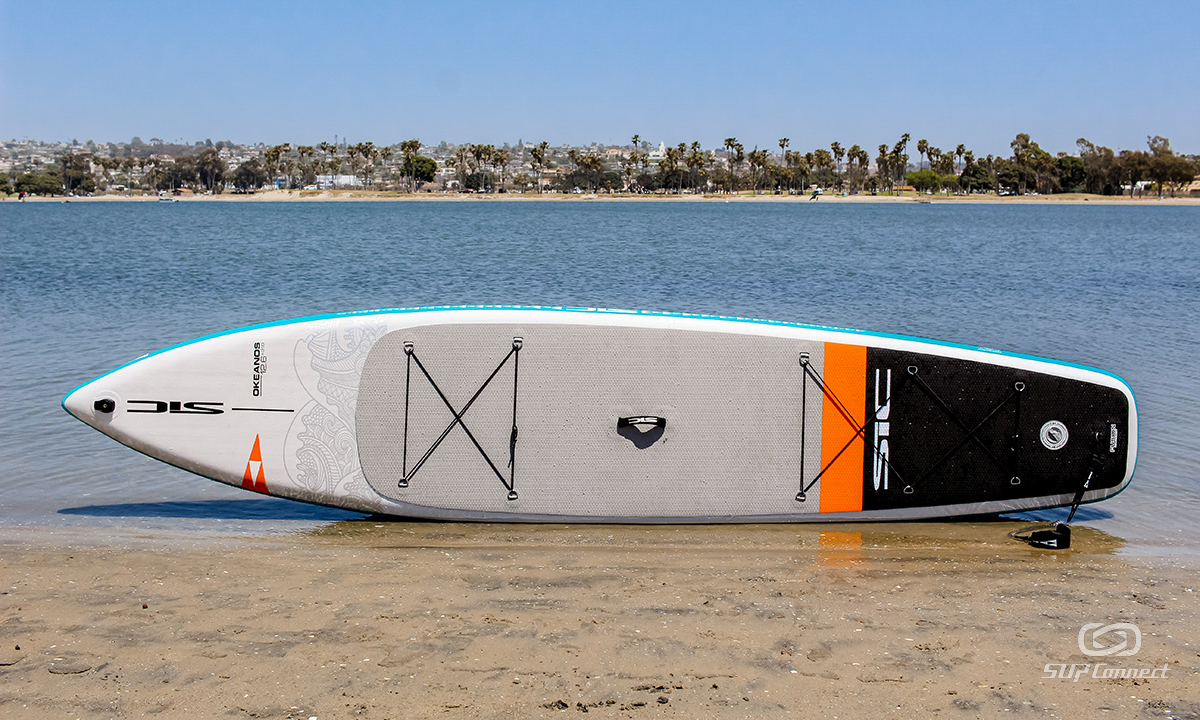 Every detail of the board is very thoughtful, from graphics to construction. Aesthetically, the board is stunning with the tribal silver shimmer that is accented with vibrant orange and turquoise rails, something that's appealing to both men and women. The SIC Maui Okeanos Air came with many detailed bells and whistles to make your touring experience the best one possible, including a camera/GoPro mount on the nose, bungees and d-rings on the front deck pad and tail, and a 3 fin system for higher stability and better tracking. You'll find SIC Maui branding all over the box and its contents, including the wheelie backpack (which was top notch), leash with a key pocket, dual-action pump, repair kit, and 9.0" weedless nylon fin. This board did not come with a paddle which is something to keep in mind if you don't already have one, and would be something you need to get separately. When carrying this board down to the water, it did feel a bit more on the heavy side, but it was still manageable and pretty easy to carry. Another thing worth noting: this board had to be pumped to its recommended 20 psi. If you're doing it by hand it can get a little bit tougher towards the end and might take a bit longer than other boards. That being said, the extra psi requirement made the board feel very stable and it glided and turned very well on the water which made the on-water experience all the more enjoyable. Overall, if you're looking for a high-quality inflatable board that is touring specific but can also perform well in race, fitness and other SUP disciplines the Okeanos Air is a good option. With the beautiful package all around, quality of board and accessories included and price point combined, the Okeanos Air is deserving of our A grade.
| | | |
| --- | --- | --- |
| Price: $929.95 | Build: Inflatable | Weight: 26.6 lbs |
| Use: Touring | Skill: Beginner | Sizes: 12'6", 14' |
STARBOARD TOURING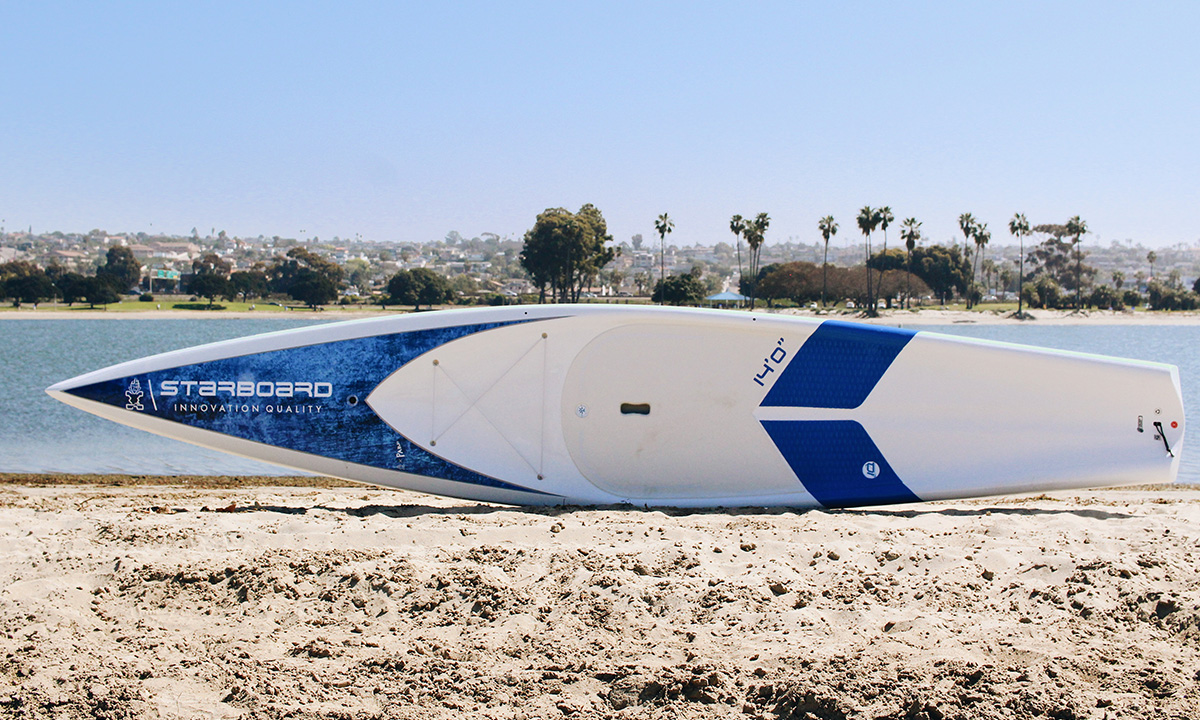 The board we reviewed utilized Starboard's Lite Tech construction so keep that in mind here. At first glance, the blue graphics had a really nice pattern and look to it. The rest of the board is fairly basic when it comes to graphics and is essentially all white with the exception of the blue band across the deck pad. So, if you're looking for something that has a very clean look to it, you'll probably really like this design. Downside of the white though is the potential for it to stain and get dirty so take note of that. Color aside, the deckpad has a really neat feature called the 'Star Touch'. When it's wet, the pad becomes more grippy and really helps with stability when moving up and down the board when turning. Now, this board is made from some pretty strong materials so the durability there is nice, but with this durability comes weight. The board weighs in at around 34.15 lbs so it's definitely on the heavier side. It's still manageable for sure but heavier than lightweight constructions. However, offset the weight and make the board a bit easier to carry, Starboard includes a shoulder strap with the board that also doubles as a paddle holder so that's a nice perk. Another nice perk that's absolutely worth mentioning is that when purchasing this board, or any Starboard SUP for that matter, they plant a mangrove tree that helps absorb CO2 in the atmosphere and they also commit to picking up 1.1kg of beach/ocean trash. Now that's something to get behind. On the water, the board felt SO stable! The added width in the center of the board mixed with the recessed deck really contributes to that stability. The board was also easy to turn when stepping back towards the tail. When it comes to the glide, if you've got the right technique and power behind your stroke you're going to get a really nice glide and even get some speed just as the designers of this board intended with the thinner sharp slicing nose and deep center channel on the bottom. Because of this, the Touring could make for a great dual-purpose board that is great for both touring and also can be a good transitional board if you're wanting to get into racing. But, because of the heavier weight, if you're looking for more of a race board either go with the lighter construction or look at race-specific boards instead. Overall, the Touring is a great option for paddlers looking for a touring SUP that sits in the mid-tier price point, uses quality materials, is stable AND is eco-friendly so it's a no brainer to award the Touring with Supconnect's A-grade.
| | | |
| --- | --- | --- |
| Price: $1,499 | Build: Non-Inflatable | Weight: 34.15 lbs |
| Use: Touring | Skill: Beginner/Intermediate | Sizes: 12'6", 14' |
BAY SPORTS WOOD LOOK ORIGINAL SERIES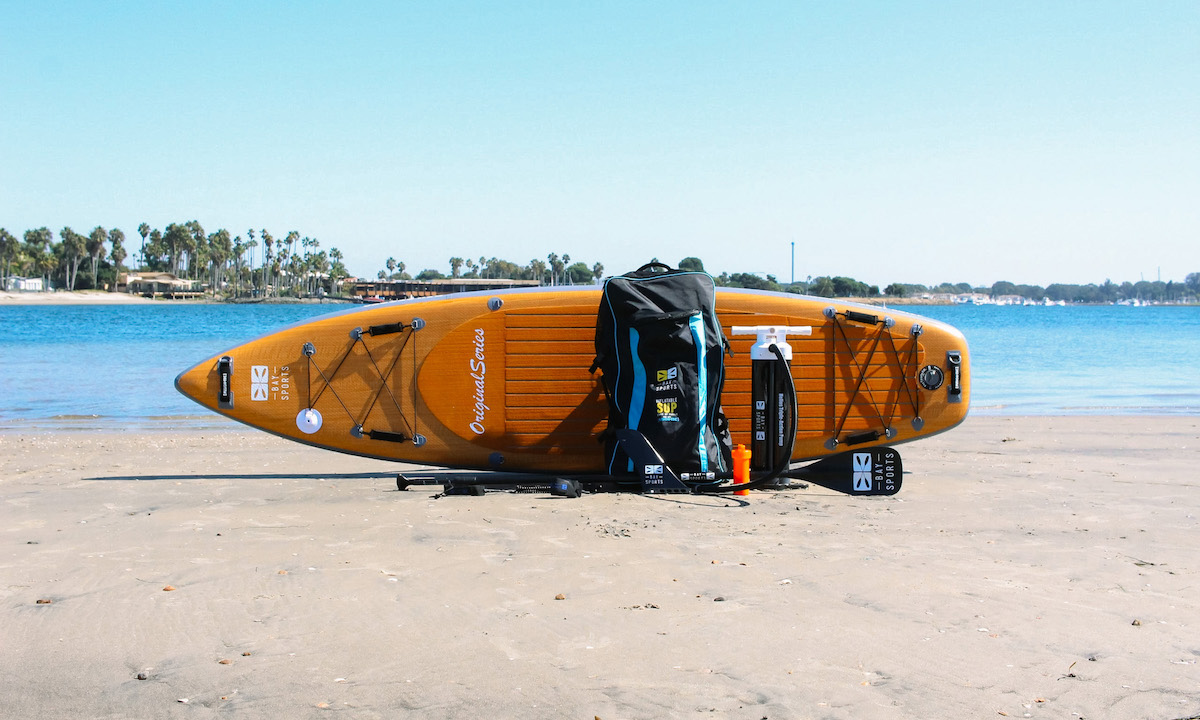 Updated for 2022, the Bay Sports Wood Look Original Series definitely got an upgrade. The graphics stayed the same here and kept the basic yet sleek wood graphics but here's what's new: there is an additional bungee cord attachment on the tail and the cords are upgraded and feature grips that can be used as handles that are great for kids who want to tag along for the ride and want to hold onto something. You'll also notice more D-ring attachments on the deck that allow for countless attachment opportunities. Another new feature for the 2022 edition is a multi use action mount with an adapter where you can put a camera or a GoPro. As with the older version, the board is incredibly solid when inflated to the recommended PSI of 15. The board comes with a great fin and a nice bag making the overall package a good value. The graphics on the board give it a nice wood look and the fin system has two built-in rubber fins with the 3rd center fin being a toolless fin system, similar to the FCS II system, making getting your board to the water that much easier. Speaking of getting down to the water, carrying this board was a breeze. It was lightweight and easy which is interesting considering the board can hold up to 396 lbs. Typically, when you have more of a lightweight board it correlates to the durability of the board. Less layers = less durable but in this case the durability of the board didn't seem compromised. Overall, if you're looking for a board that is affordable and stable that paddles well, the Bay Sports Wood Look Original Series is a good option. It's a good board, great for touring, all around, just a fun day on the bay with friends, you could go long distance if you'd like as well.. Love the rocker, love the stability and love the glide. With these upgrades we're upgrading this board to an A-grade.
| | | |
| --- | --- | --- |
| Price: $649 | Build: Inflatable | Weight: 22.7 lbs |
| Use: Touring | Skill: Beginner | Sizes: 10'6", 11'6" |
TAHE BREEZE WING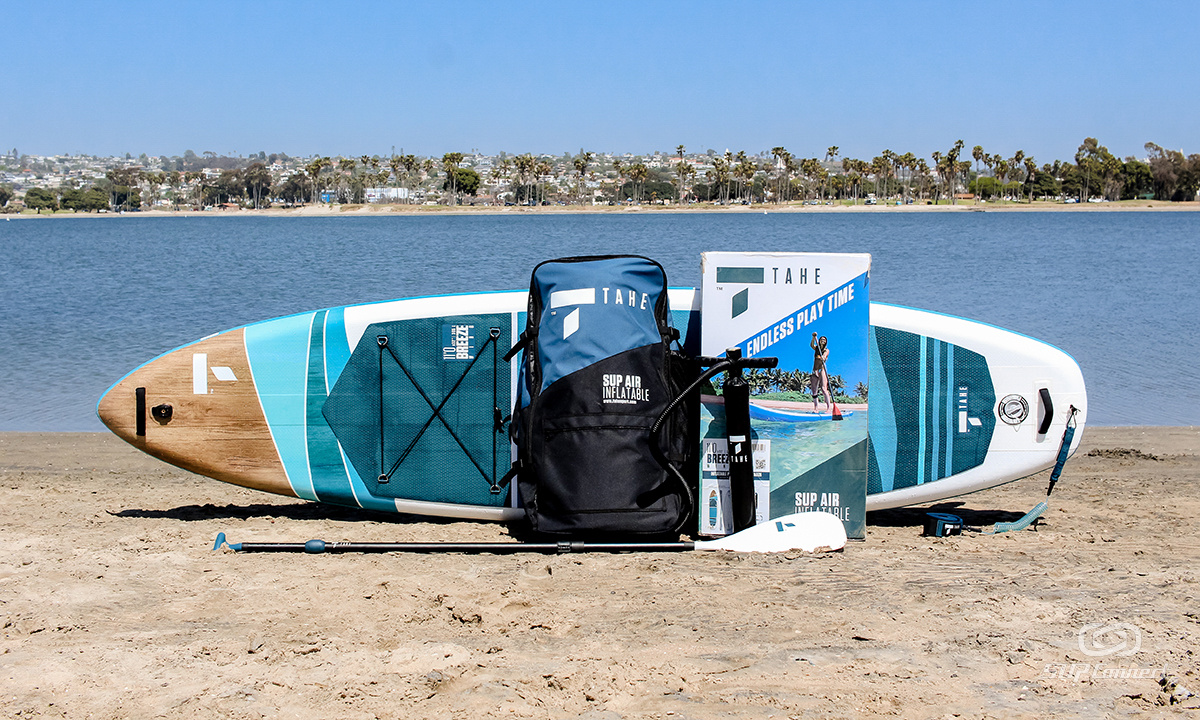 For this review note that we tested the 11' model which is a bit more of an all-around shape compared to the 12'6 version of this board which is a lot narrower in the design towards the nose and throughout the board, much more of a touring shape. That being said, at first glance, what first stood out was the detail of the bamboo design placed on the nose with their logo popping in white, and the rest of the board having a pattern in a different blue-toned look with white contrast to create a simple but beautiful design. The board was pretty durable and had a nice glide, and it was easy to cruise on this board without feeling like it was lugging around in the water. There are bungees at the front of the board with D-rings attached, handles in the front, center, and back of the board, a mount for a go-pro, and an additional D-ring at the bottom of the nose and top of the tail which could be used for a bunch of different reasons. Nice and versatile. This board comes with the overall package, meaning it includes everything you need to get out on the water: the 11'0" Breeze Wing Air board, removable FCS II connect dolphin 10" fin, adjustable paddle, carry-all backpack (good quality), ankle/calf leash, hi-pressure 2-way inflation pump with gauge, and repair kit are all included. The Tahe branding was very thoughtful throughout the overall package, with the logo and brand color being present on all assets. The biggest distinguisher here and thing to keep in mind when deciding which length to go with is: if you're looking for more of the all-around design go with the 11'. If you're looking to use it more as a touring board, get the 12'6. Overall, no matter the size you choose, the Tahe Breeze Wing would be great for someone looking for a complete inflatable SUP package that is lightweight, has an all-around or touring design and is a distance-friendly board. After thorough testing and review, this board is a shoe-in for the A-grade.
| | | |
| --- | --- | --- |
| Price: $1,099 | Build: Inflatable | Weight: 24.6 lbs |
| Use: Touring | Skill: Beginner | Sizes: 11', 12'6" |
STARBOARD GENERATION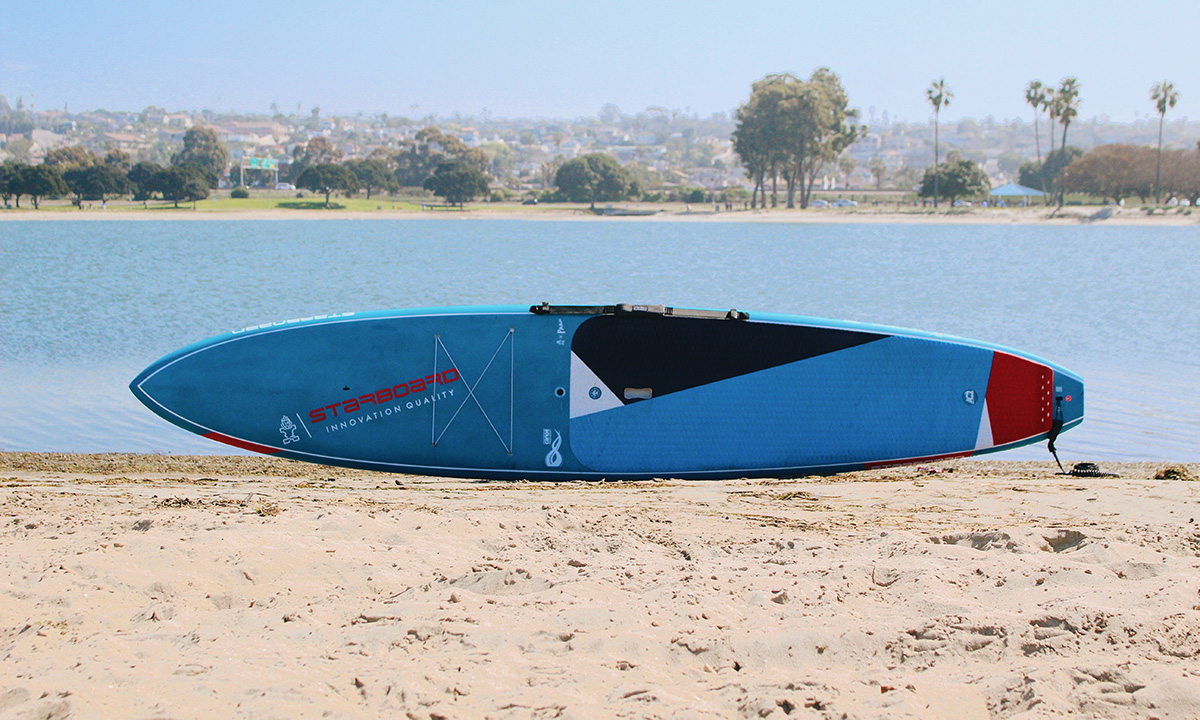 Starboard frames the Generation as 'the one board quiver' and we couldn't agree more. This board is insane. The version we tested was the 12'6" x 28" with Carbon Top. Getting into the details, we'll start with the packaging. True to Starboard's messaging, they're really going above and beyond to stay as plastic free as possible. The board was wrapped in paper (not plastic) and accessories included in the package came in a nice little cardboard box. All the small details here really make such a big difference and go a long way showing the thought and care from behind the scenes. In regards to the graphic design, the Carbon Top graphics are true to Starboard's blue branding and anyone that's familiar with the brand will know it's a Starboard from a mile away. The board itself comes with a bunch of added bells and whistles including an FCS deck plug towards the nose of the board for additional attachments like a GoPro mount, phone mount, GPS, etc. The board also has bungee cords in the middle-ish of the board (more towards the nose) that are great for holding down added gear. Additionally, the board comes with a nice removable shoulder strap that makes carrying the board even easier and a 2+1 fin setup. Speaking of carrying, the deep well of the handle on the board made it really easy to get a good grip on the board when carrying it, so carrying this board–for the size of it–was pretty easy. The deck pad goes all the way down to the tail and has a little lift where your back foot would go when using this board in the surf or when doing a buoy turn. Again, thoughtful touch. On the water, the board instantly felt very stable and the glide was pretty much immediate once we started paddling. In flat water the board was a dream but even moreso, when taking it in some bump the board cut right through it without issue. Long story short, we love it, dealers love it and we're pretty sure you'll love it which is why we're giving it the A-Grade.
| | | |
| --- | --- | --- |
| Price: $2,299 | Build: Non-Inflatable | Weight: 27.15 lbs |
| Use: Touring | Skill: Intermediate | Sizes: 12'6", 14' |
SIC MAUI TAO TOUR AIR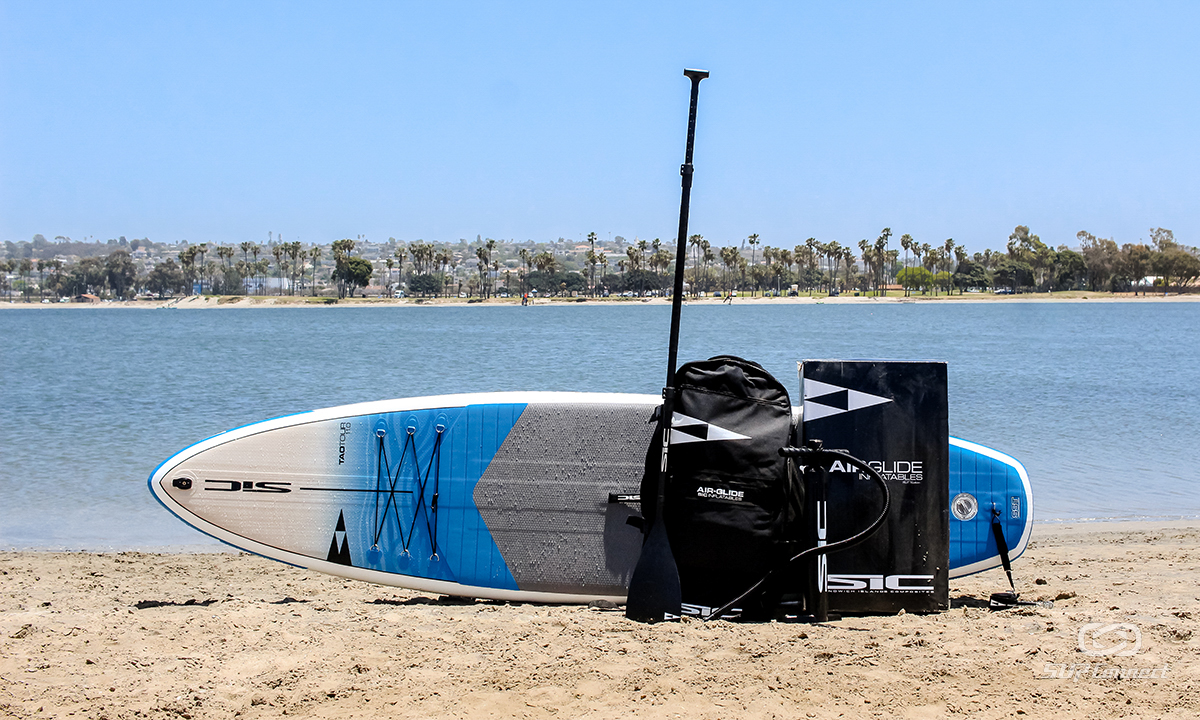 At first glance, and what we expect to see from SIC, the quality was top notch. Additionally, it was quite obvious that they were incredibly thoughtful when it came to every detail of the board, from the exceptionally beautiful play on color and graphics with wood finish on a pop of white, to the detailed construction deck pad, to the D-rings placed underneath the nose and at the top of the nose and tail with bungees attached. The board was fairly easy to carry down to the water, though a little heavier than other inflatable boards we have reviewed in the past. When getting onto the board it felt very stable and glided through the water really well. In fact, it was so stable that at one point we forgot we were on an inflatable. Another thing worth mentioning about the tech that SIC uses here, their stringer support technology, really does help add to the rigidity and stability of the board, and it's also likely why the board does feel slightly heavier than other boards we've tested. That being said, we'll take the durability and rigidity any day over something more lightweight and flimsy. Everyone who can walk should be able to easily stand on this board and paddle away without issue. Everything including the box was branded head to toe with the SIC Maui logo and signature black and white coloring, including a 8.0" mahi fin, repair kit with spare fin screw + plate, dual-action pump, leash (which includes a cool key storage feature), 3 piece aluminum paddle w/ anti twist grip, and the backpack carry case (no wheels). Overall, everything from the package to the details of the board itself and how it paddled/felt on the water earns this board an A.
| | | |
| --- | --- | --- |
| Price: $769.95 | Build: Inflatable | Weight: 24.11 lbs |
| Use: Touring | Skill: Beginner | Sizes: 11', 12'6" |
SIPA BOARDS DRIVE TOURER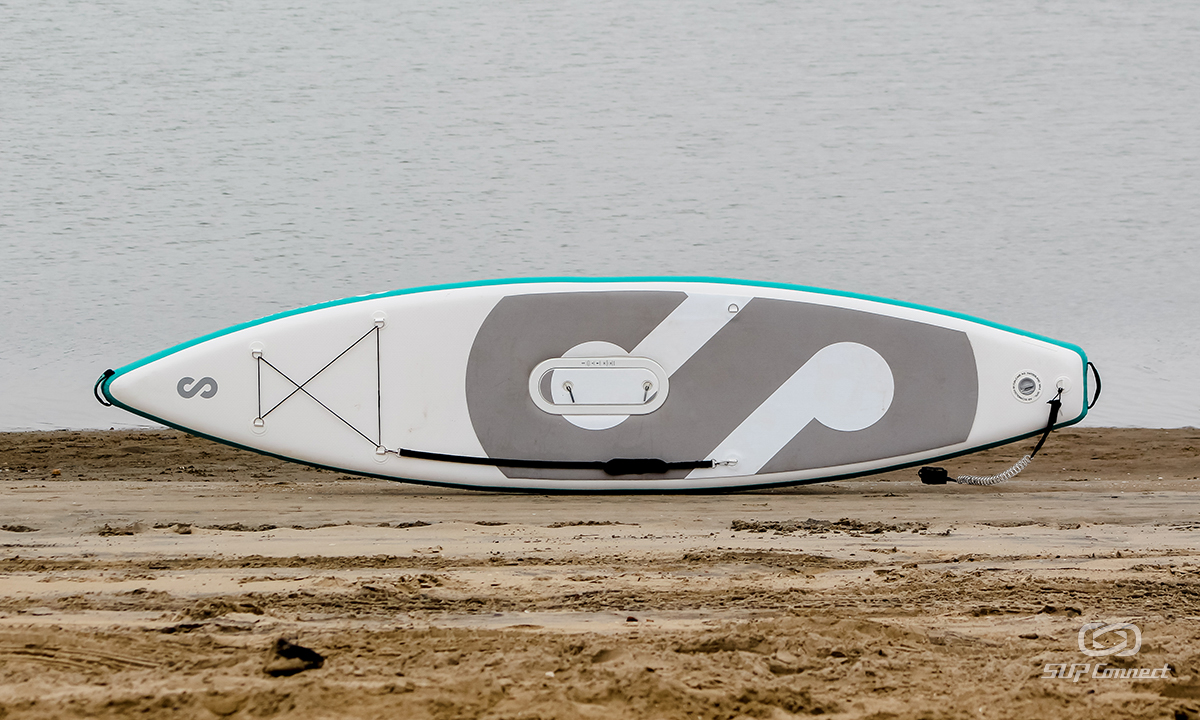 The SIPA Drive Tourer was definitely a shock when opening up the box. There was a lot of stuff that came with this board from the Bluetooth wireless paddle mount remote, battery pack for the SipaDrive and charging cable, deluxe carrying backpack, board carrying strap, front and rear carry handles, 10' coiled safety leash, fully integrated jet engine and built-in compressor known as the SipaDrive®. The overall package—WOW—so much thought went behind it when it came to the design of this board to incorporate the electric jet pack and other add on's so kudos to the product design team there. The paddle that was also included to us was their 3-piece carbon paddle which was very light and good quality. Note though: this doesn't come included in the package and does need to be purchased separately. The only thing that was a slight turn off about the board was how basic the graphics were. It was an all-white board and had a hint of teal on the rails and just gray logos throughout and it would've been nice to see a bit more pizazz there since the board is so unique. But, that's just aesthetic and has nothing to do with performance. Speaking of performance, the board was quite difficult to carry in and out of the water since it was so heavy but that's to be expected here since it's not your average inflatable SUP. It did come with a shoulder strap to help with carrying but it didn't help much so if you have an extra set of hands to help carry the board definitely use them. Once getting up on the board without the jetpack on, it was heavy and moved slowly, again, as expected due to the weight. But the minute the jetpack turned on… we went FAST and were ready to glide freely through the water. It was SO FUN.
| | | |
| --- | --- | --- |
| Price: $2,590 | Build: Inflatable | Weight: 34.6 lbs |
| Use: Touring | Skill: Intermediate | Sizes: 12' |
Photo Gallery
A Look at Imagery from our SUP Reviews
More Resources
© Supconnect.com Copyrighted Exclusive Content
Last modified onWednesday, 20 July 2022 12:12

Submit your news, events, and all SUP info, so we can keep promoting and driving the great lifestyle of stand up paddling, building its community, and introducing people to healthier living.
Website: supconnect.com