Starboard Reunion Race Tour 2012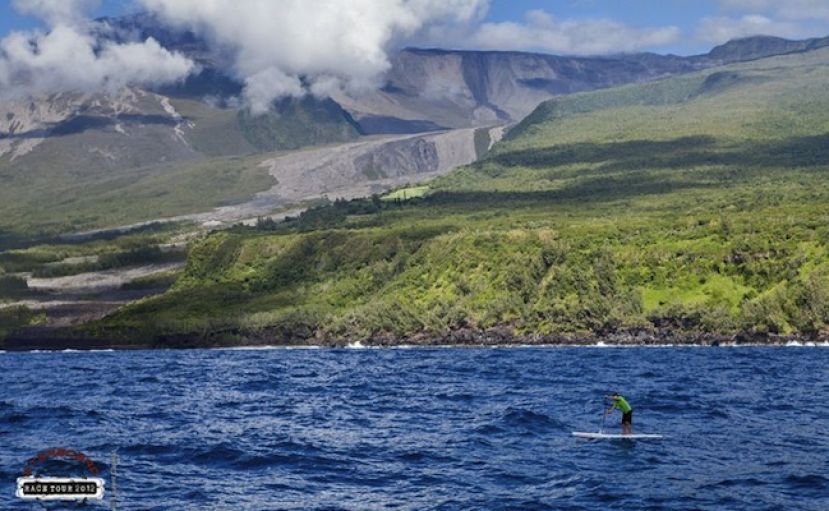 A scene from during pat 2 of the race, 2012.
Learn More about the Starboard Reunion Race
REUNION ISLAND, Indian Ocean - Part 2 of The Starboard Race Tour 2012 took place on Reunion Island on October 28th, 2012.
Reunion Island is a French island located in the Indian Ocean, East of Madagascar and has a beautiful view of the higher mountain, "le piton des neiges". The race brought both natives and tourists to view and enjoy the event.
The amount of paddlers has grown fast and approximately 40 people participated in Part 2 of the race. There were 4 runs: 1 sprint of 1200m and 3 runs of 5KM. It is almost 4 sprint races in a row with an average of 1 hour in between, making this a very challenging event.
In order to thank the faithful Racers, Starboard representative Denis Rey, also organized a free downwind session in the wild seas South of Réunion island. It is a place with a reputation for its heavy deep blue sea. As a result a group of 10 lucky paddlers got on the water together for 2 hours and then got back on board a catamaran to share a good lunch, some jokes, and appreciate the beauty of the island.
Some of the group then decided to stick around for another 20 miles downwind with winds between 25kts to 30kts and a swell direction that was perfectly orientated with the southwest wind. Those who were there said that everyone was stoked and that, even the beginners are now totally hooked.
Part 3 of the Starboard Reunion Race will take place in the heart of Reunion which is in the middle of the National Park at Grand Etang-District of Saint Benoit on November 11, 2012.
Part 2 of The Starboard Race Tour standings:
SUP Men: 1st Barret, 2nd Sura, 3rd Lea
SUP Women: 1st Colas, 2nd Verhille, 3rd Guerdin
Outrigger/Surf Ski: 1st Beranger, 2nd Vassard, 3rd Emer
For more information, visit: https://www.facebook.com/starboardreunion
.
Last modified onThursday, 05 March 2015 17:16
Email

This email address is being protected from spambots. You need JavaScript enabled to view it.