New Stand Up Paddle Gear at Surf Expo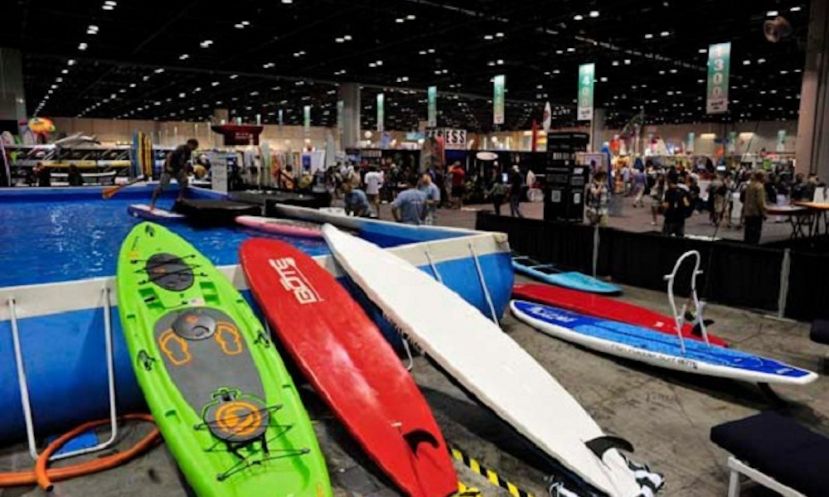 With all the new stuff being offered from the stand up paddleboard industry, it's easy to feel like a kid in a candy shop. The Standup Journal Team gets its sugar fix at the Surf Expo held on September 8 - 10 in Orlando, Florida.
Idle stand up paddleboards sit ready to be tested in the SUP demo pool at the Surf Expo.
Read about the Surf Expo Board Demo Day
ORLANDO, Florida - The Surf Expo was held last weekend at the Orange County Convention Center in Orlando, Florida. Industry stalwarts and 225 first-time exhibitors came to the show in full force, bumping attendance up to record levels.

Leading up to the event, Roy Turner, this year's show director, was quoted as saying, "Our 2011 show is going to be more than ten-percent larger than last year's show, making us the largest trade show dedicated to water sports and water lifestyle in the world."

Exhibit space for the show's first Board Demo Day at the Orlando Watersports Complex, held on September 7th leading up to the main event, sold out and was a great success – Read about the Board Demo Day here.

The Stand Up Journal Team was on scene taking the pulse of the SUP industry, which has seen incredible growth since the last Surf Expo. The team gives us "A little sneak peek for you of a couple new toys from some old friends."

New gear we can expect to see in shops coming soon include:
See more pictures from the event below and read the full post at the Stand Up Journal Blog.
Read the full blog post at the Stand Up Journal blog.
.

Last modified onWednesday, 24 June 2015 16:19

After spending the first part of her life in Minnesota, Morgan traded in her snow boots for sandals and moved to sunny California. After graduating with a degree in Communication from The University of Southern California, she eventually made her way down south to San Diego and is taking advantage of the living by the best beaches and burritos California has to offer. If it's sunny, you can find her at the beach relaxing, or exploring the calm water in the bay via paddleboards and kayaks.
Email

This email address is being protected from spambots. You need JavaScript enabled to view it.