New Champions Crowned at 6th Annual Air France Paddle Festival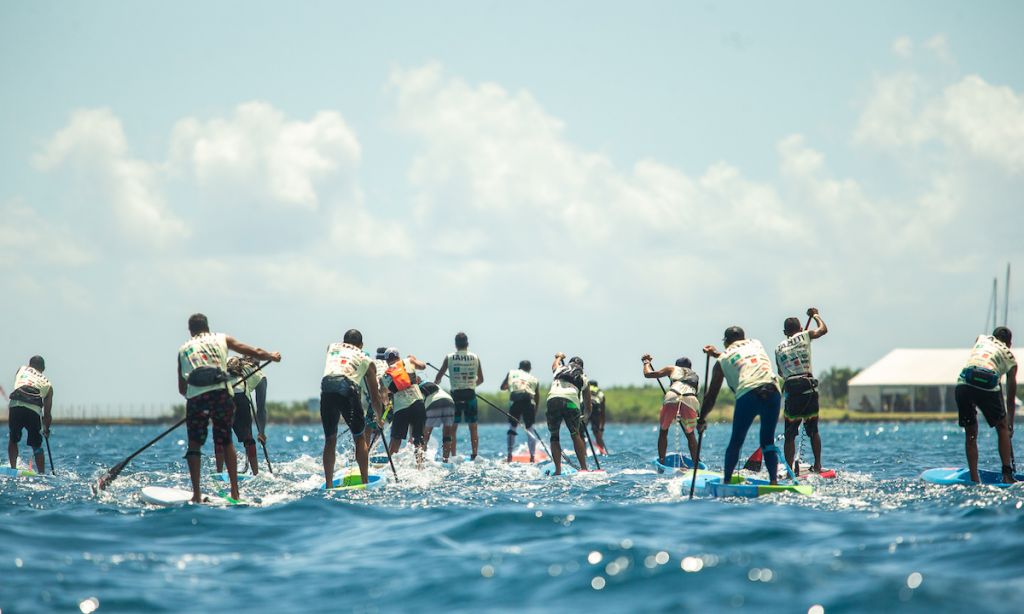 Air France Paddle Festival 2019. | Photo: Paddle League
PAPEETE, Tahiti - The Air France Paddle Festival has established itself as one of the "New Majors" in our sport by ticking almost every box possible: it's an extremely well organized day of racing, held in an incredible destination, features races for all levels and attracts strong amateur participation, anti-doping measures are enforced, and to top it off there's world-class live coverage.
This year for its 6th annual event, the Air France Paddle Festival saw new champions and cemented itself as one of the best race events of the year. Japan's Yuka Sato and New Caledonia's Titouan Puyo claimed victory, surviving brutally-hot conditions and outlasting spirited attacks from the local warriors in a memorable day of racing.
Men's Elite Race
Photos: Paddle League
Coming in to the event it was predicted that the men's race was always going to be a battle between Titouan Puyo and the Tahitians, with no less than a dozen world-class locals eager to take down the 2018 world number three. This was the NSP/Quickblade team rider's third attempt at the Air France crown, having finished 3rd in 2016 and 4th last year.

After a fast start from ultra dark horse local Ricky Aitamai (who paddled in the lead all on his own for much of the first kilometer), the field was quickly whittled down to a draft train of 11. Around 10 minutes into the race, a phantom bump from a distant ferry scuttled the front pack and allowed Titouan to bolt -- the only pursuants who were able to link back up were Enzo Bennett from the 425 team and Keoni Sulpice (Team Starboard), who at just 15 years of age is being hailed as a champion-in-waiting.

As the lead trio exited the protected lagoon and headed out through the first reef pass into the open ocean, Titouan seemed to be in complete control as his silky smooth technique set a consistent pace that left Keoni and Enzo hanging on. With the draining sun taking its toll (half a dozen competitors were "DNF" (did not finish)), Titouan attempted a few attacks but couldn't shake the plucky duo. Even a rare mistake by Keoni, where he fell and took Enzo down with him, wasn't enough to alter the trio.

As the TNTV drone highlighted to live viewers, the leaders were often paddling just meters outside the break where rogue waves were crashing onto shallow coral reef. It looked spectacular on screen, but one wrong move would have seen the competitors end up on dry reef.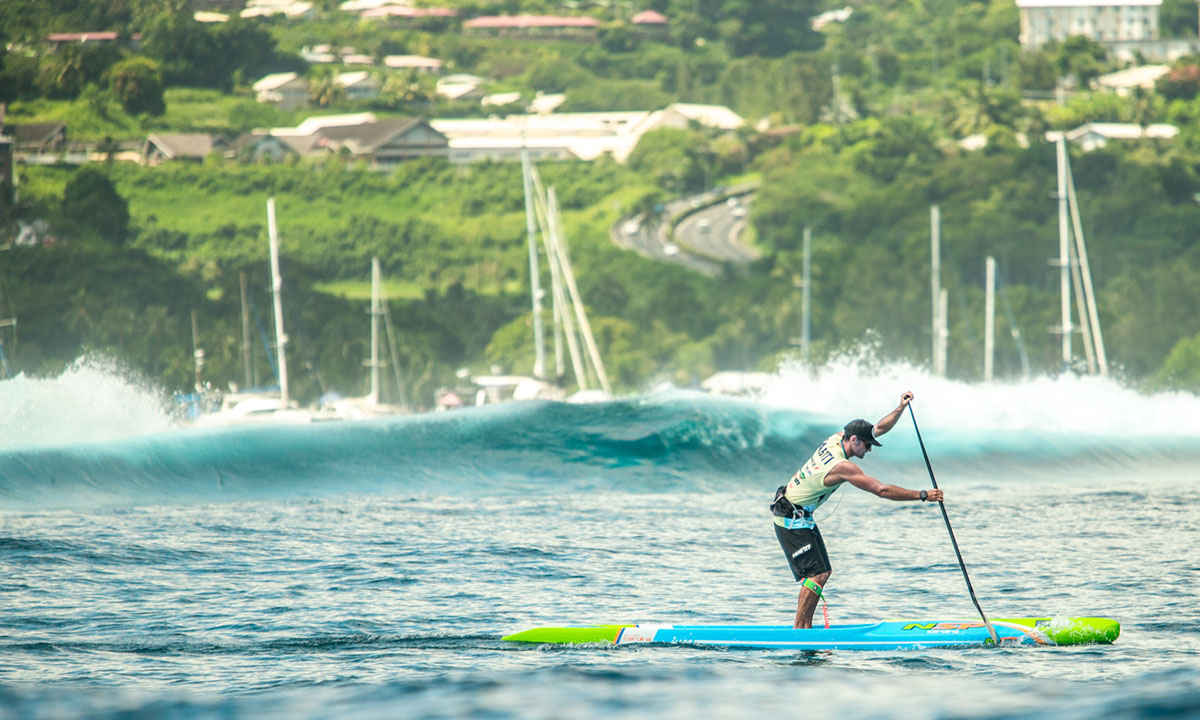 Titouan Puyo. | Photo: Paddle League

When the course eventually headed back into the lagoon through the second reef pass, where extreme currents, waves, wind and boat wakes produced a washing machine effect, the pack began to splinter. Enzo was the first to crack. After a brave, two-hour fight he began looking over his shoulder to see how close his nearest competitors – Niuhiti Buillard and Georges Cronsteadt – were getting. It was a sure sign that he was tiring, and eventually one of those glances also cost Enzo his balance, causing him to fall and lose contact with the other two leaders. That made it a two-horse race for the final, extremely-tense ten minutes of the race.

With the flotilla of boats virtually unanimous in their vocal support for young Keoni, Titouan had to remain composed and hold his nerve until the finish. He did just that, finally breaking free from his young rival in the final 300 meters to claim another major trophy and highlight his mastery of the ocean. The champ clearly left nothing on the water, collapsing to his knees as he crossed the line. He was also full of praise and respect for his chief rival, saying that he viewed Keoni as just as much of a threat as the other top guys and never took his position in the race for granted.

It was a masterful performance from an athlete considered one of the smoothest paddlers on the planet. It was also a third-straight victory for Team NSP at this event, following Marcus Hansen's heroic triumph twelve months ago and Yoann Cronsteadt's winning performance in 2017.
Photos: Paddle League
Despite falling into no-man's-land with 2km to go, Enzo fought hard and held off the other challengers to secure third place. Niuhiti Buillard crossed shortly after, while the Brothers Cronsteadt, Yoann, the 2017 Air France champion, and Georges, Tahiti's best-known international SUP athlete, came home fifth and sixth.

The tough conditions were highlighted by the names that finished just outside the top 10 or not at all. The biggest shock was pre-race favorite Steeve Teihotaata who withdrew in the final kilometer after being unable to stay on his feet; Steeve's water pack sprung a leak early and he paddled the entire second half of the race without hydration.

2019 GlaGla Race champion, Ludovic Teulade, was relegated to 11th place, while early podium contender and one of the world's leading young guns, Clement Colmas, hit the wall mid-race and limped home in 13th. Ludo told the Paddle League post-race that he went through all 2.5 liters of his water pack in the first 1.5 hours of the race, paddling the final 60 minutes on empty. Clement simply described the 24km slog as "The hardest race I've ever done in my life."
Women's Elite Race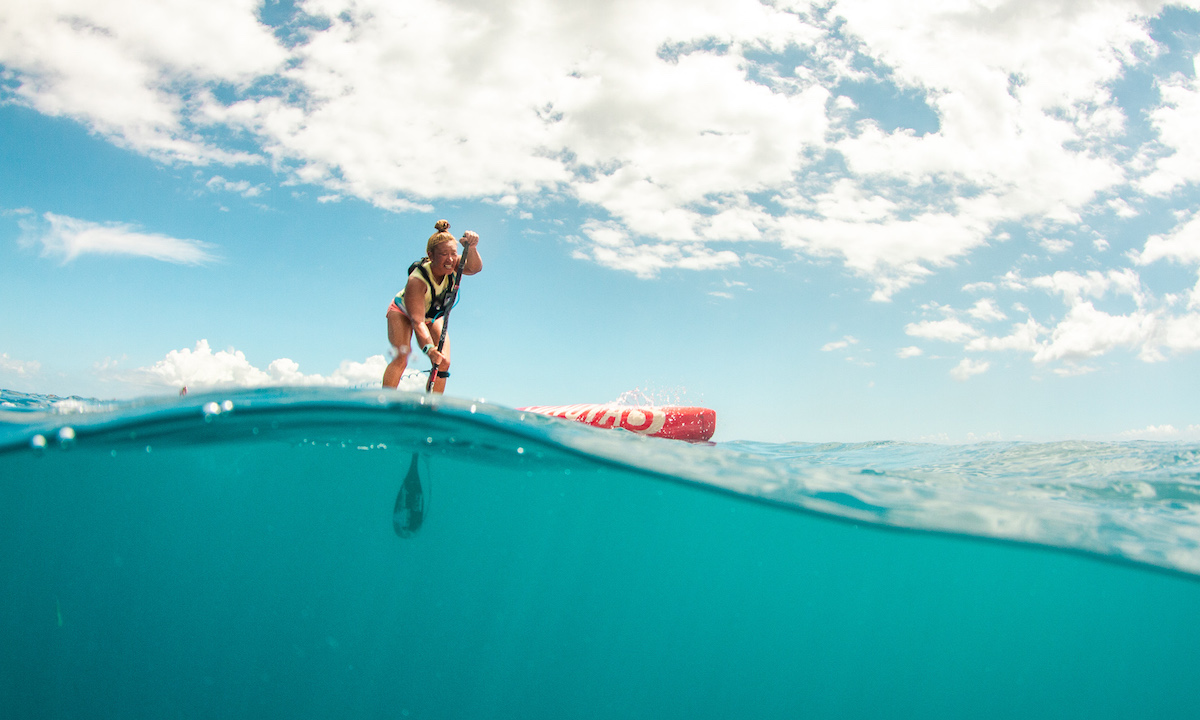 Yuka, smiling through the pain. | Photo: Paddle League
As a redemption from her runner-up finish in last year's race, Japan's Yuka Sato reeled in a fast-starting Olivia Piana to win the first major of her career. The "Smiling Assassin" as she's known in the racing world, surged down the back-straight, powering through the light upwind conditions to gap Olivia and set up a commanding lead that would grow to 12 minutes by the finish.

Yuka was paddling her signature two-piece design from Sunova, however Olivia was paddling something completely unfamiliar: customs delays forced her to borrow a board last minute, which certainly wouldn't have helped her chances in the race. Under-rated Tahitian champ Hinarii Yiou was third in a small but elite field of women who braved the 24km challenge, while French darkhorse Sandrien Berthe and local wildcard Lauriane Bisch rounded out the top five.

In the battle of the future champions, 16-year-old Haniarii Brillant outlasted fellow 16-year-old Leeloo Desanti by just three minutes after more than three hours of paddling.
Lagoon (Open) Race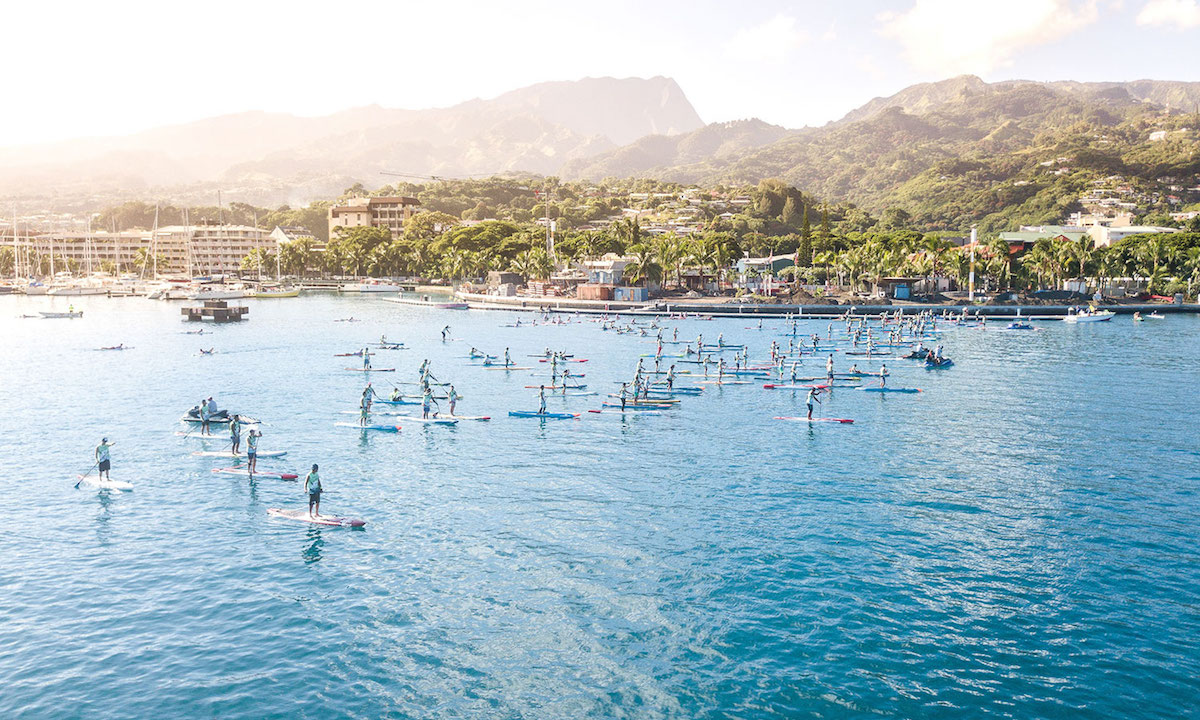 Aerial shot of the Lagoon Race, pre-start. | Photo: Paddle League
While the 24km elite race is the showcase, the heart of the Air France event is the traditional "Lagoon Race" (open race) that saw 150 paddlers slog it out over 8km in the windless, early morning sun.

Ranihei Bonet blitzed the women's open race, finishing three minutes clear of her nearest rival, while 21-year-old Henere Harrys claimed a hard-fought men's race ahead of 20-year-old Moehau Swapp. Both of these guys would have fit right in at any elite race around the world, which highlights just how deep the Tahitian talent pool runs.

In a coincidence of rare names and a possible sign of things to come, 14-year-old Titouan Olite hit the podium in the 8km junior race. The day also featured a "Super Groms" kids race – well done to Manoa Goyat for claiming the grom crown – as well as a fancy-dress fun race (The Woodys were victorious). All together, there were 265 participants for the 6th annual edition.

For more news and info on the Air France Paddle Festival, click HERE.
RESULTS
24km ELITE MEN TOP 10
Titouan Puyo 2:19:52
Keoni Sulpice 2:20:03
Enzo Bennett 2:20:44
Niuhiti Buillard 2:21:33
Georges Cronsteadt 2:27:00
Yoann Consteadt 2:27:03
Ricky Aitamai 2:28:10
Mathieu Ayard 2:33:57
Tiavairau Chang 2:34:05
Vincent Goyat 2:35:19
24km ELITE WOMEN
Yuka Sato 2:44:33
Olivia Piana 2:56:53
Hinarii Yiou 3:04:09
Sandrine Berthe 3:08:44
Lauriane Bisch 3:11:49
Haniarii Brillant 3:13:11
Vaimiti Maoni 3:14:29
Leeloo Desanti 3:16:55
Mahia Poroi 3:30:55F
24km MASTERS PODIUM
Vincent Goyat (Tahiti) 2:35:19
Olivier Darrieumerlou (France) 2:37:34
Rauhiri Varuahi (Tahiti) 2:41:00
24km JUNIOR GIRLS
Haniarii Brillant (PYF) 3:13:11 (16 years)
Leeloo Desanti (PYF) 3:16:55 (16 years)
Mahia Poroi PYF) 3:30:55 (18 years)
24km JUNIOR BOYS
Keoni Sulpice (PYF) 2:20:03 (15 years)
Tiavairau Chang (PYF) 2:35:05 (18 years)
Clement Colmas (FRA) 2:39:08 (18 years)
8km LAGOON RACE - WOMEN
Ranihei Bonet (1:05:23)
Nathalie Haumani (1:08:10)
Noelyne Teiti (1:09:31)
Manulanie Naudin (1:10:10)
Sandra Lechene (1:10:41)
8km LAGOON RACE - MEN
Henere Harrys (0:51:27)
Moehau Swapp (0:51:52)
Paul Lenfant (0:52:50)
Haamatai Leon (0:53:24)
Honui Parau (0:53:33)
8km LAGOON RACE - GIRLS
Manuhere Mollon 1:14:10 // 16 years
Chloe Aldon (PYF) 1:21:28 // 13 years
8km LAGOON RACE - BOYS
Tevainui Hamblin (PYF) 1:10:17 // 16 years
Hinckley Hatitio (PYF) 1:10:38 // 16 years
Titouan Olite (PYF) 1:13:01 // 14 years
Lucas Passera (PYF) 1:20:07 // 14 years
Hugo Doens (PYF) 1:24:29 // 16 years
2km KIDS RACE
Boys podium
Manoa Goyat (0:17:12)
Hotuitehere van Sam (0:18:20)
Maunakea Lyou (0:18:44)
Winning girl
Chloe Aldon (0:19:22)
Last modified onMonday, 08 April 2019 12:12

Submit your news, events, and all SUP info, so we can keep promoting and driving the great lifestyle of stand up paddling, building its community, and introducing people to healthier living.
Website: supconnect.com
Email

This email address is being protected from spambots. You need JavaScript enabled to view it.