Full Story On Final Day Of SUWT Location X, Morocco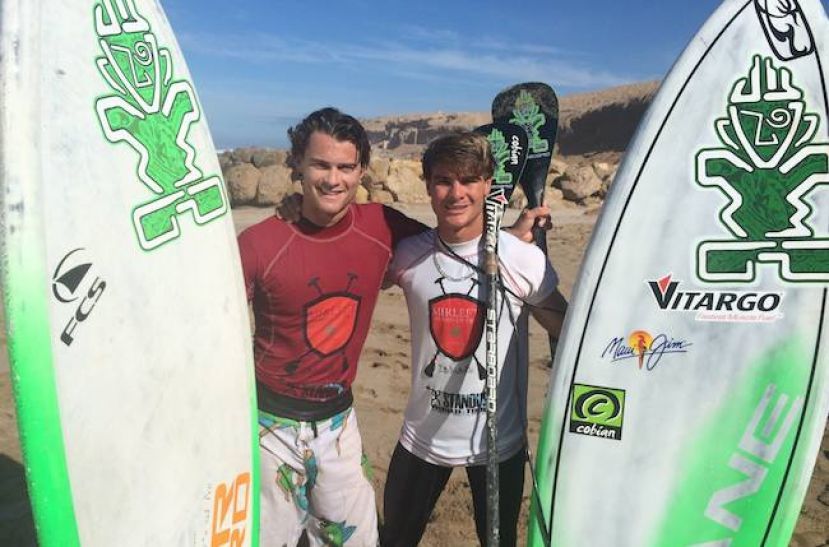 Sean Poynter (left) and Zane Schweitzer (right) both performed incredibly throughout the entire SUWT Location X event.
It was a picture perfect ending to what has been an amazing event here in Morocco as the last 4 battled it out in pristine groomed surf that saw the highest scores of the contest posted in the last 4 heats (semis, consolation finals and finals).
In the semis, Sean Poynter (Starboard) went into overdrive in the perfect righthand point break conditions, methodically driving critical turns down the line to post a 9.0, a 9.25 and a 9.85, meaning that he was throwing away a 9.0! This put his opponent James Casey in a combo situation, allowing him to advance into the Finals.
Once there, Sean found himself up against friend and team mate Zane Schweitzer (Starboard) and once again put on a flawless performance, to post 2 scores in the excellent range securing the well deserved win here at the Location X Special event in Morocco.
"Well first off, it feels great to end the year with two final wins," said Sean. "My year was really set and finished in my mind with the La Torche Pro where I just wanted to get a win and secure my 3rd place overall standings for the year. The Mirleft StandUp Pro has just put the cinnamon on top of the cherry. It was definitely an added bonus that I didn't really have in mind at the start. I was on the ropes about coming in the first place but now after my experience here I'm so happy I made the decision to come. It was really magical, not only the waves but just the whole experience with the Moroccans and culture, mixed in with a bunch of other aspects that added to the great trip."
After his emotional win in France that secured his 3rd place overall in the World Rankings, capping the year off with a win here in what were without doubt the best conditions we have seen all year on the Stand Up World Tour, Sean Poynter ends his 2014 season on a high and $10k richer.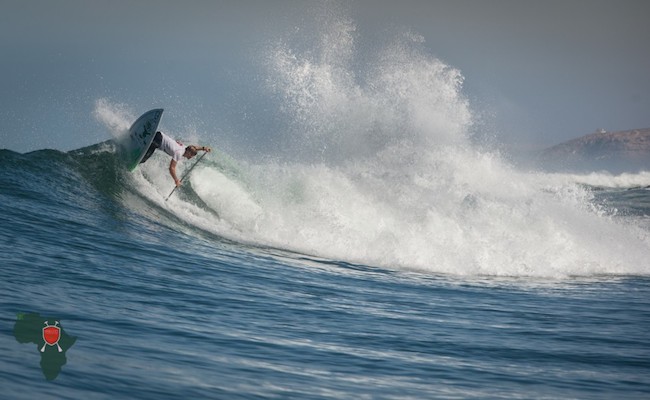 Zane on his way to an impressive 2nd place finish.
It has been an incredible year for the now seasoned Champion from Maui, Zane Schweitzer (Starboard, FCS SUP); starting it all off with a finals finish in Sunset Beach, Zane then went onto post strong finishes throughout the year, concluding with a 3rd place in France and now a well deserved 2nd place here in Morocco, just falling short of the win to team mate Sean Poynter (Starboard).
Zane showcased real versatility at this event, performing in all forms of conditions, from mellow lefthand beach breaks to pumping right hand point breaks, earning his place in the Finals alongside Sean.
Meanwhile in the Racing Season, he has had an equally outstanding ride, with solid finishes throughout the year on the World Series that had him finish in 5th place overall for the year, and secured the European Cup Title for him this summer with some dominant performances across both Challenger and World Series events.
The final accolade for the year came in the form of the 'Pioneer Award', presented to him for his commitment to breaking new ground in the sport across all four corners of the world through his passionate willingness to take it all to new heights. His presence at all the groundbreaking moments for the World Tour & Series, from Patagonia to Abu Dhabi and from the European Cup Racing to the Location X in Morocco, Zane is a consummate ambassador for the sport.
"Morocco is such a magical and mystical place" noted Zane. "With so many miles of untouched amazing surf and a culture so rich and pure. I am so stoked to have made it back here to Morocco, this time for the Stand Up World Tour Location X and Morocco's first world class SUP event to come to Morocco! We were able to meet a lot of incredibly talented local surfers here too. All the athletes camped out together and being around each other everyday exploring new spots was really fun. It was a really special week, experiencing the culture, food, waves and people! It felt more like an epic surf trip than a World class competition, (except in our heats)."
Zane also went on to say, "We ended up scoring some of the best rights we have ever gotten to compete in here at the Location X event stop and also some size able heavy surf! I was stoked to finish in 2nd place behind a very on point and in form Sean Poynter, in a wave that completely suited his style!! A big congratulations to Sean. I was also really honored to be the inaugural recipient of the Stand Up World Tour's "Pioneer Award". I have had the good fortune the last four years to be able to travel the world, from Morocco to Patagonia, Chile, to Tahiti, Europe, Abu Dhabi and all over with the World Tour, promoting our sport and sharing our Aloha everywhere we go. It was a great honor, and to think I am a "Pioneer" at 21, and to be recognized for pushing the limits of the sport I love so much, is really awesome!!!"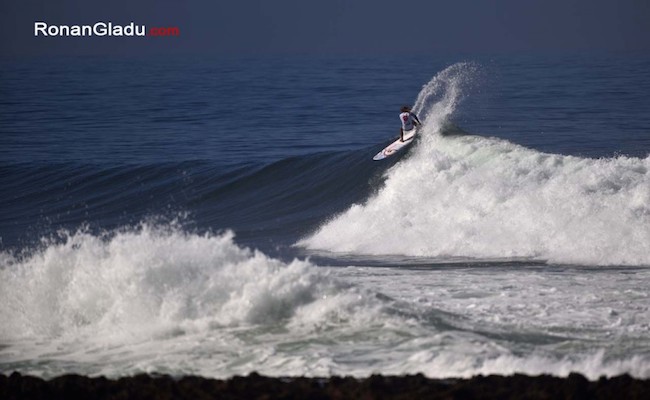 Bernd Roediger with a huge frontside vertical hit.
Bernd Roediger came into his own here in Morocco, as his smooth and casual style and impeccable wave lecture ideally suited the pristine point break conditions on offer here on Morocco's wave rich coastline. Making it through to the semi finals in yesterday's epic big surf, Bernd recallibrated, but was unable to find the waves he needed to overcome the on-form Schweitzer (Starboard) in their semi final battle.
However, this was far from the case in the Consolation Final, where we saw Bernd turn it on to post the single highest wave score of the event (a perfect 10 point ride), which coupled with his back up score of an 8.4, put him in a pretty untouchable position.
This final victory secured his 3rd place overall for this Location X event, but also solidified his position as a real threat here on the Stand Up World Tour moving forward.
Aussie James Casey put on a solid display of surfing in Morocco.
James Casey (JP Australia) put on another solid display in Morocco today, strengthening his confidence coming into the 2015 season and putting on a performance to be proud of. He started off strong against Sean Poynter (Starboard) in semi final number 1, posting an 8 point ride off the bat, but then falling victim to Sean's assault with a string of 9 point rides. Unfortunately for James, he then came up against a similar situation in the consolation final where he met a fired up Bernd Roediger who proceeded to post the highest single wave score of the event, and then backed it up with an 8.4.
James comes away from Morocco with not only an incredible experience and an impressive 4th place finish, but the knowledge that he is capable of big results on the Stand Up World Tour, as we look forward to seeing him back in action in February at Sunset.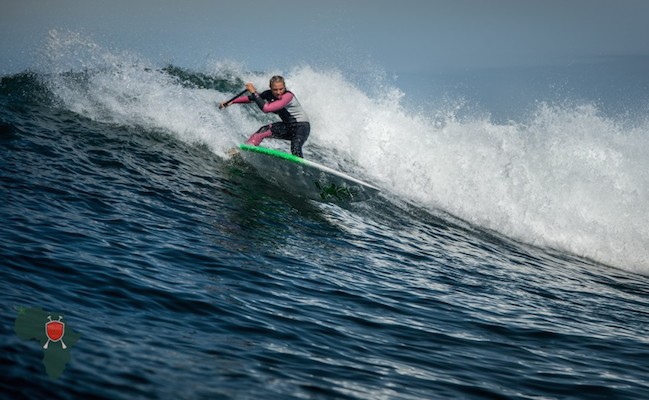 2014 SUWT Champ, Izzi Gomez, came down to represent the Women's Tour.
While there was no official girls' competition in Morocco, we were proud to have representatives from the Women's Stand Up World Tour with us to showcase just how far women's stand up paddling has come, as both Izzi Gomez (Starboard) and Sophia Bartlow stepped up to do battle with the men here at the 2014 Location X special event.
With a World Title now in her hands and 4 event wins out of 5 on the Stand Up World Tour, Izzi is no doubt destined for great things in 2015.
Meanwhile looking at Sophia's surge in the final event of the year, the La Torche Pro France where she finished in 3rd place and put on some of the stand out performances of her year, the future is bright on the Stand Up World Tour and we are looking forward to an exciting 2015.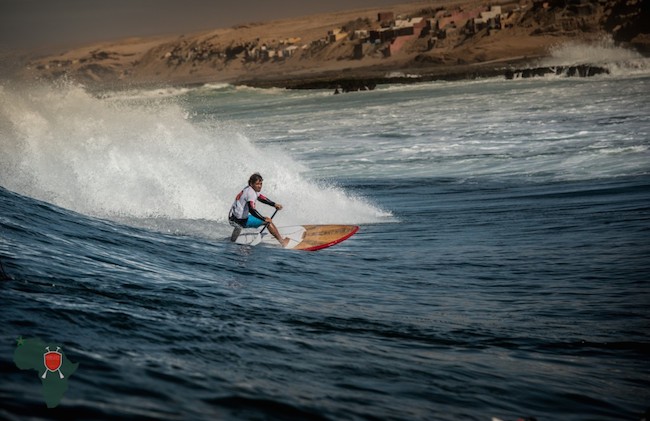 Moroccan local Sali Souffian surfed extremely well during the competition.
Morocco not only showcased itself to be a World Class destination for Stand up Paddling by hosting this Location X Special event, but it also allowed its athletes to step up and be counted, as their leading lights made their country proud in both the inaugural National Championships, but also when coming up against full size swell and the very best athletes in the world.
It was an amazing experience for the visiting athletes, but also for the Moroccans, as they were able to exchange on surfing and culture, as new friends were made and a bright future for the sport is now abundantly clear: they have had their first taste of performance stand up paddling at its best and they want more.
Watch out for much more from these athletes in 2015 and beyond and stay tuned for highlights, galleries, recaps and much more at www.watermanleague.com.
Check out the final day highlights below.
Last modified onTuesday, 24 March 2015 13:43

Submit your news, events, and all SUP info, so we can keep promoting and driving the great lifestyle of stand up paddling, building its community, and introducing people to healthier living.
Website: supconnect.com
Email

This email address is being protected from spambots. You need JavaScript enabled to view it.