On August 2nd, Ben Chalmers and Shane Austin will begin their stand up paddle journey from the National Fallen Firefighters Memorial in Emmitsburg, Maryland, and will paddle for 24 days before reaching New York City.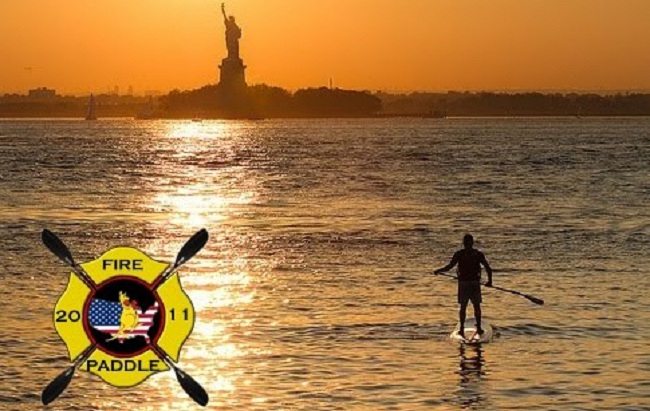 "We wanted to make our own respectful contribution towards supporting and commemorating fire-fighters and at the same time challenge ourselves," says Ben Chalmers. Photo: www.firepaddle.org
Read about another SUP Journey
SYDNEY, Australia – Starting on August 2nd, two Australian firemen will paddle from the National Fallen Firefighters Memorial in Emmitsburg, Maryland, to New York City. Ben Chalmers and Shane Austin have made it their mission to paddle for 24 days to reach New York City on August 25th, the day before the World Police and Fire Games commence.

Ben and Shane plan to paddle using both Stand Up Paddleboards and Kayaks and aim to build relationships and to raise awareness and funding for a variety of charities and Fire Departments along the way.

Never afraid to get their hands and feet wet, both Ben and Shane have an extensive aquatic background that gives them a strong foundation for their journey. Ben currently runs a kayak and SUP fitness and rental business and continues his role as a professional lifeguard. Shane, in addition to being a firefighter, is a scuba instructor and a Marine Master (Captain) whose skills will be essential to navigation along the journey.

SUP Connect caught up with Ben in the days leading up to the beginning of the Fire Paddle to talk about the journey, the motivation, the charities they will be raising awareness and funding for and what the SUP community can do to support them in their adventure.

SUP Connect: What inspired you to take on this journey?

Ben: As 13-year veteran leading fire fighters at the City of Sydney Fire Station (Head Quarters) we will be attending the 10th anniversary of 9/11 memorial in New York as well as participating in the World Police and Fire Games held in New York this year to commemorate this memorial anniversary.

Having both been active Fire-fighters in Sydney during 9/11 we felt a deep loss and connection with those who lost their lives serving that day and since 9/11 Sydney fire-fighters have hosted NY fire-fighters and developed a strong bond between the FDNY and Fire and Rescue NSW.

We wanted to make our own respectful contribution towards supporting and commemorating fire-fighters and at the same time challenge ourselves. The development of SUP as a sport has given me reincarnation into paddle sports and the opportunity to do this adventure while 'Supping' gives us the ability to see so much more!

SUP Connect: Tell us about the charities that you will be raising money for and why are they so important to you?

Ben: The National Fallen Fire-fighters foundation is our partner charity. As fire-fighters it is important to us to help and support those families who have lost their loved ones heroically serving as emergency first responders putting their lives on the line for their community.

Since 1992, the foundation has developed and expanded programs to honour our fallen fire heroes and assist their families and co-workers. The Foundation is a non-profit organization, located in Emmitsburg, Maryland which is the start of our paddle course. The Foundation receives funding through private donations from caring individuals, organizations, corporations, and foundations.

SUP Connect: How did you prepare yourself physically for this trip?

Ben: Training has been done primarily on Sydney Harbour; in fact we have both been paddling to our fire house in Sydney from our homes on Sydney's Northern Beaches, approx. 7 miles. There have been some interesting paddles, especially after a tough night shift.

I currently own Northbridge Kayaks & SUP Club which conducts daily SUP & Kayak Fitness sessions on Sydney Harbour. Paddling daily to and from the launch point to instruct sessions regularly means 2.5 hr / 20km, paddle days. Shane has also become a regular paddler at these sessions in preparation and has rapidly transformed from a beginner to an avid novice and is improving every day.

SUP Connect: What issues do you expect and are currently preparing for?

One thing we have both learnt from our Fire fighting experiences & training is to expect the unexpected. You have to be flexible and you will overcome. Our motto will be only solutions, not problems.

Water levels; at the start of journey in the Monocacy River we are currently preparing for low water, this means having a shallow water fin and also the possible use of an inflatable SUP for the really shallow water. We will then also be prepared for any portages if necessary.

White water; The Potomac has several white-water rapids including the Great Falls, we plan to take on some of the smaller rapids with the inflatable SUP, or otherwise portage or if available use the old Chesapeake & Ohio canal and lock system.

Accommodation; we will be camping on the in-tidal stages of the Journey, but then after reaching Washington DC, we will have a cruiser as our support boat and live on-board.
We are also lucky enough to be hosted by several fire departments along the route.

SUP Connect: What can the SUP Community offer to help you guys during your paddle?

Ben: The SUP Community can help in several ways;

1. Take the time to reflect on the brave efforts of all fire-fighters and emergency first responders and the commitment they have to their local community by putting their lives on the line. Give your local fire-fighters recognition for their contribution to the community and support any fundraising or awareness campaigns they may be involved with.

2. Support our charities by donating or purchasing fundraising products.

The National Fallen Fire-fighters foundation is our partner charity. They provide support to the families of Fallen Fire-fighters. To donate visit: www.firehero.org please indicate that you are donating because of fire paddle 2011. You can also donate via our website - www.firepaddle.org.

We also support the FDNY foundation (www.fdnyfoundation.org) and the Leary Foundation (www.learyfirefighters.org), which are great charities supporting fire-fighters.

3. Paddle with us. We encourage anyone to help us spread awareness of the Fire Paddle by joining us whether it is for an hour or a day; we welcome any paddlers to join us at any time during our journey.

Check out our website, Fire Paddle Facebook or follow us on twitter (firepaddle2011) for our updated itinerary and drop us a line if you are keen to join in especially at the end of our journey into NYC.
Will you join Ben and Shane for part of their SUP journey?
.
Last modified onWednesday, 28 January 2015 12:44

After spending the first part of her life in Minnesota, Morgan traded in her snow boots for sandals and moved to sunny California. After graduating with a degree in Communication from The University of Southern California, she eventually made her way down south to San Diego and is taking advantage of the living by the best beaches and burritos California has to offer. If it's sunny, you can find her at the beach relaxing, or exploring the calm water in the bay via paddleboards and kayaks.
Email

This email address is being protected from spambots. You need JavaScript enabled to view it.