5 Stand Up Paddlers Trek 115 Miles Down The Potomac River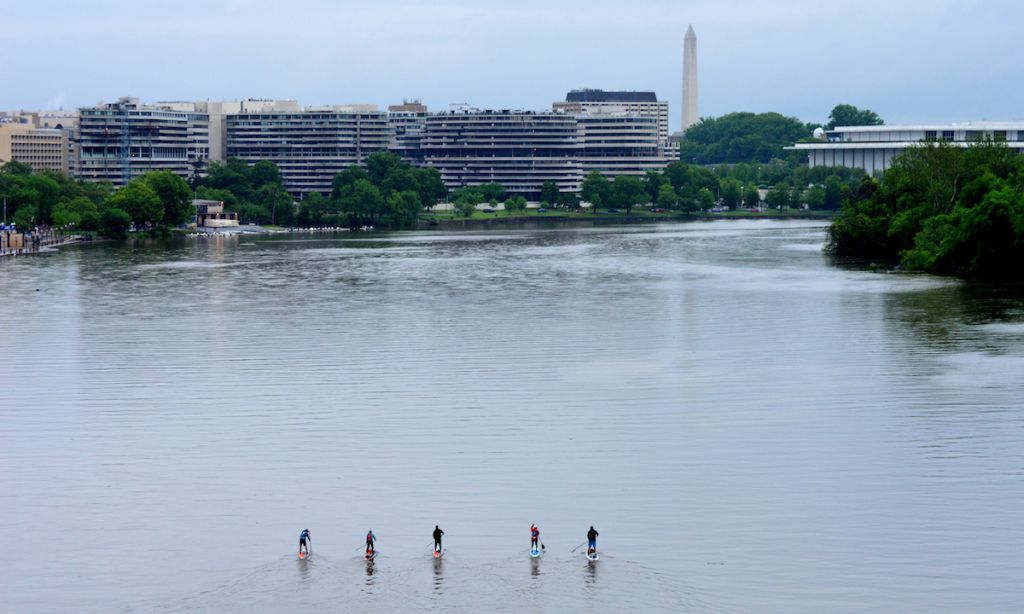 From left to right paddlers Jason Kopp, Maria Schultz, Matt Jones, Kathy Summers and Guillermo Loria begin their journey along the Georgetown Waterfront in DC. | Photo: Deb Stipa
WASHINGTON D.C., USA - This May, a team of three Boardworks Ambassadors plus two friends in Washington D.C. launched a four-day, 115-mile trek down the tidal Potomac River to raise awareness of the river's recreational potential and importance of environmentally-friendly use. Starting at the Washington Canoe Club in Washington, D.C. on Friday, May 6, the team traveled more than 25 miles a day to have two of the three paddlers, Guillermo Loria and Maria Schultz finally reach Point Lookout State Park in Maryland on Monday, May 9.
Guillermo Loria, a Washington, D.C. whitewater paddler, and Maria Schultz, a SUP instructor in Fredericksburg, Va., finished the four-day expedition that covered more than a quarter of the 405-mile Potomac River. Kathy Summers, veteran stand up paddler and the team's advisor, and Jason Kopp, also a whitewater paddler, parted ways with the group at different points on Friday as planned. However, Matt Jones, SUP racer, was forced to make the difficult decision not to continue past the first day after rough water conditions aggravated an old injury.
From left to right paddlers Maria Schultz, Guillermo Loria, Matt Jones, Kathy Summers, and Jason Kopp in good spirits despite the weather. | Photo: Michaela Carpenter / Paddlers Maria Schultz, Guillermo Loria, Matt Jones, Kathy Summers, and Jason Kopp passing through Alexandria. | Photo: Maria Schultz
Armed with food, water and a change of clothes, the team paddled through rain, knee-high chop and sometimes stormy waters throughout their trek. "Expeditions can't always be sunny and perfect, so we'll just stay positive and make the best of it," said Loria determined to make their mission a reality. Stopping at 'paddle up' and regular campsites at Leesylvania, Caledon and Westmoreland State Parks throughout their trip.
Each night, a support team of family and friends met them to deliver food, gear, and perhaps most importantly, Schultz's 4-year-old Australian Shepherd, Kona. An experienced SUP dog, Kona had trained to travel with Schultz the entire trip, but unsafe water conditions meant she only rode along for two of the days.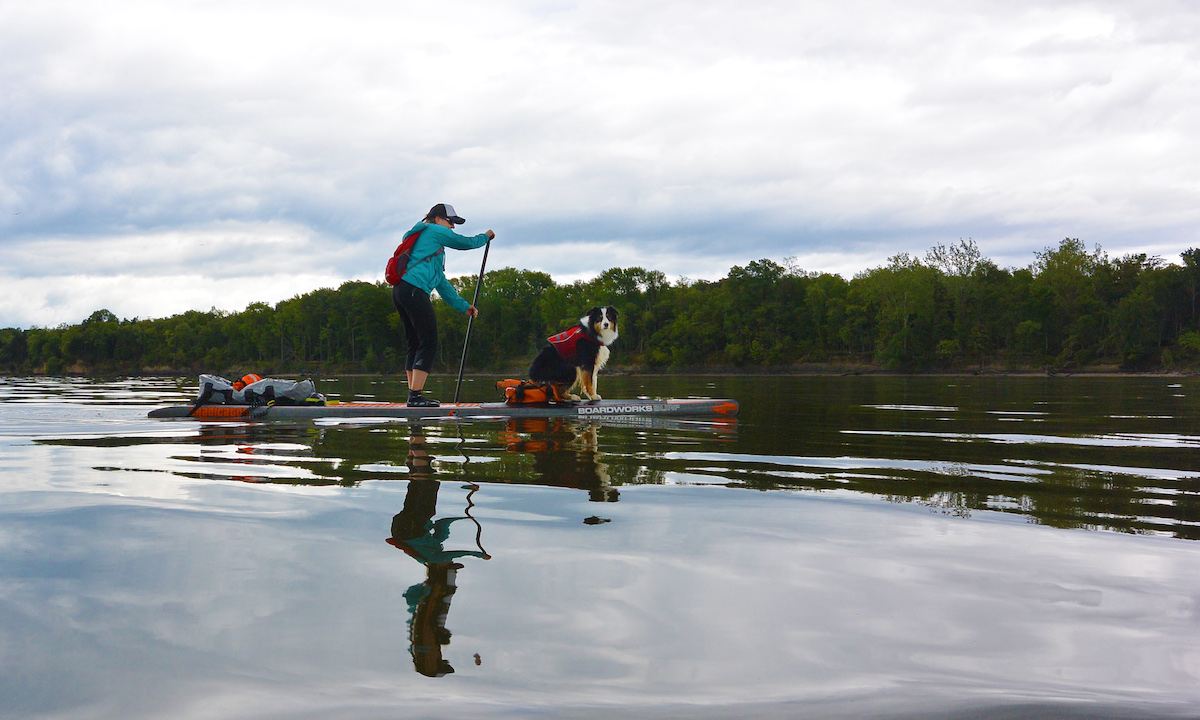 Maria Schultz paddling with her dog Kona on day 2. Kona proved to be an asset for the team keeping spirits high. | Photo: Guillermo Loria
"Having Kona along was like a morale boost and entertainment provider all rolled into one," said Loria. "Any time we started to feel a little tired I would start a howling conversation with Kona, then Maria would join in and all of a sudden we would have paddled another couple of miles without even noticing." For Kona's owner, it wasn't just about the morale boost. Kona has joined Maria on her SUP for the past 4 years as a companion and teammate. "Adventures like this can be done safely with a dog," said Schultz.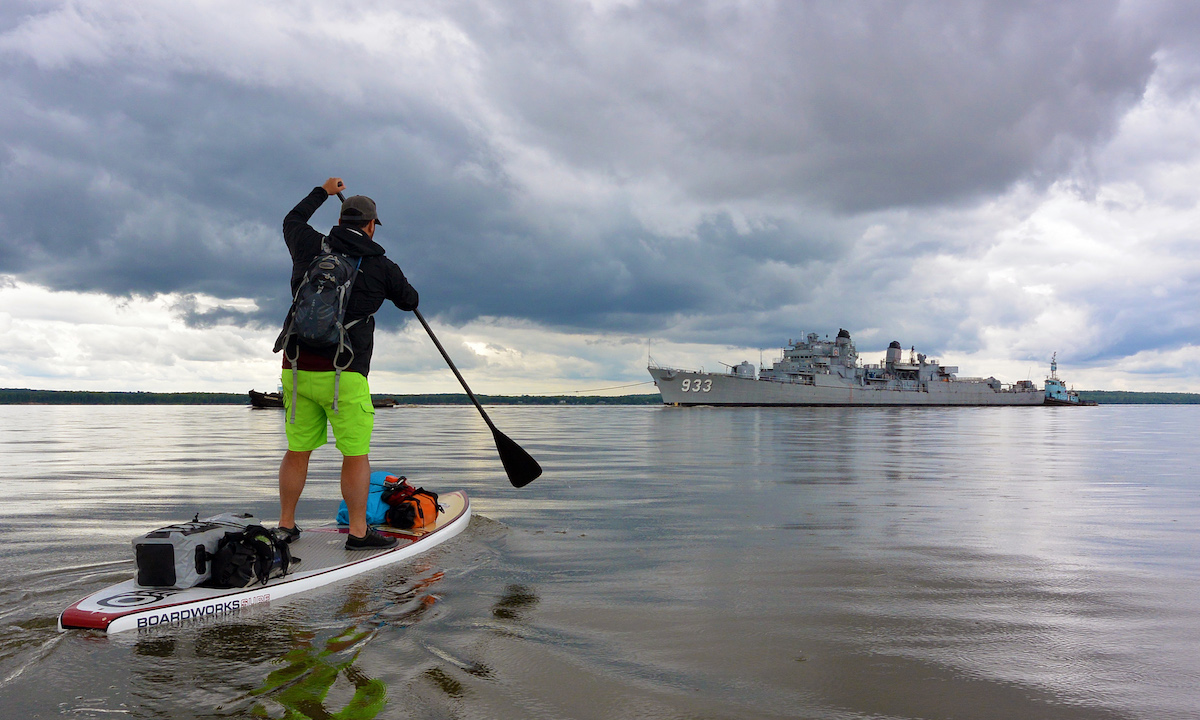 Guillermo Loria greeted by the Navy Display Ship Barry. The ship was being tugged from the Washington Naval Yard to a scrapyard. | Photo: Maria Schultz
The long water trek let the paddlers witness wildlife, pass under the Woodrow Wilson bridge and most surprisingly, see Display Ship Barry, a U.S. Navy destroyer that was used from 1956 until 1982, being tugged down the Potomac. "We were paddling down the river and turned around to find the battleship behind us," said Loria, sharing his surprise at how a ship that size could sneak up on them.
The paddlers shared moments with many people during their 4-day journey. At the different stops they answered questions about the trip, the river and their destination. Resonating with their mission for the trip; they took time to point out locations where anyone whether paddling, driving or walking to could take full advantage of what the Potomac River has to offer. "Make sure you make it up to Caledon State Park", said Loria to a retired couple he encountered bird watching at Colonial Beach. "I spotted a dozen or so bald eagles up there camping last night!"
L-R: Guillermo Loria exhausted from battling side winds at the George Washington Birthplace National Monument. | Photo: Maria Schultz / Maria Schultz and Guillermo battle strong side winds as they cross the river near Piney Point, Maryland. | Photo: Deb Stipa
The calm before the storm. Maria Schultz prepares the boards for their last 33 mile stretch. | Photo: Guillermo Loria
With just 30 miles to go Monday morning, Loria and Schultz met up with a support boat captained by filmmaker Mats Jerald and photographer Deb Stipa for the final stretch. Despite heavy winds as the duo attempted to cross the river near the mouth of the Chesapeake Bay, Loria and Schultz pushed through nine hours to reach Point Lookout State Park, exhausted but triumphant.
"We saw the river at its best and its worst," said Schultz, reflecting on the monumental expedition. "From rough side winds and rain that tried to push us off course to blue skies and friendly tidal currents - we got to experience it all. The Potomac River really is a beautiful treasure."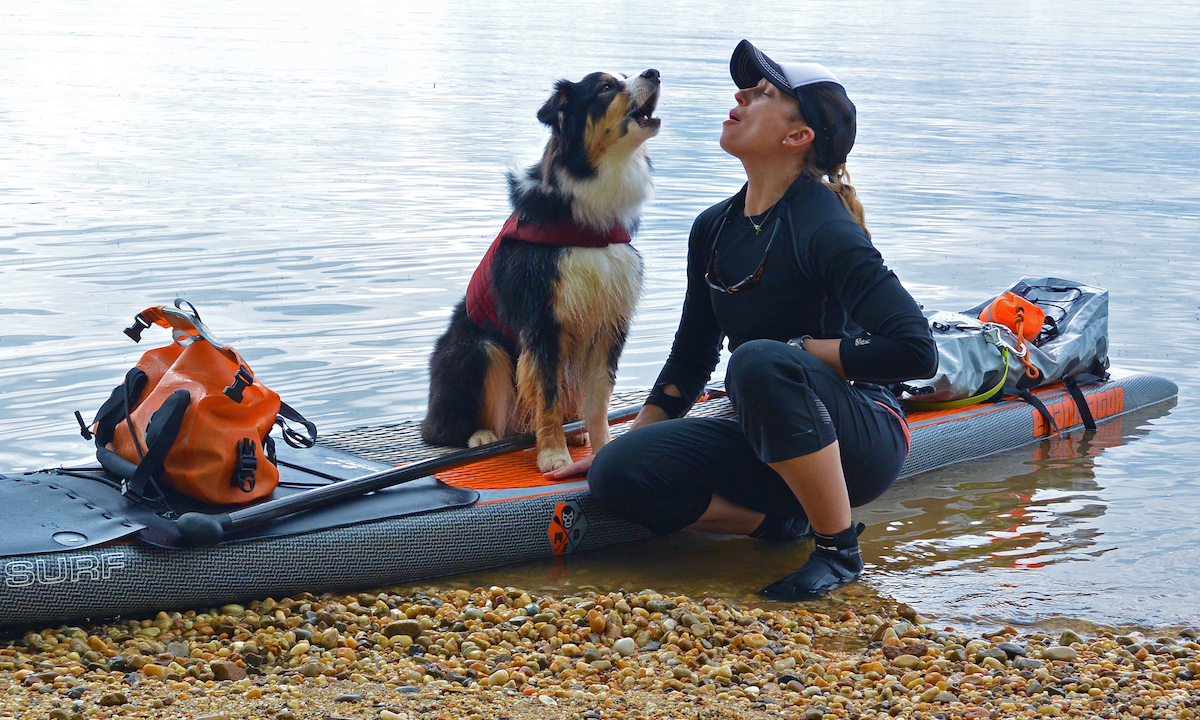 Kona help provide a moral boost on days 2 and 3. | Photo: Maria Schultz
And for the team of five, the Potomac is a treasure that they want to both promote and protect. Declared a "national disgrace" in the 1960's by U.S. President Lyndon B. Johnson, the Potomac River has come a long way in terms of water quality and cleanliness. "As paddlers, we get to take full advantage of what the Potomac River has to offer both on its waters and adjacent parks," said Summers. "But we also bear witness to the impact that plastic waste and contamination have on its beauty, water quality, and recreational appeal."
For the team, the 115-mile trek was a way to draw positive attention to the river in a way that documents both how much the river has improved and how much work still needs to be done to protect the water and reserve years of pollution and bad environmental policy.
Day 2 Guillermo Loria admires the river while taking a break. Trash and plastics littered every beach they used as rest stops. / At every bank litter interrupted the view. Here at the Mason Neck Wildlife Refuge everything from rain barrels to plastic bottles lined the banks. | Photos: Maria Schultz
"We couldn't paddle more than 50 feet without seeing a piece of trash," said Guillermo, describing the tennis balls, rain barrels, plastic bottles and gas cans that crossed their path. As frequent paddlers, the team members are often asked why they paddle on the Potomac River and risk falling in. The question makes sense given the trashed conditions of the water and the beaches. Yet it's this reputation that the paddlers are trying to change.
"We just hope that if more people play along the river and fall in love with spending time on the water like we do, then hopefully they will fight to protect it too," said Schultz.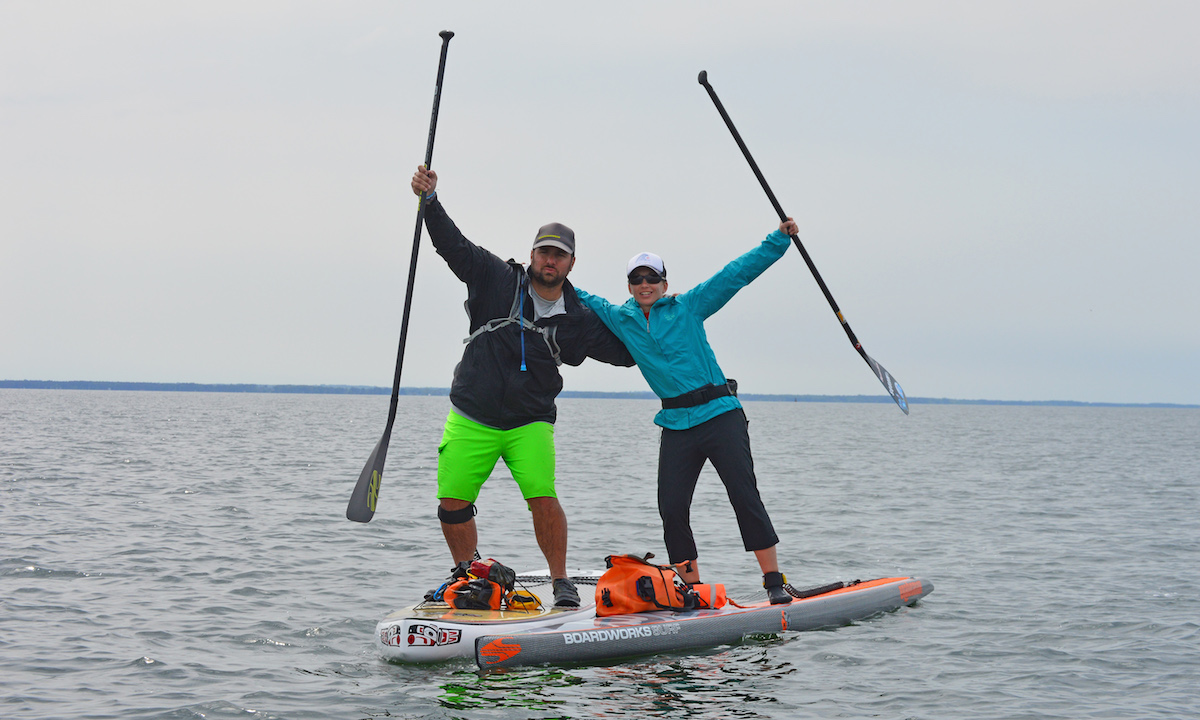 Success. Just a few miles from Point Lookout State Park Maria and Guillermo celebrate the end of the expedition. | Photo: Deb Stipa
The Tidal Potomac Paddle would not have been possible without the help of friends, family and sponsors who enthusiastically supported the project. The Potomac Paddle team would like to thank the Virginia State Parks and their rangers, Boardworks Surf, Patagonia D.C., Ruffwear Performance Dog Gear, OddBox Studios, IceMule Coolers and Zuke's.
Check out the video from the trip below!
Last modified onThursday, 10 November 2016 11:13

Submit your news, events, and all SUP info, so we can keep promoting and driving the great lifestyle of stand up paddling, building its community, and introducing people to healthier living.
Website: supconnect.com
Email

This email address is being protected from spambots. You need JavaScript enabled to view it.