Paddle Boarding San Pietro Island, Italy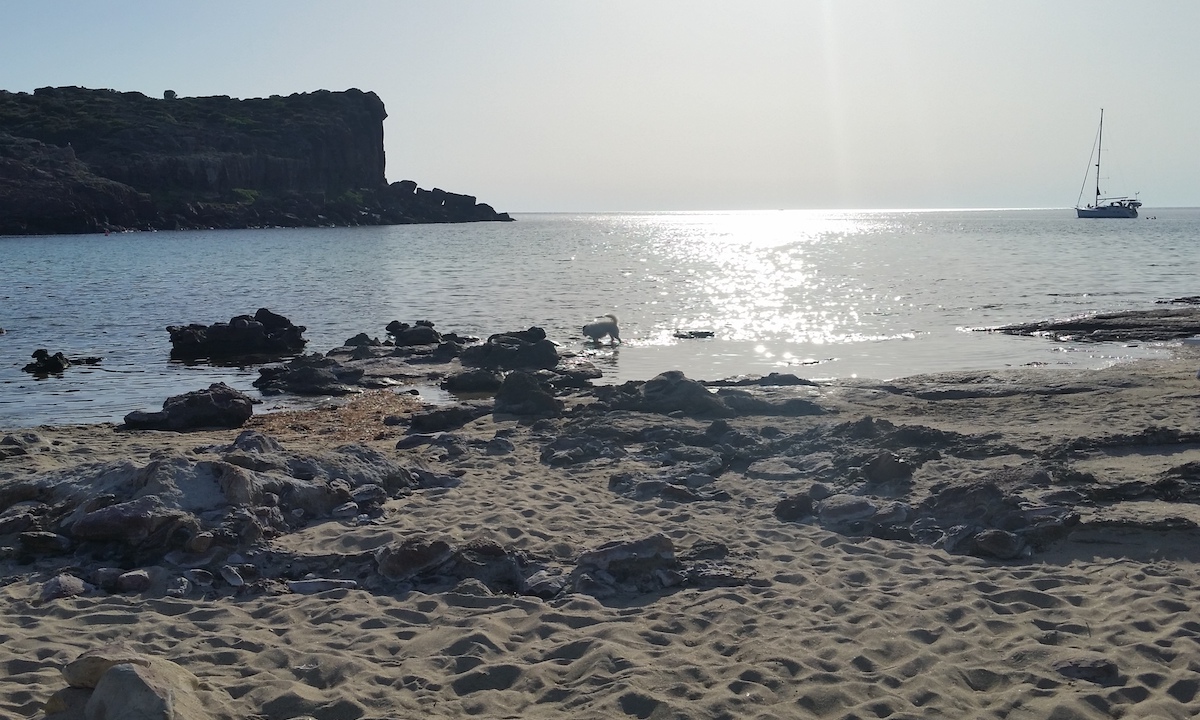 Beautiful San Pietro Island, Italy. | Photo courtesy: Sup Adventures
SAN PIETRO ISLAND, Italy - If crystal waters, white sand beaches, and fresh coastal cuisine are your cup of tea, then paradise awaits in southwest Sardinia on the beautiful San Pietro Island. Home to stunning landscapes and untouched natural beauty, the Italian island is an oasis of hidden excellence, perfect for paddle board exploration. Sup Adventures, the local stand up paddle and surf association and school, offers daily SUP and surf trips, tours, lessons, and rentals on the island. Based in Caletta Beach, the Sup Adventures instructors take eager paddlers around the stunning island, visiting some of the most popular landmarks, including Pigeon's Cave and the Column. Explore some of the reasons why San Pietro Island should definitely be on your SUP bucket list from Diana of Sup Adventures.
History & Highlights
San Pietro Island is a little island in southwest Sardinia, characterized by a really particular story. People have lived her for only 275 years, and they are not hailing from Sardinia but rather from Genova, a fisherman and sailor's town in northwest Italy. These people moved from Genova to the Tunisian island of Tabarka to fish red coral, but they were made prisoners by the Arabics and became their slaves. When they finally escaped, King Carlo Emanuele di Savoia gave them this little island to live on and continue fishing red coral. That's why on the island you can find completely different traditions from the rest of Sardinia.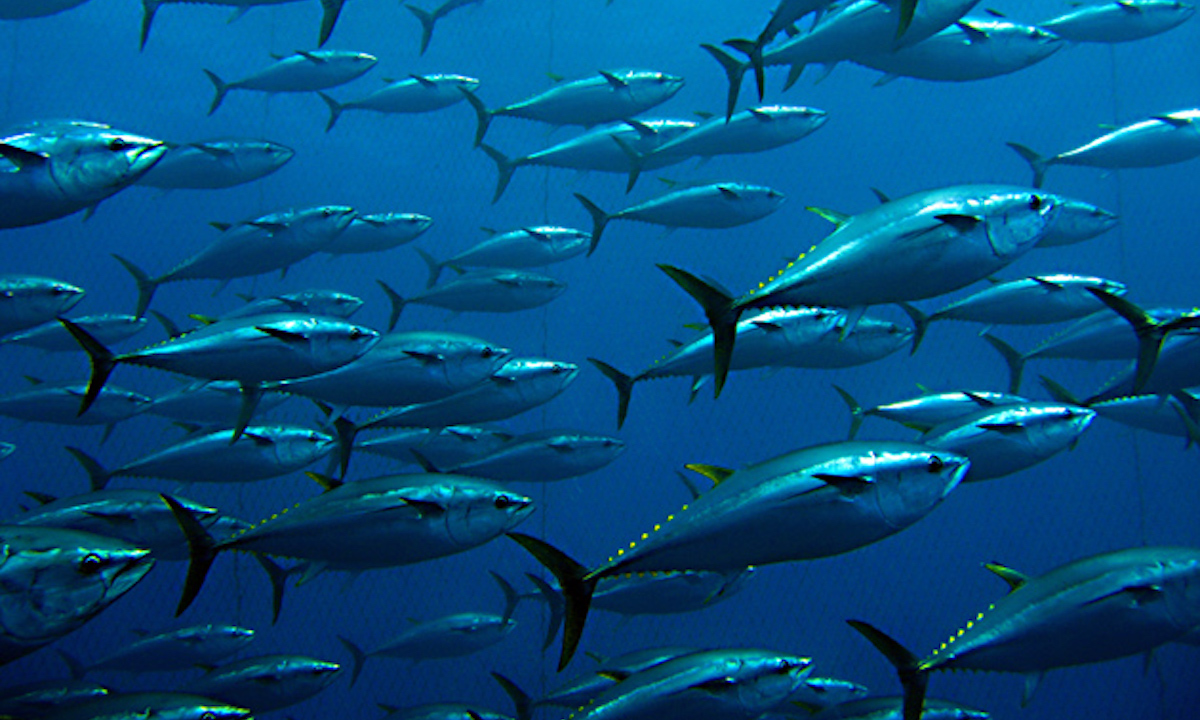 The iconic Tuna fish of San Pietro Island. | Photo courtesy: Sup Adventures
Here they eat mainly fish, they have typical dishes of Liguria as "pesto" and "focaccia" and also "couscous" coming from the arabic period. And if you hear someone speaking some strange language, it's the local dialect, still the same from 300 years ago, that was spoken in Liguria region from their ancestors. This, along with the wild and unique nature, the wonderful white beaches, and the stunning high cliffs, make this place a special pearl in the mediterranean. Still undiscovered and authentic.
San Pietro is the last place in the mediterranean where they still fish red tuna in the ancient arabic way - the "Mattanza" method. This way consists of pulling the nets, where the tunas are trapped, by hand and lifting them up onto the boat. Tunas can weigh from 200 to 400 kg, so it's quite a sight to see! If you pass by between May and the end of June, you can see the nets and snorkel in them, watching beautiful tunas and also turtles and many other fishes that will be set free by the local scuba divers before the tunas are fished.
Pink flamingos (left) and the famous Eleonorae Falcon (right) on San Pietro Island. | Photo courtesy: Sup Adventures
To complete the panorama, on the island there's a rich birdwatching tradition, especially of the Eleonorae Falcon. It is a species that migrates from Madagascar to breed every year on the north shore coasts of the island. There are also pink flamingos leaving all year long in the salt fields of the island, and many other kind of birds as well.
Hot Spots
1. Caletta Beach
Caletta Beach is the biggest beach on the island and also the most famous. From Caletta, you can start paddling and reach a wonderful cave with a hole on top called "Pigeons' Cave" in just 30 minutes. You can only access it by paddleboard so it's a real privilege! The sea is open on the west side and it goes all the way to Tunisia and Baleari islands without anything between you and them. Pretty impressive! It's also the only beach where you can watch the sunset. Sup Adventures Base 1.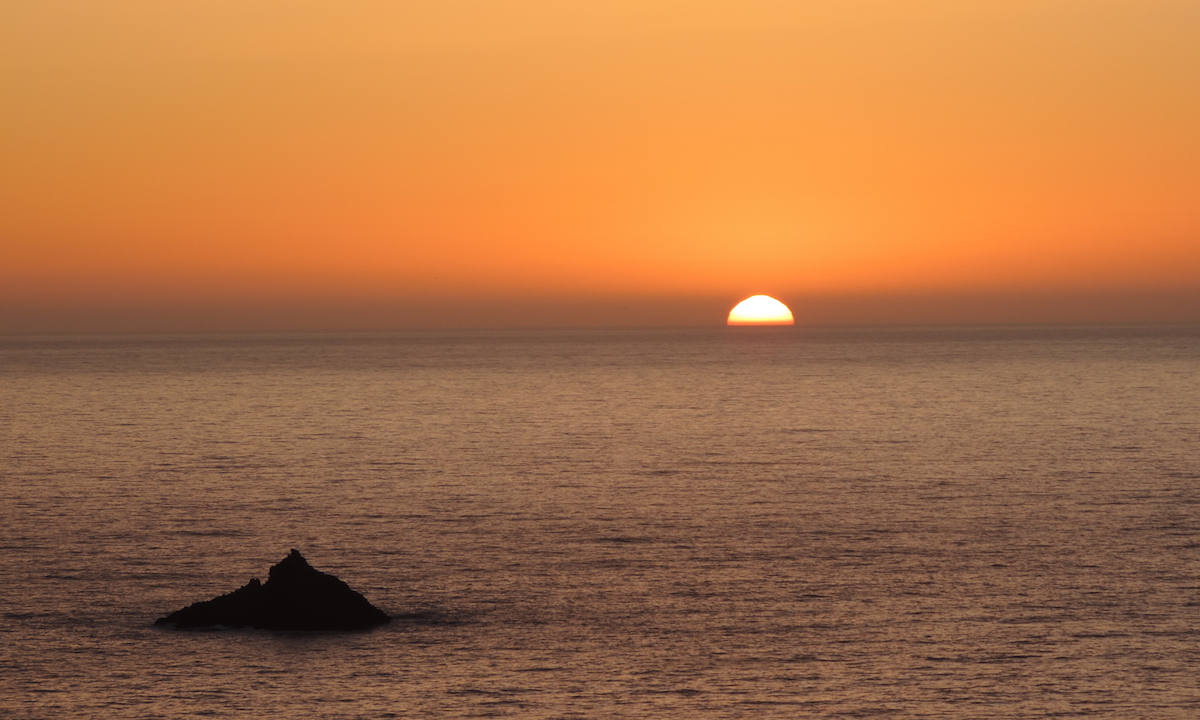 Stunning sunset view from San Pietro Island. | Photo courtesy: Sup Adventures
2. Column Stack
The symbol of San Pietro Island is this wonderful stack called "The Column" that is resisting year after year the strength of the winter seas. Starting from Bobba Beach, reaching the site is a 30 minute paddle roundtrip, but if you wish to paddle on for a little more, you can continue to "Geniò" Beach. This wonderful sight is full of red clay coasts, little sandy caves, and a little island in the center of the bay. You may see people covering their bodies with the clay and, after it dries, washing it off in the sea hoping to get silky and clean skin! Sup Adventures base 2.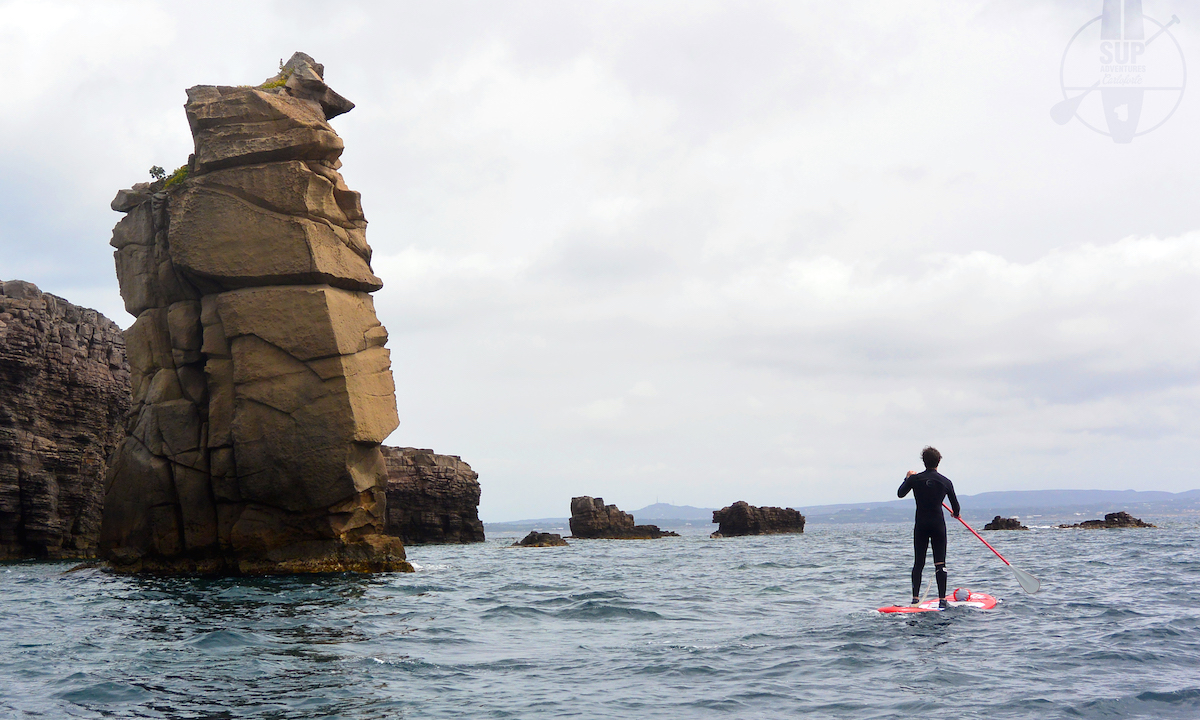 A paddler exploring the "The Column," a symbol of San Pietro Island. | Photo courtesy: Sup Adventures
3. Lighthouse and Surroundings
The northwest shore of the island is completely different from the rest of the coasts. Rocks are light grey or white, with a shape similar to that of an elephant's skin, high and breathtaking! They are exposed to the strong winter mistral winds that shaped them in the ages and now they are the perfect home for Eleonorae Falcons to breed. The Italian lighthouse, further to the west, is very important for boats coming from Spain, France, and the Baleari islands. You can start paddling from "Cala Fico", a very narrow bay with white rocks where, during full moon nights, the light of the moon reflects and everything is illuminated! It's a bit of a paddle to Caletta Beach, about 2.5 hours, but you will get the most wild and wonderful experience paddling. We suggest to go always with a guide as currents and wind can change quickly and you need to know the place well.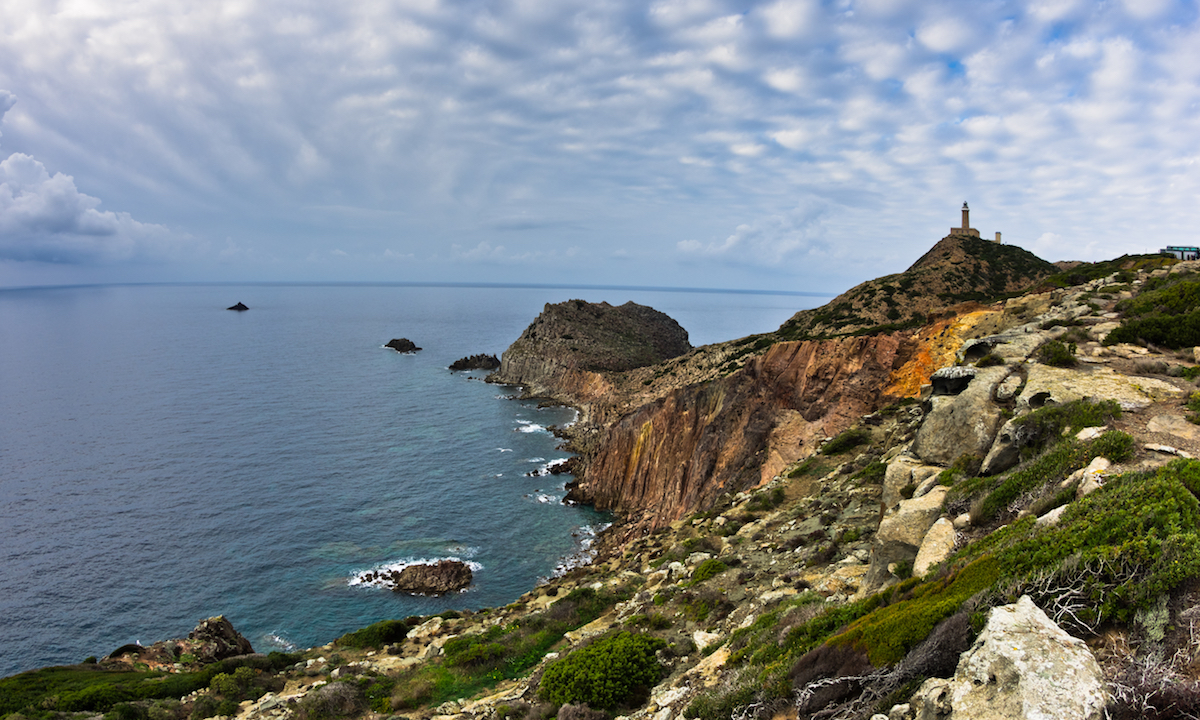 View of the lighthouse on the northwest shore of San Pietro Island. | Photo courtesy: Shutterstock
4. Northeast Shore
The northeast shore is rich of caves and high cliffs. You can start paddling from a small bay called "Calalunga" and paddle 1.5 hours to a huge cave, which really feels like a giant gorge, called "Punta delle oche" (Goose point). Along the way, if you have a guide, they will take you to hidden little caves and a natural sea water pool that is very difficult to see from the outside because it's hidden in the rocks.
Paddlers on the Sup Adventures trip exploring the northeast area. | Photo courtesy: Sup Adventures
5. Southern Beaches
While the north shore has high walls, all of the southern coast is full of little white sand beaches and is where most of the people go for sunbathing and swimming. The beauty and wild nature of these beaches can always surprise you even if you've been living here for a long time!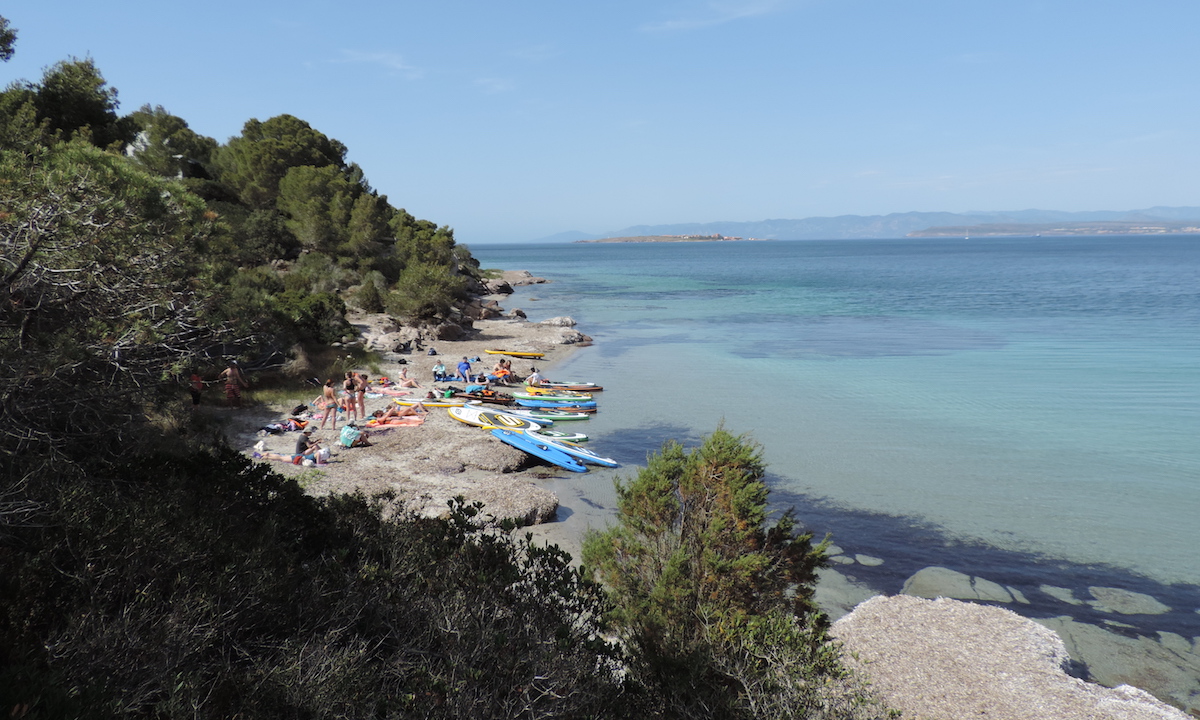 Gearing up for a paddle board adventure on the sourthern coast. | Photo courtesy: Sup Adventures
Seasons
The best season to come here is Summer, from May to the end of September, however it can also be really warm and calm in October and November. The best paddling sessions are in the early morning and at sunset time, when the wind is low. In spring, the water is still a bit chilly, but not too cold. It has wonderful blue shades and the sun is warm and pleasurable, but from June to October the water warms up and sun shines brightly. It is rare to have rain during this period, but there is a possibility for rain in May. August is very busy and prices are really high so we suggest avoiding that month.
Other Paddlers
San Pietro Island is really small so you'll find most of the paddlers at Sup Adventures' bases in Caletta and Bobba beach. If you get out of the island you will find other paddlers along Sardinia coast in Oristano, Bosa, Cagliari, Villasimius and Olbia, all wonderful locations around Sardinian coasts where you will definitely get a wonderful paddling experience!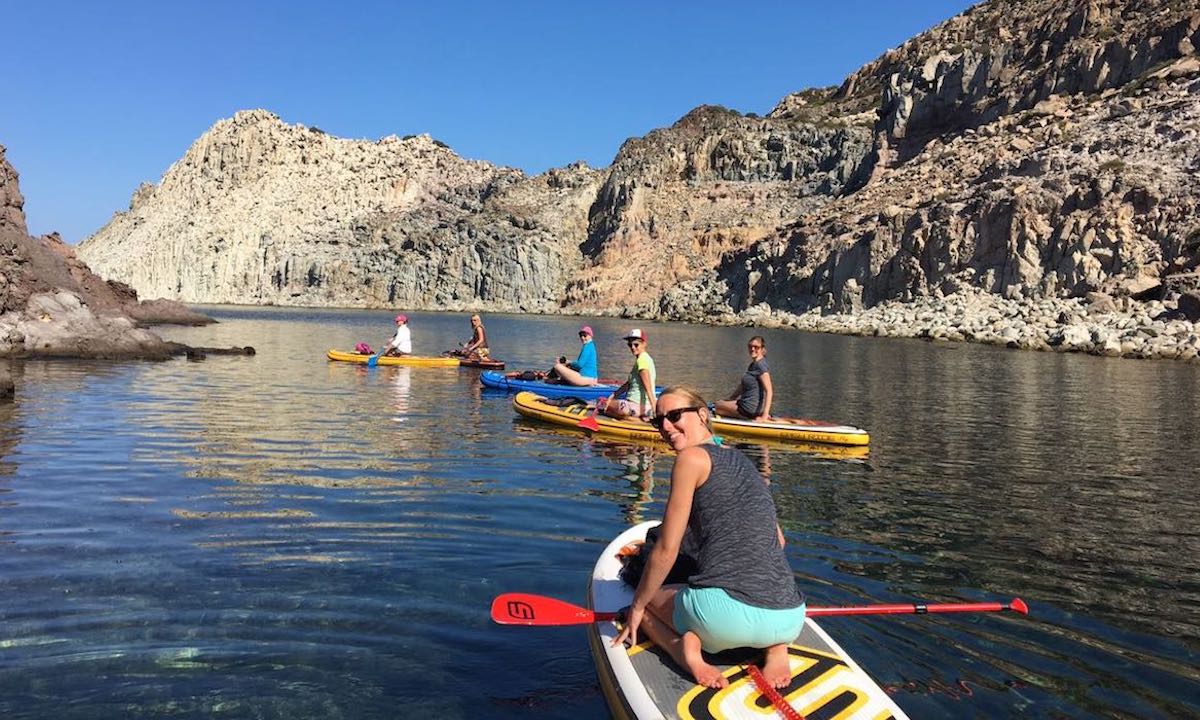 Happy paddlers exploring the Lighthouse and nearby scenery. | Photo courtesy: Sup Adventures
How To Get There
To get to San Pietro Island you'll have to take a flight to Cagliari Airport. From there, you'll need to catch one of the private or common busses that will take you from the airport to Portoscuso, the departing ferries port for Carloforte (the only town on San Pietro Island). The bus ride takes approximately 50 minutes and the ferries leave every hour and take 40 minutes to get to the island.
About SUP Adventures ASD
Sup Adventures ASD is a Stand Up Paddle and Surf association and school located in the wonderful San Pietro's Island. With our base at Caletta Beach, by Le dune Beach Bar, our qualified staff and ISA (International Surf Association) instructors organize daily SUP and Surf activities like Trips, Tours, Lessons and Board Rentals. This little island, located in south-west Sardinia, offers perfect conditions for Supping granting always a sheltered coast, and also surfing having waves for 200 days a year. Sup Adventures offers a wide range of activities connected to Stand UP Paddle and Surf: classes, mini-courese for adults and children, yours, rentals, summer weekly and monthly camps for children, Sup pilates, Sup ball. For more information on SUP Adventures' offerings, click here.
Explore more SUP Destinations HERE.
© Supconnect.com Copyrighted Exclusive Content
Last modified onTuesday, 12 April 2022 10:47

Diana, originary from northern Italy, lives in Sardinia since 10 years and specialized in SUP and Surf. ISA SUP Instructor (International Surfing Association) she'll teach you how to paddle and for sure you'll get on board with her suggestions! Manager of all the activities at Sup Adventures, she'll be running from one base to the other for lessons, tours or workout classes.
Email

This email address is being protected from spambots. You need JavaScript enabled to view it.