Paddle Boarding Baja Arizona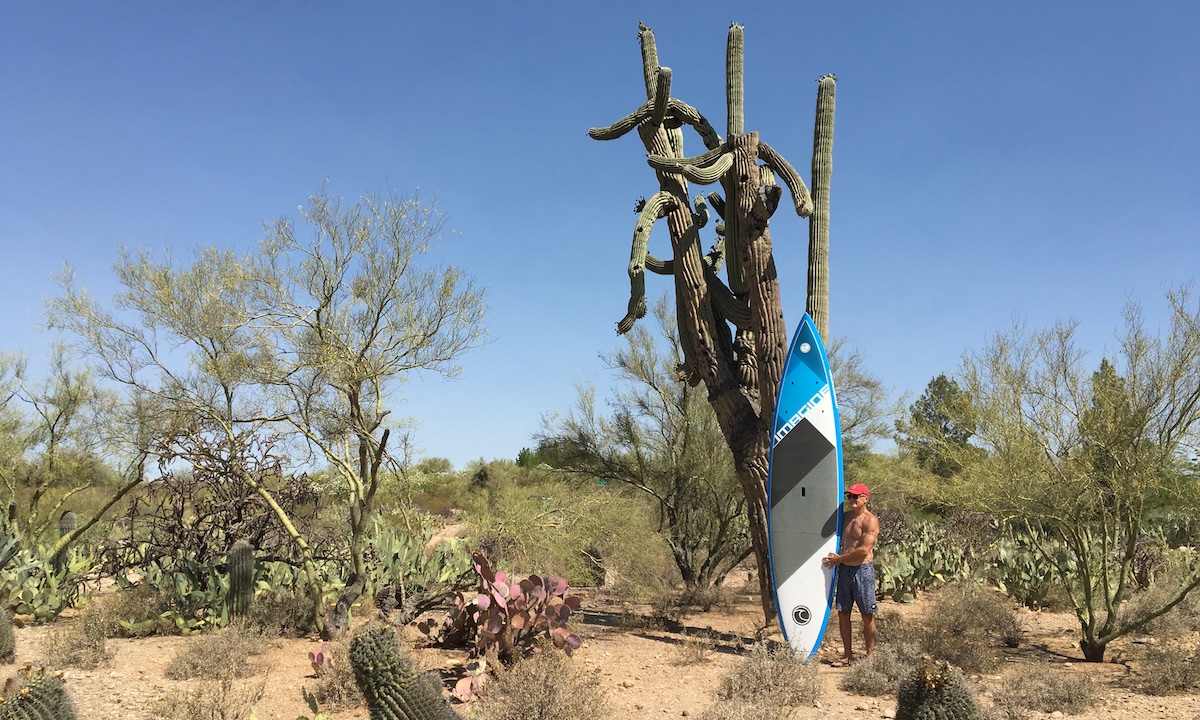 Seeing the Sonoran Desert from a stand up paddle board is one of the more unique experiences around. | Photo courtesy: Chris Smith
The best way to tour the Sonoran Desert in Baja Arizona is by stand up paddleboard. That's right. What you just read is not a mirage. There are people who hike, bike and the like, but stand up paddle boarders can see everything from the water. Think about it. Everything from the iconic saguaro cactus to trees (mesquite, palo verde and cottonwood), to reeds and grasses, grow near or next to water. Coyotes, cattle, and wildcats flock to it. Hummingbirds, herons and hawks fly over it. On a summer afternoon, a thermal breeze blows out of the west, shadows lengthen, and the monsoon sunset splashes big colors across the thunderheads. And you can be there, on your board, under a big sky, in the middle of it.
Highlights
Baja Arizona is at once a place on the border that has flexible borders; it's generally the land south of the Gila River to Mexico though, because it's also a state of mind (there have been rumblings about secession—not from the Union, but from the rest of Arizona—since Territorial times), there are differences of opinion. But it's the way the differences come together—like stand up paddle boarding in a desert—that make Baja Arizona such a great place to visit and paddle.
Seasons
Question: Is Winter, Spring, Summer or Fall the best season to SUP in Baja Arizona?
Answer: Yes. You can paddle year round here.
L: Glass and sky at Pena Blanca / R: Saguaro Lake. One of many reasons to venture north of the Gila | Photo courtesy: Chris Smith
Winter
There can be 30-degree temperature swings from overnight low to the daytime high. You might not be barefoot, bare-chested and in board shorts, but you can leave the drysuit at home. (Reef boots, neoprene knee length shorts—worn under said board shorts—and long sleeve neoprene pullover will be enough for most cool days.) The boaters and swimmers of summer are gone. The water is glass, the sky a deep blue, and the glide sublime.
Spring
As winter gives way to warmer weather, there's a breeze most of April, May and even into June, which makes for fun downwind conditions and challenging upwind training sessions. It's also great for our sister board sport, windsurfing. There have not been sightings of kite surfers though it's only a matter of time before one is blown off course to here and others follow. Because of cloudless nights, the water warms slower than the air, which means if you fall in, you'll know it, but will dry and in short order be thinking, "That wasn't so bad."
Summer
For people informed by stories of eggs frying on the hoods of cars, summer in Baja Arizona, like jalapenos, is an acquired taste. Here's the good news: Tucson, at 2,400 feet elevation, is higher and cooler than Phoenix. The lakes of Baja Arizona—Patagonia, Pena Blanca and Parker Canyon are in the higher hill country south of Tucson and cooler than Tucson. The legendary "dry heat" — which can mean near single digit humidity — usually holds until July when monsoon season arrives with its massive thunderheads, torrential downpours, and temperature drops. The keys to not just enduring, but enjoying paddling in the summer are hydration, hat, sunscreen and sleeves. And falling in isn't to be avoided, but embraced. With the relatively low humidity — even during the monsoon — the air wicks away water and faster than you can say, "Style points for my custom dismount," evaporative cooling happens.

The best part of summer is this: Baja Arizona is not crowded. Snowbirds, students and other seasonal visitors have bailed. Why is that good? Tucson, with its deep and multicultural food history, has been designated a UNESCO Capital of Gastronomy. That means you will eat well. You can pick a restaurant, from a resort in the Catalina Foothills to an ethnic bistro or microbrewery Downtown, and get in. No reservation, no problem. Dress code? Casual. You can go from board to booth.
But there's no rush to get back to Tucson. There are vineyards with tasting rooms in Elgin, two 17th century Spanish missions, Tumacacori and San Xavier along I-19, and restorative burgers and beer at The Wagon Wheel in Patagonia. Or you can spread a blanket, open the cooler, and have a front row seat for the best sunsets anywhere.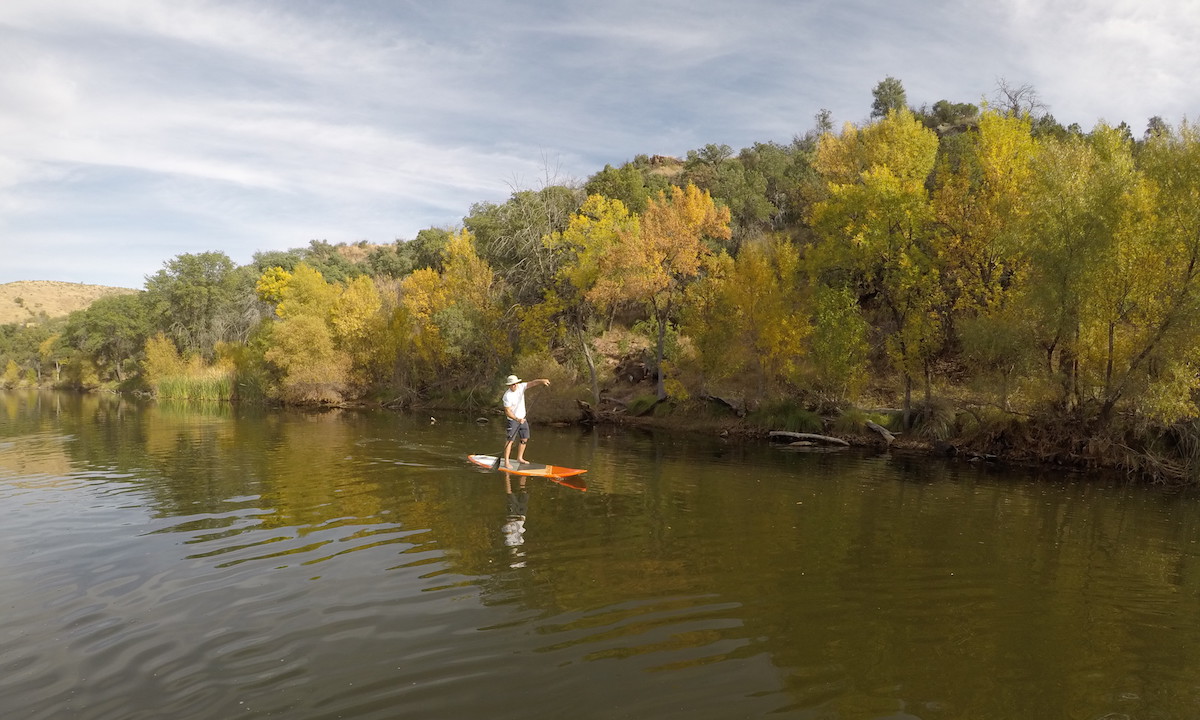 Enjoying the foliage in November barefoot in board shorts and a tee shirt. Yes. | Photo courtesy: Chris Smith
Autumn
Baja Arizona will not replace New England for Fall foliage, but trees here do change color and the sky makes up for what the leaves lack in color. The lakes also remain swimmable well into October.
Hot Spots
Clockwise: Patagonia Lake, Pena Blanca Lake, Silverbell Lake, Roper Lake. | Photos courtesy: Chris Smith
Resources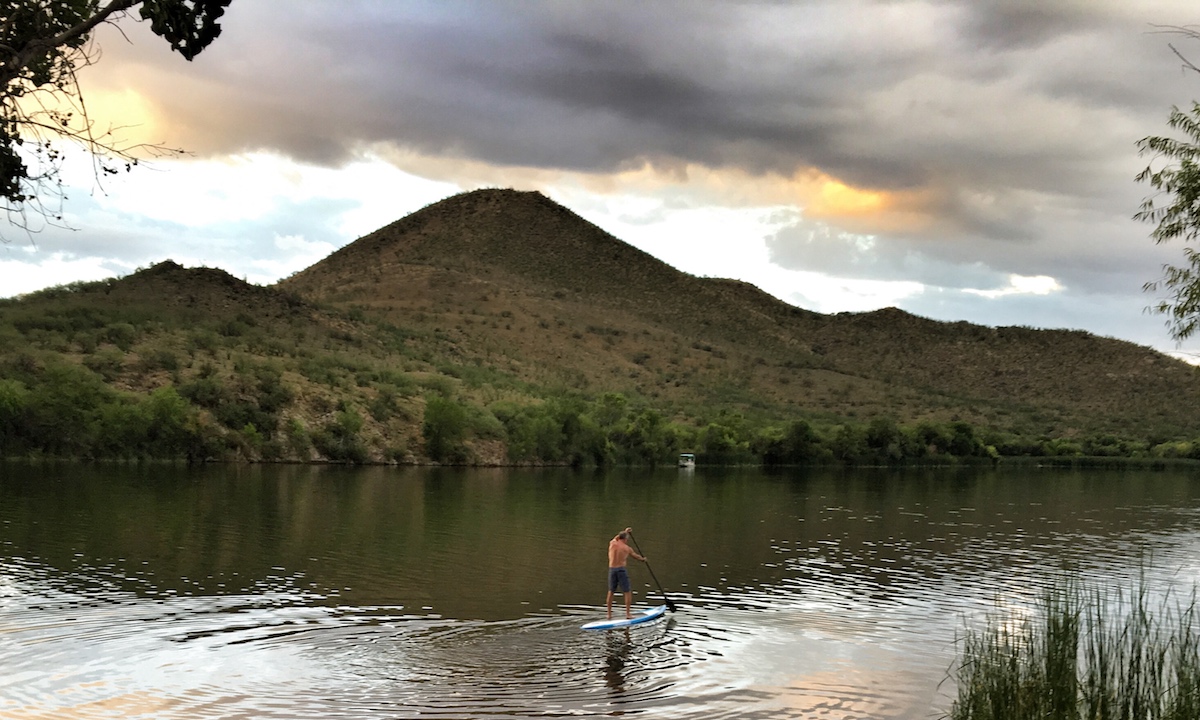 Patagonia Lake summer paddle. | Photo courtesy: Chris Smith
To explore more SUP destinations, click HERE.
Last modified onWednesday, 16 March 2022 15:54

Website: www.bajaarizonasup.com/
Email

This email address is being protected from spambots. You need JavaScript enabled to view it.