The 4 Best SUP Fishing Destinations in Europe
SUP is growing to be a favorite water sport and hobby. The anglers are equally excited about the sport and love doing it while hunting for their catch. So, if you are looking forward to SUP fishing, Europe should be at the top of your list. Many of its countries have breath-taking spots with fairly still and flat waters, perfect for SUP fishing.
Here are the four best SUP fishing destinations in Europe worth considering:
1. Lake Bled, Slovenia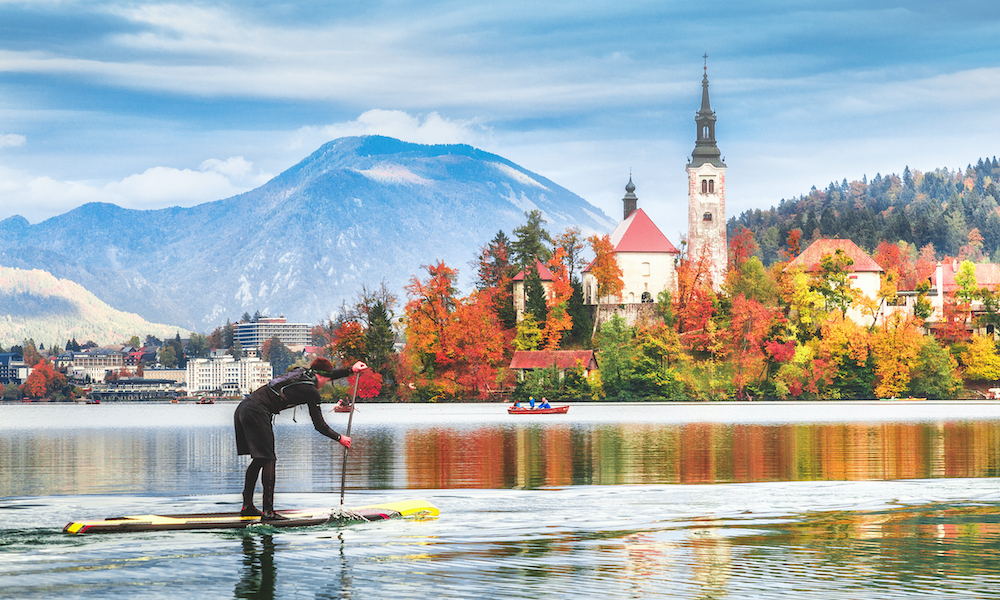 Paddling Lake Bled, Slovenia. Photo courtesy: Shutterstock
Lake Bled is located in the Gorenjska region, in the northwest part of Slovenia. The lake is hidden in the Bled valley surrounded by the Alps, making it one of the most amazing destinations worth visiting. It is 1.5 km wide and stretches for 2 km, with Bled Island in the middle. As it narrows down towards Bled, there are hotels where you can have meals and accommodation.
All seasons are best for SUP fishing, but springs can be unpredictable as they can rain with temperatures dropping. The summer months are the best as you can comfortably do SUP fishing as long as you can tolerate large crowds. The carp fish are active, albeit with a shorter bite time, and the morning and evening present better chances. Autumn gives you a lot of quality fishing time as the catch tends to feed aggressively during this season. Some days are colder, and it is best to carry warm clothing. Winter is best if you dislike crowds.
A SUP or kayak allows you to access uncrowded spots for amazing views and successful hunting. You can catch carp, lake trout, pike, and catfish. The permits are only given for day fishing. Join SUPklub if you want to connect with other SUP paddlers, learn lessons, rent gear, or participate in organized events on Lake Bled.
2. Lofoten, Norway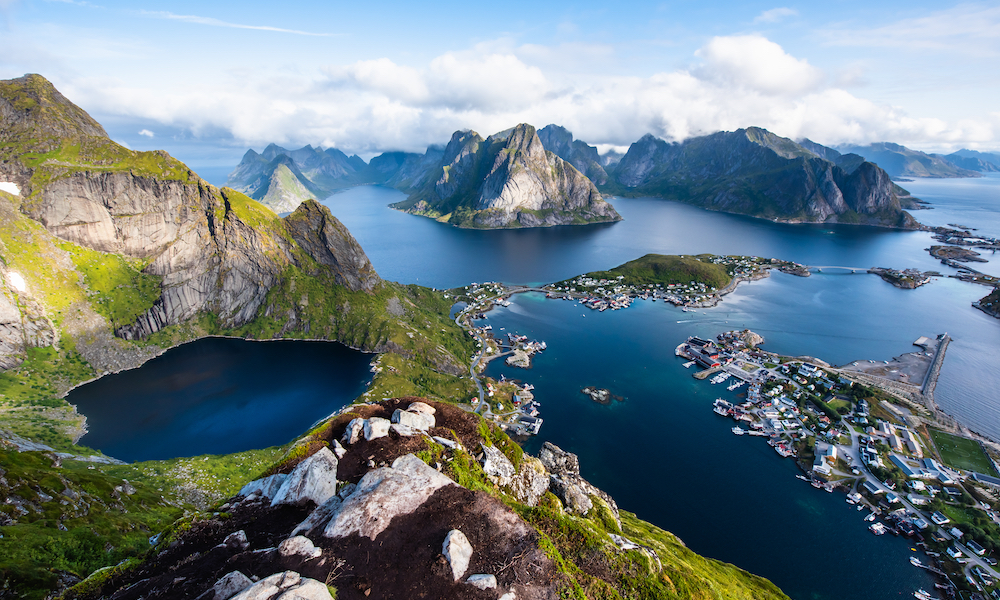 Aerial view of Lofoten, Norway. Photo courtesy: Shutterstock
Lofoten is a chain of small and large islands at the northern end of Norway that lets you SUP fish as you view its picturesque fishing towns. The spot boasts cultural richness, spectacular natural attractions, and excellent fishing. You do not have to carry your gear, as you will find rental SUP and fishing equipment at the location.
Fishing in this destination is year-round, though you may want to choose a season based on your target catch. If you love deep-sea fishing, the winter season is the best. From February up to April is the best time to hunt cod, haddock, pollock, mackerel, and traditional 'lofotfisket. Visit between June and September for short salmon.
The place is chilly; therefore, you should carry your wetsuits for comfortable SUP fishing through the islands.
3. Sardinia, Italy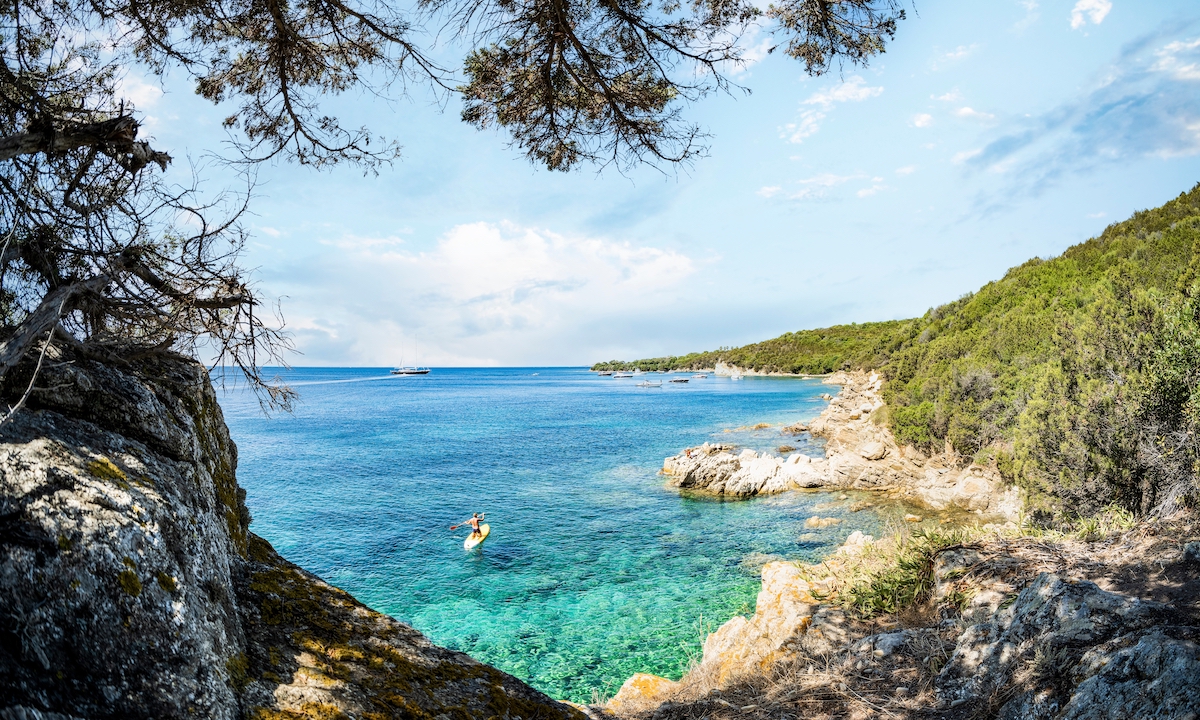 Paddling in Porto Rotondo, Sardinia, Italy. Photo courtesy: Shutterstock
Sardinia is located off the west coast of Italy and is a renowned favorite holiday destination, frequented by top-class people worldwide. The location boasts a luxurious nightlife, spectacular white sand beaches, and a great inshore and offshore fishing spot. It is a top choice for expert and beginner paddle boarders as the west coast presents rough waters while the waterways towards Bosa village are peaceful. Sardinia is a spot to consider if you want to SUP while fishing.
SUP fishing in Sardinia can be done throughout the year, with the peak season in summer. Summer presents giant catches such as bluefin tuna, spearfish, and albacore, with exceptional catches of over 300 kg recorded. This means you must prepare for techniques like chamming, which are best for large species.
After successfully ending your SUP fishing for the day, you can spend time watching the unique wildlife around you. There are unique mammal species, various types of birds, seals, and turtles. You can also visit the Bastione San Remy monument, the National Park of Parco Nazionale Arcipelago Di La Maddalena, or spend time on amazing beaches like Li Coggi beach and Cala Gonone.
4. Sligo, Ireland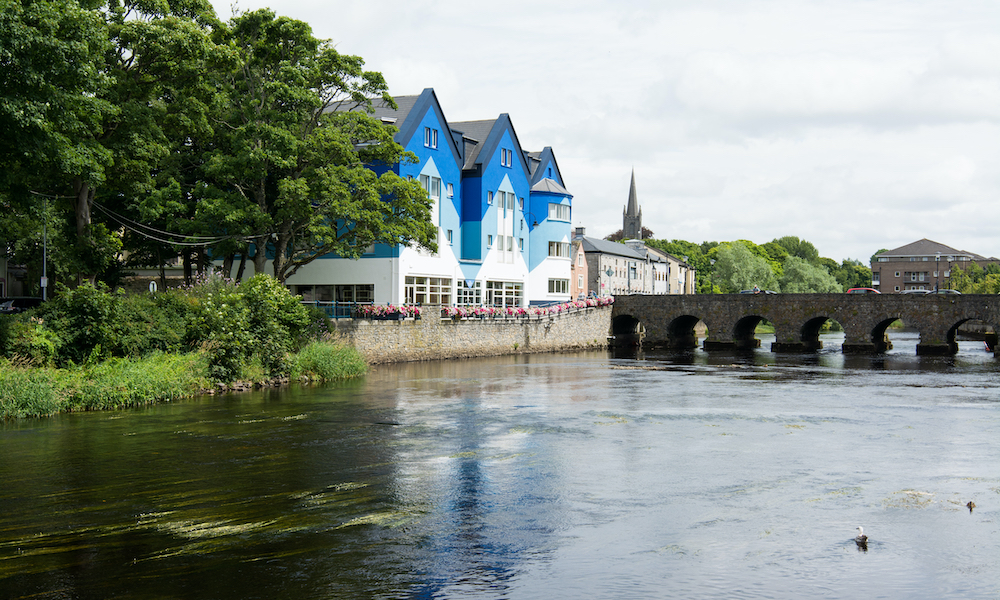 Garavogue River, Sligo, Ireland. Photo courtesy: Shutterstock
Sligo is a destination that will spoil you with choices. The North West coastline has inland waterways ideal for SUP boarding, and the abundance of fish means you can enjoy the sport while hunting. The excellent waves of the Atlantic also allow you to surf before or after fishing. You can also paddle as you fish in its freshwater lakes and along the stunning Garavogue River.
The conditions are best for SUP fishing from spring to September. During the period, the weather is warm, though July and August are normally overcrowded. The winter season is cold and wet, but you can still SUP fish if you like such conditions with fewer people. And depending on the season, you can fish over 30 species, including cod, coalfish, monkfish, and mullet.
If you are still learning the ropes of SUPing, you can connect with other paddlers at Sligo Kayak Club. Here you get to share the experience with other paddlers and sharpen your skills for better balance when fishing.
Key Insights and Takeaway
SUP fishing is interesting and more fun when done in an amazing destination. The waters in the above spots are conducive and have an abundance of fish that will guarantee you a catch. Just pick one place, plan your trip during good seasons, connect with other paddlers, and enjoy a successful and memorable trip. As a final piece of advice, be sure you understand the proper methods for humanely killing fish in case you decide to serve one for dinner.
For more SUP destinations, click HERE.
Last modified onWednesday, 27 July 2022 18:22

Ally is an avid outdoor enthusiast who has spent most of his free time backpacking through South America, Iceland, Vietnam, and Europe. He loves sharing his experience through Adventures Pursuit. His mission is to get more people in the mindset of protecting our planet by sharing its beauty.
Website: https://adventurespursuit.com/
Email

This email address is being protected from spambots. You need JavaScript enabled to view it.