4 Tips For Bass Fishing From Your SUP: A Beginner's Guide
Whether you're an angler or a paddle boarder, you might have considered fishing from your SUP before. It's a unique adventure and a great way to really work your way into hidden areas that would otherwise be unreachable in a boat or on foot. The question is, why bother? When there are so many other ways to fish, why use a paddle board? The objective of this guide is to not only provide you with some great beginner tips, but to also shed some light on why bass fishing from a SUP is such an enjoyable way to hit the water.
1. Practice Stabilizing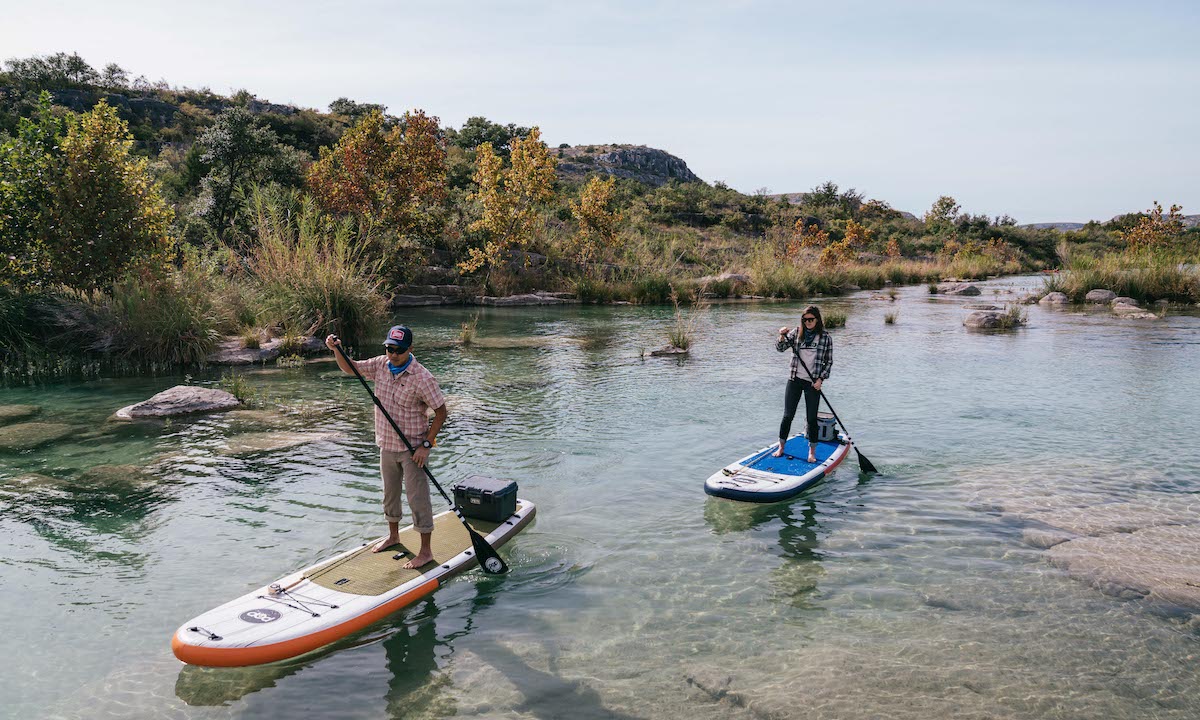 Photo courtesy: POP Board Co.
If you're an angler and planning to bass fish from a paddle board for the first time, you'll want to go out on the water with zero intention of fishing on the first try. The first time you try to take out your rod and cast, you're going to quickly figure out how difficult staying stable while casting can be. Practice at home or in a small body of water where you know there won't be many boats around you.
2. Secure All Equipment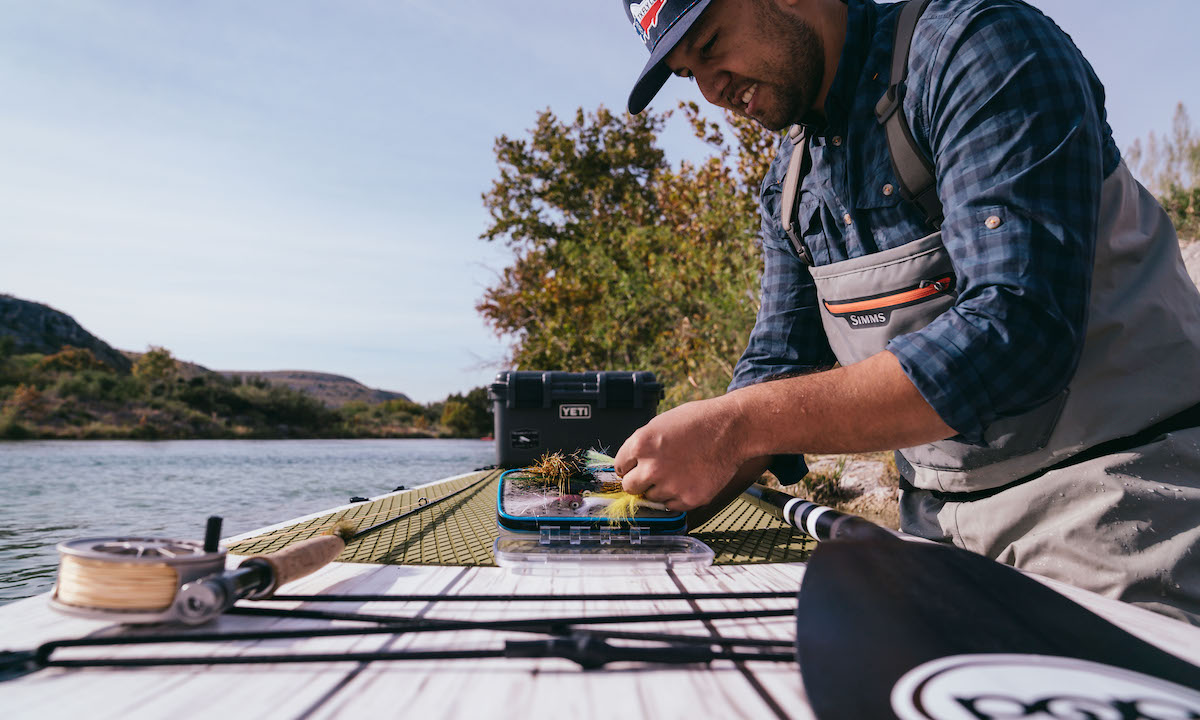 Photo courtesy: POP Board Co.
Another major difference between paddling and fishing from a SUP is all the gear you'll need. You're going to have lures, a rod and reel, some tools, line, and more. You need to make sure everything is secure. Purchasing a SUP with a bungee cargo area is essential for bass fishing. Kayak crates are a great way to keep everything in one place so you're not securing multiple small items that could sink or float away if you tip over. One pro tip we would highly recommend is making sure you rig your rods before going out. We even do this in my kayak because I'm still dealing with tight quarters. If you have more than one rod, plan to rig both of them with two different lures you intend on using so you can just switch back and forth.
3. Know The Water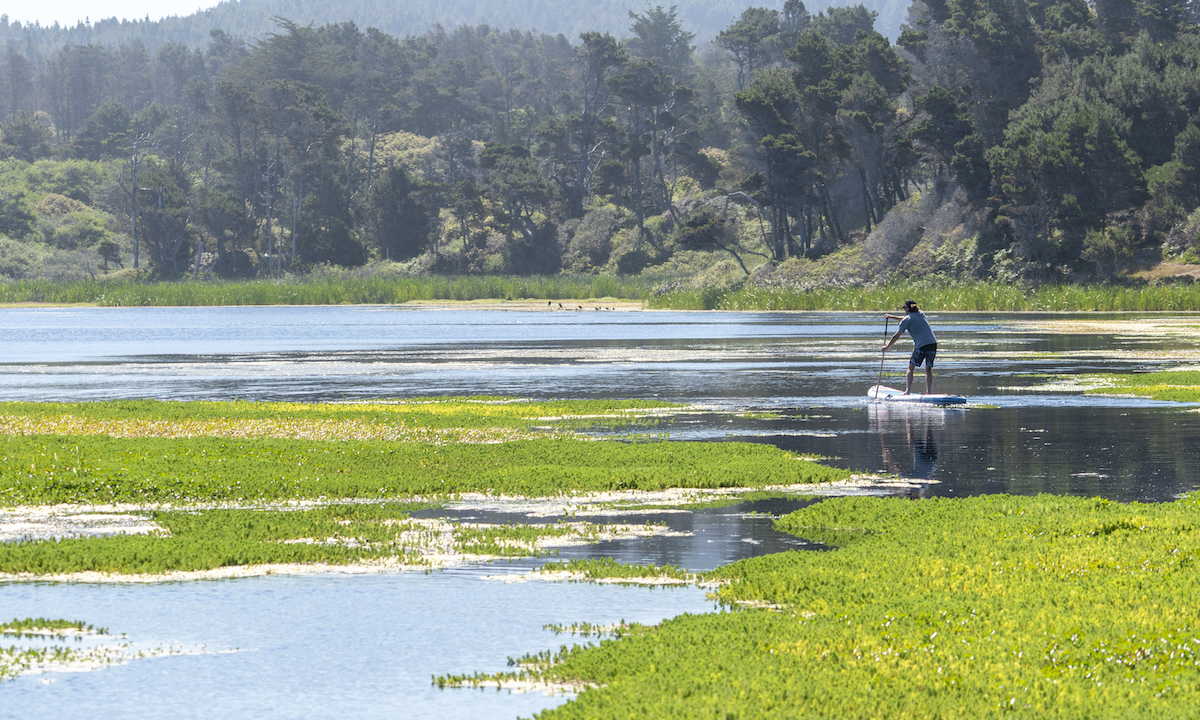 Photo courtesy: Surftech
SUP safety is critical so you want to make sure you're doing everything you can to protect yourself. Scope the water out before you get out there. Some fishing lakes even have topographical maps near boat launch areas that tell you a little about what's going on underneath the water. Keep in mind that popular fishing waters have things like stumps and weed beds that make great casting areas but you could find yourself hung up quickly with your board and also your lure. If you get hung up in a low hanging tree or area of dense brush, give the line a few nice tugs, if it doesn't come loose, do not keep pulling. It's better to cut your line than to fall overboard.
4. Plan For Weather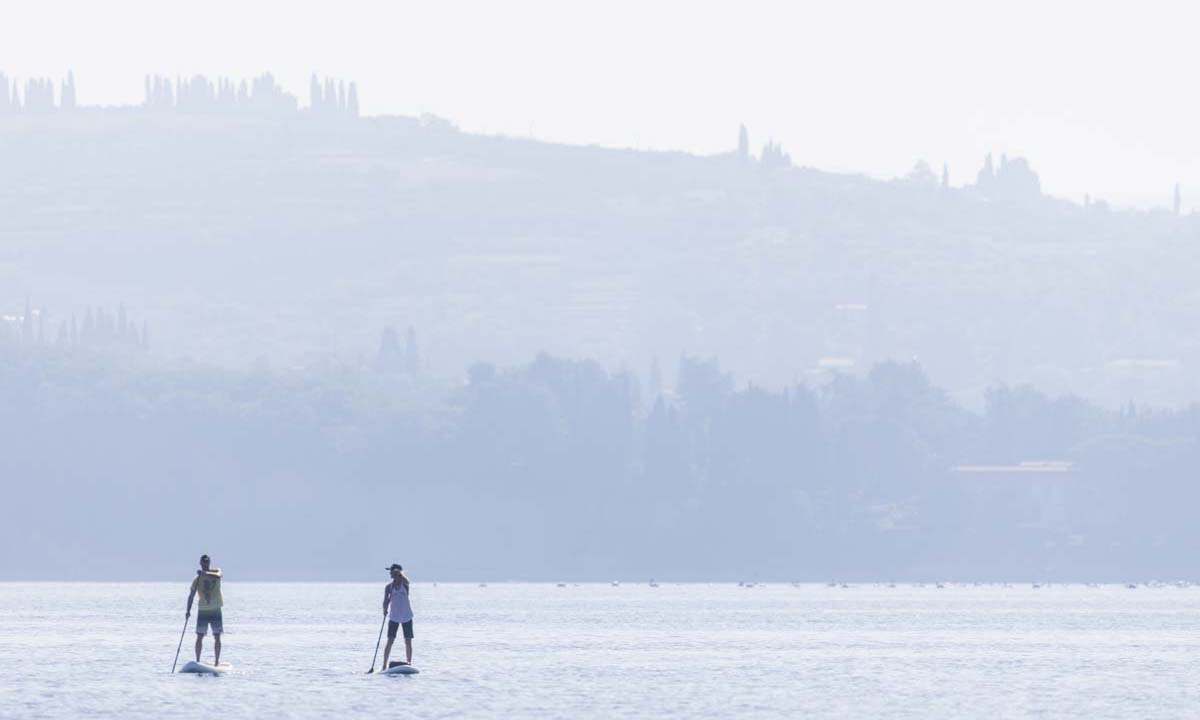 Photo courtesy: Thurso Surf
Weather is always a factor in bass fishing but it's especially important when fishing from your SUP. Things can get slippery, you may not have a safe place to store everything, and you don't want to find yourself scrambling to get to shore before the storm rolls in.
Check the weather and make sure you have a plan if you intend on going out during the rain. Bass bite well in the rain so don't let it deter you, just make sure you're prepared and experienced enough on your board. Keep in mind that fog can roll in quickly as well reducing visibility so an incoming boat may not always see you.
Mistakes To Avoid When Fishing From Your SUP
Don't overpack. If you're used to fishing from a boat or the shore, you likely bring your entire tacklebox with you, coolers, snacks, and other non-essential items. You're going to overload your SUP which can make it more difficult to balance when casting and more risky if you do tip over. Intend on only bringing what is necessary and leave the rest in the vehicle. You can always go back and swap out gear if you have to.
Don't expect to get it right away. A lot of people head out on their SUP for the first time expecting to pull in trophy-sized bass and they end up with nothing more than a headache. This is an advanced level activity spun into a beginner's guide. If you're an experienced paddle boarder, you'll have an easier time transitioning into fishing than if you're an experienced fisherman with no board experience.
Gear You'll Need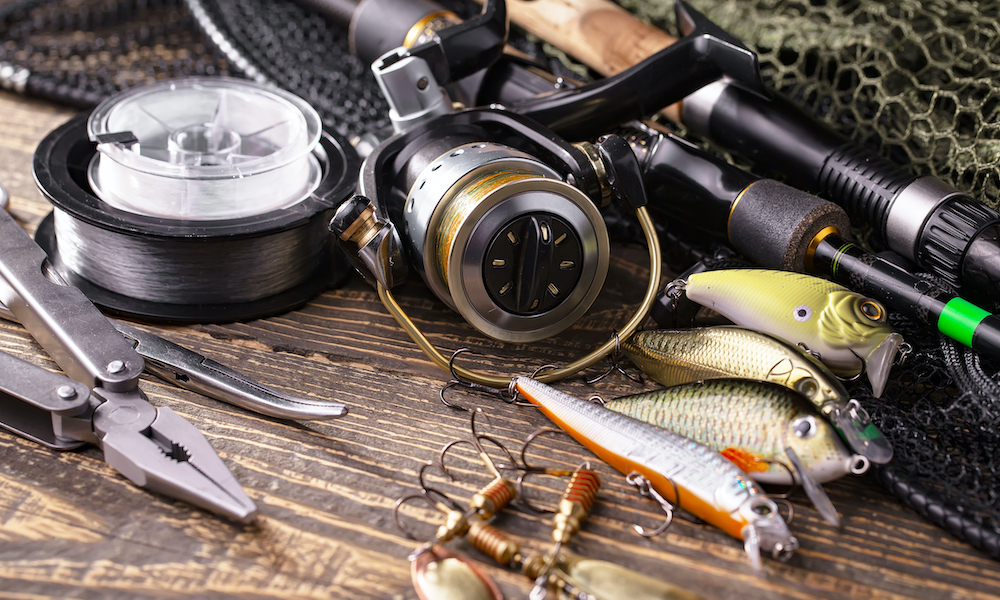 Photo via Shutterstock
There are a few essential pieces of gear you'll want to have for SUP bass fishing. These are non-negotiable items that you should always have.
Stand-Up Paddle Board - You need a board of course and having one with storage and attachment points will help you secure your fishing gear.
Rod and Reel - We recommend going with a lightweight rod and reel combo. The Shimano Sedona is a great beginner option that won't break the bank.
Rod Holder - A fishing rod holder is essential because you'll need somewhere to put your rod when you're paddling.
Kayak Fish Finder - A portable fish finder is a great way to find the best spots to fish without taking up too much space on your SUP. I'd recommend grabbing one that's meant for kayaks as they're typically smaller in size.
PFD - A personal flotation device is a necessity and in some cases, it may even be mandatory.
Net - A dip net is a great item to have because it prevents you from having to hang over to pull the fish out of the water. You can extend the net down to get the bass onto your board without hurting it as well.
Final Thoughts
We hope this guide helps you understand that bass fishing from your SUP can be incredibly fun. It's a great way to spice things up and find yet another cool activity to do while paddling. Make sure to always keep safety in mind and if you're new to paddling, we'd recommend getting some experience on the water before bringing your rod. Good luck!
For more SUP tips, click HERE.
Last modified onTuesday, 02 August 2022 18:14

Coty has spent the better part of his life bass fishing and observing the habits and behaviors of people who consider themselves "outdoorsmen." For the past few years, he has focused much of his time on spreading awareness of overfishing and its consequences.
Email

This email address is being protected from spambots. You need JavaScript enabled to view it.