Shelby Rose Taylor - Inspring Others Through SUP
How does a girl from central Kentucky grow up to be a competitive SUP competitor? Shelby Rose Taylor tell her story…
SUYALITA, Mexico - There's a world of amazing stories within the stand up paddle community and it's always an honor to share them with all of you. Today we've got a really special piece written by Shelby Rose Taylor - a Rogue athlete and SUP racer hailing from Kentucky of all places. From being on track to playing soccer at the Olympics, to battling the lowest troughs of depression and finding herself again through SUP, Shelby's tale is an inspirational one.
By Shelby Shelby Rose Taylor
Growing up, I was a soccer player. By the age of 14, I had been selected for the USA Olympic Development soccer program, and continued to be nationally ranked and until I was 16, having a private strength and agility trainer 2 a week and a nutritionist and private skills coach. I loved training and I loved winning. You might say that soccer had become the center of my existence.

The summer preceding my junior year in High School, I was deep into college scouting. During a training camp, I blew my knee out. At the peak of my eligibility, I lost everything I had ever known and everything I had ever cared about in a personal way. I lost my spot on the ODP Team and my scholarships to play on the collegiate level. I continued to do physical therapy 4 times a week for 6 months to regain strength and stability, but by the end of my healing process I had fallen into a very deep depression.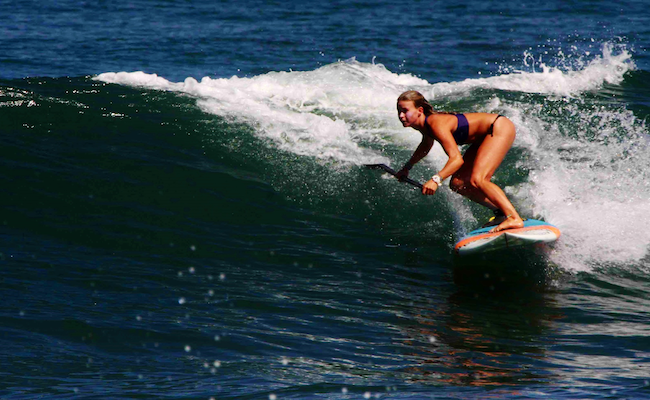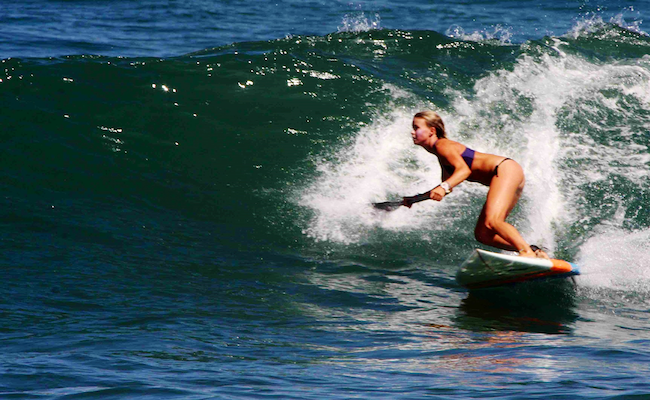 This depression manifested into serious anorexia - which caused me to lose over 90% of my body fat and 100% of my self-confidence. One year earlier I was on top of the world and the most outgoing and confident girl you could imagine - I was now a shadow of Shelby Taylor who hid in the corners and was afraid to face every day. Through a year of intensive therapy and the support of my family and friends, I slowly began to heal, both physically and mentally. My confidence was still lacking, but I became healthy and found myself venturing out into social world again.

About 2 months after being cleared from therapy and medication, I started feeling pain in my finger and ankle joints. The pain spread and within 2 more months my whole body was immobile and all my joints had crystallized in a weird autoimmune reaction- the once strong and ruthless, I was now bedridden and being bathed and dressed by mom. I went to the hospital AGAIN and found out I had contracted auto-immune hepatitis and was in the beginning stages of liver sclerosis. For the second time, the required treatment of immune suppressants meant that again I was not able to participate in sports (my passion).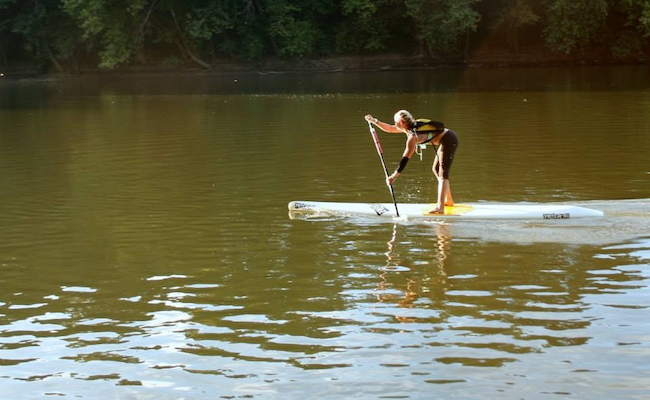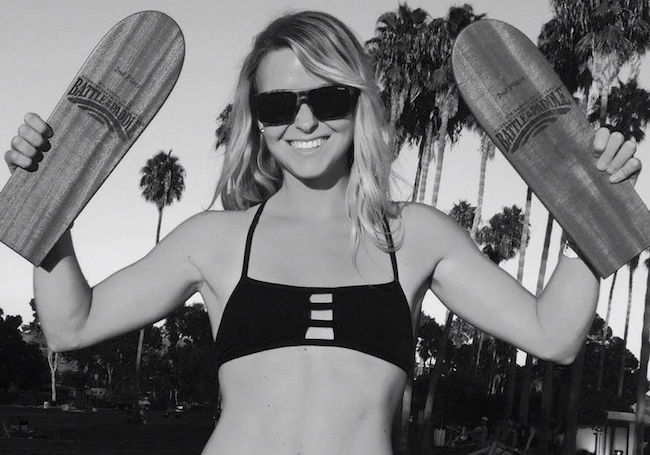 After this series of tests of my will and mental strength, I felt I was never going to be an athlete again, and much less a professional! I spent the next 2 years going to college and staying fit through traditional exercise. I did well in college--academics have always come easily to me. However, I was having a really difficult time getting past the constant feeling of chronic depression. I decided that I needed to take a break and re-assess. At 19, I moved to Mexico as a way to completely start over, forget my dark and scary past, all the things I had faced and done and there I fell in love with water sports. I started surfing daily and picked up Stand up Paddling for fitness. In this time, the ocean became my passion-it changed my life. I built up my confidence in the waves and subsequently, gained personal self-confidence. One day a local SUP race organizer confronted me and asked if I wanted to attend a SUP race that was being held at our beach in Mexico.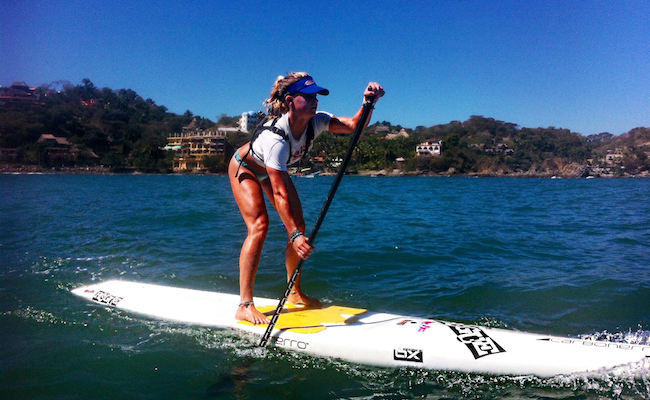 Nervous and lacking the competitive ferocity and confidence I had before, I entered the race to test myself and to overcome the shadow that still followed me. In this first race, I won first place in sprint and distance against women who had raced for years and even some who had competed in world championships. For the first time since I was 16, I felt the surge that comes with athletic victory. My swag was back! I had an epiphany that I could once again be the old Shelby Taylor –the girl who signed her letters with "child wonder". I was born to be an athlete - competitive, confident, strong, and driven by passion. After the first race, I decided to dedicate myself to paddle boarding and started training under fellow Sayulita, Mexico SUP professionals Fernando Stalla, Ryan Helm, Felipe Hernandez, and Bicho Jimenez.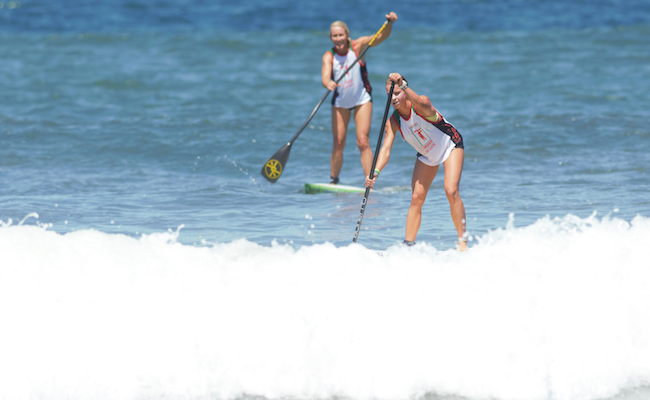 SUP has been good to me. Yes, I train hard, eat well, and focus on competition. However, I never dreamed that a little girl from Kentucky could end up where I am. I find myself traveling the world to compete, meeting women who are stronger than I imagined. I have learned so much about humility and grace from these women and I continue to grow from competing alongside them. My friends and my idols such as Lina Augaitis, Annabel Anderson, Kristin Thomas- all are women who are not only incredibly strong and fit, but women who are beautiful and hold themselves in a way that people respect them for their hard work and their kindness. The sport has no room for debate, there are no judges or opinions. Once the horn blows, we all take off at the same time and it is a head to head fair battle to the finish, a battle where the women who is strongest and trained their body and mind and technique the most, wins.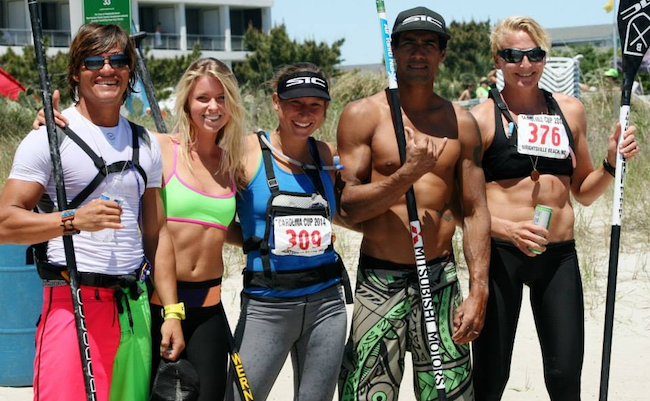 This is why we respect one and other so much and why we cheer each other on like team mates even though we come from different countries and race for different sponsors. I have found that SUP Elite women are a family who support one and other, push each other to train harder, be stronger, to be better. Having to race against these power house women has refocused my energies into a positive change in my lifestyle. I train in the water paddling and canoeing and outside the water every day running or biking and in the weight room. Every event I attend I realize even more how much commeraderie there is in the industry. After the Carolina Cup this year in Wrightsville, NC Lina extended her hand to me by offering nutritional guidance to me and helping me create a diet that keeps the elite female athletic body going like a machine. Another friend, Georges Cronsteadt, has helped to make a training routine to follow in order to not burn out and maximize my performance. Both are just some examples of humility and the global team mentality. Both are huge role models to me and set the standards for how I want to guide the youth under me. I have high hopes for a lot of success in my future. The dream that was taken from me as a teenager has been found through SUP racing.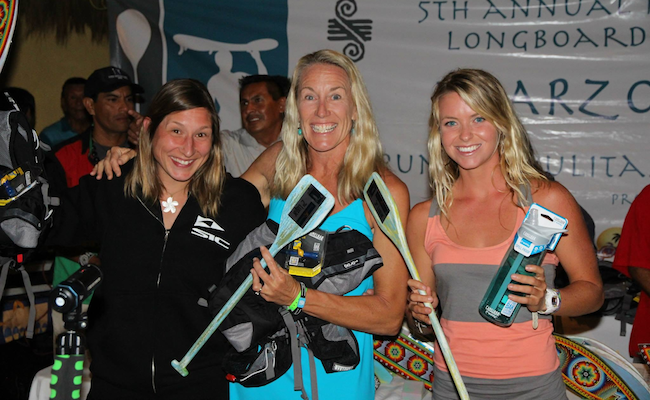 Lina Augaitis, Kirsten Thomas and Shelby
As I continue this journey, I am determined to learn all I can from my fellow racers, to grow as a woman and a competitor, and hopefully to have a long and fruitful career. I strive to be a friend to all the women around me, and to reach the elite level racing condition that I admire so much watching my role models race along side me. I plan on being as beautiful and as healthy as the women who race well into their 50's and beyond. More importantly, I hope to help young girls find self-confidence and inner strength through SUP. I want to be a mentor and a role model for healthy living and mental/physical/emotional strength in a positive way like the Top 10 women of the world are to me.
SUP allows for girls to be strong and muscly, fit and strong. Athletes are praised for their "buffness" and their fitness, not judged based on how cute they look in a bikini. I want to spread my story and my message. I want to impact the future of the growing numbers of young girls entering into this sport the way so many of my mentors have done for me. I am living proof that obstacles can be overcome—with faith and hard work there is always a way to find your way to the finish line. I will start one girl at a time, impacting their lives and hopefully leading some to become the next SUP champions- a goal of mine for the near future. Their is a revolution coming, one of confident and strong young girls who will change the face of the sport forever, and I plan on being a part of that starting now.
Last modified onTuesday, 27 January 2015 16:35

Email

This email address is being protected from spambots. You need JavaScript enabled to view it.
Latest from Shelby Dela Rosa Taylor