Lance Erickson SUP profile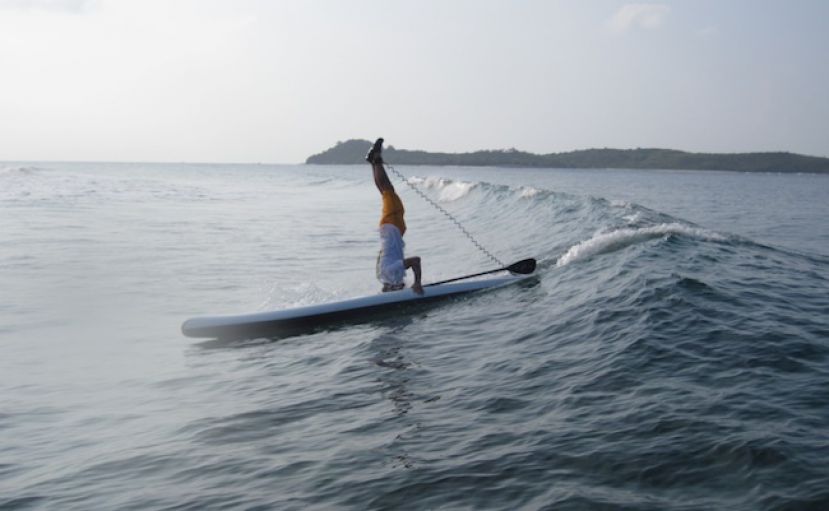 ORANGE COUNTY, California - This week Supconnect profiles Lance Erickson: paddler, shaper, surfer, husband and all-round man of the sea with a thousand stories up his sleeve.
ORANGE COUNTY, California - This week Supconnect profiles Lance Erickson: paddler, shaper, surfer, racer, long-distance paddler, adoring husband and all-round man of the sea with a thousand stories up his sleeve. For those of you that don't know him, he's the eternal grom, always stoked to get in the water and always challenging himself to try new things - even after nearly five decades.
Where were you born and where did you grow up?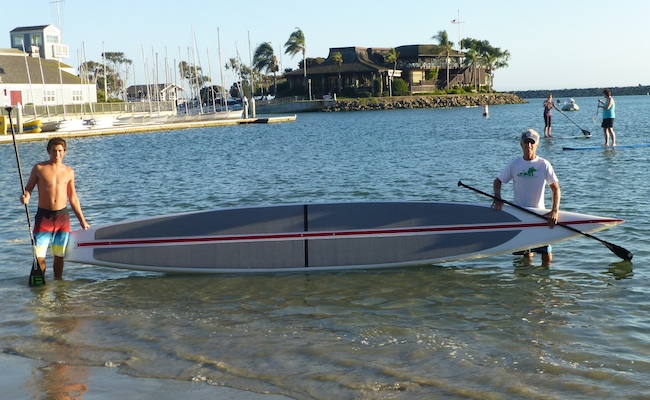 "One of my last tandem boards. See ya at the races!"
I was born in Long Beach and grew up in San Pedro. We moved to Seal Beach near my cousins a few years later and began surfing practically everyday before and after school. We lived just 2 blocks from the beach and it was there that I surfed on the Harbor team and learned from Robert August, Mark Martinson, Rich Harbor, Andy Poff and a few others about shaping, fibre glassing, and surfing.
First Board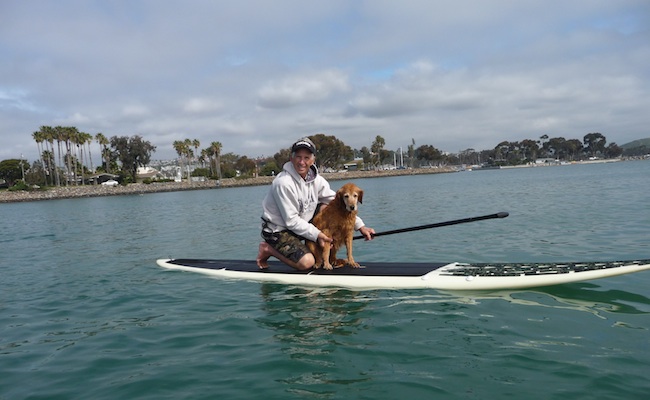 "That's Sugar the surf dog! She and I frequently surfed Doheny in the winter months and San Onofre at Dog Patch in the summer."
My first board was a Bing 8' 6" for Christmas the year before and soon after came the shortboard revolution. Within that first year in Seal Beach I had four different size boards that were traded in for shorter better designs. That time was very similar to what occurred in sup in the beginning.
When Did You Get Hooked on SUP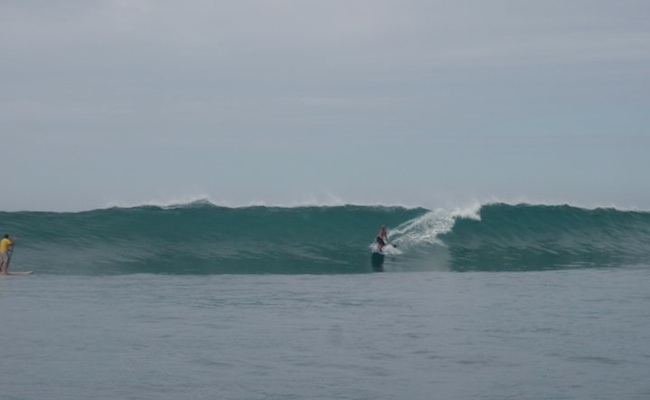 "That's Greg Carson famous waterman watching me get a nice backhander. We surfed 6 hours that day with four other souls. It was the best day sup surfing I ever had... I owe a debt of gratitude to Art Wible for sharing. Thanks Art! See ya soon..."
I ended up witnessing the BOP in 2008 and seeing Chuck Patterson win 10,000 dollars and the rest of us paddling in the open division in a circle. There was a line of entrants a mile long the morning of the event. That's when the light off went in my head - paddling was for everyone and everyone wanted to be a part of the new craze.
Where is your local paddling spot - can you tell us a bit about it?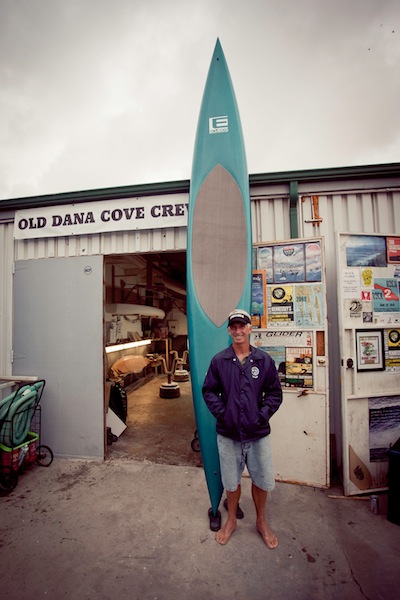 My local sup haven is a mile down the road at Dana Point. I launch either at Babies Beach in the west end of the harbor or the headlands to catch a good down wind run. Sometimes during the windiest days my wife will pick me up or a group will rally together and shuttle cars and boards back to the start line.
Where is your favorite SUP travel destination and why?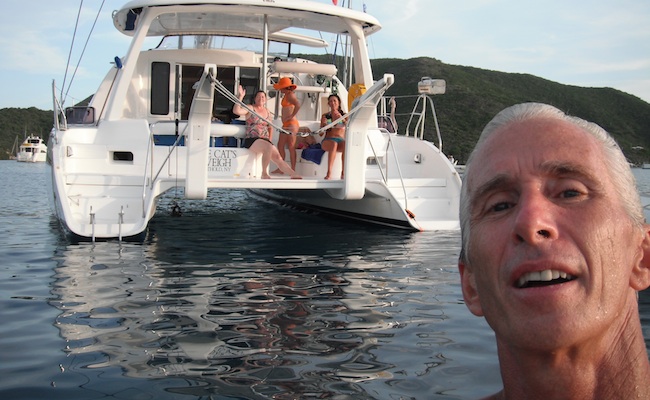 "That's my wife Dolly, Peggy and Andie on the boat..."
So far my favorite paddle spot is the British Virgin Islands (where the headstand picture was taken). The Hiho race allowed paddlers to compete with them and they held daily races from one island to another. Every race was touted as a downwinder but as is often the case in racing, the wind was at our quarter most of the time. Being on a boat with friends traveling to new secluded resorts each day for over a week has been the highlight of my supping. The other couples were Mickey and Peggy Munoz, EJ and Andie Johnson and My wife Dolly and I. A professional captain was provided to sail the catamaran which made that trip very relaxing. It was the only sup race I won outright. EJ reminds me that I was on a 14 and he a 12' 6" or he would have been crowned the winner I'm sure. We joke about that all the time. I have never beat EJ since unless I was on my Tandem board. Also, the expense of the race kept the elite racers at home so hacks like me had a chance at winning.
Who do you enjoy following and watching in the SUP world today?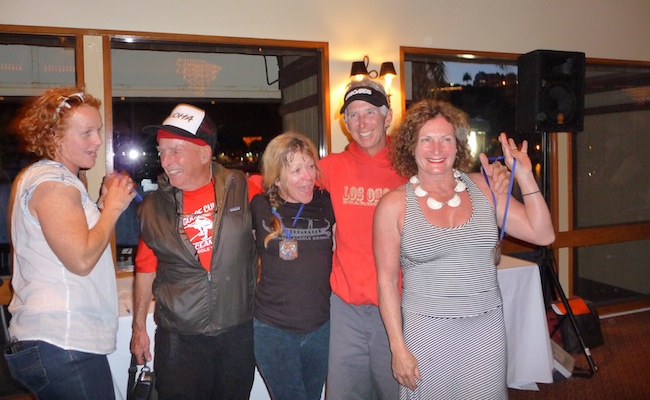 "Mickey, Peggy, me, and Jericho getting recognized for our efforts. We hold the record for the oldest collective team for supping across the Catalina Channel. 251 years."
I like to follow what's going on at the channel crossing events. Maui to Molokai and Molokai to Oahu. These events focus on who is the best trained at long distance racing and the top athletes in the world participate. Danny, Connor, Eric are the ones to watch!
What's the best thing about sup racing competitions?
It's a social event.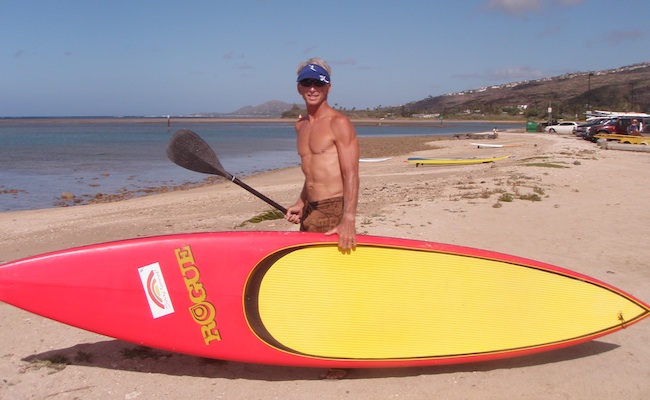 "This was at the start of the distance race BOP 2010. My first real downwind run! I built that board for Rick Karr which became the first prototype race design they used at Rogue."
What's the worst thing about sup racing competitions?
Kook race directors.
What advice would you give people new to the sport of SUP?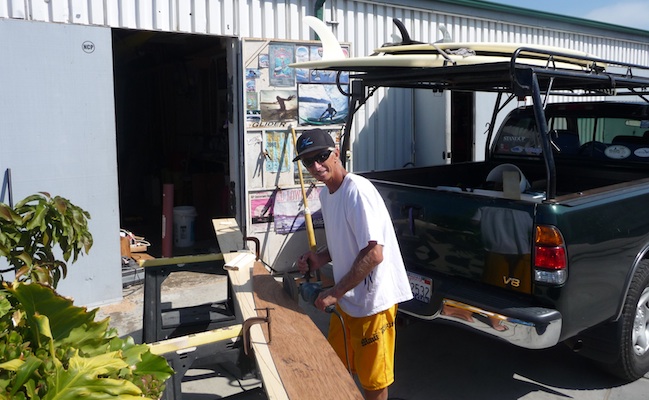 "This is actually my first sup template since getting back into shaping, 6/10."
Advice for newbies... don't get discouraged! We were all kooks at one time or another! Every water bug that sups has said, "wow I didn't realize how hard this is" Then after a relatively short time they say, "wow, I can do this." Then, "I need a new board that is faster." Or, "I need a board for yoga." etc. Whatever the reason for getting a sup it all revolves around the water and mother nature blessing us with something fun and productive with our lives. Go for it!
© Copyrighted & Exclusive SupConnect.com Content.
Last modified onMonday, 10 August 2015 16:41

Submit your news, events, and all SUP info, so we can keep promoting and driving the great lifestyle of stand up paddling, building its community, and introducing people to healthier living.
Website: supconnect.com
Email

This email address is being protected from spambots. You need JavaScript enabled to view it.