SIC 5-Star Paddleboard Glide - Hood River, Oregon
Learn more about the SIC 5-star glide program by visiting Columbia Cliff Villas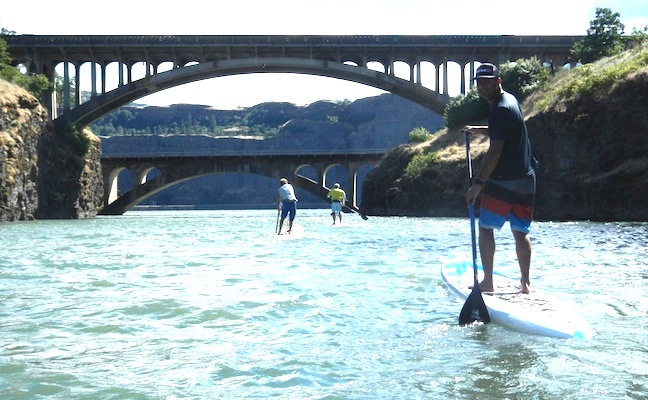 Andre Niemeyer of Supconnect giving a smile back as he thoroughly enjoyed his trip to Hood River, Oregon for the SIC 5-star glide program, organized by SIC, Big Winds, and Columbia Cliff Villas.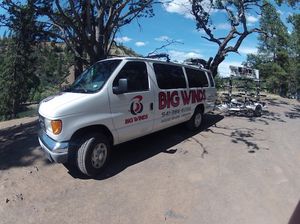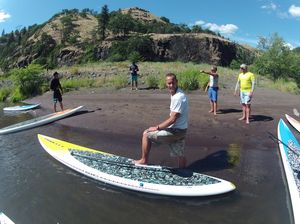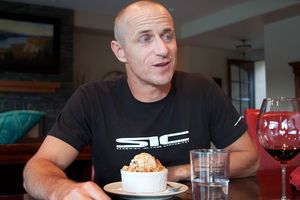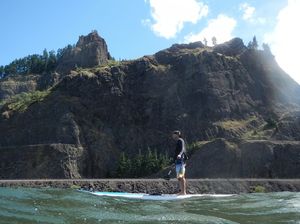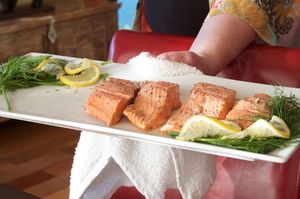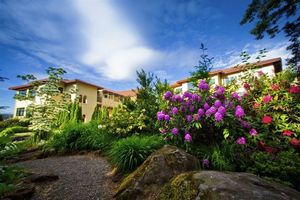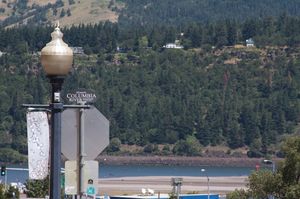 HOOD RIVER, Oregon - Welcome to the SIC 5-star glide program, organized by SIC, Big Winds, and Columbia Cliff Villas.
1. Introduction
Hood River, Oregon is a must-go stand up paddle board destination (period!). Now that I've said it, here are just some of the reasons why. It has a rare combination of wind and currents, delivering world-class downwind conditions, that is, waves forming in an open body of water running in the wind direction with surf-like conditions but without the crowds. "The Hood," as it's sometimes called, unlike the name suggests, has a spectacular infrastructure, with 5-star lodging, locally farmed cuisine, and a deeply knowledgeable and well-equipped paddle board community. And as if all that weren't enough, the city has a quaint strip blanked with local shops and is beaming with outdoor activities, like mountain biking, hiking, sailing sports, and on it goes. So it's no accident that Hood River is now the host of one of the world's most prestigious standup paddle board races called "The Gorge Paddle Challenge," typically held in late August.
2. Gear
Now that the question of whether to visit Hood River is behind you, let's look at the best way to get it done, the SIC 5-star glide program, organized by SIC, Big Winds, and Columbia Cliff Villas. You need … yes, nothing! Just show up and be ready for a remarkable paddling time. The program includes 5-star lodging, transportation for the downwind, all the gear (board, paddle, etc), and a succulent gourmet meal freshly cooked inside of your room, neatly waiting for you moments after the downwind run. Add to that a phenomenal concierge service provided by the folks at Big Winds, who can promptly arrange almost any outdoor activity imaginable, plus some. Hood River, Oregon lies in a sea of pine trees, nudged on the shores of the Columbia River, with an intricate topography, creating an idyllic landscape, (or should I say?) a spectacular playground for grown-ups. So that concierge service is the door to a world of outdoor activities. Alternatively, if you decide to stroll along the city's boardwalk, there is a plethora of shops and restaurants to give you a flavor of that small Northwest town.
3. Seasons
Late spring through early Fall are the best times to visit if you want to experience fairly pleasant temperatures. Now if the best downwind experience is what you have in mind, then late summer is your best shot, which happens to coincide with their world-class paddleboard race, The Gorge Paddle Challenge, giving you an opportunity to be in contact with some of the best and fastest paddlers around. With that said, there is no reason why arrange a trip simply for downwind runs. No doubt that downwind runs are the main attraction when it comes to stand up paddling in that neck of the woods. But Hood River also has plenty of alternatives to downwinds, including river runs, flat water paddling, and so on. In fact, even the Columbia River can provide flat water paddling conditions certain times of the year. Whatever the conditions, the folks from Big Winds will be able to equip you with nothing but the best gear and will work diligently to help you have some of the best paddling experiences of your life. As one of the largest standup paddle (SUP) shops in the Northwest, Steve Gates and his crew have a surfeit of "SUP" supplies readily available.·
4. Hotspots
Since enumerating all the SUP destinations in Hood River far exceeds the scope of this article, here are three of the standup paddle places I got to experience while there: Viento Run, Klickitat River, and the Columbia River Run #2 (as I'll call it, since I don't know its name). The Viento Run is 8 miles long, with surf-like conditions during most of the ride, and begins at Viento State Park, ending straight into the heart of Hood River. Along the way, you can witness indian fishing grounds, steep cliffs, and myriad inlets in case you need a paddle break. As the most famous of the Columbia River runs, the Viento is sometimes dubbed the Maliko Run of the Northwest, alluding to the notorious downwind run on Maui, Hawaii. The Klickitat River Run is not a downwinder but rather a short and tranquil down river paddle, with possible strong headwinds flooding the canyon and moving opposite to the current. Here the conditions are the reserve of the Viento Run. While moving with the wind and against the current in the Viento Run, in the Kickitat run you move with the current but against the wind, with the stream pouring into the Columbia River. This is a short paddle, but worth its scenic value. The #2 Run is shorter but possibly with stronger winds. It stars deeper (that is, east of Hood River) in the Columbia River, allowing for winds to gain speed from the funnelling effect of the canyon as they travel eastbound. This is a 3.5 mile run, which can go quite fast if winds reach 40 miles an hour.
5. Other Paddlers
There are quite a few high-profile SUP figures in Hood River, Oregon. Steve Gates from Big Winds is one of them. As the owner of Big Winds, he leads the charge organizing the largest standup paddle board race in the northwest, The Gorge Paddle Challenge, and also runs some very successful training teams for the youth, some of whom can boast of notable results in extremely competitive races. Also in the "celebrity" roster is Tonia Farman. Farman is responsible for several charitable action sports events, including SUP4Cancer, which raises funds and awareness to help cancer patients and survivors to live inspiring lives. Bill Babcock is yet another VIP member of that community. As one of the most active contributors to the online SUP world, Babcock has launched endemic sites, generated a barrage of content about the sport, and even created his own paddle company. There are several other remarkable standup paddle individuals who have claimed Hood River, OR as their home at some point in time, such as Nikki Gregg, Dan Gavere and others. You see, if you haven't yet visited "The Hood," it's time to buy that airfare or plan that road trip starting now.
Helpful Link
Learn more about the SIC 5-star glide paddleboard program.
.
Last modified onThursday, 13 August 2015 17:48
Andre Niemeyer is Supconnect's Publisher, founding president of the Standup Paddle Industry Association, and an expert SUP surfer. He has a strong background in competitive longboarding and has competed and won some of the early sup surfing events in mainland US.
Website: supconnect.com
Email

This email address is being protected from spambots. You need JavaScript enabled to view it.