Caio Vaz Wins Sunset Beach Pro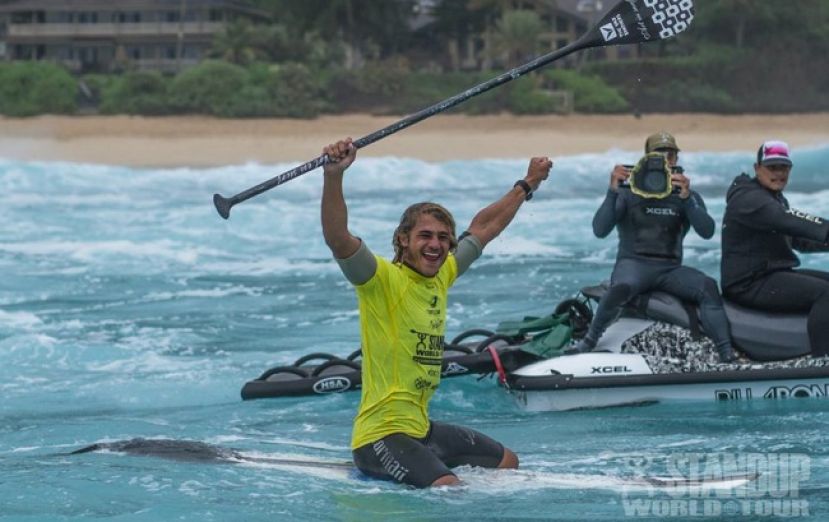 SUNSET BEACH, Hawaii - Brazilian Caio Vaz has won the 2014 Sunset Beach Pro, 2014, over Kai Lenny (HI), Zane Schweitzer and Keahi Deaboitz (Aus). It was an incredibly hard fought final in epic and tricky conditions, giving both spectators and surfers the kind of finish they wait all year to see.
The finals ran in heaving 6 foot + conditions, making things challenging for all competitors. It was a perfect finish to one of most anticipated events on tour.
Here is the official press release with results, issued by the Waterman League.
SUNSET BEACH, HAWAII - The first stop of the 2014 Stand Up World Tour saw the fifth anniversary of one of the tour's marquee events - the Sunset Beach Pro. This iconic wave is known for it's power and difficulty - every wave offers up it's own unique, distinct challenge. Local knowledge proves to be a huge asset as evidenced by the abundance of Hawaiian athletes in the main event draw.
Friday, February 14 saw four rounds of four-man heats battling it out in conditions that could best be described as "challenging". The call to hold the finish the contest on day seven of a nine-day holding period was delayed several times this morning to ensure it was the right decision. Said contest director Tristan Boxford:
"After Thursday brought strong onshore winds, the direction did shift around to NE for Friday morning, but the question was would it be clean enough to run. The swell was to be biggest on Friday, so we took our time to deliberate and watch the conditions until we finally called it on at 8.30 am for a 10am start. At 7am, there was little or no scoring potential, but by 8am, the odd good wave was starting to show and the conditions were cleaning up. So we decided to pull the trigger and make the most of the bigger swell."

Boxford, along with a panel of judges and athletes, decided that the 4-6 swell and cross-shore NE wind would be sufficient to hold the contest. That decision proved to be the correct one as big, open-faced sets with high scores from the judges came through all day.
The contest got underway at 10 A.M Hawaii Standard Time with the 3rd round. The initial heats saw several upsets with tour staples such as Sean Poynter, Chuck Patterson, Justin Holland, and Kody Kerbox all missing the top 2 in their respective heats. The quarter final was mostly stacked with athletes from Australia, Tahiti, and Hawaii. North Shore locals Kala Alexander, Robin Johnston, Ikaika Kalama, and Mo Freitas all proved that knowing the intricacies of Sunset is a definite advantage. Kekoa Auwae from Oahu's westside and Maui's Kai Lenny and Zane Schweitzer were other Hawaii surfers also making the quarterfinal round.
The first semifinal heat had defending champion Kai Lenny trailing in fourth for the majority of the heat. With less than 5 minutes left a large set came through and gave Kai the wave he was looking for, earning an 8.17 for the wave and 11.1 for the heat to put him in a second place tie with Tahitian Poenaiki Raioha.
By having the highest individual wave score, Lenny was able to advance to the final and knock Raioha out of the contest. The final round was a battle between Caio Vaz (BRA), Keahi De Aboitz (AUS), Kai Lenny (HAW), and Zane Schweitzer (HAW). Some tense moments came about when Schweitzer's leash broke and was left stranded as the board was sent toward shore. Through the help of his friend and Starboard teammate Sean Poynter acting as caddy, Schweitzer was back on his feet and into the lineup within a few minutes.
At the end of the 30 minute heat it was Caio Vaz with a combined wave score of 14.17 who took the finals and the title of 2014 Sunset Beach Pro champion. "I can't describe it!" Said Caio moments after the fanfare died down on the podium for his first Stand Up World Tour win. Last year Caio was runner-up three times, even leading the tour in points rankings at one point - but a victory eluded him. He had a simple strategy in the final: "I saw others go big, and I realized that I should go big. So I went. It's Barbecue time now!"
The next stop on the 2014 Stand Up World Tour is the Brazil Pro starting March 29. Stay tuned for information and updates at watermanleague.com.
The final results for the men are:
1 Caio Vaz BRA (Art in Surf)
2 Kai Lenny HI (Naish)
3 Zane Schweitzer HI (Starboard)
4 Keahi de Aboitiz AUS (JP Australia)
5 Poenaiki Raioha PYF (F-One)
6 Robin Johnston HI (Ku Hoe)
7 Leco Salazar BRA
7 Kekoa Auwae HI
Men's Trials Results:
1 Bernd Roediger HI
2 James Casey AUS
3 Monnier Manutea PYF (F-One)
4 Fisher Grant US
5 Toby Cracknell AUS (Naish)
6 Kainoa Texeira BRA
7 Kieran Grant US
8 Anthony Vela US
Turtle Bay Women's Results:
1 Nicole Pacelli BRA
2 Candice Appleby US
3 Sophia Tiare Bartlow US
4 Aline Adisaka BRA
5 Caroline Angibaud FRA
5 Fiona Wylde US
7 Izzy Gomez US (Starboard)
7 Vanina Walsh HI (Starboard)
Na Kama Kai Under-16:
1 Ridge Lenny
2 Kainoa Texeira
3 Keola Auwae
4 Riggs Napoleon
5 Micah DeSoto
6 Austin Kalama
7 Lara Claydon
Age 7-13
1 Zane Saenz HI
2 Sacha Kauhane HI
3 Marvin Freitas
4 Tiki Willis
5 Kalani DelaRose
6 Kyler Kerbox
About The Waterman League
Established in 2009, the Waterman League is an organization dedicated to the development and promotion of ocean sports. The Waterman League hosts the world's best Stand Up Paddle (SUP) surfers and racers in two worldwide tours: The Stand Up World Tour (Surfing) and the Stand Up World Series (Racing) in 10 countries featuring athletes from over 20 countries. The league also produces live and post-production coverage of the events, as well as happenings from around the world in ocean sports.
At the heart of the Waterman League are its core principles:
RESPECT (for the environment and others)
VERSATILITY (the ability to be open minded and adapt)
TRADITION (it is always important to look back and learn, to be able to look forward and advance)
INNOVATION (progression both in sport and thinking)
PASSION (passion drives everything we do here at the Waterman League and is the driving force behind all sports entertainment and practice)
Last modified onTuesday, 23 June 2015 20:16

Submit your news, events, and all SUP info, so we can keep promoting and driving the great lifestyle of stand up paddling, building its community, and introducing people to healthier living.
Website: supconnect.com
Email

This email address is being protected from spambots. You need JavaScript enabled to view it.