Supconnect Talks To Lina Augaitis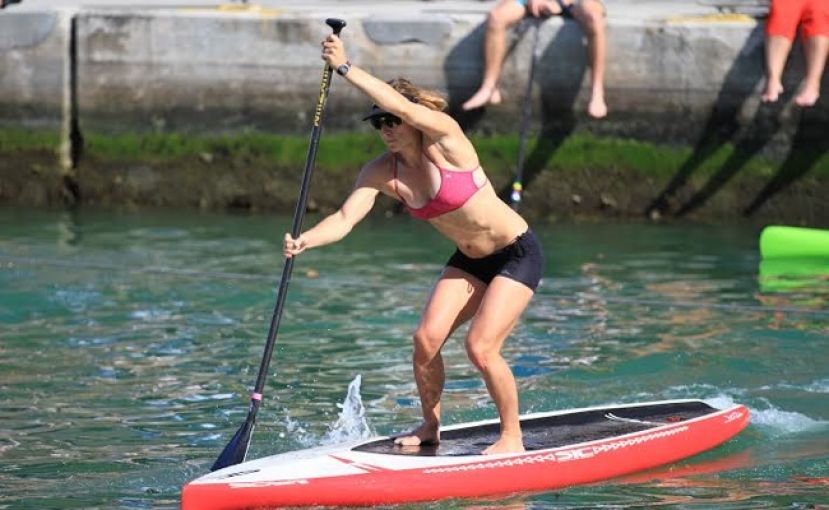 SIC Maui's newest team rider, Lina Augaitis, talks to Supconnect about travel, racing and her long-term goals.
Lina Augaitis in form | Image: Robin Blaine
SAN CLEMENTE, California - SIC Maui's newest team rider, Lina Augaitis, has built a reputation for herself over the last two years, chalking up big results in big races around the world. With wins at both the Tahoe Nalu and the Paddle Royal last year, and a win at the Orange Bowl earlier this year, she's on a serious roll with momentum behind her. Earlier this week we caught up with Lina to find out more about her, her travel essentials, routine and long-term goals. Here's what the Canadian champ had to say....
Where did you grow up and what got you into stand up paddling?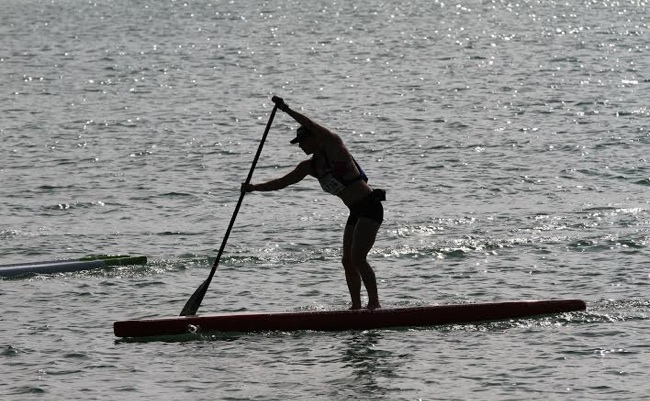 Image: Robin Blaine
I grew up in Ottawa Ontario CANADA and moved to Vancouver BC CAN in 2003 where I now live.
Luck and persistence got me into Stand Up. I first tried it by chance in California visiting some friends. A year later I raced in my first SUP race and won... I got the bug. I guess those two events were the true beginnings of it all.
Who do you look up to in both paddling and every day life?

Lina Surfing | Image: Andrew Dye
Growing up my grandpa on my mom's side lived in a way that inspired me. He touched many souls by being a good person and believing in his values. These days I like to follow and get inspired by folks that pursue their passions, are true to themselves and good people, and live a life of love and adventure (I have been lucky to meet some pretty amazing folks from all walks of life).
What is your training schedule like outside paddling for pleasure?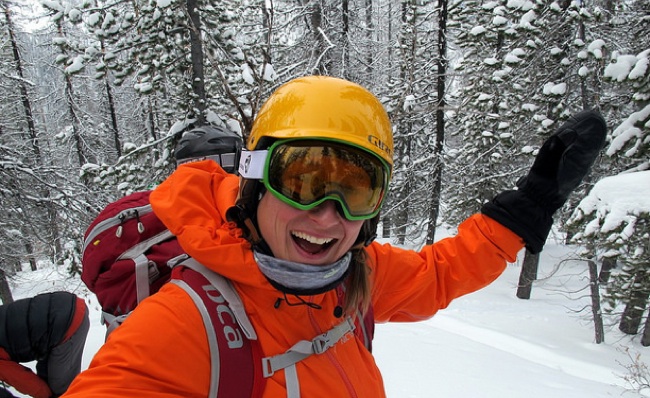 I love to be outside. Not too long ago I was an adventure racer and triathlete. I also have worked in the outdoors for many years. I love to trail run, mountain bike, rock climb, kayak, nordic ski, backcountry ski tour, bike commute, as well as do crossfit and yoga. I slackline and swim when I can as well. Sometimes, its really hard for me to focus on one thing as I love it all:) I also LOVE sleeping outside in a tent...
Describe your dream paddle trip?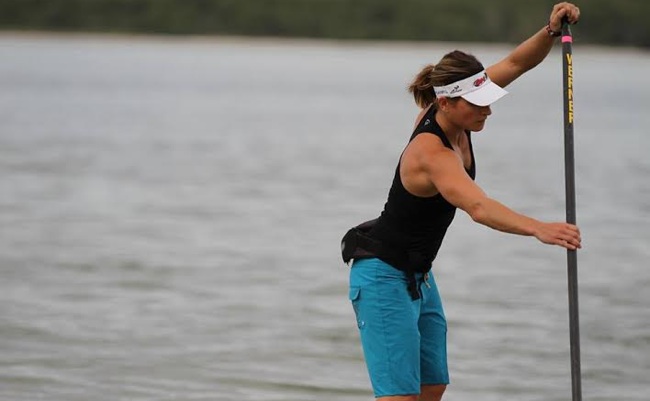 Image: Robin Blaine
I have several: I would love to SUP with icebergs (preferably on the Eastern Canadian Coast or antartica)
I have this weird desire to paddle around the greek islands, not sure why but I really want to paddle there... as well as other remote islands like Tahiti, etc would be amazing too. A combination of warm weather, beautiful beaches, nice surf, and different adventures on the board would do the trick quite well!!!! I guess anywhere and everywhere. I love to travel and explore new places.
What's the one essential travel item you don't leave home without?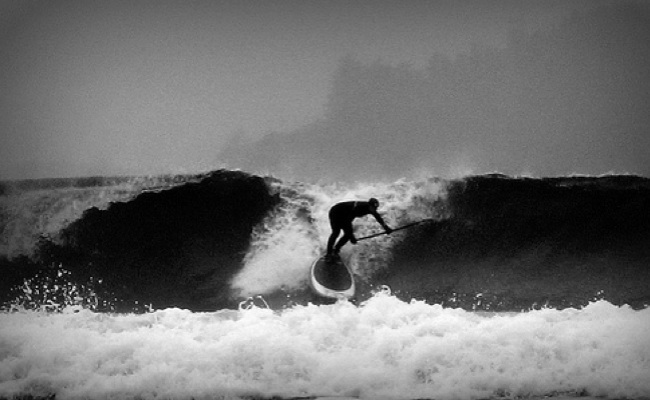 Image: Andrew Dye
My running shoes. It sounds ridiculous but for the last 12 years or so running as been my favorite way to explore a new place or just go have some time for myself/de-stress or enjoy the outdoors.
Do you have a psych-up routine before a big race?
Funny you ask this. For a long time no. I had no routine and no plan. Each race would depend on who I was with where I was and I would just go with the flow. But in the last year I have developed some routines. One routine I definitely love is my Onit Pro board routine. It just allows me time to bond with my board, to examine it, and to mentally get charged. For now that is the routine I do before every race but I am sure as I race more and more at bigger and bigger events I will have more to share on this.
You had a great year in 2013 and 2014 has started with a big bang. What does the rest of this year hold for Lina Augaitis?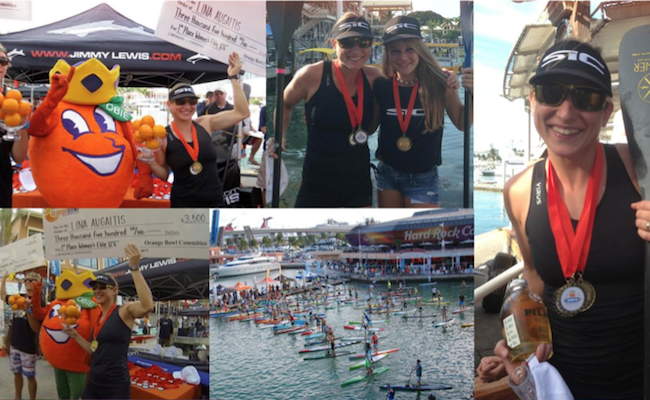 Highlight's from Lina's win at the Orange Bowl Stand Up Paddle Board Race
Lots of racing, travelling, and adventuring. I am very much open to opportunities that may come my way and am excited to meet lots of different folks from around the world. Hopefully I can teach some clinics and find other ways to promote SUP and the outdoors. I love to teach and inspire.
What is your ultimate long-term goal professionally?
For now I want to be the best I can be on and off the water. I want to help share the love and stoke for the sport and life. I am going with the flow of life and what stepping out and taking some risks to live the reality of my dreams can take me. Ultimately I want to inspire and motivate others to live life to their fullest.
You can follow Lina's blog to keep up with her through traveling and racing.
ABOUT SIC (Sandwich Islands Composites):
SIC "Sandwich Islands Composites" is the vision of master shaper/designer - Mark Raaphorst. Mark has more than 20 years experience building surfboards, windsurfers and outrigger canoes. He is credited as being one of the pioneers of SUP, the first to integrate an Active Steering System into and SUP and for creating some of the most winning race boards in the world. Their speed and agility, sleek styling and piercing waterlines, quality craftsmanship and attention to details, have also earned SIC the reputation of being the "Ferrari of SUP boards". SIC makes boards for intermediate to elite paddlers looking for the best in race, fitness/touring and surf. For more information visit: www.sicmaui.com
Last modified onTuesday, 24 March 2015 12:49

Submit your news, events, and all SUP info, so we can keep promoting and driving the great lifestyle of stand up paddling, building its community, and introducing people to healthier living.
Website: supconnect.com
Email

This email address is being protected from spambots. You need JavaScript enabled to view it.