Paddler Profile: Kim Barnes - Enjoying the Journey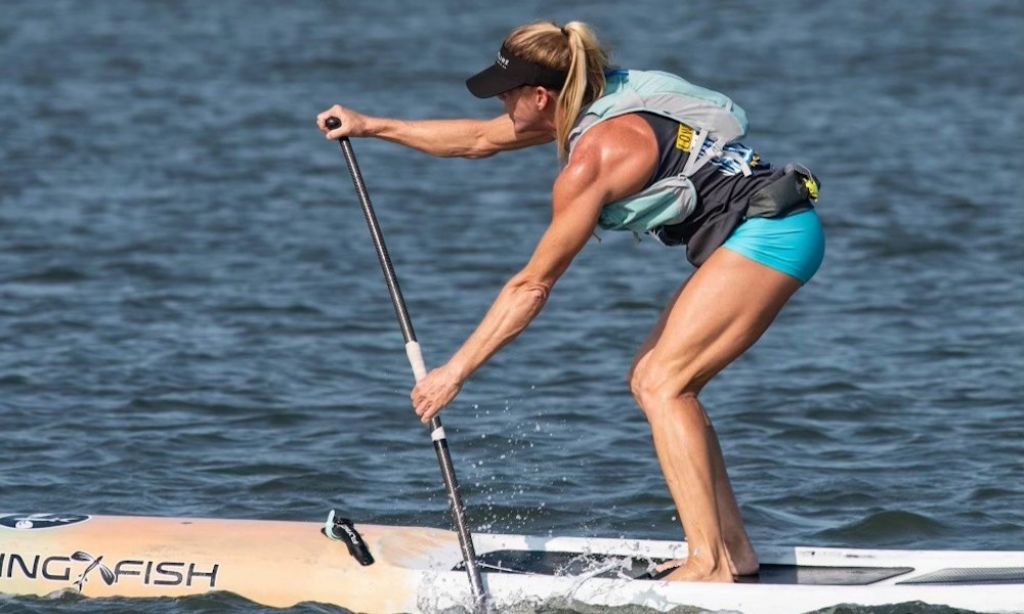 "I really do focus on trying to be the best I can be, for me." | Photo courtesy: Tom Fucigna Jr.
"I love this. It's challenging, and it sucks at the moment, but the feeling when I finish is awesome! Most have no idea of the logistics it takes for me to get on the water each time. However, I think that's why I treasure every minute I get to paddle."
– Kim Barnes, after a standup paddle board race on a particularly windy day
The life of a competitive standup paddler is not simple. It's hard enough to train and travel to events if you're young and independent, with some flexibility in your schedule. Change any of those factors and the complication quotient ramps up quickly. And yet, a few people defy the odds and DO it, competing, excelling, and sharing a smile along the way. Here's one of those uncommon stories.
Kim Barnes is a top-ranked competitor in distance standup paddling. She's also a 45-year-old full-time elementary school teacher, the wife of a boat captain who is frequently away running boats for weeks at a time, and the mother of two young children. So, how does she do it? How does she handle work, motherhood, and training/racing? First things first - Kim says "my kids are my number one priority, so making sure we have family time and that their needs are met is most important to me. As a family, we spend a lot of time doing things together on the weekends and during holidays. The daily life juggle isn't easy. Often, I am tired. My daily routine doesn't stop until I hit the pillow at night."
A typical day involves constant motion, starting early and ending late. Here's how Kim describes it. "I wake up early, get myself ready for work, get my kids up and ready for school, walk and feed our three dogs" (oh yeah, there are also three dogs) "and pack for paddling practice - clothes, board, paddle. I have my kids pack for their sports and we get everything loaded in the car. When my husband is away for work, I drive my son to the middle school and then head to work with my daughter, who goes to the elementary school where I teach." Tired yet? "After work, I pick up my son and bring him to his sports and then drop off my daughter at her sport. If my husband is in town, I'll go paddle. If he's not, I pick up both kids when they are done with their practices and head home. We walk and feed the dogs, and I start making dinner. After dinner, it's homework and then I go paddle. It's usually dark by the time I finish." It's that simple, but she doesn't always have to do it all alone. Kim feels "fortunate because I have a very supportive husband. He helps out with the sport pickups in the evenings, and he'll grocery shop and make dinner most nights when he is in town."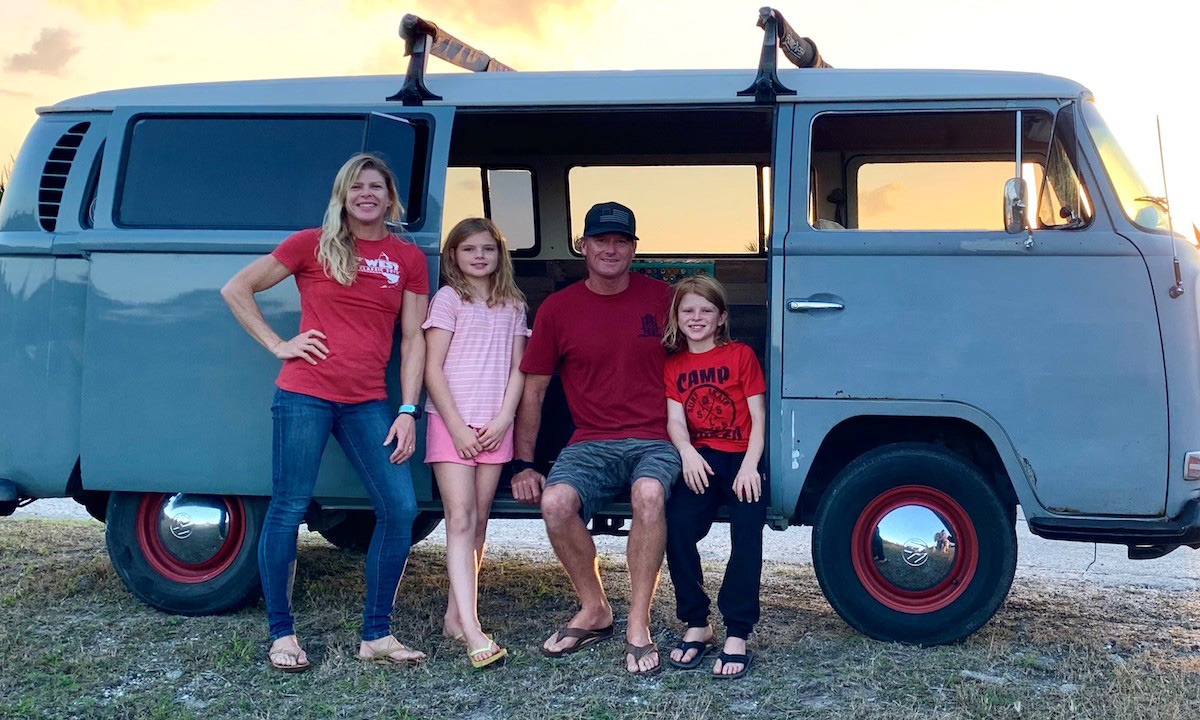 Kim and her family. | Photo courtesy: Tom Fucigna Jr.
She recognizes that it's difficult when her husband is away. "That's when I have a harder time being consistent with paddling, because all the work, household and kid responsibilities fall on my shoulders. I have to get creative with fitness and paddling. Some days, my practices are split up. For example, I may only have a half hour before picking up my son at school, so I go for a quick paddle. Then I'll get both my kids where they need to be and squeeze in a run. Managing my time is difficult, but I love the game of figuring it out. Honestly, I could use a 36-hour day. I could come up with a million excuses or reasons why I can't fit in fitness or paddling, but then I think about the time everyone else has to put into their training and I tell myself, No Excuses!"
Kim's schedule was interrupted in June of 2017, when she underwent back surgery. "My injury was not going to get better on its own. I was losing motor function in my right leg, and I stopped doing most activities other than paddling. I got to the point where I was struggling to walk properly because certain nerves were being compressed and were not firing as they should. So, I opted for surgery, which was a difficult decision but ended up being the best for me. Recovery was painful and I didn't paddle for about six months. Once I was given the OK to start moving again, I worked slowly, but methodically. I did not want to injure my 'new' back, so I did lots of stretching, with mild paddling, walking, and running. The interesting part was the loss of my core muscles, which I rebuilt through Pilates and yoga. Once I was not fearful of getting injured, I started working on my endurance. What I learned was that the older you are, the harder it is to regain your endurance. So, I started interval training to try to get my body to respond and, in time, all the parts came together. It took almost two years to get back to where I wanted to be in SUP racing."
Kim also appreciates support from people beyond her family, including two local race leagues hosted by Blueline Surf & Paddle Co. in Jupiter, Florida and Zeke's Surf, Skate & Paddle in Stuart, which "help to build the community and create fast paddlers" and "really helps with accountability when trying to stick to a training plan." She likes that "there is always someone to paddle with. I truly believe that this keeps people paddling and enjoying their time on the water. It helps to motivate me and keeps me striving to be the best paddler I can be."
She's "sponsored by two amazing companies and a local shop. Blueline Surf & Paddle Co. has supported me since I started paddle boarding eight years ago. I was nervous that they wouldn't want to sponsor me after I had surgery, but that was not the case. Adam (Whittington) and Matt (Arensman) said, 'You're like family and we will always support you, no matter what your racing status is.' That was very comforting. I am sponsored by Flying Fish Board Co. based in Stuart, Florida. Their sponsorship came right after my back surgery, just when they were starting to shape SUP racing boards. I told John (Meskauskas) I couldn't promise that I'd be back to the same race shape or ability, but he was more focused on having kind paddlers to represent his company than building a winning team. The way I treated others on and off the water was the part that he was most interested in. Lastly, but not least, Quickblade paddles has supported me from the beginning of my paddling career. I met Jimmy (Terrell) in Hood River, Oregon, when I was 38 and, even though I was a newer paddler, I guess he saw that I had potential. He has kept me up to date with the latest creations from Quickblade ever since. I feel like I represent a different demographic for racing and these sponsors see that. Having these three support me, through the highs and lows, really means a lot to me. I love that they all see someone worthy of representing them, and I really believe their gear is the best in SUP racing. The products of their research and design help keep me and many other racers fast on the water." It's not all about sponsorship though. When asked whether she'd still be doing this if she weren't sponsored, Kim replied "Absolutely!"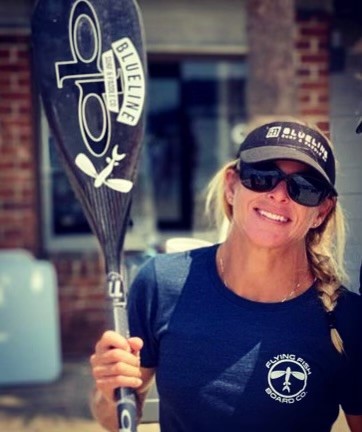 Like many paddlers, Kim entered SUP by crossing over from other sports. She was a gymnast in high school, then transitioned to springboard diving from high school through college, but the transition to SUP later in life was not automatic. "After college, I decided to start running, which was easier said than done, because the sports I did in my past were more dynamic and less endurance related. It took me months to be able to run for half an hour. Transitioning to SUP racing felt much the same. Trying to build endurance was more challenging than I thought it would be." Anybody who paddles with Kim now can attest that her approach seems to have worked.
Kim's training regimen is centered around time on the water. "I paddle three or four times a week, and I'll usually take a full day off during the week as a rest day. Days I'm not paddling, I run, do yoga and strengthening or go mountain biking." She's also a surfer, kiteboarder, wakeboarder, fledgling wing foiler, and – as any paddler should be first – a strong swimmer.
Sometimes, training includes her children. "When my kids were younger and my husband was out of town, I would always paddle with them on my board. Nowadays, they're too big, so they will be on the water themselves paddling or, if I'm practicing at the beach, they'll be on their own boards, surfing or just playing on the beach."
Kim says she likes to compete, "but I wouldn't consider myself a competitive person, because I'm usually just competing with myself. I feel like I'm in a league of my own because I am older, I'm a mom, and I work full time. Most of the ladies I paddle with do not have these other obligations. They are able to solely focus on paddling. I would love to travel the world racing (who wouldn't?), but I love getting to compete when and where I can and trying to hang with the best. It is really gratifying! Paddling is the best sport, in my opinion. When I'm training, it's all I think about, so I get a break from all my other responsibilities. It keeps me in shape and makes me feel good when I'm done. It is my 'ME TIME.' Taking time for yourself as a parent isn't always easy, but it is so important. I really do focus on trying to be the best I can be, for me. If I thought about what other racers are able to put into their training, I might count myself out before I even started paddling. What I have in my daily life is so meaningful, that I wouldn't trade it for anything."
Kim competed in seven races in 2021: the Treasure Coast Paddle Battle, and Key West Paddle Classic in Florida; the Bay Bridge Paddle Challenge in Maryland; the Olukai Low Country Boil in South Carolina; the Chattajack River Race in Tennessee; the Carolina Cup in North Carolina; and the Crossing for Cystic Fibrosis, from the Bahamas to Florida.
She says her toughest event of 2021 was the 13-mile Carolina Cup, because it was windy and cold. Kim says "I make sure I practice in all conditions, so that I'm ready for whatever Mother Nature throws at me, but the cold is my kryptonite. Also, the Carolina Cup was only two weeks after Chattajack, and I'm not sure I'd recovered enough before racing again that quickly."
Each event involves multi-layered logistics, and just getting to and from race locations can be half the battle, but Kim has found that "traveling to compete has become easier since I started racing with the Flying Fish team. We drive together, and get accommodations and meals together, which makes traveling fun and less expensive. I used to be a person who would do it all on my own, but now I realize how much better it is to reach out to other people and how welcoming everyone is."
Kim prepares mentally and physically for racing in varied locations and surroundings. The most important thing she does in advance of each event? "Visualizing - I mentally race the course over and over again, from the start to the finish." She also tailors her training regime. "In the weeks leading up to a race, I try to put myself in the conditions I'll be racing in."
After each event, she reflects on what she could have done differently. "I always try to think first about what I did well, and then I think about what I could have done differently. I take into account my training and how my body felt. I analyze the lines I took, my ability to perform a skill as needed (like a buoy turn or handling rough surf), how drafting helped or hindered me. What was my timing - when I went harder, could I have backed off? There are a thousand scenarios I play through for different outcomes."
There are some circumstances under which Kim recognizes that she has an advantage. "Longer distance races seem to be a strong format for me." Most of the events she raced this past year ranged from nine to 80 miles, with the longest solo race being the 32-mile Chattajack. The second longest was her winning performance as part of a two-person relay team with Steven Bernstein in the Crossing for Cystic Fibrosis (formerly the Crossing for a Cure), which is an 80-mile open ocean paddle from Bimini in the Bahamas to Lake Worth Beach in Florida.
The Crossing course starts with a beach launch from Bimini at midnight, to allow paddlers sufficient daylight hours to arrive in Florida before sunset. Kim described the challenging conditions that caused many paddlers to drop out or complete most of the 2021 Crossing aboard their support boats. "We had four-to-seven-foot cross seas. There were times when you were looking down at the boat because you were on the crest of a wave and the boat was in a trough, and at times the seas were traveling faster than the boat. We both used the same board and traded off paddling every 30 minutes. In between paddling, we'd hydrate and try to eat something. Staying warm was key and stretching often to keep loose was important. We trained in the ocean and paddled in all conditions - wind, rough seas, rain, and in the dark - because we didn't know what it would be like on race night. We focused on paddling more often, with less distance, rather than doing a day or two of long-distance paddling." Their training paid off with a first-place finish, and they arrived at the Lake Worth Beach pier in just over 11 hours, far ahead of the rest of the field. This was Kim's second Crossing – she previously paddled in 2019 as part of the first-place, four-person Team Flying Fish relay.
Kim's advice to anyone who is thinking about doing their first race or event is to "Go for it! Challenge yourself. Try not to worry about being the best. Push yourself to be the best you can be on that day. It will help fuel your practices and keep you motivated, even when you are paddling solo, or the weather isn't so great."
She encourages newcomers to embrace the paddling scene. "SUP racing has opened my world up to really amazing people. The community of paddling, no matter what craft, has been super welcoming. I now have a family of likeminded people who I never would have, if it weren't for paddling."
"I hope that I can set an example for the working middle-aged moms out there. Find something you love to do and do it! Yes, your husband and your kids are most important, and work is another priority, but you only have one life and, without making the time for yourself, you are missing out. Even if you aren't a SUP racer, go out and paddle, go for a run or a bike ride, or take a yoga class. You'll be much happier if you do, and everyone will benefit from you taking the time for yourself."
Back to paddling on that particularly windy day, where we started this story: Kim shares the simple philosophy that drives her: "I enjoy the paddle; I enjoy the journey of each stroke. I enjoy checking in with my mind and body while logging in miles. It's cathartic!"
Last modified onFriday, 15 April 2022 12:53
Email

This email address is being protected from spambots. You need JavaScript enabled to view it.