Jimbo Meador And The Evolution Of A Fishing SUP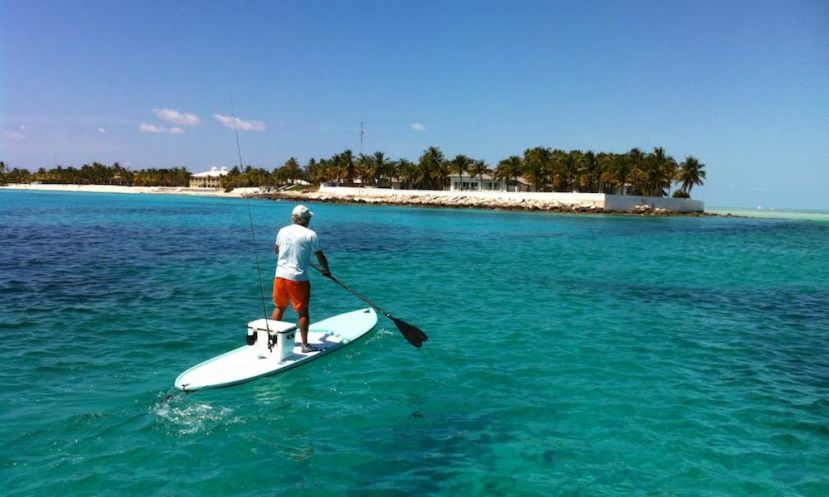 Jimbo Meader has spent all of his 72 years on or near the water.
"I grew up living by the tides, the moon, the wind and the weather.
My goal has always been to spend as much time as possible exploring new ideas
and discovering new ways to have fun on the water and make a living doing it."
"Bayou philosopher" Jimbo Meador is a fascinating, multifaceted character whose experience in the realms of watercraft and outdoor life runs deep. An incessant innovator who has spent all of his 72 years on or near the water, he has been involved in designing, building and field testing numerous vessels and accessories, evolving most recently into the standup paddle board scene. This interview provided an opportunity to gain some insights into the background and motivations that contributed to designing his ultimate fishing board.
Where are you from, and how did your young life shape the rest of your story?
I have lived on Mobile Bay, in Alabama, all of my life. I grew up living by the tides, the moon, the wind and the weather.
I had an old cypress cross-planked rowing skiff when I was young, and I rowed, poled or paddled everywhere I went. My days were filled with fishing, throwing a cast net, shrimping and crabbing, and the nights were spent gigging flounder, catching shrimp or looking for a Jubilee. The first thing I designed myself, as a child, was a wooden paddle pole that had a long narrow paddle blade on one end. I could stand up and pole in the shallows and then paddle across deep spots on the flats while still standing. The blade could also be used for steering when you were poling.
I eventually became the proud owner of a four horsepower Champion outboard motor, which increased my geographical radius and opened up new explorations. My goal has always been to spend as much time as possible exploring new ideas and discovering new ways to have fun on the water and make a living doing it.
I was a fishing guide and commercial fisherman when I was 12 years old. Since then, I have run tugboats on the Mississippi River and shrimp boats in the Gulf of Mexico, and I was a ship's superintendent for a stevedore company. I worked for many years for the Orvis Company covering the whole Gulf Coast as a Regional Business Manager, which allowed me to fish the entire Gulf Coast plus many other waters around the world. I was also a dealer for rowing shells, and I have worked for three shallow-water fishing boat companies - Maverick/Hewes, Hells Bay and, presently, Dragonfly Boatworks.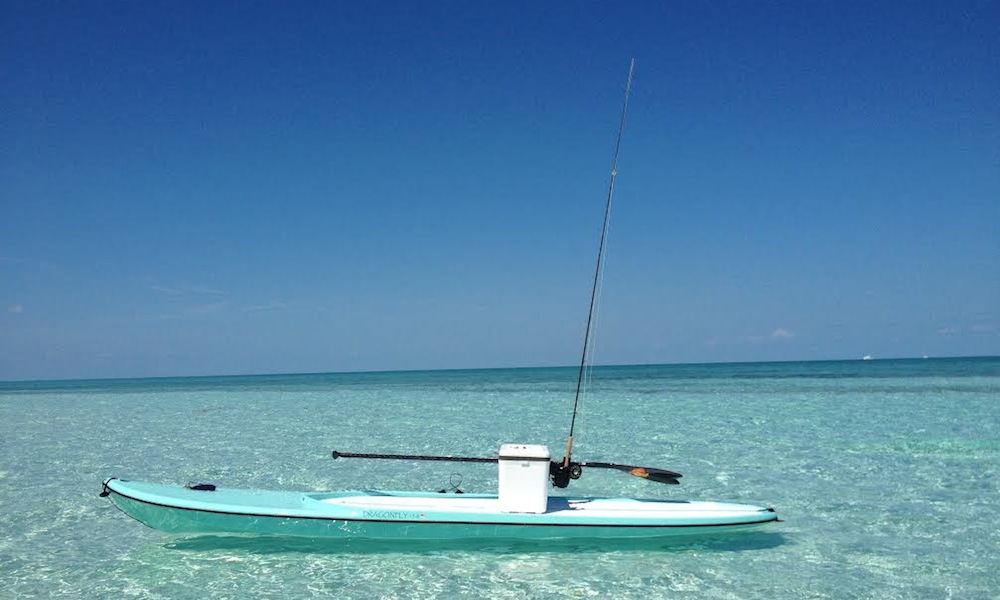 Jimbo helped to design the Dragonfly 13'6".
What led you to design and build standup paddle boards?
I started out thinking of them mainly as a fishing tool, but I just love all the aspects of standup paddle boarding. I have always preferred to stand up while fishing, even when running a power boat. I feel that if you are sitting down in any kind of craft you are missing a whole other world that you would be able to see if you were standing. You need to be able to read the water.
I was one of the founders of Native Watercraft Kayaks, one of the first companies to design a kayak specifically for standup sight fishing. The Ultimate 12, which we introduced at the Outdoor Retailer Show in 2006, was born to stand up in and was perfect for sight fishing on the shallow flats. It had a clean deck with nothing to catch your fly line and it was quiet, with no wave slap to spook fish. I designed a composite paddle pole, similar to the wooden one I had used as a child, in three pieces so you could stow it when not in use. It had a threaded stake out point that I could replace with a screw-in flounder gig or frog gig. Poling is a lot more efficient than paddling when fishing shallow water. I had a ring in my anchor trolley system so, when I spotted a fish or a fishy looking area, I could stick the point of my poling paddle through the ring and stake out in position to cast.
I had also wanted to design a standup fishing paddle board when I was with Native Watercraft. I started out standup paddling and fishing from one of my old windsurfers and I found it to be not only a good fishing platform, but also a lot of fun and great exercise. One of the problems with the windsurfer board was that it made too much noise on the shallow flats, which spooked the fish. There were some standup paddle boards on the market then, but they were all shaped like big surfboards with flat surface bows and a lot of rocker, so they made a lot of noise if there was even just a ripple on the water.
I had tried, to no avail, to get various custom surfboard shapers to build me a standup fishing board, so I got with my longtime friend Mark Castlow to work on building a plug. Mark was a pioneer in the flats fishing skiff world and an old surfboard shaper. He also came from the fishing industry and understood what I was trying to do. We designed a displacement type hull with a sharp, very quiet entry, and a recessed deck similar to a very shallow dugout canoe, to lower your center of gravity and make it more stable.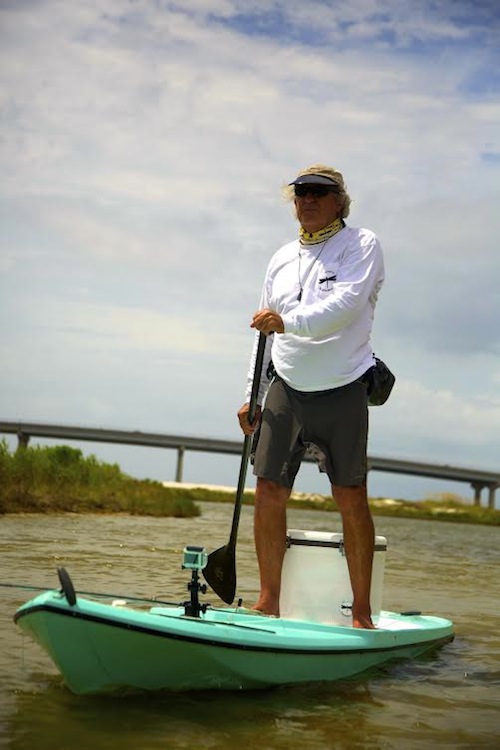 I have always enjoyed studying the water crafts and methods the Native Americans used for fishing, and I'd fished out of canoes by standing up and poling in shallow water. Florida's Seminoles stood up in their dugout canoes to pole and paddle. My grandfather Osceola was named after the famous Seminole tribal leader, so it seemed appropriate to name the SUP after him, and we called it the Osceola. We at Native Watercraft introduced the 12-foot Osceola board at the Outdoor Retailer Show in 2008. It was well received but it was the only thing we were building with composite materials, so it was a lot more expensive to build and we discontinued it. I saw the standup paddle board market as a new frontier and wanted to be part of it. I especially wanted to design and build a standup paddle board for fishing. At that time most of the boards were designed for surfing with a few for touring and racing but none specifically for fishing, so I left Legacy Paddle Sports and Native Watercraft to pursue another dream in the standup paddling world.
I have been working with Mark Castlow at Dragonfly Boatworks in Vero Beach, Florida, since 2010 building high end, custom-built fishing skiffs and standup paddle boards. We designed the Dragonfly 13'6" as a fishing board, with a displacement type hull, a sharp, very quiet entry, and enough waterline and volume to support a lot of weight and gear. The most important component of our system is the board itself, but there are certain issues you have to address to make a board even more fishable. We built a rail around the cockpit to contain your fly line and keep it from blowing or washing overboard. It also keeps the deck dry and gives you a secure place to stand. A big issue is what to do with your paddle when you need to cast. I had designed a paddle clip for kayaks when I was with Native Watercraft, which we modified to fit on a belt, so you can pop your paddle handle in the clip, leaving your hands free to fish. We also use the original paddle clip mounted on a cooler or on the board itself. The next issue is anchoring. We designed an internal anchor system which runs through conduit inside the board to both the bow and stern, so you can have an anchor at each end. This leaves the deck uncluttered, with no lines to snag fishing gear. We can build places for stake out poles but we found that the double anchor system works better because the board will not rotate out of position with the wind or current. We also have a unique way of attaching a cooler seat to the board that leaves a clean deck for fishing. We designed a shallow water fin for getting into extremely shallow water while stalking fish, and we even installed underwater lighting for night excursions and flounder gigging. Our boards are all custom built right in Vero Beach, so we can design and build whatever the customer desires.
After years of testing, we feel like the Dragonfly 13.6 rigged out with all of the accessories is the perfect standup fishing paddle board and, without the fishing add-ons, it is a great excursion paddling board which can easily carry plenty of camping gear and supplies. Some of our customers even use their boards to hunt ducks.
Are you always thinking about the next design tweak?
The more time you spend on the water fishing and paddling the more you learn, and I am always dreaming of a better or different way to catch a fish and to have more fun on the water. One of our main objectives now is designing accessories that will help you achieve those goals.
Most recently, we have designed racks on our fishing skiffs, and for other boats, to carry paddle boards to remote fishing areas. The mini-mothership concept increases your ability to transport paddle boards to areas far beyond typical paddling range. This allows you to spend more time fishing and paddling in cool new areas that are more remote and interesting. To me, the most exciting feature of a standup paddle board is its ability to go where most other watercraft cannot, so it opens up a whole new frontier. You can get away from the crowds and explore un-fished waters, which are getting harder and harder to find.
How do the various Dragonfly models differ?
We designed the 13.6 first as a fishing board with a large amount of volume and more water line to support larger people with coolers and a lot of other gear. We had a lot of requests from women and smaller people for a lighter and more manageable to handle board, so we started producing the 10 foot Dragonfly Board, and it has been very successful.
We also build an 11.6 Dragonfly board that has more of a traditional surf board design. It is also lighter and very stable as an exercise, touring and general purpose board. This is a great board for people who want to practice yoga on a board.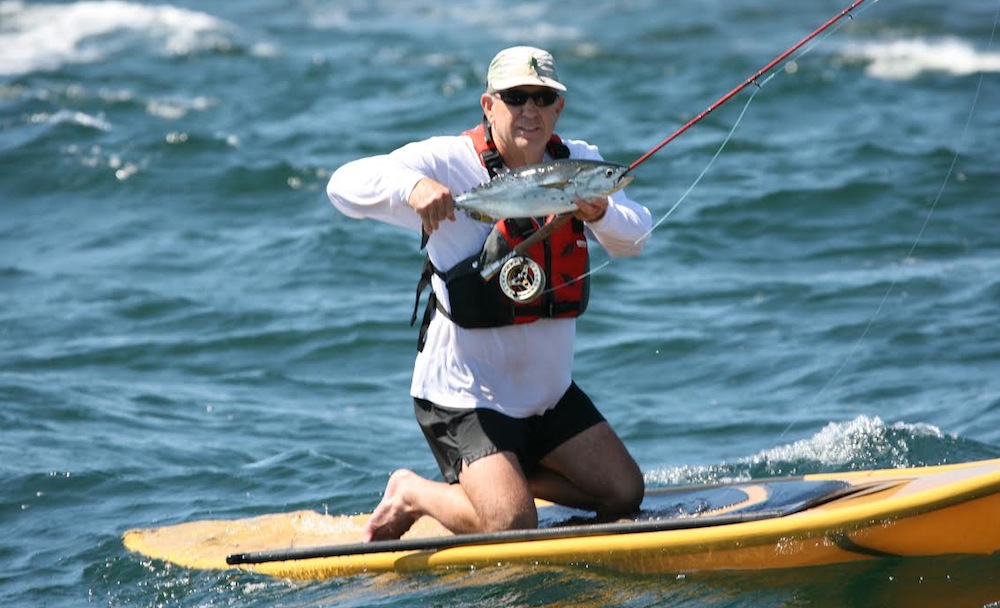 Jimbo's favorite type of fishing is from a fly rod.
What do you like about paddling and fishing from a SUP?
I have rowed, sculled, paddled, pedaled, poled and sailed a wide variety of non-motorized watercraft in my life and I think standup paddling is the best full core exercise of them all. They are also an extremely effective method of fishing and exploring new territory.
My favorite type of fishing is sight fishing with a fly rod - you see the fish, or at times a school of fish, and try to present your fly or lure in such a way to entice them to eat it. The real pleasure comes when you see the fish take your fly. I have caught a variety of big fish from paddle boards fishing offshore and it does add a new dimension, but nothing beats stalking redfish or bonefish in skinny water from a paddle board with a fly rod.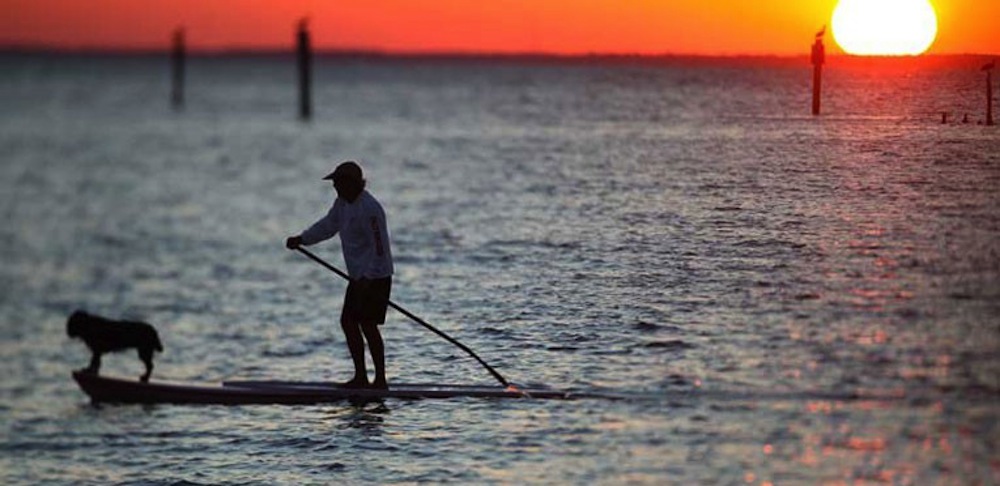 Look out for more designs from Jimbo in the near future.
What are you looking forward to doing next?
Mark and I are both working on a lot of new design ideas. We acquired the original molds for the 12 foot Osceola from Native Watercraft and have reintroduced her with some new changes. The truth is, we are both dreamers and the greatest satisfaction in life is seeing your dreams come true.
Last modified onTuesday, 12 May 2015 14:43
Email

This email address is being protected from spambots. You need JavaScript enabled to view it.