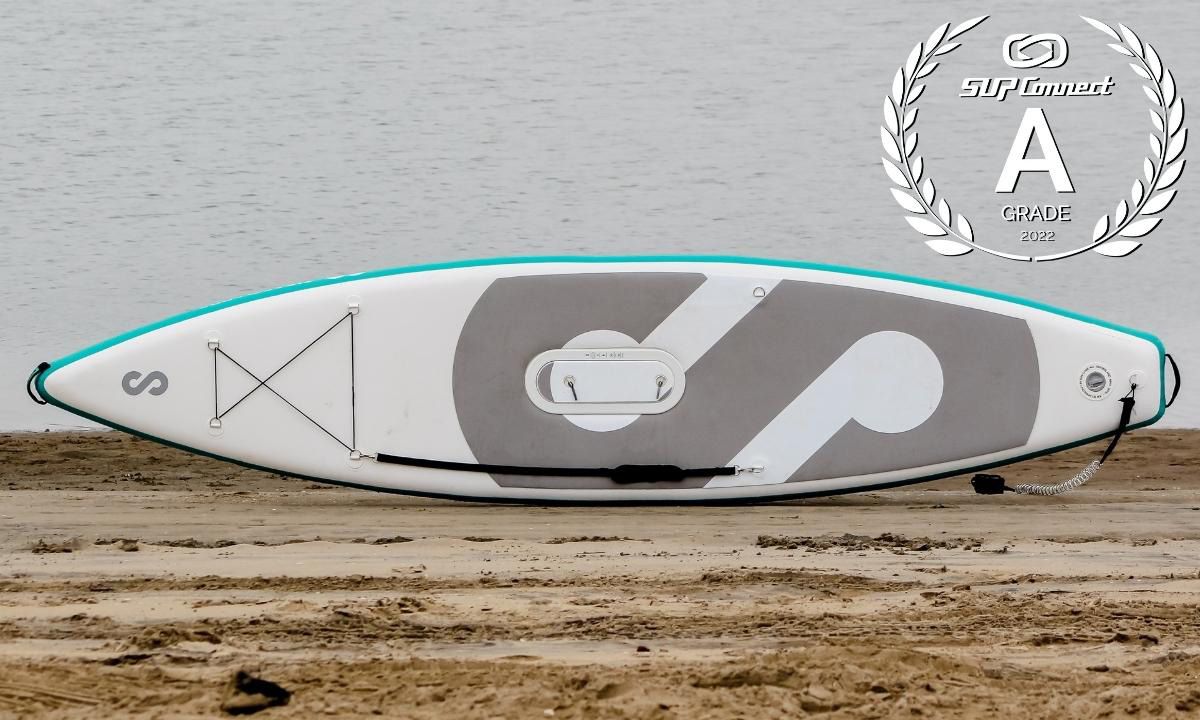 A
Only best products in a given category receive "A" grade.
Category: Hybrid
Overview:
Paddle Board Highlights
Who is it for?
If you're looking for an inflatable paddleboard that is like no other then you're going to want to take a deeper look at the SIPA Drive Tourer. This board sits in the high-tier price point, but for good reason: it's an electric paddle board that can take you up to 5 mph without much effort. The shape of the board, as the name suggests, is best suited for touring paddling and because of the included motor it can travel long distances. Also, because of the motor, the board is a bit heavier than standard inflatables weighing over 34lbs so if you're looking for something more lightweight, you'll definitely want to consider another option. Keep in mind though, you're looking at a SUP with an electric motor here so this board is quite unique. Because of the complexity of this board, it's better suited towards those who are a bit more familiar with paddle boards and being on the water as it does require a good amount of stability and balance when the jetpack is on.
First Impressions
The SIPA Drive Tourer was definitely a shock when opening up the box. There was a lot of stuff that came with this board from the Bluetooth wireless paddle mount remote, battery pack for the SipaDrive and charging cable, deluxe carrying backpack, board carrying strap, front and rear carry handles, 10' coiled safety leash, fully integrated jet engine and built-in compressor known as the SipaDrive®. But, with all those bells and whistles, it definitely took a bit of time to set up; we recommend watching the step-by-step tutorial that SIPA provides on their YouTube channel… it would've taken us 10 mins instead of 30 mins. But after the initial setup it should only take about 10 mins or less to get ready each time. There are several steps you need to take in order to make your paddle session on this one-of-a-kind board the best it can be, like making sure that you put the compressor/jet engine onto the board first before inflating it. We did it the opposite way (we inflated the board first and then tried putting the engine in the middle) and we realized you couldn't put the engine in it. The second time was a charm! It seemed to take a while to inflate which (some people) could get annoyed with that but once it was inflated it was pretty rock solid. The overall package—WOW—so much thought went behind it when it came to the design of this board to incorporate the electric jet pack and other add on's so kudos to the product design team there. The paddle that was also included to us was their 3-piece carbon paddle which was very light and good quality. Note though: this doesn't come included in the package and does need to be purchased separately. The only thing that was a slight turn off about the board was how basic the graphics were. It was an all-white board and had a hint of teal on the rails and just gray logos throughout and it would've been nice to see a bit more pizazz there since the board is so unique. But, that's just aesthetic and has nothing to do with performance. Speaking of performance, the board was quite difficult to carry in and out of the water since it was so heavy but that's to be expected here since it's not your average inflatable SUP. It did come with a shoulder strap to help with carrying but it didn't help much so if you have an extra set of hands to help carry the board definitely use them. Once getting up on the board without the jetpack on, it was heavy and moved slowly, again, as expected due to the weight. But the minute the jetpack turned on… we went FAST and were ready to glide freely through the water. It was SO FUN! Another unique element to this board is that there's an app that you can download as well that is free. Just make sure you charge the jetpack before you take it out. Out of the box, it comes partially charged so you definitely want this board charged before taking it out so you don't risk being too far away from your launch point and having to manually paddle the heavy board back without the assist. Overall, the thoughtfulness and uniqueness of the board are unlike anything we have tested before. It is on the highest tier of pricing at $2,510.11 (USD), but it comes with just about everything you would need (minus the paddle) to get this board ready to go out on the water, adds a whole new layer of fun with paddleboards: a package we have never seen before… which is why we're giving it the Supconnect A-grade.
Benefits
Paddle Boards fall into two broad categories, All-Around and Specialty boards, with all-around designed primarily for recreation while speciality boards for top performance in specific disciplines

Durability is largely a result of the board construction and shape, with more durable boards typically carrying more materials (added layers, PVC, etc) and as such adding to the weight.

Carrying ease is determined by board weight and handle type, where a board weighing under 20lbs with a Liftsup handle is extremely easy to carry while a 35+lbs board quite difficult.

Stability is a product of construction and shape, where boards w/ 30"+ wide and 200+ liters in volume offer plenty of stability for your AVG adult while a board under 26" wide is a challenge.

Glide is a result of board shape and construction, w/ boards weighing under 30lbs and designed for racing offering best glide while recreational boards normally being on the slow side
Learn more on the SIPA Boards website.
Features
Dimensions

12' x 32.4" x 6"

Industry standard in board dimensions reads: L (length, from nose to tail) x W (width, from rail to rail at midpoint length), and H (height, from top to bottom of board at midpoint length).

Standup paddle boards tend to fall into 4 different weight classes: extremely lightweight (under 20 lbs), lightweight (20-28 lbs), average weight (28-35 lbs), heavy (above 35 lbs).

Volume is a key metric to determine how much weight a board can carry. Boards w/ 200+ liters offer most floatation with boards under 150 liters typically for high-performance surf

Capacity is the max cargo weight a stand up paddle board can carry, considering not only the paddler's weight but whatever else the paddler may choose to carry alongside him/her.

Add On's

Bungee Nose, D Ring, Paddle Included, Leash Included, FCS deck plug, Shoulder Strap, Handle on nose, Handle on tail, Jet engine and built-in compressor, Mobile app, Battery pack, Bluetooth wireless paddle mount remote.

Add-on's include bungee cords, a minimalist way to haul things; Connexsup, which allows for all sorts of attachments, even fishing rods; and FCS II/Connect, for easy fin instal.

Handles directly affect carrying ease, with external grip handles (Liftsup & EZgrab) offering most comfort, Internal Ergo Grip the mid-tier comfort, and box handles as least comfortable.

Fishing rod holders and/or paddle holders can make paddling that much more pleasant, esp. when needing holders for the rod or having a safe place for the paddle during yoga.
Sizes Available
| Length | Width | Thickness | Volume |
| --- | --- | --- | --- |
| | | | |
| --- | --- | --- | --- |
| 12 Feet 0 Inches | 32.2 Inches | 6 Inches | 320 L |
Similar Products
For more detailed reviews and to look at similar models, visit Supconnect.com. If you like this review, give us the thumbs up. Don't forget to leave your thoughts in the comments. And make sure to subscribe to our newsletter so you never miss the latest news and reviews from Supconnect.
Last modified onFriday, 15 July 2022 13:34