Supconnect Shares Q&A on Ultimate SUP Showdown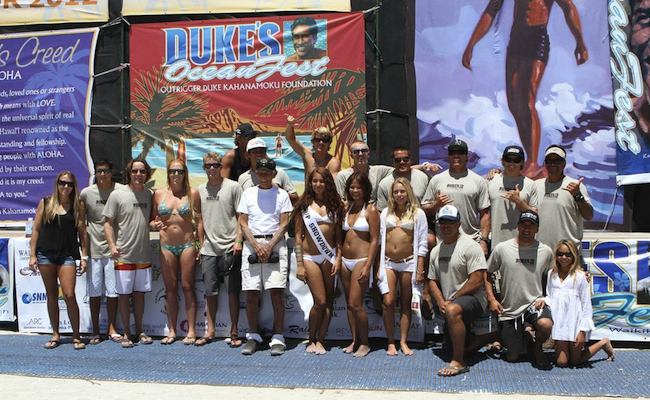 An all star group of stand up paddle surfers and racers were invited to particiapte in the inaugural Ultimate SUP Showdown.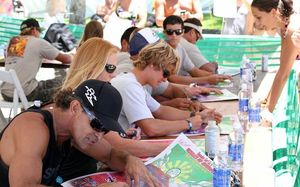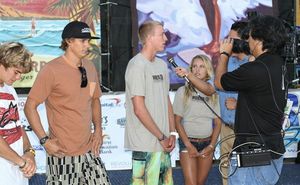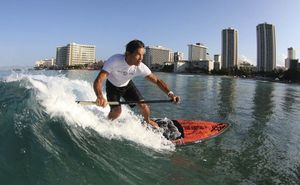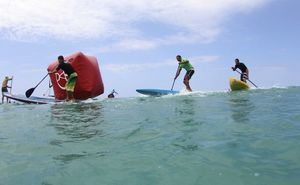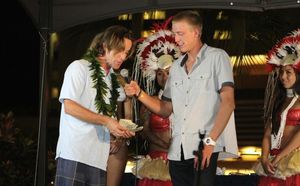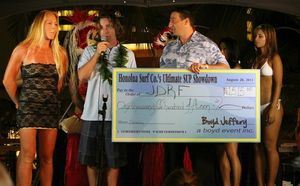 WAIKIKI, Hawaii - Recently Supconnect was personally introduced to the man behind a new Super SUP Event called the Ultimate SUP Showdown. It took place on Waikiki August 20th, 2013 as part of the Duke's Ocean Festival.
His name is Boyd Jeffery and he not only has some new vision for the stand up paddle competition scene, but has already made much of it a reality. Enjoy reading the Questions and Answers below and discover some bright and exciting ideas that all stand up paddle racers and surfers will want to know about!
1. How did you come up with the idea for the Ultimate SUP Showdown?
Answer: Crazy story how I got into SUP! Moved to Maui in March of last year and got the stoke of SUP. Went to buy a board on Craigslist. Met the guy selling a few used Starboards, noticed a kid surfing in posters and magazines around his house, same kid! It was Connor Baxter and we just hit it off. I asked if he had time to teach me a few things about SUP and he agreed. The rest is history. We met up a few times a week and I would always tell him that I was interested in doing something in SUP but did not know what. We were having lunch after a downwinder at Da Kitchen in Maui and we talked about contests. Realized there were none in Maui, decided to put one together. The idea just steamrolled and Connor introduced me to all the PRO athletes and the Ultimate SUP Showdown was born! Jamie Mitchell and Chuck Patterson were also very instrumental in giving me direction and sharing their contacts and knowledge with me. It seems the whole SUP community opened their arms with Aloha and was waiting for me to come along. Quite honestly, I put together one of the biggest lineups in history and each athlete supported me 100%. That is the reason the Showdown became a reality.
2. Why did you decide to use a 3 part racing format for the Ultimate SUP Showdown which first had a surf contest followed by a sprint race and then finished with a race through the surf as the final "showdown"? Did it work?
Answer: I saw there was a Surf SUP Tour and a Race SUP Tour and in my opinion, each one did not have much exposure or momentum behind them. Since the sport is so new, from a business stand point it seemed logical to combine the two and then make a 3rd fan friendly 'qualifier' contest that rewarded the top surfers and top racers from the competition. We played around with many different ideas but one night I just kept waking up every 10 minutes (driving my wife crazy) and saw an obstacle course in the surf break with large waves. A racer will need to maneuver around the buoys with surfer skills dealing with the surf while a surfer will need to paddle hard demonstarting his racer skills while navigating the course. THE SHOWDOWN! It worked great at Dukes but the waves could have been bigger. My true vision and concept does involve much larger waves but the course and combination of surfing and racing was a HUGE SUCCESS!
3. Why did you choose this to be a "by invitation only" event? Will there be room for others or an open class in the future?
Answer: Participating at Dukes OceanFest had its pros and cons. Obviously to be associated with the great Duke Kahanamoku was an honor and to be part of his celebration was surreal. However, I only had 1 day and therefore had to make tough decisions as we had limited time to put on a full surf competition and a full race competition and then wind it up with a Showdown finale. Therefore we could only accommodate 32 athletes and since it was a launch and trial of a new concept, we need the best of the best and that is what we got.
4. When it came to paying the athletes their prize money, you took a new approach. What was it and how did everyone react?
Answer: Unfortunately I have heard many stories of other promoters and their inability to pay their athletes after they win. As a father of a 6 year old boy, I know that when he grows older and if he ever chose to enter any sort of competition and won, but did not get paid, I would have serious issues with that. Therefore, the entire $15,000 in prize money for my event was paid at the awards ceremony with $100 dollar bills! Athletes loved it. I enjoyed seeing them love it! All my events are for the athlete, and each athlete has a voice in the direction of the Ultimate SUP Showdown. Without the athletes, there is no event. I think it best to keep them happy, show them respect and treat them how I would expect to be treated. A pretty simple philosophy to me.
5. Is there a cause or special focus that the Ultimate SUP Showdown supports?
Answer: I have had type 1 diabetes since the age of 10. I have had serious complications from my diabetes and have experimented with many different treatments. I began with 1 needle a day, ended up taking 8 needles a day, and since then have used many different pumps and now have a new wireless, waterproof pump that I can surf, swim and do basically any sport with. I want to bring this new technology to the kids of the islands. I feel they must be nervous to participate in sports activities and are worried about fitting in during their teenage years and therefore by being somewhat of an example to them, I can show them you can have a normal life, surf and not look like a 'medical patient'with tubes dangling from your body. We had a live auction at my event from donated items and 100% of the proceeds went towards Juvenile Diabetes Research Foundation Hawaii and we raised over $2865!! Candice Appleby and Jamie Mitchell even donated their entire winnings to the Juvenile Diabetes Research Foundation. Total class acts! All my future events will benefit this cause.
6. What else did you do to really make the Ultimate SUP Showdown a unique event?
Answer: The Ultimate SUP Showdown is unique in every way. I will try new ways to promote and get more interest and money into the sport and I think the athletes and the people watching this great sport will agree. Already our first event had a hugely popular autograph signing of a faux movie posters based on the event where over 300 posters were signed!! 20 of the 32 athletes enjoyed themselves and it gave them a great chance to interact with people interested in the sport. After the event, we had a red carpet after party with a velvet rope, interviews as you enter on the red carpet by legendary waterman athletes Buzzy Kerbox and Dave Kalama and then posed for the 'paparazzi' with 2 hula and Hawaiian bikini girls. The athletes loved it! After that they enjoyed steak, island ribs, fresh fish and then were given awards for different contributions and cash prizes! Does it get better than that?
7. Do you feel that your first inaugural event was a success?
Answer: 7. Why don't I share some of the quotes from the 37 letters of recommendation I received within days of the competition as I try to get permits for 2014 in Oahu, the Big Island and Maui:
Dave Kalama, "His commitment to his word is inspiring. Boyd had got the support of myself, and all the people I respect in this industry, and that's because he does things the right way."

Jamie Mitchell, "I have been doing paddle races for over 25 years and all over the world. This event was run as good as any I gave been involved in. From media coverage, to athlete's having board storage and hotels, to being paid on time, everything was very professional and I know all the athletes were very happy to be involved and will support more of Boyd's events. It's a refreshing change to have someone whose no.1 priority is the athletes."

Faith T. Wenzl, Event Director for ASP-HAWAII, "Impressive lineup of invited individuals. Best awards presentation I've seen in many years."

Zane Schweitzer. "Boyd has earned the athletes respect and in Hawaii, respect is everything."

Jennifer J. Lee, "The Ultimate SUP Showdown was the most organized and well run event I have participated in as an athlete. Boyd also did an excellent job of delivering on every single promise he made. The only thing I can compare the feel of this event and the atmosphere it created was like that of the ASP Pipe Masters."

Leleo Kinimaka, "This event was run very efficiently and professionally. I believe Boyd has good intention in promoting and preserving the sport of Kings."

Chuck Patterson, "I have been competing in SUP race/surf events since 2006 and its refreshing to see a new concept like the Ultimate SUP Showdown bring back that SUP stoke we all had back in the day. It was so great to see so many top level athletes pushing each other and having a blast. I look forward to many more in the future."
8. What is the future vision for the Ultimate SUP Showdown, what comes next?
Answer: These quotes are why I will be unveiling the Ultimate SUP Showdown Hawaiian Islands Tour for 2014 very shortly!!!!!
To stay in touch with the Ultimate SUP Showdown, click here: Ultimate SUP Showdown Facebook Page
After reading about this, are you excited for the next Ultimate SUP Showdown?
.
Last modified onMonday, 09 September 2013 14:07
Email

This email address is being protected from spambots. You need JavaScript enabled to view it.