Paddle for Pudsey on the Isle of Wight
Check out the destination article on the Isle of Wight
ISLE OF WIGHT, UK – The Paddle for Pudsey fundraising event was held November 18th on the Isle of Wight and local stand up paddlers tested their will against an angry sea all in the name of charity. So what exactly is a Pudsey? Good question. Pudsey is a stuffed bear who represents the BBC Children in Need campaign.

Paddle for Pudsey sponsor and participant, SUPiow's Eric Lawson was on scene to record how everything went down. All photos have been provided by Lisa Brown and the complete set can be seen here.

Eric Lawson

Thanks very much to all the people who became involved in our Paddle for Pudsey fundraising paddle from Ventnor to Yaverland. It was a great success, raising over £2100 and the paddle itself was a real challenge and very rewarding.

After spending 100% of our energy getting out through the crazy swell, we set off towards Luccombe Chine. We had been primed by Aaran that this first stretch would be the most challenging given the predicted conditions. It sure was. Our group of 14 paddlers all had good experience on SUP boards. A few also work at WightWater Adventure Watersports with Aaran's brother and Richard is involved with the RLNI so we had a good range of experience on the water. With SUP being a very accessible sport, it is also very important to respect the ocean and know your capabilities.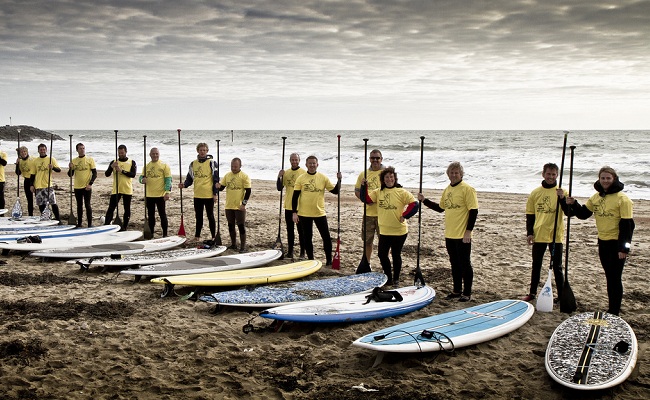 The swell, even 400-600 metres offshore, was huge, sometimes reaching 4-5 foot. The wind and these swells were coming side on to us, which sorts out those who have balance from those who don't. However, once we got into our rhythm, we got on with the hard slog to Luccombe. After about an hour we caught our first glimpse of Culver Cliffs, which was a welcome sight as it meant we could into Sandown Bay and get the wind directly at our backs and most us got to enjoy quite a few downwind glides on these waves that had been making trouble. Before long we were surfing waves into shore to meet the ground team in Shanklin.

Fairly soon we were back out on the water with the surf able waves at Small Hope beach firmly in the sites of the many keen surfers in the group. About half of the group continued with the paddle without being seduced by the surf.

This is the point at which the the 7 mile paddle got interesting. It is approximately 3.25 miles from Ventnor Harbour to the slipway near the Steamer Inn on Shanklin Esplanade. That is following the course we took, at a distance of about 400 meters from shore.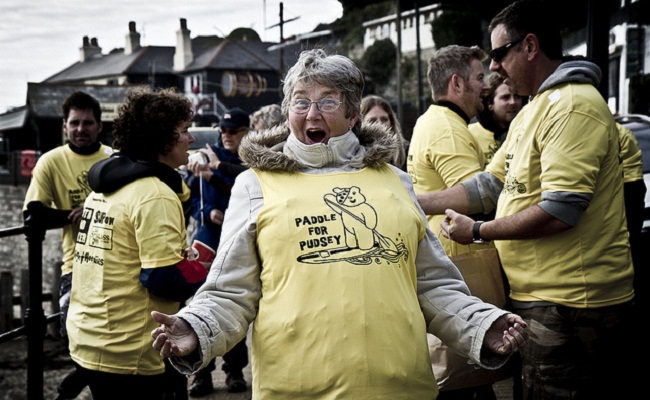 The group that headed straight for Yaverland, only deviating to go around Sandown Pier, travelled a further 3.5 miles. I have done a little measuring using Google Earth and its ruler tool and I think the surfers will have put in up to a extra mile on the journey. This would be felt by many later.

As we continued past Sandown Pier, following the curve of the bay, we became side on to the swell again. So we finished the day as we started it. This ensured most of us took a few more swims before catching our last glide into the beach at Yaverland.

So there we have it, 14 paddlers and tons of support from islanders and afar. What we didn't expect was the crowd up in the car park applauding our efforts. It gave us the energy we need to get ourselves off the beach up to the cars.
.
Last modified onWednesday, 23 November 2011 16:22

After spending the first part of her life in Minnesota, Morgan traded in her snow boots for sandals and moved to sunny California. After graduating with a degree in Communication from The University of Southern California, she eventually made her way down south to San Diego and is taking advantage of the living by the best beaches and burritos California has to offer. If it's sunny, you can find her at the beach relaxing, or exploring the calm water in the bay via paddleboards and kayaks.
Email

This email address is being protected from spambots. You need JavaScript enabled to view it.