Paddle for Humanity & Carolina Cup SUP Results
Watermans Paddle for Humanity
The Watermans Paddle for Humanity and Carolina Cup both took place this weekend. ·Read on to see the results and watch some fun video.
Watermans Paddle For Humanity, Dana Point, CA
The 1st annual Watermans Paddle for Humanity event was held this weekend in Dana Point, California at Doheny Beach. There was a stellar turn out with many athletes coming in from as far away as Hawaii. Three events took place including the 5k paddle, the DOT or distance over time event and a signature Chuck Patterson "Rally" Course. Below you will find the top finishers and a summary of the results.
5k Overall Winners:1st Rob Rojas,2nd Jared Vargas,3rd Connor Bask; Special Mention:Ryan Maloney(age 13) & Dylan Delaney(age 12)
5K Women: 1st Allsion Riddle, 2nd Aimee Spector, 3rd Suzette Baurick5k Stock men: 1st Devon Louronz, 2nd Darrly Brown, 3rd Dylan Delanney
DOT race male winners: 1st Chuck Glynn, 2nd Jared Vargas, 3rdTerry Hagar
DOT race female winners: 1st Allison Riddle, 2nd Tracey Engelking, 3rd Mica Shaw
SUP Rally: 14ft:1st Connor Baxter, 2nd Fernando Stalla, 3rd Slater Trout, 4th Chance Fielder, 5th Tucker Ingalls
SUP Rally: 12'6":1st Brian Murphy, 2nd Keith, 3rd Tyson Poplar, 4th Karl Ring, 5th Noah
SUP Rally: Women: 1st Allison Riddle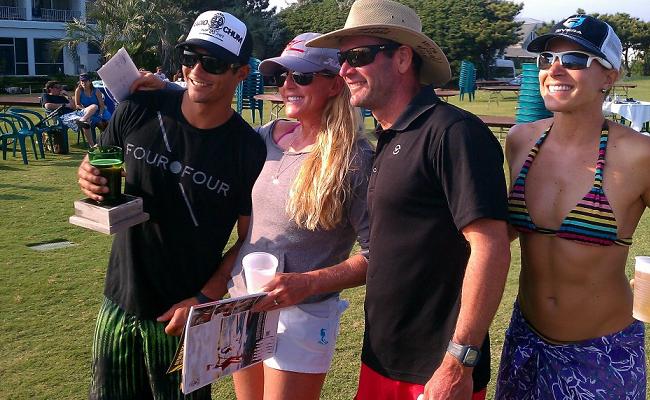 The Carolina Cup
The Carolina Cup, Wrightsville Beach, North Carolina
This was also the weekend of the Carolina Cup at Wrightsville Beach in North Carolina. There were also three main events that took place which were the 3.5 mile Harbor Island Race, The 6.5 mile Money Island Race and the 12.5 mile Elite Graveyard Race. It was a challenging day for many yet the smiles, fun and ohana were definitely present. Below you will find the top finishers and a summary of the elite "graveyard" race results.
Top Men finishers at the Carolina Cup: 1st Danny Ching, 2nd Chase Kosterlitz, 3rd Matt Becker, 4th Nicholas Leason, 5th Jim Terrell, 6th Larry Cain, 7th Matthew McDonald
Top Female finishers at the Carolina Cup: 1st Heather Baus, 2nd Brandi Baksic, 3rd Candice Appleby, 4th Helga Goebel, 5th Karen Wrenn, 6th Bailey Rosen, 7th Mary Anne Boyer Willis
See the full results from the Carolina Cup races here: Graveyard | Money Island | Harbor Island.
Watch more fun videos from all the events on the Supconnect home page.
Last modified onMonday, 30 April 2012 08:15
Email

This email address is being protected from spambots. You need JavaScript enabled to view it.