Larry Cain Wins at NC Surf to Sound Challenge
Canadian Gold Medalist, Larry Cain, takes his skills from sprint canoeing and applies them to stand up paddle. It's hard to argue with a gold medal, mostly because medals can't talk.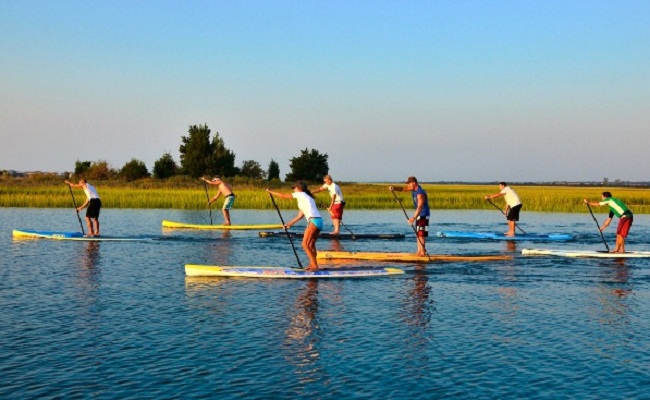 Paddlers dig in deep as they paddle the course of the NC Surf to Sound Challenge.
Check out videos from this weekend's events
WRIGHTSVILLE BEACH, North Carolina - Stand Up Paddleboard competitors from three nations, ten states and the District of Columbia, enjoyed sunny skies and temperatures in the 60's for the inaugural NC Surf to Sound Challenge. Shawn Spencer, Race Chairman, said: "Today's North Carolina Surf to Sound Challenge exceeded all expectations. Over 107 racers joined us today in this benefit FOR Masonboro Island."

However, Northeast winds were strong at 10-15 knots, and the surf was rough for the ocean start. Seas were three feet, increasing the challenge for the elite athletes. Elite paddlers navigated a 6.5 mile course, with a Le Mans style beach start, running to pick up their boards and splashing into the frequent and heavier than usual surf.

Once getting past the breaking surf, the elite athletes braved the open Atlantic Ocean, battled through Masonboro Inlet, and paddled the channel behind Masonboro and Wrightsville into a stiff wind before reaching the finish line.

Men's 14 ft category

Larry Cain, Burlington, Ontario, Canada, Time: 1hr 11min 09 sec
Doug Ellis, Virginia Beach, VA
Chris Hill, Holly Ridge, NC
James Bain, Wilmington, NC
William Miller, Manteo, NC

Women 12.6ft category

Kate Lewis, New Bern, NC, Time: 1hr 32min 44sec
April Zilg, Wilmington, NC
Kim Sutton, Wilmington, NC
Kimberly James, Wilmington, NC
Jenny Alderman, John's Island, SC

Elite Masters 50+

Tom Pace, Pensacola, FL Time: 1hr 24min 30sec
William Pope, Wilmington, NC
Guy Davis, Hampstead, NC
Clay Thornhill, Charleston, SC
Michael Metzger, Key Largo, FL

The North Carolina Surf to Sound Challenge was organized by the Wrightsville Beach Paddleboard Club and Blockade Runner Beach Resort. WBPC spokesman Haywood Newkirk said today: "We are really excited about being part of the season ending fall race here at Wrightsville Beach. Having the event at this location will allow us to have a more challenging ocean start for the Elite Race, while simultaneously holding an enjoyable flatwater race for the recreational paddlers that are so important for the growth of this sport."

William Pope, Director for the World Paddle Association said: "It has been amazing to watch how quickly the stand up paddleboard (SUP) sport has grown throughout the country, especially in the Wrightsville Beach area. Wrightsville offers so many different types of water and conditions it appeals to everyone. As the SUP community continues to grow around the world, Wrightsville Beach will be at the heart of that growth on the East Coast."
.
Last modified onSunday, 20 November 2011 21:44
Email

This email address is being protected from spambots. You need JavaScript enabled to view it.