FCS Paddle for the Gulf at Outdoor Expo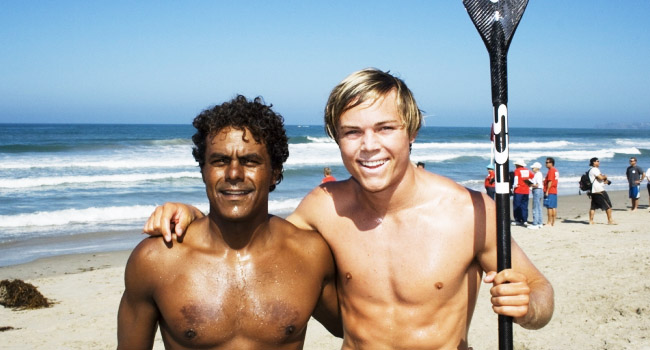 This paddle races are to benefit The Nature Conservancy's Gulf Coast wildlife rescue efforts. It will be a 200-yard sprint, and there will be a lot of FCS gear for prizes.

Fifteen-year-old elite waterman Slater Trout, originally from the Gulf Coast, will be racing all comers to help The Nature Conservancy save the wildlife from the destruction of the Gulf Coast disaster that has been going on for months.

Slater says, "I grew up learning to surf in the Gulf of Mexico and it was always full of wildlife, dolphins, rays, sharks, bait fish. Anything we can do to help the sea life of in the Gulf coast region is super important. Your continued support until the mess is contained is appreciated."

Grab a stand up paddle board, kayak, or canoe. If you can paddle it, you can race! The entry fee of $20 will benefit the Gulf Coast region, and for an extra twenty dollar donation, FCS will throw in a wet hat. There are three divisions beginner, intermediate and elite. For the beginner and intermediate division Slater will be sporting some hilarious handicaps. Sign-ups will be available at 9 AM the day of at the FCS booth. 100% of the proceeds go to The Nature Conservancy's wildlife relief efforts in the Gulf.

FCS stands for Fin Control Systems. Its core product was a removable fin system designed for high-performance surfboards. The company introduced this system to the world in the mid-90s. Since that introduction the system quickly gained popularity and became the world standard for removable fins in surfboards. The quest for innovation did not stop there at FCS. The company is known for innovative, high quality performance products that enhance performance and the all around surfing experience for everyone both in the water and on land. Then focus turned to SUP.

About six years ago, the guys here at FCS started stand up paddling as a way to stay in shape and get in the water when the waves were too small to go surfing. However, we have found that the sport can cater to whatever an athlete desires – social time with family and friends, solitude with nature, personal fitness and endurance, or competition.

There is no need for any surfing or paddling experience. FCS makes stand up paddling accessible to the whole family, in flat water it is so easy most people almost never fall in, unless they want to. In addition to getting the ultimate workout, stand up paddling gets you out in the sunshine exploring your favorite lake or river.

A board, a paddle, and a body of water are the only ingredients needed to satisfy an athlete's expectations. FCS provides all the other tools that will improve performance and make the experience a little easier and sweeter.

The growth of the stand up paddle or SUP market has been well documented this past year. FCS has been working for several years to develop a complete line of accessories for SUP some that cross over to every type of paddle sport. The products focus on the paddler's needs both in and out of the water.

We are excited to share the sport of standup paddling with our retail partners. We know that helping them educate their customers is key to growing their business and customer loyalty.

Our SUP products include:
Fins
Grip
Boardbags
Leashes
Soft roof racks and tailgate pads
Wet hats
Wet shirts
Wet bags
Change mats
Luggage
…and a host of other exciting ideas.
Last modified onWednesday, 19 February 2014 17:19
Email

This email address is being protected from spambots. You need JavaScript enabled to view it.