Boardworks Names Tavares as Southeast Sales Rep
Michael Tavares brings a strong background in whitewater kayaking that he has seamlessly translated into some serious SUP skills. He joins a robust and knowledgeable Boardworks sales team.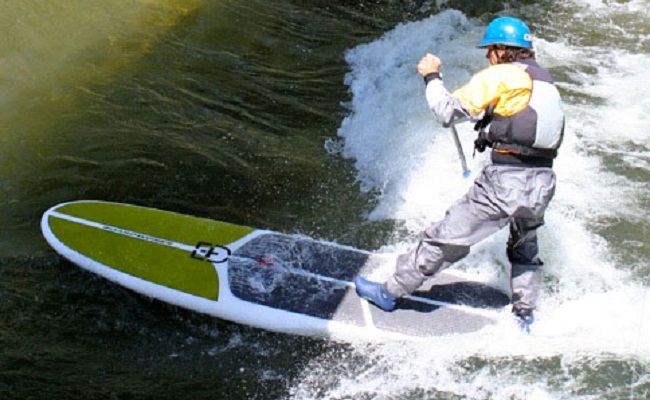 Tavares killing a white water wave on his stand up paddleboard.
Read about Michael's H2O Overdrive Weber River SUP cross second place finish.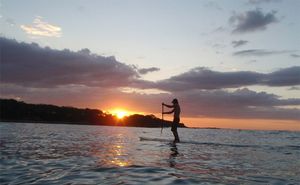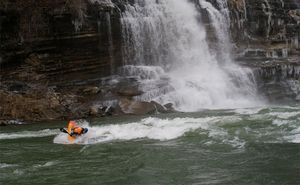 ENCINITAS, California - Boardworks is pleased to announce the addition of Michael Tavares to the Sales Team as well as the first team member for Whitewater Specific SUP. Michael comes from a strong background in whitewater kayaking, skateboarding, and snowboarding, and is pushing the boundaries for SUP in the whitewater arena.

A Native of Richmond, VA, Michael has been splitting his time between Salida, Colorado and Chattanooga, TN. After completing college at Radford University in Virginia, Michael set off to make his mark in the sport of Whitewater Kayaking.

Over the past 7 years Michael has become a well-respected instructor as well as an accomplished competitor in both Freestyle and down river kayaking. It was only a matter of time before Michael discovered SUP and used his background to become an accomplished river stand up paddler. Michael has now been dedicating a good chunk of his time to both river surfing and river racing.

With a vast knowledge of the Southeast Rivers and water ways, this year Michael is going to bring Boardworks to areas not yet exposed to our Brand. "The Southeast is an up and coming SUP destination with amazing potential for both Whitewater and flatwater SUP. There is a huge population that has not yet been exposed to Stand Up Paddling and I plan to bring this healthy sport to as many people as possible," says Michael.

"With our ongoing commitment to growing the sport in the river community we are especially excited to have Michael join our family," commented Mike Fox. "Boardworks has positioned itself to be the leader in river SUP with it's relationship with Badfish SUP and the introduction of several new river specific models coming out Spring of 2012. Michael is the perfect candidate to represent our brand." Michael will help connect retailers and SUP paddlers alike to Boardworks in Tennessee, Alabama, Arkansas, and Missouri.

Along with becoming our newest sales representative, Michael will embark on the first ever "SUP Whitewater Tour" in 2012. Boardworks is pleased to say that Michael will be bringing SUP to all major whitewater events in 2012, as well as other selected SUP races and events.

"The whitewater tour and events circuit is an awesome series of events with great people and energy. Most stops on the schedule have both great river waves to surf as well as rivers to cruise and race. Most events already have some sort of SUP event attached to the whitewater kayaking and my hopes is to have a full blown schedule of whitewater SUP races and surf contests," says Michael.

If you live in the Southeast, look for Michael anywhere there is water to be paddled and stay tuned to www.Boardworkssup.com for details about the 2012 whitewater tour.

About Boardworks Surf

At Boardworks we are passionate about all things to do with the water lifestyle we all embrace. Our goal is to share that passion, to promote respect for the planet, it's creatures and each other and to make stand up paddle and surfing more fun for more people. Boardworks represents some of the best shapers in the world and bring their premier SUP and Surf models to the global water community manufactured with our proprietary construction technologies.

Our SUP brands include Badfish Standup Paddle, Infinity, Rusty, Paddle Surf Hawaii, Morrelli and Melvin, and Ohana; our Surf brands include Von Sol, Hynson, Aipa, Kane Garden, Dewy Weber, Eaton and Hansen. For more info go to www.boardworkssurf.com or follow us on Facebook at http://www.facebook.com/boardworkssurf.
Last modified onTuesday, 11 October 2011 12:04

After spending the first part of her life in Minnesota, Morgan traded in her snow boots for sandals and moved to sunny California. After graduating with a degree in Communication from The University of Southern California, she eventually made her way down south to San Diego and is taking advantage of the living by the best beaches and burritos California has to offer. If it's sunny, you can find her at the beach relaxing, or exploring the calm water in the bay via paddleboards and kayaks.
Email

This email address is being protected from spambots. You need JavaScript enabled to view it.