Baxter Edges Out Lenny at Namotu World Paddle Challenge
The Namotu World Paddle Challenge wrapped up this past weekend in Fiji and after the first event in the 2012 Stand Up World Series calendar, Connor Baxter leads the pack.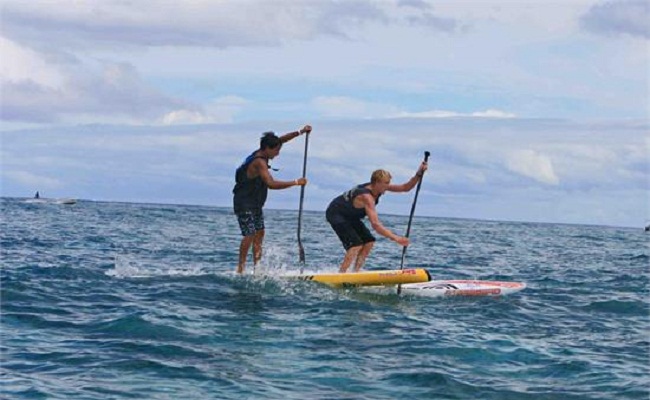 Connor Baxter and Kai Lenny battle it out to finish neck and neck at the Namotu World Paddle Challenge.
Read more about the Namotu World Paddle Challenge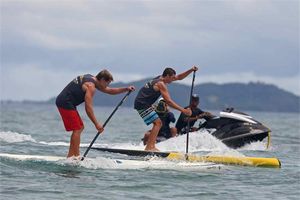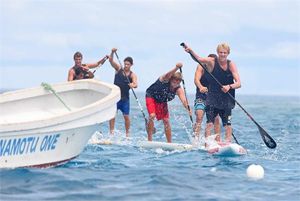 NAMOTU, Fiji - In a dramatic close to the Namotu World Paddle Challenge presented by Air Pacific, a final tie break was held to decide the final overall results for the event for both 1st and 3rd places.

After a fiercely fought race around the island of Namotu, combining distance paddling with in and out through the surf components, Connor Baxter just edged ahead of Kai Lenny in a duel that went back and forth through the whole race and created a tension filled close to the event.

In the last 30 yards, Connor and Kai's boards were touching as they battled to get the position for the final run up the beach - despite Kai's best efforts, it was to be Connor's day, as he powered the last few feet to victory here in Fiji. Congratulations to this young Champion!

An on form Slater Trout put together a phenomenal performance for the last race of the Namotu World Paddle Challenge presented by Air Pacific, as he bides his time through the first half, only to power into contention for an impressive finish.

As a result, Slater secures 3rd place at the inaugural Namotu World Paddle Challenge, stop 1 on the 2012 Stand Up World Series. Congratulations on a great performance to Slater.

"It has been an amazing week here in Fiji: definitely extremely demanding and physically grueling, but I have had a wonderful time on Namotu and can't wait to come back," said Trout.

Final overall results for the Namotu World Paddle Challenge:

1.Connor Baxter (HI)
2.Kai Lenny (HI)
3.Slater Trout (US/HI)
4.Jake Jensen (Australia)
5.Noa Ginella (HI)
6.Zane Schweitzer (HI)
.
Last modified onMonday, 21 November 2011 15:16

After spending the first part of her life in Minnesota, Morgan traded in her snow boots for sandals and moved to sunny California. After graduating with a degree in Communication from The University of Southern California, she eventually made her way down south to San Diego and is taking advantage of the living by the best beaches and burritos California has to offer. If it's sunny, you can find her at the beach relaxing, or exploring the calm water in the bay via paddleboards and kayaks.
Email

This email address is being protected from spambots. You need JavaScript enabled to view it.