Introducing North Shore Up-and-Comer Zane Saenz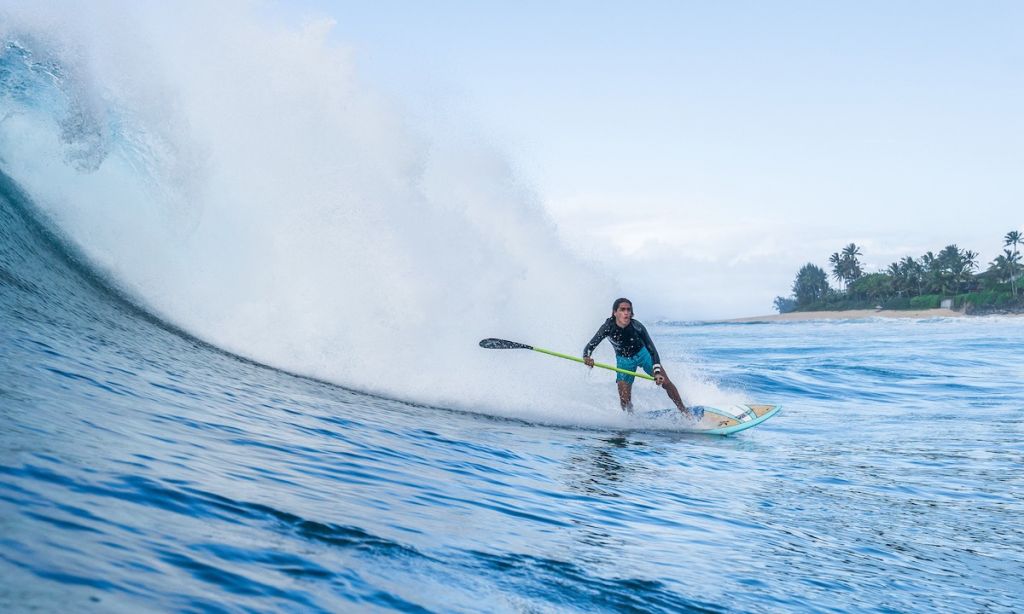 Zane Saenz surfing Sunset Beach. | Photo: Thiago Okazuka
Meet 15-year-old Zane Saenz from the North Shore Oahu, Hawaii. Zane is a stand up paddle surfer, foiler, and racer who is working his way up the ranks of the professional surf scene looking to make a name for himself on the global stage. He's the back-to-back champion at the USA SUP Surfing Championships for U18 and has competed in his first APP World Tour event earlier this year at his home break of Sunset Beach, getting that sweet taste of the professional tour life. Zane is now in the running and trying to qualify for the 2020 APP SUP Surfing world tour. We caught up with Zane and had a chat to get to know him a bit better. Check it out:
So Zane, tell us a little bit about yourself. How'd you get into standup paddling and when did you start?
I got into stand up paddling when I was about seven or eight years old. I was already surfing on a shortboard and we had a family friend/artist Hilton Alves who stand up paddled. He got me into my first short SUP race on a soft top board and I had so much fun doing it. I soon started to do the downwind races on the North Shore from 4 miles and up and got even more hooked. Right after I also got into SUP surfing on a 6'0" I had and I had so much fun I was also hooked.
What drew you to the sport and why'd you transition from traditional surfing?
When I first tried racing I had so much fun and loved the sport and the competitive aspect of it from the start. When I got into SUP surfing I got on a thick 6'0" fun board and it felt perfect for me. I was catching so many waves and my turning was actually progressing better than in traditional surfing because it was more my style and I loved using the paddle for leverage and power while surfing. I hopped on the stand up wave and really focused on it and made it my main sport.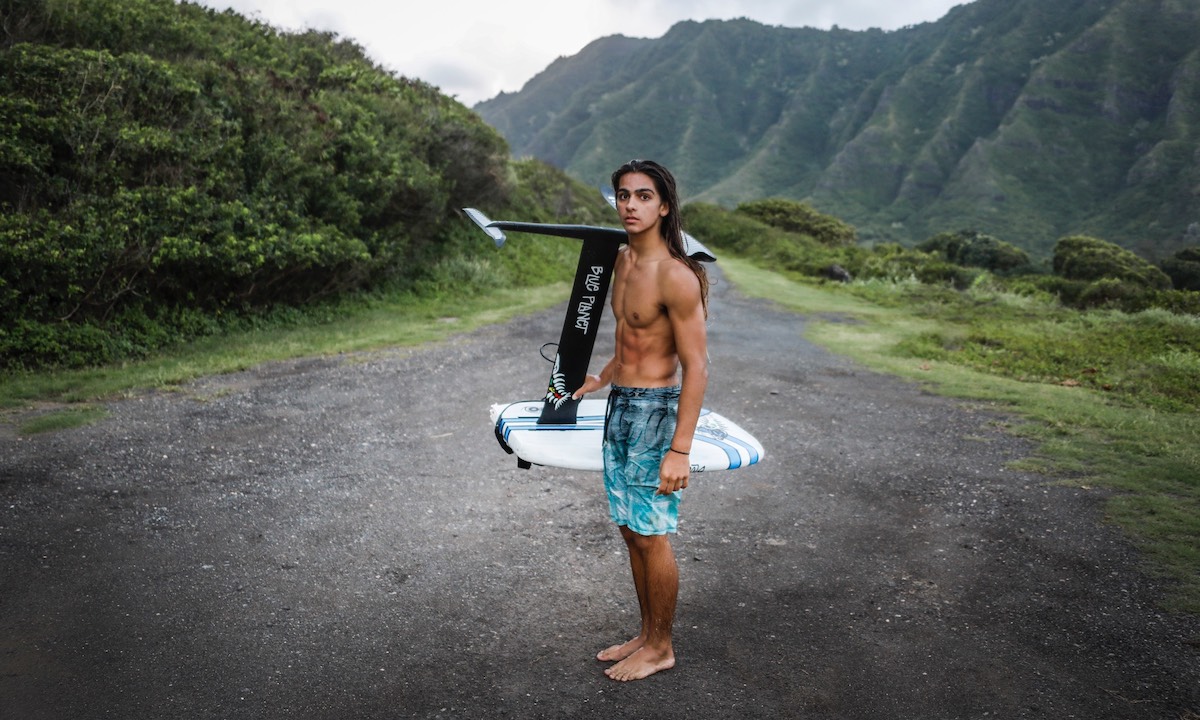 Zane with his foil board. | Photo: Monique Saenz
You're not only a surfer but have been racing and foiling as well. What discipline do you enjoy the most? Which is the most challenging for you?
Now I am focusing on and enjoying SUP surfing and foiling the most. I have been foiling the most lately because of how the waves don't need to be that good. I would still choose SUP surfing if the waves are perfect and I feel it would be my go to. The most challenging are between racing and foiling, because racing just takes a lot of conditioning and training and is harder on the body. Foiling is probably the most technical and challenging to start on but I've been feeling progress ever since I started it and I'm stoked on it.
So you're working on qualifying for the APP Surfing Tour. How's that going? What are your goals here?
I am really focused on doing well at the Sunset stop and have been training a lot there. I am trying to go to other events on the APP Surfing tour like Barbados and Spain and my goal is to do well enough to have enough points to be in the top 24 to officially be on the tour. My goal is to hopefully be a contender for the world title in the future!
Zane looking comfortable at Sunset Beach. | Photo: Thiago Okazuka
What's it like balancing being an athlete and being a full-time student? Any tips for other kids out there working to do the same?
I go to Kahuku High school and kept up a 4.0 GPA even with going surfing or paddling almost every day. I think some good advice that I'd give is to work really hard during school so you don't have to do as much after school. I also try to finish a lot of work when I'm not surfing or at night after surfing. I really think still being in the water is important because it's really good for you mentally and emotionally and I feel helps me with school.
Living on the North Shore must be an epic place to be a paddler. What/where are some of the best places to paddle on the North Shore?
I love doing down winders on the North Shore when the conditions are good. I like to paddle the seven mile miracle from Sunset to Waimea or Haleiwa as you paddle past all the surf spots that are famous for surf. I love SUP Surfing at Sunset Beach and love training for the APP stop there as it's one of my main breaks.
Who in the paddling world do you look up to?
Since the start I always looked up to Kai Lenny, Zane Schweitzer, and Caio Vaz. Now the Brazilian storm coming up in the SUP Surf scene is really progressive and inspiring like Luiz Diniz and Wellington Reis.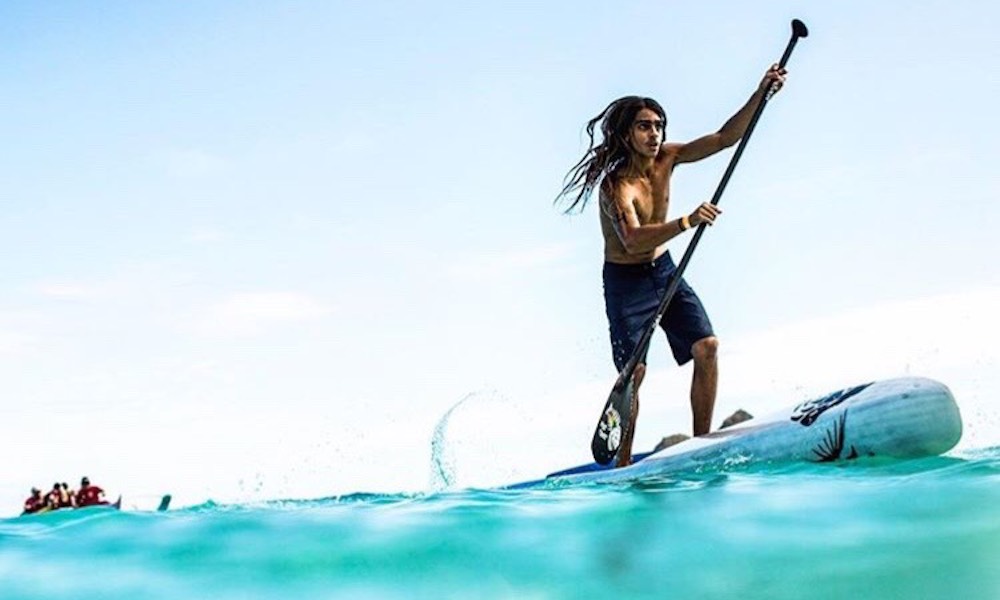 Zane getting in some training on his 14'. | Photo: Monique Saenz
What's your equipment setup look like?
All my boards are made by Blue Planet Surf. I always have a smaller high performance SUP surf board and a bigger gun. Right now I have a 6'8" and I'm getting a 7'4" made for this winter. I have my 14' race board as well for downwinders. Lastly my foil set up is my 4'8" SUP foil board and my 3'8" prone foil board which are really fun.
Describe yourself in 3 words.
Determined
Energetic
Stoked
© Copyrighted Exclusive SupConnect.com Content.
Last modified onTuesday, 08 October 2019 13:11

Submit your news, events, and all SUP info, so we can keep promoting and driving the great lifestyle of stand up paddling, building its community, and introducing people to healthier living.
Website: supconnect.com
Email

This email address is being protected from spambots. You need JavaScript enabled to view it.