SUP Training Guide by Bart de Zwart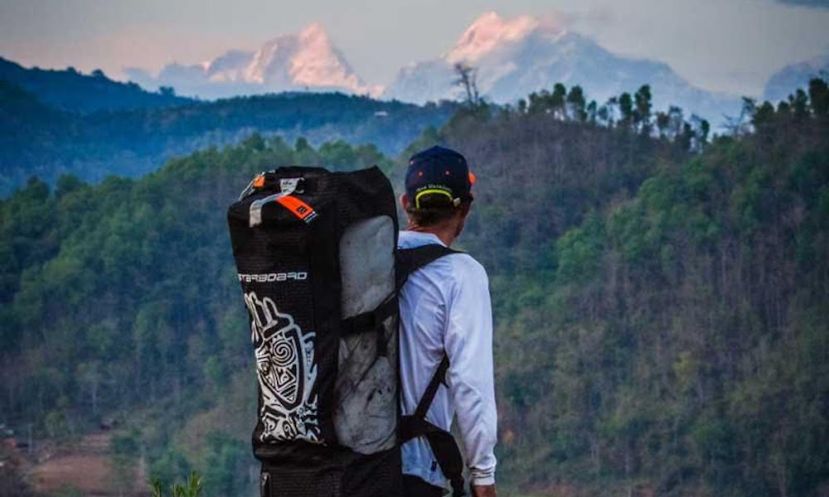 MAUI, Hawaii - Welcome to our new Athlete Training Program series. We are chatting with some of the fastest, strongest, and most fit SUP athletes in the world to find out what feeds their paddle engines. From their paddle routines and cross-training habits to diet regimens, recipes, and more, these athletes share the details of their daily grind. First up, we have SUP distance racing machine and expedition enthusiast Bart de Zwart.
Bart de Zwart
Age: 47
Residence: Haiku, Maui, Hawaii | Born in the Netherlands
Expertise: Expeditions and Long Distance Racing
Sponsor: International Starboard team rider since 2010
SUP distance warrior Bart de Zwart has covered more miles on a paddle board than many people travel in their lifetime. He has competed in practically every major long distance race around the globe, logging hundreds of miles each year and collecting a nice variety of medals along the way.
SUP Racing Highlights
2010-15, 40 international top 5 finishes between 2010 and 2016
2010–12, 2014, 4-time winner 11-City Tour (world's longest SUP stage race)
2014-16, 1st Muskoka River X 220km SUP expedition race
2016 and 2017, 1st Yukon River Quest 715km
2015 and 2016, 2nd Chattajack, Tennessee
2016, 1st MR340, Missouri River 340 miles (new record)
2016, 1st Great Glen Lake Paddle (new record)
2017, 3rd 11-City Non-Stop
2017, World Record 24 hour SUP distance (193.8 km)
Even with major race titles and world records under his belt, some of his most astounding accomplishments are his worldwide expeditions. These undoubtedly gruelly ventures demand exceptional endurance and incredible fortitude and those are exactly the traits that Bart de Zwart possesses. Paddling at such a high level not only requires strong determination but also thorough preparation. Below, Bart gives us insight into his year-round training schedule and a few of his go-to recipes.
Expeditions Highlights
2005, Sailed around the world with wife and daughter for three years
2010, Africa, Zambezi river SUP expedition, Zambia
2011, Record longest (5 days/nights) solo non-stop unsupported SUP crossing Big Island-Kauai
2012, North Sea, 1st ever SUP crossing North Sea, England-Netherlands
2013, Greenland, Arctic SUP Expedition, Greenland
2014, Pacific, French Polynesian SUP Crossing, Tahiti-Bora Bora (4 days)
2015, SUP World Expedition Yap, Nepal, Ethiopia, Turkey and Mexico
Paddle Plan
There are 4 different stages in the paddle year plan for me - Winter, Base Training, Pre-Race Season, and Race Season.
Winter Training
Training days per week: varies
Training hours per day: varies
Some base training, and lots of wave paddling if the waves are right. I try to train as much as I feel motivated to do but it is good to have a few months in the year where you don't have to train as serious as the rest of the year. At the same time it is good to stay in shape which will make the next phase a lot easier.
Base Training
Training days per week: 4-5
Training hours per day: 1-1.5
Base training is 2-3 months before the racing season starts. During these training sessions I do mostly endurance training.
Typical Training Schedule
Beach warm up (pre paddle) 5 min.
Warm up paddle (on the water) 5-10 min.
Training session paddling 50min at 50-80% (of max. heart rate) depending on the day's conditions (wind, chop, flat, waves)
Cool down paddle 5 min.
Every now and then an interval training to mix things up (see next phase)
Pre-Race Season
Training days per week: 5
Training hours per day: 1-5
When I get closer to the racing season, we get more serious. The strength and endurance are there and now we need speed and fitness. Depending on how long my next race is I will make more hours on the water. It is important that you go on the water no matter the conditions. This will make you an all around paddler.
Typical Training Schedule
2 days: endurance 1-2.5 hours 70-85%
1 day: long endurance 2-5 hours at 60-85%
2 days: interval 1-1.5 hours 50-100% (see examples below)
10 min. warm up at 50%
1 min. 90% + 3 min 65% X 12 (48 min.)
5 min. cool down 30%
10 min warm up at 50%
30 sec. 100% + 1 min. 20% + 4 min. 75% X 10 (45 min.)
5 min. cool down 30%
10 min warm up at 50%
2 min. 85% + 2 min. 65% X 12 (48 min.)
5 min. cool down 30%
Race Season
Training days per week: 5
Training hours per day: 1-5
During race season you want to keep what you have, stay in shape and don't lose the paddle fitness you have built up. I keep training like during the pre-race season workouts with the exception that I slow down (taper) when I get close to a race (5-10 days before the race). And I take it easy for 2-3 days after that race. Sometimes even a week if it was an ultra long distance race.
Typical Training Schedule
Same as pre-race season.
Cross Training
Mountain Biking
Mountain biking is a very good way to stay fit, especially if you have a mountain in your backyard. Ideally twice a week for 2-2.5 hours.
Swimming
I like to go when it is a good size in Hookipa and do some body surfing, no board only fins. Usually for 1 hour. Just to stay at the peak is already a work out. Swimming is one of the quickest ways to get fit.
Running
Same as swimming, a very efficient way to get fit quick.
Windsurfing
Just because I like it but it is not so much of a workout. Big wave windsurfing starts to be a workout especially if you whip out every now and then.
Diet
Muesli (oats, nuts, dried fruit) with fresh fruit
Lost of salads and vegetables
Fresh fish, some chicken or turkey and very little meat
We eat healthy most of the time. Very little meat - once every 2 weeks - and never alcohol. A good muesli breakfast, some nuts, peanut butter sandwich and banana during the day and a light dinner with lots of veggies, greens, avocado and maybe some brown rice, quinoa, and fish or chicken.
Lately I have been trying to stay away from anything with added sugar. You will find out 75% of all products have added sugar. Having said that, I am not a saint and I do like sweet stuff. A good dessert or orange dark chocolate is definitely something I can't refuse.
Recipe #1 - Bart's Hawaii Muesli Bowl
Ingredients
Frozen or fresh berries
Almond milk
Plain oats
Hemp seeds
Raisins
Bananas
Directions
First mix some Berries with the almond milk in the blender and pour this in bowl with oats, hemp seeds, raisins. Top off with fresh berries and slices of banana.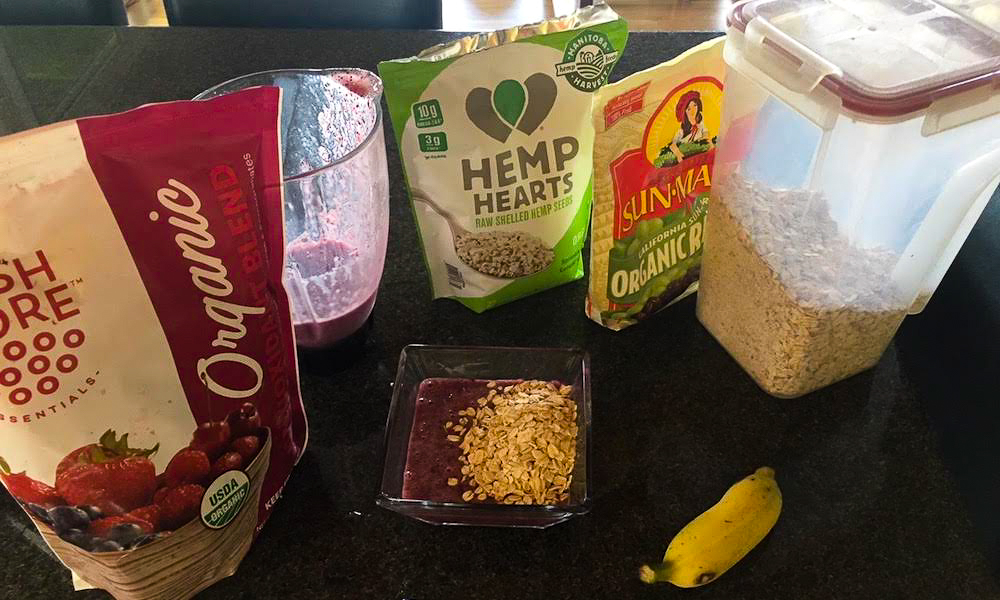 Recipe #2 - Oven Baked Sweet Potato with Salmon
Ingredients
Sweet potatoes
Purple potatoes
Olive oil
Garlic
Rosemary
Salmon
Fresh ginger
Directions
Cut the sweet potatoes and purple potatoes in small pieces and put them on oven plate together with 10 peeled cloves of garlic, a little sea salt and lots of fresh rosemary over it. Put it in the oven for 30 min. Take aluminum foil and put a piece of salmon in there, sprinkle with piece of fish ginger and lemon and some butter and salt and pepper.
Recipe #3 - Sushi Handrolls
Ingredients
A little piece Fresh Ahi (tuna)
Ketjap (sweet soy sauce)
Shrimp
Eggs
Gfurikaka
Mango
Cucumber
Avocado
Sprouts
Soy sauce
Ginger seaweed sheets
Sticky rice
Directions
Cook the rice with some vinegar and cool off. Cut all the ingredients in thin long pieces which fit in the hand roll later. Bake a thin omelet and sprinkle with gfurikaka and cut also in thin longer pieces. I like to use the Ahi (tuna) in 3 different ways. One part sashimi (raw) - cut the ahi in thin slices. Another part of the ahi cut in thin pieces and let it sit in a bowl with some ketjap, after which I bake it really short (15 sec each side) in a frying pan. The rest of the ahi I like sear. Take a piece of ahi and roll it in coarse black pepper. Then fry the whole piece on a high flame on each side for about 30 seconds. Then take it out and cut it in thin slices. Put all the ingredients on a few plates on the table with a bowl of rice and the soy sauce. Now everybody can make their own handroll with the ingredients they like and dip it in some soy sauce.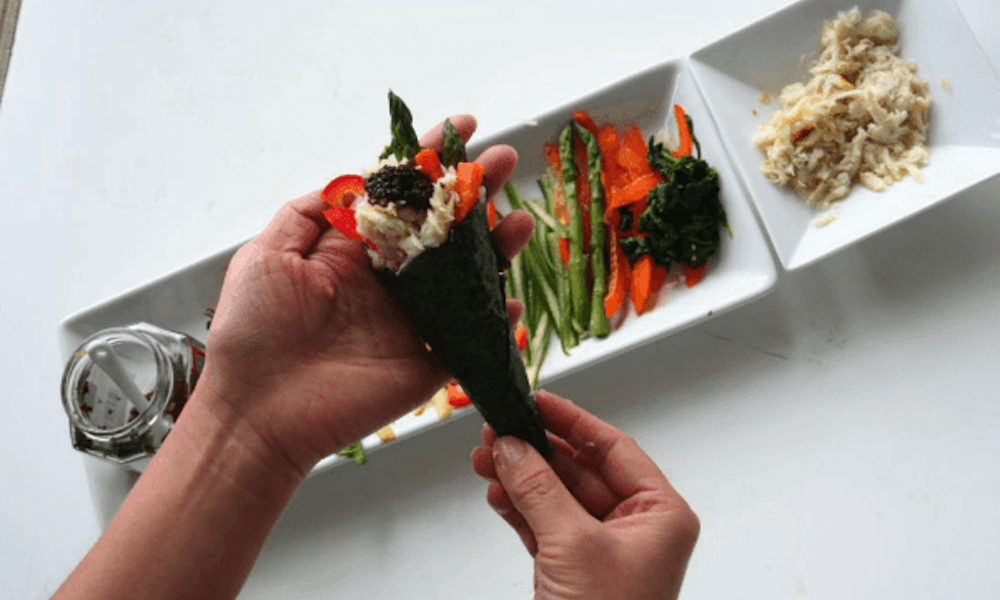 For more SUP Profiles click HERE.
Last modified onFriday, 08 December 2017 15:29

Submit your news, events, and all SUP info, so we can keep promoting and driving the great lifestyle of stand up paddling, building its community, and introducing people to healthier living.
Website: supconnect.com
Email

This email address is being protected from spambots. You need JavaScript enabled to view it.