SUP Wheels - SUP Transportation Made Easy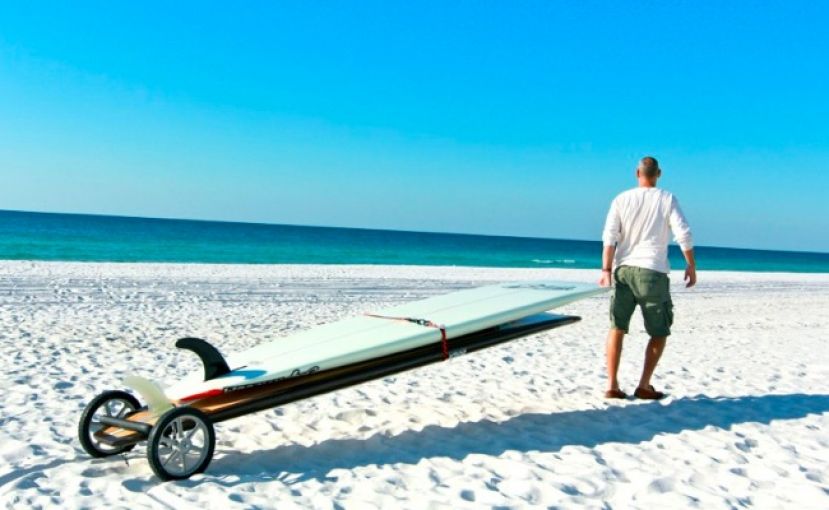 Video

---
Outline

---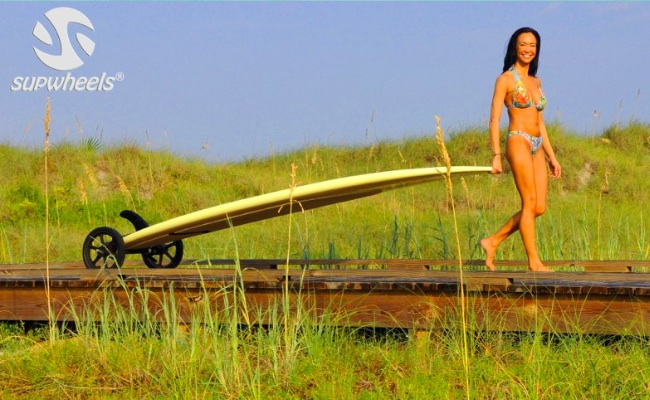 Description

---
Have you ever wanted to go stand up paddle but had a concern about how you were going to get the board from the car to the water without dropping it and potentially damaging your gear? ·Or what about the difficulty of trying to deal with two boards at a time either because your fellow paddler is to small or perhaps to old to carry their own.·Maybe you have a long walk to the water because you don't want to pay those beach parking lot fees but know your arm(s) will go dead before you ever make it to the sand. ·
These are questions many of us have asked ourselves at some point in time, but SUP Wheels® has proclaimed that they are here to help! ·One of the first things you'll read on their website is, "At SUP Wheels® we didn't invent standup paddle boarding nor did we invent the wheel, we just put them together to make the SUP sport easier...a lot easier!"·
About SUP Wheels®:
SUP Wheels ® is committed to making SUP Wheels ® in the USA and supporting their local community with jobs.·They are committed to producing a quality brand with a line of products behind it. SUP Wheels® is not a generic term but a federal trademark in USA, Europe, Australia and China. The current version handles 98% of the boards out there because you just need PART of the tail to fit into the SUP Wheels® holder. ·The product has been successful with both customers and resellers. ·SUP Wheels ® has added 100 resellers in 7 countries in a year and 4 months. ·They have shipped directly to customers in Israel, Hong Kong, New Zealand, South Africa and Brazil to name a few.
Features

---
Equipment: Stand Up Paddle Board Carrier

Equipment Use: To transport SUP boards & SUP equipment

MSRP: VISIT WEBSITE

Note: 14" (35cm) wheels roll over many types of terrain including soft beach sand

Note: Paddle with your SUP Wheels on the water.

Note: SUP Wheels® will carry either a standard board or race board or both at the same time.

Note: The rubber strap is an EPDM rubber which is a high quality, very strong and UV resistant.

Note: Carries the paddle too.

Note: Adjustable bungee cord.

Note: No flat tires.

Note: One set of SUP Wheels ® will carry one or two boards.

Note: The wheels can go UP a curb and not just down off a curb as shown by most SUP carrier promotional videos.

Note: The foam is also a very strong foam that is UV resistant.

Manufacturer: Click Here to Contact
Pictures
---
Links

---
More Information About The Benefits of SUP Wheels
Notes: Drop a line on what you think about this product or if you've heard any feedback on it. Customer feedback is highly prized by the sup community and your thoughts, concerns, or questions may be in the mind of many of our readers. So, to continue to help us to serve this great stand up paddle community of ours, let us know what you think about this product and encourage your friends and family to get involved and drop their thoughts on the sup gear posted on Supconnect. Thanks a lot, keep paddling and help us to share the sup stoke!
© Copyrighted & Exclusive SupConnect.com Content.
.
Last modified onSaturday, 24 January 2015 15:58