2015 Holiday SUP Gift & Gear Guide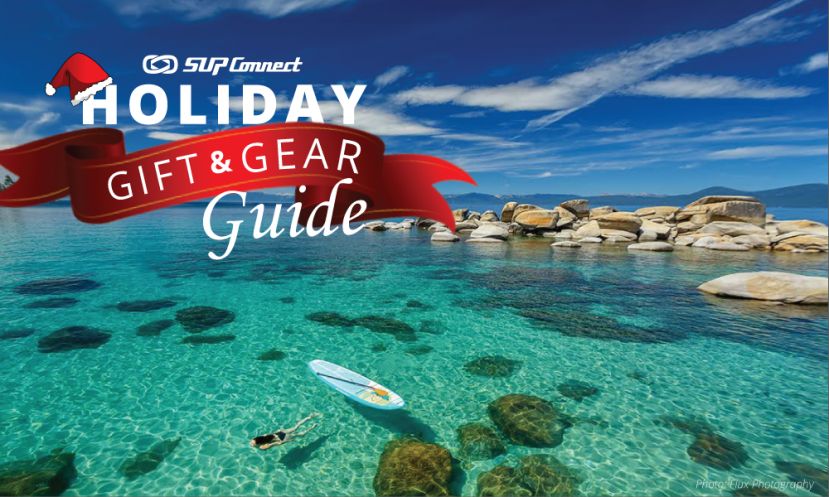 SAN DIEGO, California - Can you believe 2015 is almost over?! With the holidays right around the corner, it's time to think about getting something awesome for the SUP'er in your life so here at Supconnect, we've put together a gift/gear guide of the newest and coolest items to have recently hit the shelves and racks on the SUP market. If you're looking for something to get for your lover, mother, brother, sister, friend, or anyone for that matter this holiday season, this guide will be perfect for the stand up paddler in your life. And who's to say you can't get a little something for yourself, 'Tis the season after all! Treat yourself to something you've always wanted! We've put together a list of SUP gear, SUP accessories, SUP boards and all the must have's for everyone from a beginner to the advanced SUP'er, so there's sure to be something in this guide for everyone!
Take a look at the 2015 SUP Holiday Gift and Gear Guide below:
Gear & Accessories
Boardworks SUP Race Bag

Boardworks offers some of the best paddle board bags for protecting your stand up paddle boards. The Boardworks SUP Race Bag has some pretty great features including a sidewall for rail protection, thicker boards, and a great fit overall for your SUP. The SUP Race bag has a zipper around tail for easy entry, fin slot and finger well access with velcro closures, built in ventilation patches on rails, nose and tail and has a full, wide design to accept a wide range of touring and racing boards.

Starboard SUP Suit

The Starboard SUP Suit is one of the newest items to be released from Starboard Apparel and is made from a breathable and waterproof fabric with latex seals on the wrists and ankle cuffs and fully waterproof front zip with a soft neoprene neck seal. The anatomical panel layout reduced stress points allowing full vertical stretch along the back and horizontal stretch on the torso side panels with a much slimmer fit for 100% paddling performance. The Men's and Women's All Star SUP Suit is designed with the racer in mind. SUPing in the cold will never be the same.

SIC Maliko Paddle

The Maliko Paddle from SIC Maui is light-weight, has minimal deflection form maximum stroke power and is very comfortable to paddle. Slightly softer than the SIC Battle paddle for those who like a competitive but slightly softer flex, this blade will pull you to victory or get you into a smooth glide with minimal effort.

Werner Paddles Rip Stick

The Rip Stick is the answer to what surfers want. More power from a smaller blade. To generate more power, Werner Paddles developed a double concave dihedral in the power face of the blade. The power pockets created accelerate you into more waves, outrace outside sets and blast over foam piles. With softer overall flex and wide range of fit options the Rip Stick is a paddle truly specific to the sport.

FCS II Connect SUP Touring Fin

The FCS II SUP Touring Fin is an affordable fin ideal for flat water exploration on lakes and waterways. The fin offers dual purpose in both race and surf and has a streamlined design for increased maneuverability, seamless leading edge to quickly shed weed and a responsive glass flex construction. More importantly these fins are tool less with any US box and most other longboard style fin boxes as well. When added to a board with FCS ll, the whole board becomes tool less allowing it to be set up in seconds.

Slipins Zippered Mini

The Zippered Mini Surfskin is a short tight fitting upper body suit providing excellent sun protection with 60+ SPF and preventing rash development while surfing and paddling. It can be worn under a wetsuit or by itself. It is similar to yet more sexy than, a high rise spring suit. For those getting into the summer months the surfskin is the perfect choice for protecting your skin from the sun and feeling comfortable in the water. If you're headed into the colder weather, the surfskin fits perfectly under your wetsuit and not only gives you an added layer for warmth, but also makes getting in and out of the suit much easier.

Aquaquest Mariner Pack

The Aqua Quest 'Mariner' series is available in 10, 20, and 30 L sizes. Inspired by water sports, but designed for anyone who goes outside, even if it's only to get to your car in the pouring rain. All three sizes feature the same classic design, with one main waterproof compartment, and padded adjustable shoulder straps for maximum comfort. Now you can focus on having fun, instead of worrying about your gear! The Mariner packs are a perfect accessory for taking on your SUP adventures while ensuring that gear not meant to get wet, stays dry.

Maui Jim Sunglasses

Created on the Hawaiian Islands to make the colors shine, Maui Jim sunglasses feature patented PolarizedPlus2® lens technology for brilliant color so every detail is crisper and cleaner and without glare or harmful UV. Maui Jim offers amazing sunglasses that not only have incredible protection from the sun for your eyes but also tons of stylish lenses and frames to choose from. If you're looking to protect your eyes while out on the water, Maui Jim is the best in the business.
Boards - Inflatables
Boardworks SHUBU X Rocket 11'6

The SHUBU X Rocket, is Boardworks' new fitness, racing, and all-around inflatable touring SUP. Based off their Eradicator race boards, the X Rocket has a sleek outline with added width in the mid and tail section for extra stability. This is a great choice for those looking for a fast, stable, go-anywhere race trainer or fitness/touring SUP with premium features. Some of the features include: Extra side handles for easy cross country portage, AIR7 fin box that is compatible with standard longboard fins and touring fins and more!

Starboard Blend 11'2

The Starboard Blend 11'2" combines glide and maneuverability and with a 30" width, the Blend is stable for riders up to 95kg and increases tracking due to a straighter paddle technique. This board is great for flat-water cruising and long board style performance in the surf. The heavy mid-section concave generates speed and rail-to-rail reactivity from the middle of the board. Another great feature of the Blend is its availability in Blue Carbon, Wood, AST Electric, Starshot, ASAP and Inflatable Technologies.

SIC 12'6 Air Glide

This touring / fitness / race board is perfect for family fun, fitness and for competing in the 12'6" inflatable race class. The X-12.6 Air-Glide is the stiffest board in its class at 20 PSI. While this board is a great recreational fun, we are also confident that it is also one of the fastest race boards in its class. The board is kitted with all the standard accessories offered in the SIC Air-Glide series perhaps most importantly is the dual action, high pressure pump.

Naish ONE 12'6 Racing/Touring

The Naish ONE 12'6" Racing/Touring Inflatable is one of the best-selling inflatable SUPs around the world for all-around cruising, long-distance touring and N1SCO one design racing. It features a sleek race outline, 30 inches of width and 6 inches of thickness for incredible rigidity, stability and speed. It also has an integrated number guide on the deck pad for referencing proper stance position.

BOTE 11' Breeze

The 11' BOTE Breeze inflatable paddle board is the next evolution in paddle board technology. The go anywhere, do anything Breeze is a rough and tumble inflatable paddle board that transforms from a fully functional SUP into a form factor small enough to fit in a back-pack in under 30 seconds. Trek into those hard to reach hunting and fishing grounds with the lightweight Breeze inflatable system strapped to your back. And don't worry about scratches and dings because the military-grade PVC skin is virtually indestructible.

Red Paddle Co. 11' Sport

The 11'0" Sport from Red Paddle Co. offers a step up from the Ride family and has been designed for the more experienced paddler to deliver more speed and dynamic performance (although they're not race boards). Their secret lies in their shape. They're narrower than a Ride, so they cut through the water more cleanly, and the drawn-out nose section gives them more glide across the water. The Sport is now available in two sizes: 11'0", which offers fast inflation and great flat-water performance for riders up to 198lb, and 12'6" which is more suited to longer touring trips and/or the larger rider.
Boards - Hard Tops
Boardworks Muse 10'6 Womens SUP

Beautiful and inspiring, the Muse is the perfect all around Stand Up Paddle board for exploring your local waterway no matter where you live. At 32″ wide the Muse is stable and comfortable in a variety of water conditions. The refined shape lets you glide through the water with ease. This board is equipped with a thin and light weight croc-skin deck pad for superior comfort and traction. You will be able to paddle for hours without the foot fatigue that occurs with some other deck pads.

Starboard HyperNut 7'8

The Starboard Hypernut 7'8" is perfect for riders weighing up to 95kg who want stability and glide with exceptional drive, acceleration and reactivity. Its lively performance from its short length makes it a highly popular size that can be thrown into most conditions. This board has high maneuverability matched with comfortable stability. Available in Blue Carbon, Wood and AST Electric Technologies. Bottom shape: "Mono-concave feeding through to channel tail".

Starboard Sportsman 12'0

Another choice for the SUP fisherman, the Starboard Sportsman 12'0" covers distance and maintains good ground speed for trawling and paddling quickly in open ocean conditions. The ultra wide tail increases overall stability to move and rotate freely when reeling in a big fish. Volume in the nose stops the board from diving in chop and keeps it stable enough to power through rough conditions. There is also plenty of space on the deck to hold a cooler box with enough room to move around as well as having bungee tie-downs to help carry gear as well as multiple FCS inserts for different accessories.

SIC X 12'6

If you want a fast all around fitness/race board that has a bit more width for added stability then the X-12 is your board. Stability means you can paddle further with less fatigue. Stability is also the key to SIC boards winning pedigree as founder / shaper Mark Raaphorst design philosophy is: You are fastest when you are standing on your board rather than lying in the water next to it. The wave piercing bow and dual zone rocker offer low drag in "displacement mode" while in calm waters and is stable when in "planing mode" in choppier, off wind conditions.

Pau Hana Big EZ Angler

The Big EZ Angler is the perfect board for the SUP fisherman. The Angler is a real teak board, built for the fisherman, the Pau Hana and features 25 SeaMount™ threaded anchor points. Easily attach fishing accessories from RAM® Mounts and YakAttack. Bolt down coolers, fishing rod holders, paddle clips, cups, tackle and Nocqua lights. It can be rigged up for any kind of fishing and can handle heavy loads and carry all the gear you need. With a high weight capacity, this is great as a family board or to load it up with gear for a long day on the water.

BIC 9'2 Acetec Performer

The BIC SUP 9'2 Acetec Performer is a board that is great for everyone. For novice riders under 150lbs the 9'2" is a stable flat-water cruiser that's compact and lightweight (23lbs!), making it a breeze to transport, carry and store. For intermediate riders up to 180lbs it's the perfect surf SUP when you're ready to move to a shorter more maneuverable board. For larger riders the 9'2 will help take your surfing to new levels. All this in BIC SUP's legendary Ace-Tec construction for durability AND lightweight performance at a great price.

Pelican Rush 10'6

The Rush from Pelican is a quality SUP that doesn't break the bank. Pelican's Rush SUPs (available in 10'6" and 11'6") are multi-purpose boards designed for use in flat-water or light surf. Equipped with a bow bungee, an inset center handle and a padded anti-slip deck pad. The Rush SUPs are polyethylene with a lightweight foam core and come with a removable 10" fin.

Slingshot 11' Crossbreed

Whether paddling the waters of a calm mountain lake or waist-high ocean waves, Slingshot's 11' Crossbreed Hard Top is the ultimate all-around standup paddle board. The shape, width and volume of the Crossbreed (11'x 33"x 230L) add up to a user-friendly profile that's stable and forgiving enough for beginners just getting into the sport, while sturdy and maneuverable enough for advanced paddlers looking for high-end performance in a wide range of conditions.
Make sure to head to your local retailer to find all these gifts and more during this holiday season!
Last modified onWednesday, 07 September 2016 15:54

Submit your news, events, and all SUP info, so we can keep promoting and driving the great lifestyle of stand up paddling, building its community, and introducing people to healthier living.
Website: supconnect.com